The electric wok is a wok that runs on electricity. A heating element comes attached with it and the wok sits over it. With the help of a radial dial, you can control the temperature of the wok ranging from simmer to high heat. Other crucial features come included depending on how good of a job the manufacturer has done.
But why an electric wok can be the best choice for you? Electric woks as compared to stove top woks are useful if you don't have a blistering heat source. On a gas stove, a stove top wok does not get enough heat and as a result, your stir fry turns out soggy and tastes like boiled food.
Here an electric wok will come to your rescue as it already has a heating probe with different heat settings. Compared to indoor heating, an electric wok heats up fast and gives you a great stir-frying experience.
Electric woks are best for beginners, students, singles, as well as for families. But all of the benefits that an electric wok provides depend on the quality of the purchase. Here in this article, we have reviewed the top 5 electric woks on the market which have a proven record of customer satisfaction.
Content:
Best Overall Electric Wok: Breville
Best Features Electric Wok: Presto
Most Affordable Electric Wok for Deep Frying: Aroma AEW 305
Best Professional Electric Wok: Aroma AEW 306
Best Non Stick Electric Wok: Vonshef
Buying Guide for the best electric wok
FAQ
Top 5 Most Efficient Electric Woks To Buy
1.

Breville BEW600XL Hot Wok

– the Best Electric Wok On the Market
| | |
| --- | --- |
| Size | 6 Quarts Capacity, 14-inch wide |
| Material | stainless steel base and die-cast bowl |
| Wattage | 1500 W butterfly heating element |
| Additional Features | Quantanium non-stick coating |
| | Tempered glass cover |
| | Removable temperature control probe |
| | Dishwasher safe body and lid |
| | 15 precision heat settings |
✔️Healthy, feature-rich, and highly durable, the Breville BEW600XL is the best electric wok to invest in.
✔️The stainless steel base and die-cast wok bowl will last years and the capacity of 6 quarts is ideal for large families. Having a tempered glass cover helps you know when your food is ready, and a removable temperature control probe makes serving easy. 
✔️It is a high-end electric wok with a superior quality build. It looks stunning, has a classy finish to it, and heats up in seconds. It has 15 precision heat settings to choose from. Clearly gives you a ton of customization. The Quantanium non-stick coating is safe to use on high heat.
✔️Apart from the above, it has a 1500W butterfly heating element that heats up pretty fast and up to 425ºF, and both the bowl and the lid are dishwasher safe.  
✔️This is also the most compatible electric wok to buy if you are a health-conscious being. With 14 inches diameter, superior non-stick coating, and butterfly heating element, the food glides through the walls and settles at the bottom of the wok. And that too without any oil.
✔️Usually what I do is just spray some oil. That's it. The food leaves no trace on the side and the instant even heating stir-fries food in minutes. As the wok is detachable from the heating probe, I transfer the food from the wok directly to my plate with the help of the cool touch handles.
✔️And then just take a dishcloth to wipe out leftover food. The remaining heat sterilizes the wok. The electric wok is now ready to use again. Although it is dishwasher safe, anything above $100 in my kitchen is an investment hence I prefer cleaning them with hands.
✔️Breville is a trusted brand for several years now. Their customer service is prompt and helpful. Even if you have any issue with the electric wok, it will be sorted in no time. This Electric Wok will definitely be a prized possession in your kitchen.
2. Presto 5900 Stainless Steel Best 1500 watt Electric Wok 
| | |
| --- | --- |
| Size | 14-inch diameter |
| Material | Stainless Steel body and aluminum-clad base |
| Additional Features | tempered glass lid |
| | stainless steel rim and handles |
| | 1500 watt |
| | dishwasher safe body and lid |
Presto is a big brand in the cookware industry and to date, I have used a number of products manufactured under the brand name Presto. I must say, this brand has never given me any issues.
The Presto 5900 1500 watt Stainless steel electric wok is one of the most durable ones on the market. The stainless steel body of the wok is absolutely dishwasher safe and sturdy.
The tempered glass cover will help you know when your food is ready or needs stirring, and it also has a stainless steel rim and handle. The base is made of special aluminum clad to aid fast and high-temperature cooking. 
Due to no nonstick coating, the food will need oil to not stick to the wok. Or you need to season the wok.
Other reasons why I have placed this wok in number two, are you cannot detach the wok from the electric probe and you can cook food only up to the temperature of 350 degrees F. And that is frustrating if you want to stir-fry in high temperature or deep fry in that matter.
There are a number of electric woks, multiuse hot pots, and skillets high priced than this on the market yet do not offer many features. Here Presto 5900 Electric wok has done a great job within its price range.
Hence, overall it is the best electric wok if you are limited by budget.
3. Aroma Housewares AEW-305 Best Electric Wok 
| | |
| --- | --- |
| Size | 7 Quarts Capacity |
| Material | Cast Metal Construction |
| Additional Features | Convex curve of the wok is deep & allows heat circulation |
| | smooth and durable non-stick coating |
| | Full-range temperature control |
| | High dome lid, cool-touch handles and base |
It is the best-rated electric wok on Amazon from Aroma. It is packed with all the necessary features. It has a capacity of 7 quarts which means you can easily do deep frying. Full-range temperature control is a must-have.
Along with the cool-touch handles and non-stick coating, stir-frying with this electric wok is a breeze. It heats up pretty fast but not as evenly as the Breville. This product also has excellent heat retention, which will keep your food warm for a long time. 
The Aroma AEW-305 is the most cost-effective electric wok on the market in relation to its features and price range.
4. Aroma Housewares AEW-306 Best Electric Wok
| | |
| --- | --- |
| Size | 5 Quart Capacity |
| Material | Cast Metal Construction |
| Additional Features | Durable non-stick coating |
| | Detachable electric wok |
| | large glass high dome lid and adjustable steaming vent |
| | Dishwasher safe body and lid |
| | Full-range temperature control probe |
| | long, wooden chopsticks, tempura rack, and steam rack added |
Aroma AEW-306 is one of the top inexpensive electric woks to buy if you are looking for a budget-friendly wok kit. This electric wok has a capacity of 5 quarts, which is ideal for small families. 
The most appealing features include a full-range temperature control probe with quick release trigger, cast metal construction, tempered glass cover, adjustable steam vent, detachable bowl, and both the bowl and the cover are dishwasher safe. Also, long, wooden chopsticks, tempura rack, and steam rack are also included in the box. 
5. VonShef Marble Aluminum Electric Wok 
| | |
| --- | --- |
| Size | 7.4 qt capacity, 14-inch diameter |
| Material | Aluminum and Marble Body |
| Additional Features | Non-stick inner surface |
| | 4 precision heat settings |
| | detachable wok |
| | cool touch handles |
| | tempered glass lid |
It is the most efficient nonstick electric wok on the market.
This unit is nothing fancy or loaded with unwanted yet expensive characteristics. Rather this has the perfect combination of essential features that are very handy at this price point. Again not as great as Breville, still a good deal.
The 7.4 quarts capacity is a standard now for electric woks. The body looks very unique and is made of aluminum and marble. It has an advanced non-stick coating.
However, there is confusion regarding the coating material. It can be ceramic or Teflon but Vonshef hasn't mentioned anywhere what exactly it is. In the Q & A section of Amazon, two customers have stated two different answers (Teflon/ceramic).
Teflon and ceramic both are stable coatings however above 570 degrees F, it is not safe to use Teflon coated cookware. As the highest temperature you can reach with this electric wok is 446 degrees F, the wok is safe to use.
It has 4 precise heat settings – warm, low, medium, and high. Both the tempered glass cover and the pan have heat-resistant silicone handles. The wok can be easily separated from the power cord for convenient serving.
The craziest part is that the electric wok doesn't have a concave inner surface. This is not at all desirable with an electric wok which is why I have put this at last in my list.
✔️Electric Wok Buying Guide
📌The durability of the entire unit (from the heating element, the radial dial to the lid, each and every part of the wok):
That's why I always stick to big brand names when it comes to buying electrical equipment. They are in the market to stay hence they highly focus on the sturdiness and overall life of the product.
📌Energy Efficiency (very much neglected by the buyers):
We buyers have a tendency of getting products at cheap prices. But saving some extra cents in the purchase later will cost you dollars. There is a reason why high-end electric woks are expensive. They are energy efficient. They heat up easily, stir-fry food in less than 5 mints, and don't hurt your wallet in the long run.
📌Customer Service:
In my opinion, a warranty is nothing but a marketing gimmick. If the customer service sucks, even 10 years of warranty will land you nothing. Hence I will again emphasize having branded electric equipment with a good customer handling team.
Then come various features like – how many numbers of precision heat settings are there, easy usability, how smooth is the cleaning, see-through lid, etc.
Now that, you are clear on what to look for, let's address the elephant in the room. There are numerous electric woks on the market which claim to have the above features.
But are they really worthy of your investment?
At least in my research, I have found 50+ electric woks in the market unworthy of even a dollar, as, Wokware requested me a list of the best electric woks to buy.
How to pick the most efficient & cost-effective electric wok on the market?
Having the best electric wok in your kitchen introduces you to the world of tasty, mouthwatering Asian cuisine, and a range of cooking techniques such as stir-frying, steaming, deep-frying, and braising while allowing you to cook wherever an electric outlet is available.
The most efficient electric woks on the market come with a number of nifty features, and the option to set our desired temperature is extremely effective in giving perfection to the delicious food we cook.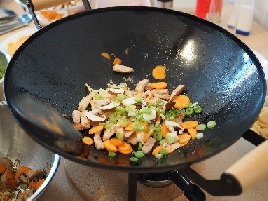 The non-stick coating has become a standard and other convenient features like cool-touch handles, detachable pot, full-range temperature control, and energy efficiency have shooted the popularity of electric woks up in the last decade, and companies continue to introduce new ones to the market with even more features.  
Hence, choosing the top-notch electric wok to buy is like finding a needle in a haystack. And if you are a beginner then, God bless you and your money! Fake companies, fake brands, and fake ratings are booming everywhere.
Which is the best electric wok on the market?
The best electric wok on the market is the Breville BEW600XL 14 inch Electric Wok. After reading several reviews and buyers' experiences, I found out this model from Breville is the only one that offers you 15 precision heat settings. From cooking at simmering temperatures to stir-frying in the blistering heat (425 degrees F) you can choose any.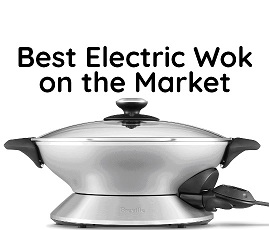 Being a chef myself, I cannot stretch the fact that how important it is to have the ability to customize temperature settings while cooking in a wok.
Most electric woks on the market offer 4-5 precision heat settings and a non-detachable body. Also, the non-stick coating is not durable enough on high heat.
Here, the Breville stands out because of its easily removable body, butterfly heating element, and Quantanium non-stick coating, for prolonged and smooth usage.
The truth is there are none such electric wok on the market to give it a worthy competition.
FAQ:
Do electric woks work well?
Which is better electric or stove top wok?
What can I cook in an electric wok?
How do you season an electric wok?
What temperature should I set my electric wok?
Is an electric wok worth it?
can you put electric wok in the dishwasher?
How to clean or wash electric wok?
What is an electric wok used for?
Electric wok for deep frying
Electric Wok Prices
Electric wok with detachable base
Electric wok with timer
Electric wok with steamer
Electric wok without nonstick coating
Electric wok pros and con
Electric wok for cooking hot pot
Do Electric Woks Work Well?
Yes, electric woks work very well. There are various reasons why an electric wok could be beneficial to you. It runs on electricity and hence can provide an excellent induction. High heat, even heat dispersion, and the ability to cook huge family dinners are all features of an electric wok. Many cooks who previously used a traditional wok approve of this versatile appliance. If you're in the marketplace for an electric wok, it's worth investing a little additional money on a high-quality wok that'll make preparing quick and healthful meals a pleasure.
Which Is Better, Electric Or Stove Top Wok?
Electric woks offer an instant benefit over stovetop woks in that they do not require seasoning. To minimize future sticking difficulties, a traditional wok must go through a lengthy process of seasoning its metal. Cooks may avoid this by using nonstick electric woks. Another advantage of utilizing an electric wok is that you don't have to choose between a round-bottom and a flat-bottom stovetop wok. The electric version comes with a stand. You can also use it independently, saving space on the stovetop. An electric wok is much easier to clean than a regular wok. You can use dish soap to clean electrics, although this may remove any seasoning you've applied to the stovetop wok.
What Can I Cook In An Electric Wok?
Electric woks are among the best cooking utensils available in the market. With an electric wok, you may make a variety of dishes. You can easily prepare an entire chicken or roast it in an electric wok. Simply stir the vegetables into the wok if you wish to stir fry them. In your wok, you can roast chicken. A pot roast is also an option. In an electric wok, brown the meat before adding the potatoes and carrots. A steamer is another fantastic way to use the electric wok. Fill your wok with water. Place a bamboo steamer basket container within the wok and fill it with veggies, rice, or whatever else you want to steam. The electric wok is safe to use with bamboo steaming baskets, and they fit wonderfully!
How Do You Season An Electric Wok?
It is straightforward to season in an electric work due to its good technology to assimilate all the flavors in itself in the minimum amount of time. You can season it when cooking because it can mix the ingredients. It allows the heat to properly distribute the flavors across the entire dish to cook a perfect dish with proper seasoning and flavors.
What Temperature Should I Set My Electric Wok?
Electric woks can tolerate a temperature of up to 466 degrees Fahrenheit. But any temperature above this may not be helpful because the Teflon coating will get distorted, and the chemicals of the utensil will go into the food. You must maintain a proper balance in setting the temperature to preserve the food's nutrients.
Is An Electric Wok Worth It?
It is the perfect equipment you may use to cook the food compared to any other utensil. It is not only based on modern cooking technology but also has heat-resistant handles. It has got a sleek design and is also very durable in nature. The best essential feature of this utensil is that it is energy efficient and helps you save some extra money on electricity bills. It can also provide remarkably effective customer service in case anything goes wrong.
Can You Put Electric Wok In The Dishwasher?
Yes, you can put an electric wok in a dishwasher. It is convenient to handle in the first place due to its feasible design, which you can adjust in any surrounding. It is also important to mention that the coating is robust, due to which it can be easily put into the water and washed in a minimum amount of time. It is the best feature you can get in this equipment. It is straightforward to clean this kind of equipment in the long run. It allows the individual to gain maximum comfort in handling this product.
How To Clean Or Wash Electric Wok?
You can clean electric woks easily by putting the same into a dishwasher. It is straightforward to manage in the first place because of multiple reasons. The Teflon coating of the surface of this utensil does not allow any stain to stay. At the same time, it also allows greasy items like oil to go away quickly. You can also wash the same by hand without putting much effort.
What Is An Electric Wok Used For?
The electric wok is a vital utensil that is one of the perfect substitutes for stove woks. It can evenly distribute the heat and give a tremendous stir-frying experience. It can contain the best features at very affordable pricing that cannot be available anywhere. It lets you know when your food is ready, and temperature control makes it easier to serve the food.
Electric Wok For Deep Frying
If you want to purchase your utensil, which can give a perfect deep-frying experience, it is always advisable to purchase an electric wok. It is one of the essential utensils that can effectively distribute heat across the entire surface. It can control the heat so that the food's nutrients will be maintained even if they are getting fried in hot oil. It is helpful to maintain a better utility altogether.
Electric Wok Prices
These utensils are usually available at a very affordable price. The average cost at which this will be available would be somewhere around $40 – $60. You can also buy an expensive one if you want better features. But if you want something at a very affordable price, you can try the same basic model. It would be convenient to purchase the basic model at a significantly less price because it would be able to give you all the essential features which might not be available otherwise.
Electric Wok With Detachable Base
The Aroma Housewares AEW-305 wok is what you need. You may use it to prepare stir-fried vegetables, soups, and sautéed meats. It has a 7-quart volume and comes with a retractable base. It's perfect for large families and individuals who enjoy entertaining dinner groups. The huge, dome-shaped cover can keep liquids from splashing on your counters. The convex curve shape makes improved heat circulation and speedier cooking possible. The inside of the pan is nonstick. It prevents food from clinging to it and simplifies cleaning. The speedy heat-up is another incentive to buy. You don't have to wait for the wok to get to the proper temperature anymore.
Electric Wok With Timer
If you're searching for a low-cost wok with quick heat-up periods, a nonstick surface, and a timer, it is the wok for you. Aside from the chord readily disconnecting from the base, this wok can assist you in preparing the most incredible meals for your family. This wok's durability enables you to prepare almost everything. The Aroma Housewares AEW-306 Wok warms up quickly and maintains a high temperature while cooking your favorite Asian dish. Its tight closure helps lock in tastes, giving you excellent results every time. You can use the temperature monitoring knob to adjust the temperature. The pan's inside and outside are nonstick, making cleanup a snap.
Electric Wok With Steamer
Aroma Housewares AEW 306 best electric wok is another essential product with a steaming sack. It can comprise an adjustable steaming vent. It is an essential product with a complete range temperature control, quick release trigger, and cast metal construction. It is one of the most effective tempered glass covers with a detachable bowl. It even has a digital wooden chopstick to give maximum comfort to every person who wants to eat and enjoy the food there. This particular facility can control the proper cooking process.
Electric Wok Without Nonstick Coating
Breville BEW600XL hot wok is another essential utensil made up with the help of a stainless steel base and powered with the help of 1500 watt butterfly heating element. It is an essential electric wok with a nonstick coating that does not allow food to stick. It is dishwasher safe and has a proper lid so that cooking can take place without losing taste and flavor. It has got a removable temperature control due to which cooking and serving becomes much more manageable as expected.
Electric Wok Pros And Con
It is one of the most effective utensils that can preserve energy and provide a better heating technology to cook food effectively. It can efficiently distribute the heat so that the cooking can occur automatically without losing nutrients. It has automatic control of temperature, which can monitor this heating process. It is going to be extremely useful and helpful without any disadvantages.
Electric Wok For Cooking Hot Pot
To successfully cook a hot pot, you can use an electric wok. Electric woks are commonly used in Chinese households for hot pots since they do not emit smoke. However, adequate temperature control should be accessible. Because you can't adjust the temperature to a simmer if the temperature setting isn't low enough, the soup will overboil. It should also respond fast when you crank the heat up because adding food to the soup will lose heat, and you don't want the soup to linger below a simmer for long. For the same reason, many families prefer to utilize electricity rather than charcoal-burning hot pots.