The best wok material for stir fry is undoubtedly carbon steel. And among carbon steel woks the hand hammered carbon steel woks are rated high in customer satisfaction by the users.
Because they are manufactured from a single sheet of carbon steel and do not have any joint, they are extremely durable on high heat. Sometimes they even go through 12 processes, and up to 36,000 times of hand-hammering just to get the perfect even finish.
Unlike cast iron, hand hammered carbon steel wok is lightweight, easy to maintain, and less rust-prone. It is the best choice for beginners as well as experts.
Here are the top choices for carbon steel woks this year rated by customers.
Best Hand Hammered Carbon Steel Wok on the Market
1. Mammafong Round Bottom Hand Hammered Wok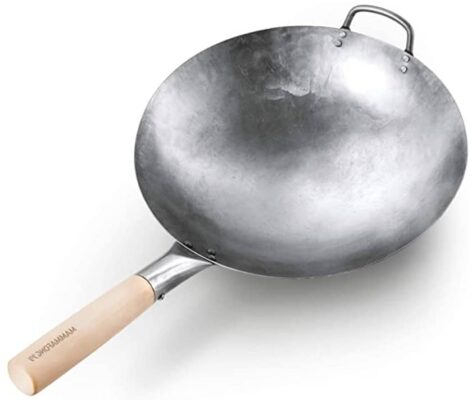 | | |
| --- | --- |
| Material  | Carbon Steel  |
| Handle Type  | Mandarin Handle  |
| Coating  | PFOA Free Coating  |
| Dimensions  | 22.5 x 14 x 5.98  |
| Additional Features  | The wooden handle provides an extra grip, comes pre-seasoned with 100% vegetable oil  |
Mammafong is the go-to wok manufacturer for many chefs whenever they need a durable hand-hammered carbon steel wok. They are currently dominating the market with their superior-built Chinese Pow woks.
This particular 14-inch mammafong wok is the best hand-hammered carbon steel wok on the market right now which is specially designed to withstand high commercial cooking routines. Clearly, for your home kitchen or for outdoor wok cooking, this is the perfect partner. I am using this wok with my GasOne 200k BTU Square Heavy- Duty Single Burner for several months now. My wok-hei is turning out to be tastier like restaurants just because of the ample heat and this crafty wok.
Coming back to its traditional non-stick design, it is a round-bottom wok. This makes it a compatible choice for the majority of professional chefs and cooks having gas ovens. Or you can always use a wok ring. The wok has an ultra-sleek design along with a very smooth surface.  
Further including, you won't find any Teflon used for its coating. It is completely PFOA free. As for its inner and outer surface, both of them are non-stick. With continuous cooking, the wok becomes naturally seasoned. That is what makes it a convenient and crafty hand-hammered carbon steel wok. It is heavily built and can provide you with a long-lasting impression hence worthy of your investment. The mandarin handles are suitable for longer usage without compromising the user's safety.  
While the carbon steel is well suited for better heat distribution, the wooden handle completely insulates the heat. As for washing is concerned, it is always suitable for hand wash. But, at the same time, you can also use a dishwasher to clean the wok.  
Pros:  
The smooth surface makes it very easy for cooking with a very little seasoning 
100% hand-hammered wok for a better usage 
The handle works best for insulating the heat 
Very easy to clean  
Cons:  Usage of harsh detergents can damage the non-stick surface of the wok 
2. 14 inch Flat Bottom Carbon Steel Hand Hammered Mammafong Wok Review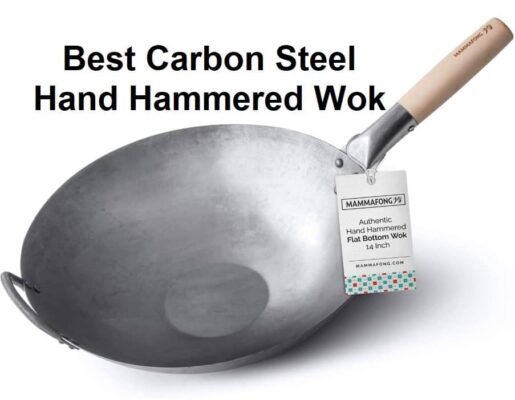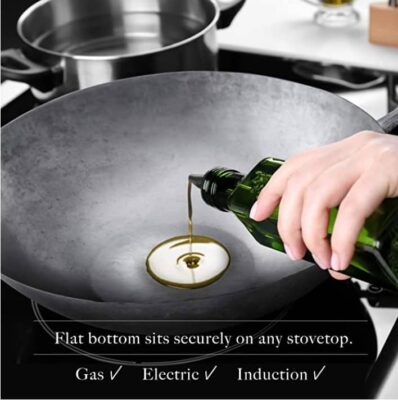 | | |
| --- | --- |
| Material  | Carbon Steel  |
| Handle Type  | Mandarin Handle  |
| Coating  | None  |
| Dimensions  | 22.5 X 14 x 6  |
| Additional Features  | The heavy gauge body ensures a better thermal conductivity  |
I have mentioned a round bottom Mammafong on the top. Now home cooks who are searching for the best hand hammered carbon steel wok in the flat bottom for induction or electric hobs this 14 inch Chinese Pow Wok is the best option out there.
The traditional building of the wok is cherished by all professional chefs too. The ergonomic design makes sure that it can stand to the harsh commercial kitchen conditions hence a great hand hammered wok for restaurants or professional chefs.
The authenticity of the wok material and its sturdiness is going to last you for years. 
The heavy gauge body works great for better heat distribution. At the same time, with its wooden mandarin handle, there is hardly any problem with handling the wok on high heat.
This hand-hammered flat bottom wok is compatible with any gas hob.
Because the machine-pressed flat bottom makes it fairly easy for the wok to sit securely on the majority of the stove surfaces.  
Packed up with such great features cooks adore Mammafong wok.
You will get intense smoky meals, every time you get your hands on the wok.
Lastly, if you are thinking about a wok to gift somebody, this heavy-duty wok is something that everyone is going to appreciate.  
Pros:  
Compatible on any gas hob
Built with commercial-grade carbon steel  
The traditional wok design is perfectly suitable for stir fry, as well as making curries 
The helper handle is well suited for easier storage 
Comes with a heat-proof handle for easier usage  
Cons:  You need to take care of the coating and always use with proper seasoning.
3. Mecete Pow Hand Hammered Wok Review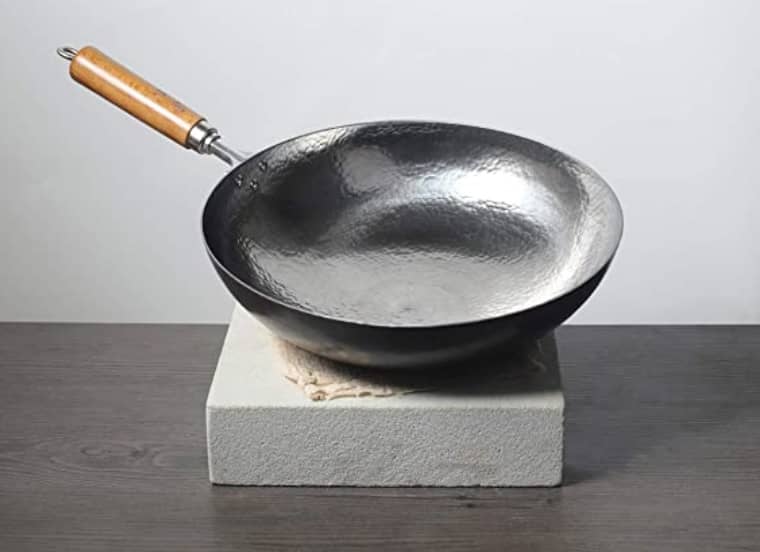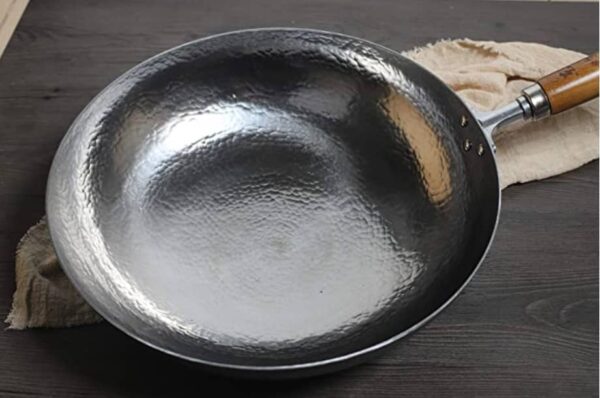 | | |
| --- | --- |
| Material  | Carbon Steel  |
| Handle Type  | Mandarin Handle  |
| Coating  | Uncoated  |
| Dimensions  | 22 x 13.5 x 6.5  |
| Additional Features  | Gives off an aqua-blue colored patina, rust resistant  |
The Mecete wok pan is one of the most versatile and the top hand hammered carbon steel wok if you are serving 3-4 people.  
Buyers usually have this confusion that what exactly this wok is made of as the seller has mentioned the material to be wrought iron.
So wrought iron is often referred to as low-carbon steel. It is carbon steel but has fewer percentages of carbon and steel in it than a carbon steel wok.
FYI, this is not bad. The manufacturer has tried to make this Pow Wok as traditional as possible. Because in the early days, traditional woks are made out of iron. Since iron needs a lot of care to keep it from rusting, the manufacturer has made this wok in wrought iron.
So, to have an authentic and traditional wok hei flavor in your stir-fry this is the best-fitted wok by Mecete. The brand is actually very thoughtful, as, it comes uncoated. That means the wok is firm and uniform in density and has no chances of having a hollow or air bubbles.
This Mecete wok forms an aqua-blue colored patina when the carbon steel from the surface is heated beyond 550 degrees Fahrenheit.
The Iron oxide created throughout the process is responsible for such a beautiful color. The oxide has the ability to quickly adhere to oil. Although the wok doesn't come pre-coated, it readily compensates the same.  
One of the main reasons we have listed it as the best hand-hammered wok is its incredible thermal conductivity.
Further including, the premium iron of the pan can provide a certain degree of iron elements within the food while cooking in high heat. The sturdy handle also makes sure that you don't have to face the problem of loose handles ever again. 
Pros:  
Can be easily used with higher heat settings 
The wooden handle is completely heatproof 
The smooth patina that forms after seasoning restricts the food from sticking 
Pow wok hence meant for heavy-duty usage
Cons:  
Heavy and lacks the traditional hand hammered nature.
4. Pre-Seasoned Round Bottom Carbon Steel Wok by Yosukata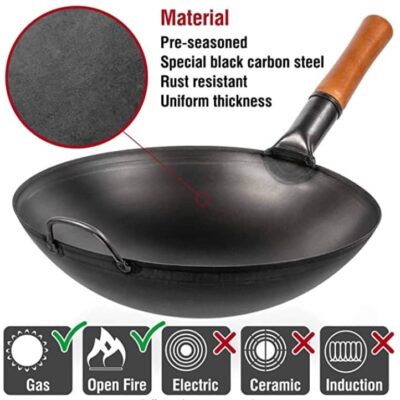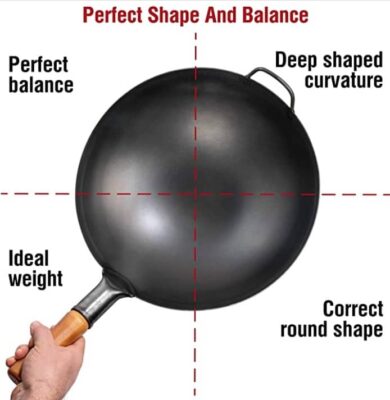 | | |
| --- | --- |
| Material  | Black Carbon Steel  |
| Handle Type  | Mandarin Handle  |
| Coating  | POFA Free  |
| Dimensions  | 22.25 x 14.4 x 4  |
| Additional Features  | Has an ergonomic design, heavy-duty and can be used for any type of cooking technique |
This is not a hand hammered wok. But when it comes to buying a carbon steel wok, Yosukata is as popular as Mammafong.
I have included this on the list because the wok is a worthy investment. If your preference is a hand hammered wok, then go for any of the above 4 woks. But in case you are willing to make a room for this wok, it will not disappoint you.
The heavy-duty round bottom carbon steel wok with quality built is perfect for high heat outdoor cooking as well as indoor stir-frying.
Yosukata wok has a beautiful finish to it. The 14-inch wok has very deep and steep walls to let your food glide very easily into the bottom.
It comes pre-seasoned at the highest temperature. Special techniques are used while seasoning, making it the perfect go-to wok for every meal you cook. 
The wooden handle will provide a comfortable grip while restricting the heat from the wok to pass on to the handle.
The round bottom ensures that all the aromatic flavors remained locked inside the wok—the perfect design, to keep all the ingredients intact while cooking.  
This 14" round bottom black carbon steel wok weighs 3.89 pounds. There is no doubt that it is more on the heavier side, but in this price range it is still the perfect companion for stir-frying to even deep frying. 
Also, the wooden Mandarin handle is apt fot tossing the food while cooking on high heat. So with prolonged usage, you will be accustomed to the heavy body.
This wok is made out of high-quality authentic carbon-steel providing heavy-duty usage. With proper care, this particular Yosukata wok is going to last you for years.
Regular maintenance of the wok is easy given the wok already come pre-seasoned. 
Pros:  
Pre-seasoned in high temperature hence will not wear off easily
Perfectly suitable for professional usage 
Completely dishwasher friendly 
Even heat dissipation 
Cons:   
The heavier weight can get uncomfortable at times 
5. Wokshop 16″ Carbon Steel Wok
| | |
| --- | --- |
| Material  | Carbon Steel  |
| Handle Type  | Cantonese Handle  |
| Coating  | None  |
| Dimensions  | 18 x 16.7 x 7  |
| Additional Features  | Comes with a wok ring, can be easily used over glass electric stoves  |
This is the best hand hammered round bottom wok big enough for family gatherings or outdoor cooking with friends.
This 16" wok comes with Cantonese handles for easy gripping. The perfect wok size to actually feed a family of six-seven members daily.
It is one of the best hand hammered carbon steel woks by Wok Shop that you can currently find on the market and several online stores. Made out of traditional carbon steel, this wok pan is built to last for many years.
Because of its large size, it can be used for stir frying as well as deep frying. The wok also adds a ton of versatility on the table, making it perfectly suitable for steaming and smoking.  
The only downside of the wok is that it doesn't come pre-seasoned. So, you need to know your ways around, while you are seasoning the wok.
Due to its round bottom, it heats up quicker than anticipated so beginners may find it difficult at first to balance the cooking.
However, with time, this will not remain an issue as the premium carbon steel used in this wok evenly distributes the heat and the chef becomes comfortable with the cooking process. 
 
Pros: 
It is the top-rated hand hammered carbon steel wok.
The wok is made out of commercial-grade carbon steel for better longevity 
Large enough to cook on BBQ ovens 
Cantonese handles make it easier to work 
Cons:  
Since the handles are made out of metal, they don't isolate heat 
 
Hand-hammered Carbon steel Wok Vs Standard Carbon Steel Wok
Unlike machine-made carbon steel woks, hand-hammered woks have no joints that will become loose over the years. That is why hand-hammered woks are the best one-time investment and worthy cooking tool for daily wear and tear.
If you are going to use your wok on ferocious heat like a high BTU burner, my recommendation will always be a tough wok that is built to last for years and has the ability to tolerate the torture.
Do go with popular brands who have experience in manufacturing hand-hammered carbon steel woks to make your investment more secure. This ensures a robust built, seamless design, the perfect weight, and balance of the wok.
Carbon Steel Wok Brands You Can Trust
Mammafong is the best brand offering great quality hand hammered carbon steel woks. Mecete is another such brand with equal prominence and ability.
However, when it comes to quality carbon steel woks, Yosukata is also very popular. Unfortunately, they don't have a hand-hammered carbon steel wok available. But I have reviewed their best carbon steel-made wok here.