A nontoxic wok is a wok pan made with a superior quality material or amalgamation of two materials that are not reactive with each other or with food. Unsafe impurities in the material of a wok pan cause food contamination and to avoid that a healthy wok pan is a must-have.
Also, the best nontoxic wok pans have no chemical coatings, are naturally nonstick or can be seasoned with oil, and come with pure metal without any harmful additives for regular high heat, safe and healthy cooking.
Carbon steel and stainless steel are reactive to acidic food like tomato if cooked for a longer period. But stir fry is a fast cooking process, so as long as you are quickly transferring the food onto the plate after cooking, these wok pans are safe to use. Avoid cast iron and aluminum woks if food safety is your highest priority. The anodized aluminum wok is a safe choice too.
I have listed the top 8 safe wok pans which have high-quality materials like premium-grade carbon steel, 304 surgical grade safe stainless steel, and hard-anodized aluminum for healthy cooking. Apart from being non-toxic, these wok pans are durable, crafty, and great at stir-frying.
Top 3 Non Toxic Woks On the Market
1
Best Non Toxic Carbon Steel Wok
---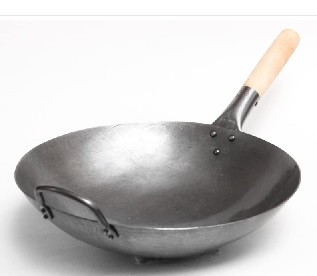 Mammafong 14 inch wok
Premium carbon steel
Naturally non-stick with seasoning
Requires less oil 
Hand-hammered 
traditional wok cooking experience
2
Best Non Toxic Wok (Stainless steel)
---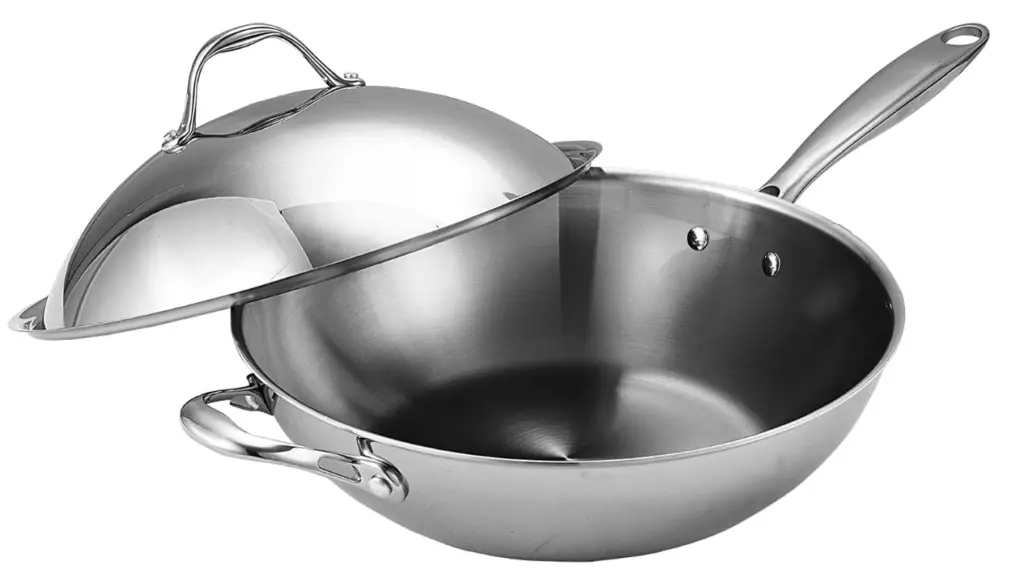 Cooks standard 12 & 13 inch wok
healthy stainless steel
ideal for effortless and safe stir fry
food-grade stainless steel with aluminum sandwiched inside
3
Best Non Toxic Nonstick Wok
---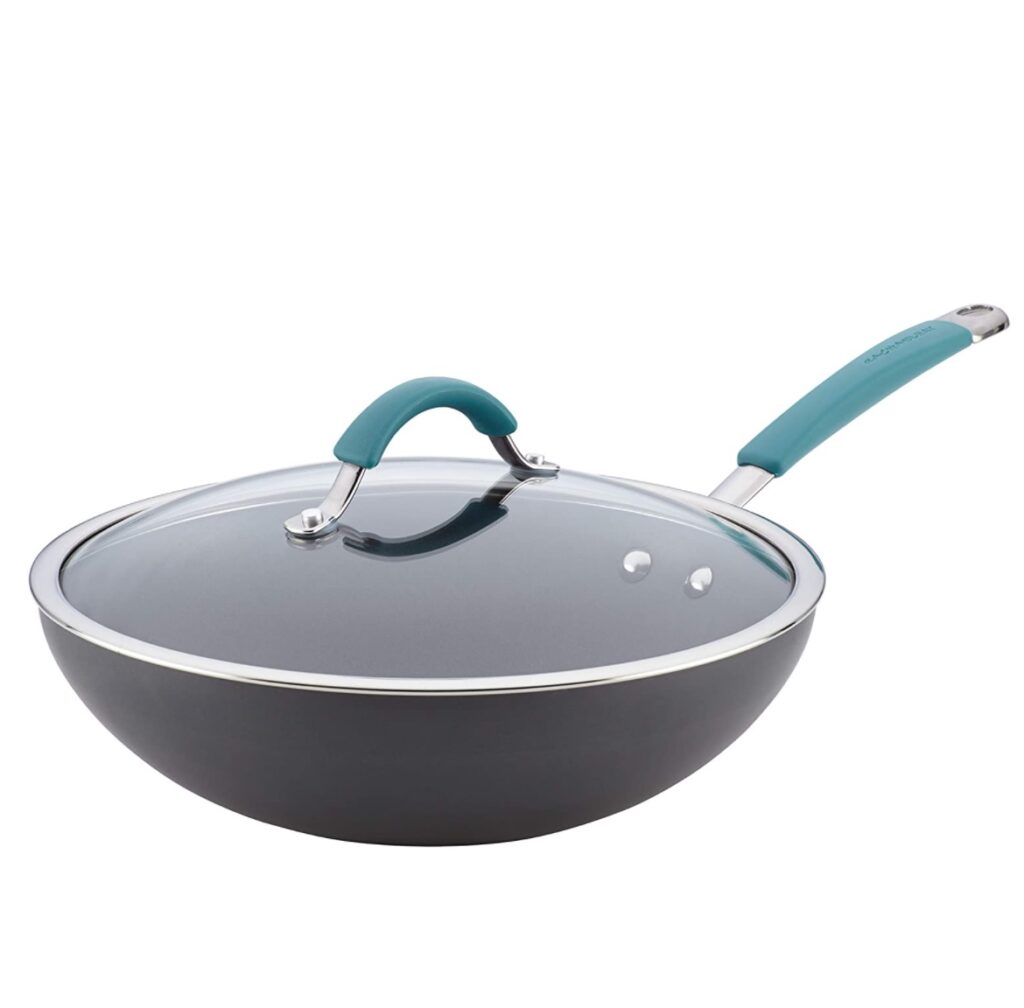 Rachael Ray hard anodized wok
naturally nonstick
Looks aesthetic 
PFOA free non-toxic nonstick surface 
oven safe to 400°F. 
Dishwasher safe 
Content:
Reasons to have a Nontoxic wok
Wok material & their safety
Durability
Cost-effectiveness
Reviews: Top 8 nontoxic woks
Top reasons for having the best non toxic wok-
High heat causes food to react with the pan hence a toxic wok can make your food contaminated
Stir fry is mainly acidic so wok pans with reactive metal like aluminum are bound to mix with your food
Nontoxic wok is safe for your family's overall health
Popular Wok Materials and Their Safety
Carbon steel wok
Stainless steel wok
Cast iron wok
Hard anodized aluminum wok
As wok cooking is a high heat affair, the safety of the material should be our highest priority when choosing this stir fry pan. I had bought a wok pan from a very popular brand, it cost me around $78 and after cooking in it for 17 days, the metal started to give away a very foul smell.
I didn't realize what was the problem sooner. Later after 7 more days, I figured it was the wok that is of poor material built. My daughter was 8 years old then and I was feeding her wok cooked meal.
From that day, I promised myself if I am going to buy cookware then it will only be based on material quality and build, not on brand value or price. For that, if I need to contact the manufacturers, I will.
Below is a list of popular materials for wok pan and my well-researched take on their nontoxic nature.
Is Carbon Steel Wok Non-toxic?
Carbon steel wok is a very popular choice among stir fry lovers mainly because it is lightweight, easily heats up, and maintenance is easy, unlike cast iron.
But how safe carbon steel wok is on high heat? Carbon steel as a material is reactive to acidic food. So it is better to avoid carbon steel for a longer period of cooking where sauces are involved.
As stir fry happens very fast, it is safe to cook in a carbon steel wok. Remember to remove the food from the hot pan instantly once the cooking is done. It will serve two crucial purposes. One, it will stop overcooking your stir fry, and second, your food will be safe from contamination.
Premium Carbon Steel Woks and Their Safety:
Manufacturers often list woks as made of premium carbon steel hence claiming they are safe. But the truth is, premium carbon steel has a high content of carbon (0.61-1.50%) which increases the strength and hardness of the wok pan making it more durable and a good investment.
Carbon steel no matter how high or low its carbon content is, still reactive to acidic food hence not safe for cooking acidic food for a long period. When it comes to stir fry, you can use a carbon steel wok safely, as the cooking process is fast.
Is Stainless Steel Wok Non-toxic?
Stainless steel releases lower levels of nickel and chromium while coming in contact with acidic food. These low levels are generally not a concern but if you have heavy metal sensitivity then stainless steel wok is obviously not a good purchase for you.
However, stir fry is a fast cooking process and if you are using a 304 surgical grade stainless steel wok then the risk of releasing nickel and chromium becomes minuscule. So to have the best and safest stainless steel wok pan always go for the 18/8, 18/10, or 304 grade high-quality stainless steel.
Is Cast iron wok non-toxic?
Cast iron woks are reactive to acidic food like carbon steel and stainless steel if cooked for a long period. But another problem with cast iron is that you often run the risk of releasing too much iron into your food. Yes, supplementing iron daily is a good thing but excessive iron is linked to several diseases. To name a few, Alzheimer's disease, heart problems, and cancer.
Loading too much iron can be good for anemic people, vegans, and menstruating women but people who eat red meat very often should avoid cast iron wok.
In case of safety and nontoxicity of a cast iron wok, my take would be occasional stir-frying can be done in a cast iron pan but regular cooking sessions should strongly be avoided.
Is hard-anodized aluminum wok nontoxic?
Aluminum is highly reactive to acidic food even on low heat. To make aluminum safe, it is anodized. Anodizing is an electrochemical process to seal the metal underneath and make the surface safe, corrosion-resistant, and durable. The aluminum wok is better at heat distribution hence a great tool for stir-frying. But to make it a safer choice, manufacturers are offering healthy hard-anodized aluminum wok which is non-toxic, safe, durable, naturally nonstick, and rust-proof.
Are Non-toxic Woks durable?
When we are talking about non-toxic material, we are mostly dealing with non-alloy metals.
As alloy has all the mixtures of impurities, it has more chances of toxicity than pure metals. So, having a lesser amount of non-alloy in your wok is preferable and safe.
Evidently, alloy metals have greater strength, durability, and resistance to corrosion. If the non-toxic wok has non-alloy metal or maybe the greater constituent part is non-alloy there is a concern about durability.
Is nontoxic wok cost-effective?
Let's understand this topic from a slightly different perspective. If you invest in cookware solely depending on their durability then there are many such brands who offer durable cooking tools at cheaper price rates just because they are an amalgamation of different quality materials and they save a lot of money manufacturing them.
My years of experience as a chef and also as a home cook for my family taught me the golden rule of distributing your decision of purchasing cookware based on this formula-
75% safety, 15% brand value, 5% on looks, and 5% on the price.
You might be thinking where does durability stand in this? Well, brand value always comes with a warranty. A good warranty makes the purchase safe. But even if your cookware is coming with a shorter period of warranty, say 6months and you determine the cookware as safe, I will recommend you to go for it.
As safety tops all. Your health, and your family's health are much more crucial.
Here are the top 8 non-toxic, safe, and durable woks that I made a list of after extensive research and contacting the manufacturers.
1. Mammafong Authentic & Traditional 14 Inch Safest Carbon Steel Wok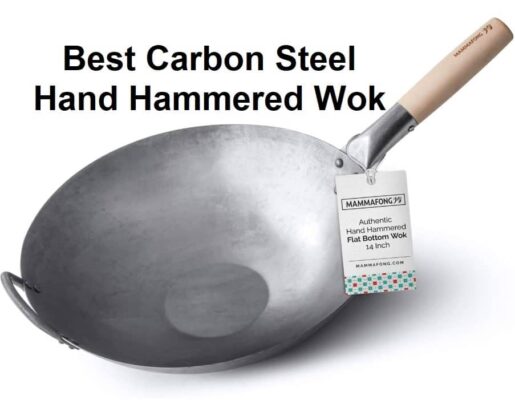 | | |
| --- | --- |
| Material  | Premium carbon steel  |
| Handle Type  | Long wood handle and helper handle  |
| Coating  | Uncoated  |
| Dimensions  | 22.44 x 13.78 x 5.91 inches  |
| Additional Features  | Naturally non-stick  |
The Mammafong carbon steel 14 inch wok is the best non-toxic wok, built with safe and premium carbon steel sheets through hand-hammering technique which is a traditional and secure process of manufacturing woks. The wok has no unsafe coating. It is a pure carbon steel cooking tool that will become a great cooking wok once you season it.
The hand-hammered woks are nontoxic, safe to use daily because in most cases they are built from premium material. Mammafong is one such brand that manufactures some of the best non toxic woks in the market at an affordable price, from premium carbon steel with extreme care and passion.
This 14 inch carbon steel wok from Mammafong is available in both flat and round bottoms. This wok has the most traditional design. You can experience authentic wok cooking in this thin and steep-walled wok which is manufactured from complete hand hammering. As a result, this wok becomes very durable as compared to machine-pressed woks.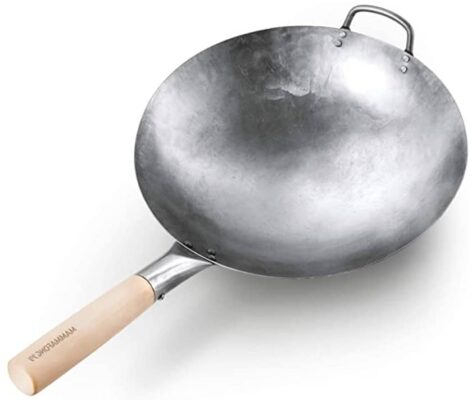 This wok does not warp on high heat. I have used it over wok burner for several months. It still has the same shape, which I love the most about this wok. Mammafong woks are made of heavy 16 gauge carbon steel, which makes them highly durable yet lightweight.
The hand-hammered pow wok has an ideal design to cook Asian dishes. Not only the wok material is safe but the craftsmanship this wok comes in is great for expert chefs, commercial kitchens, and beginners to take their wok cooking to the next level.
The uncoated surface is non-toxic and absolutely safe to make healthy and fat-free meals for your children.  These woks will become naturally nonstick after several usages and give you the authentic wok-hei flavor in your food as the thin walls will help in even stir-frying.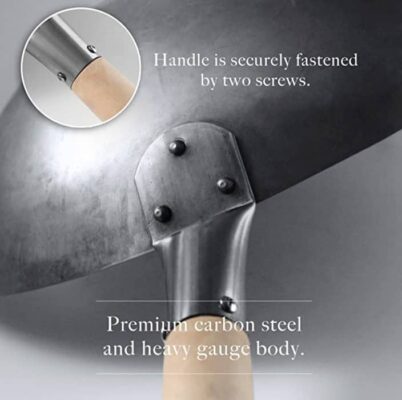 The wok features a sturdy, double-riveted wooden handle and an additional helper handle that makes it suitable for stir-frying as well as simmering soups and stews, deep-fry, saute, steam and braise. The wok arrives with foundational seasoning and has no synthetic coatings or chemicals. 
Pros 
Naturally non-stick with seasoning
Requires less oil 
Hand-hammered 
Lightweight
Non-toxic uncoated surface 
Cons 
2. Cooks Standard 12 and 13-Inch Stainless Steel Multi-Ply Wok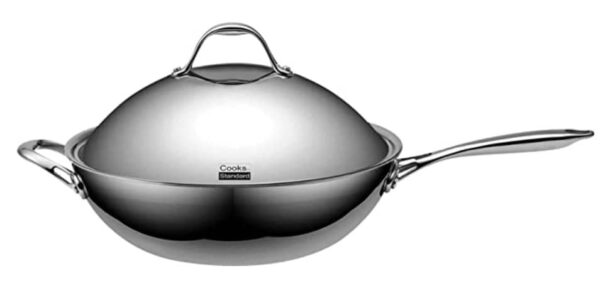 Material 
Stainless Steel with Aluminium core 
Size
Available in both 12 and 13 inch
Handle Type 
Solid stainless-steel riveted long
handle with airflow technology 
Coating 
Uncoated wok
Additional Features 
Limited Lifetime Warranty Stainless Steel Dome Lid 
Airflow Technology-enabled long handle 
Dishwasher safe Oven safe up to 500 degrees F 
This is hands down the best non toxic stainless steel wok in the market offered by a very responsible brand "Cooks Standard" with great customer service. If you have read us, the best woks list of this year, then you know we have listed Cooks Standard Stainless steel wok at the top. The reason is its affordability while offering so many features.
The wok features a brushed stainless steel exterior that is scratch-resistant and retains the outward appeal of the cookware. It is built with an inner and exterior layer of stainless steel (18-10 premium-grade) and an aluminum core that is best for fast heating as well as consistent and even heat distribution.  
Pure stainless steel-made woks are not great at conducting and evenly distributing heat, that's why this model has a 3-ply design. An aluminum core is sandwiched between two layers of stainless steel which offers super-fast and even heating, along with a wide and deep nonstick cooking surface.  
The stainless steel is food-safe while the aluminum core is scratch-resistant. Hence it is the best stainless steel wok with safe material built. As there is no chemical coating, it offers an extra layer of safety.
The long stainless steel handle remains cool even after prolonged cooking over the stove. Both the 13-inch and 12-inch stir fry wok come with a tightly fitted dome lid made of stainless steel that is suitable for delicious cooking. The only downside is the lid is not see-through, hence you will not be able to watch the progress of your cooking.
It is suitable for all kinds of stovetops and can withstand the heat of up to 500 degrees F. It comes with a limited warranty and is dishwasher safe.  
3. Rachael Ray Cucina Nonstick Stir Fry 11 Inch Best non toxic Wok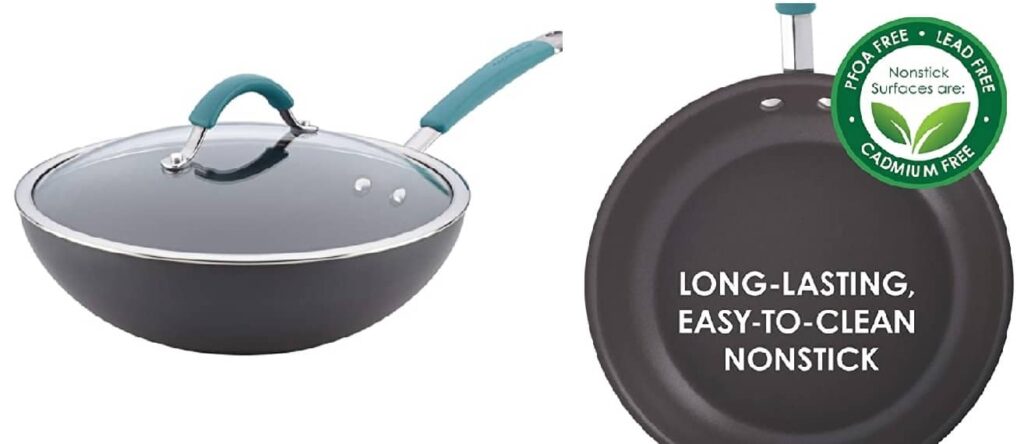 | | |
| --- | --- |
| Material  | Hard-Anodized Aluminum  |
| Handle Type  | Dual-riveted silicone-over-stainless-steel handles  |
| Coating  | PFOA-free espresso-colored non-stick coating  |
| Dimensions  | 19.5 x 11.5 x 5.5 inches  |
| Additional Features  | Limited lifetime warranty; Oven safe to 400°F.  |
The one of the best non-toxic 11 inch woks available on the market is from Rachael Ray. Cucina Non-stick wok has a premium hard anodized aluminum build that ensures even and superior heating and heat distribution.
It has a stick-proof PFOA free non-toxic coating making it safe and healthy cookware to cook a variety of recipes that need stir-frying. The non-stick layer is safe for cooking meals for your children and offers easy food release and cleanup.
The hard anodized surface is highly durable to withstand the use of utensils like metal spatulas, spoons, whisks, and more. The wok comes with a dual-riveted, silicone-over-stainless-steel handle and a shatter-resistant glass lid that has a wide stainless steel rim.  
Pros 
Looks aesthetic 
PFOA free non-toxic nonstick surface 
oven safe to 400°F. 
Easy food release surface
Easy to clean 
Dishwasher safe 
Comfortable to grip silicone handles that stay cool while cooking 
Cons 
Not suitable for induction ovens 
4. Ozeri Green Earth Flat Bottom Safe 12 inch Wok Pan
| | |
| --- | --- |
| Material  | die-cast aluminum  |
| Handle Type  | Bakelite heat-resistant handle |
| Coating  | Ceramic Safe Non-Stick Coating |
| Additional Features  | 100% PTFE and PFOA free, induction safe |
Ozeri incorporates award-winning designs, durable build, and healthy material in their products. As they are a big supporter of healthy living, it is most-suited to add the Ozeri Green Earth 12 inch ceramic nonstick wok at the top of this list. When I asked them, why their woks are the safest options available? They revealed unlike other similar brands Ozeri Green Earth Wok has an ultra-safe ceramic coating that is 100% PTFE and PFOA free.
The scratch-resistant nonstick surface is non toxic and healthy as it does not release any fume at high temperatures. You can cook your delicious meal every day and it will have no risk of leaching harmful chemicals. The best part is this wok has the perfect size and depth to cook food for at least 3-4 people at once.
The induction-safe, beautiful modern design and the flat bottom aids in using it on any cooktop and also showcase it in your kitchen. The die-cast aluminum body is durable and at the same time lightweight for beginners. The easy-to-grip heat resistant bakelite handle is very comfortable to hold during the cooking process. Overall, this is the best affordable, safest, and healthiest wok to have.
5. Best Non Toxic Wok: Calphalon Contemporary Nonstick Flat-Bottom Wok Review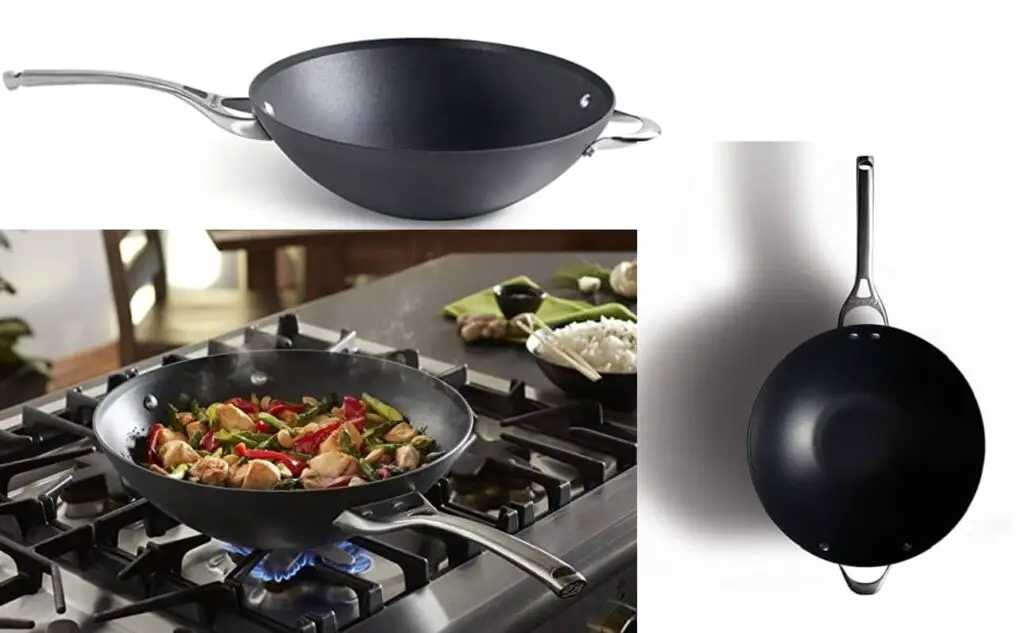 Material 
Hard-anodized aluminum 
Handle Type 
Long brushed steel stainless steel handle and
an additional helper handle 
Coating 
Multi-layered safe non-stick coating 
Additional Features 
Lifetime warranty; oven safe up to 450°F 
Calphalon manufactures the safest wok with non-toxic material build and secure non-stick coating. The flat bottom wok is not only healthy to use daily but also represents great craftsmanship when it comes to cooking delicious stir fry. The flat bottom wok features a stylish and modern appearance, coming with hard anodized exteriors and a three-layer non-stick interior.  
About the Coating and safety of the material:
Hard anodized aluminum cookware is very popular nowadays because it offers a series of benefits. It is durable, lightweight, and affordable than many enameled cookware. Aluminum is soft and reactive to acidic food, which means using aluminum to build cookware is not safe.
So manufacturers at Calphalon anodized the aluminum to make the layer of aluminum oxide thicker and sturdier. The thick layer acts as a nonstick surface.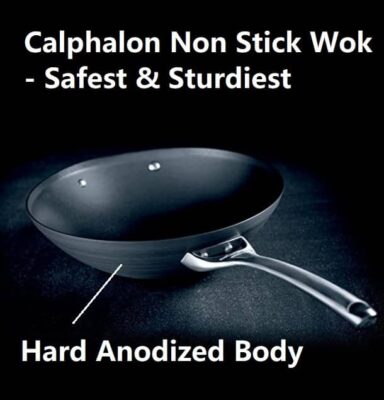 Also, hard anodized aluminum is non-reactive to food hence safe to cook on high heat, which is why I have picked this flat bottom wok from Calphalon as the safest and healthiest wok. This electro-chemical process of anodizing makes the aluminum 30% harder than stainless steel. It means hard anodized wok is a better investment than stainless steel woks in terms of durability.
Because of the hard anodized aluminum interior and exterior, this wok is rust-proof, stick, and scratch-safe. You can easily use a metal cooking tool on this wok without getting it any patches.
More features in details:
The non-stick coating is of a premium build quality and has three layers- the two layers provide enhanced durability and the third one offers the easy release performance. This makes the coating highly functional and durable at the same time, making sure that you can cook even on high heat without any chances of the coating coming out. 
The hard anodized aluminum construction on the exterior makes for the perfect heat conduction and even distribution. The wok is inspired by the traditional wok construction featuring a versatile flared design.  
Because of the brushed stainless steel handle and the additional helper handle, the wok is suitable for a variety of cooking techniques including stir-frying, making tempura, and simmering stews and soups.  
Given the material safety and premium quality of this product, the wok is totally worth its price and is the best non toxic wok on the market.  
Pros 
Multi-layer premium and durable non-stick cooking surface  
Easy cleanup 
Suitable for various styles of cooking 
Non-toxic, safe for cooking food for your children 
Dishwasher safe 
Cons 
6. Circulon Infinite Covered Second Best Non Toxic Wok (36 cm)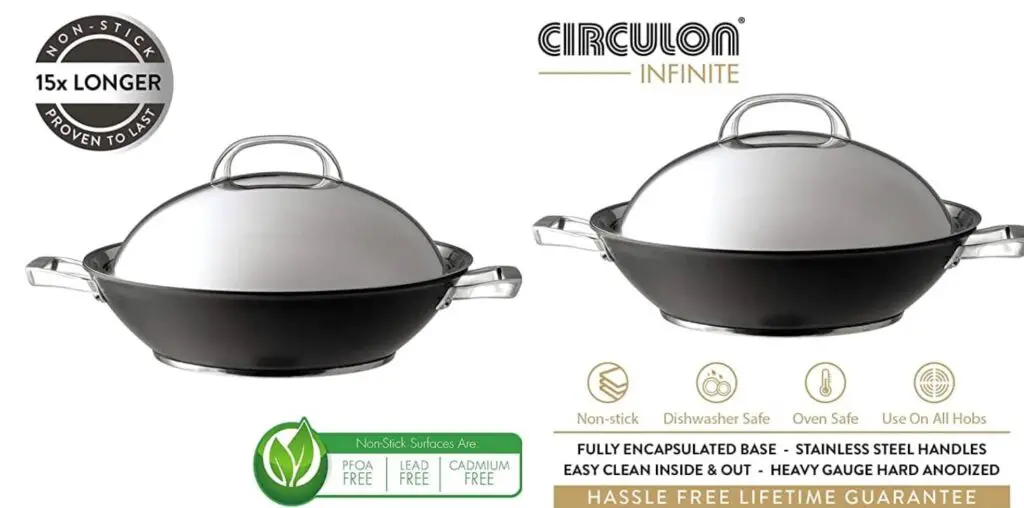 | | |
| --- | --- |
| Material  | Hard anodized heavy gauge aluminum  |
| Handle Type  | Double ear handle (stainless steel)  |
| Coating  | Non-stick non-toxic coating  |
| Dimensions  | 16.61 x 16.22 x 6.02 inches  |
| Additional Features  | Lifetime guarantee; suitable for use on all hobs and induction.  |
Manufactured by Circulon, one of the most esteemed cookware manufacturers, from the UK this 36 cm wok looks stunning, is a style statement, and one of the safest pick on the market. If you are looking for a premium wok with high safety features and a complete nonstick cooking surface, this induction-proof Circulon Wok is the perfect one.
The wok comes with a hard-anodized body made from heavy gauge aluminum and features a superior non-toxic nonstick surface.
The nonstick layer is lead-free, cadmium-free, and PFOA free making it a healthy option for you to cook on. The wok has a fully encapsulated stainless steel base that ensures superior and even heat conduction. The non-stick surface is durable enough for you to use all kinds of utensils without the risk of the layer getting chipped. The wok comes with two easy-to-grip stainless steel handles and a beautiful dome lid.
Pros  
Hi-Low food release technology 
Non-toxic coating suitable for cooking food for children. 
Requires minimum oil for cooking 
Durable non-stick surface  
Comes with a clear lid 
Cons 
7. Calphalon Classic Stainless Steel 12 Inch Flat-Bottom Safe Wok 

| | |
| --- | --- |
| Material  | Stainless Steel with Aluminum base  |
| Handle Type  | Long, double-riveted,  stainless steel handle and helper handle  |
| Coating  | Uncoated  |
| Dimensions  | 21.46 x 12.87 x 5.08 inches  |
| Additional Features  | Calphalon's full lifetime warranty; Oven and broiler safe  |
If you are short on budget and unable to get those woks made of hard-anodized aluminum, stainless steel is the next best non-toxic option to have. Calphalon manufactures quality stainless steel made woks. These woks are the safest and suitable for regular cooking.
Among, them this flat bottom nontoxic stainless steel wok has the most suitable size and depth to cook the perfect stir fry. The wok has a durable brushed stainless steel construction and comes with an impact-bonded aluminum base that makes for fast and even cooking.
It also makes the wok compatible for cooking crisp and healthy vegetable and meat stir-fry. The wok is uncoated and has a long cast stainless steel handle and an additional helper handle that helps in the authentic stir-fry technique of tossing and turning food as it fries.  
Pros  
Long cast stainless steel handle stays cool on the stovetop even after long periods 
Suitable for gas, electric, electric ring, halogen, glass-ceramic, or induction stovetops. 
Dishwasher safe and easy clean  
Cons 
8. OXO Good Grips 12 Inch Best Non Toxic Wok 
| | |
| --- | --- |
| Material  | Hard-anodized Aluminum  |
| Handle Type  | Cast stainless steel handle wrapped in heat-resistant silicone   |
| Coating  | 3 Layer Non-stick coating  |
| Dimensions  | 19.25 x 12 x 5 inches  |
| Additional Features  | Oven safe up to 390°F; Suitable for most types of stovetops  |
This Oxo Good Grips Wok has one of the most unique designs on the market. It is among the top non toxic woks and has all the qualities you might want in your wok. Built with scratch-resistant and hard-anodized aluminum, the wok has superior and even heat distribution.
The key highlight is the German-engineered 3-layered non-stick surface that is PFOA free and enables easy and safe cooking with minimal oil with easy release technology.  The wok has a heat-resistant silicone-covered, long ergonomic cast stainless steel handle that offers a comfortable and non-slip grip.
Thus it is the perfect cookware for stir-frying and any other cooking techniques a wok offers. The special smart bowl-shaped design is compatible with stir-frying, sauteing, and simmering soups and stews by pushing the food against the inward sloping side.
The non-stick surface is built to last and is durable enough to withstand all kinds of utensils and does not peel off even after prolonged use over high heat. It is suitable to cook food for children and enables safe and healthy cooking.  
Pros 
Smart bowl-shaped design 
Long ergonomic heat resistant handle 
Non-toxic 3 layer non-stick 
Even heat distribution 
Oven safe and suitable for all kinds of stovetops 
Cons 
Not suitable for induction  
Bottom Line:
These are the 8 best non toxic woks, I have found on the market. I have explained their features in detail and why they are safe to use daily. This information will help you to select any type of safe cookware.
Every product we list on Wokware is safe to the best of our knowledge. So, if you are going with our suggestion, you can rest assured of the quality. Below are some useful resources to find the most suitable wok for you, if you have any specific preferences.
(Visited 7,647 times, 12 visits today)