A stainless steel wok is rust-proof, easy to clean, looks great, and a durable stir-frying tool. But the only downfall is its poor – "even and instant heating capability" as compared to a "cast iron or carbon steel wok". Thanks to the manufacturers they have solved that issue by "sandwiching aluminum between two sheets of stainless steel" as aluminum is better at even heat distribution and heats up the wok fast.
Is Stainless steel wok a good purchase for you?
Carbon steel and cast iron are the traditional material used in manufacturing woks. With time and progress in the industry, woks are now offered in a sleek, modern, rust-proof, sturdy, and safe stainless steel body. Try-ply stainless steel woks are literally invincible. Also cast iron has a Prop 65 warning in the state of California which means the state has found chemicals in cast iron that have the potential risk of causing cancer and other reproductive problems.
Stainless steel woks are safe alternatives and good at stir-frying if aluminum is added with stainless steel sheets for better heat retention. As long as you are not buying a nonstick coated stainless steel, it is a good purchase for you.
While buying a stainless steel wok so many things can go wrong. With quality products, there are substandard stainless steel woks too filled in the market. So here in this article, I have picked the top 5 stainless steel woks which are worthy to invest.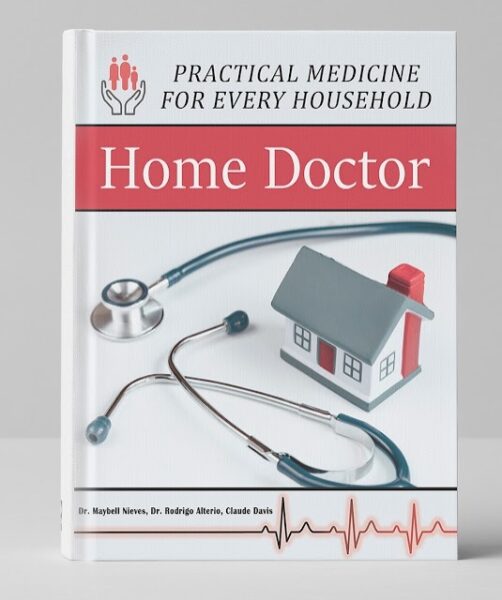 Best Stainless Steel Wok – Top 5 Worthy Picks
1. Cooks Standard 12 and 13-Inch Stainless Steel Multi-Ply Wok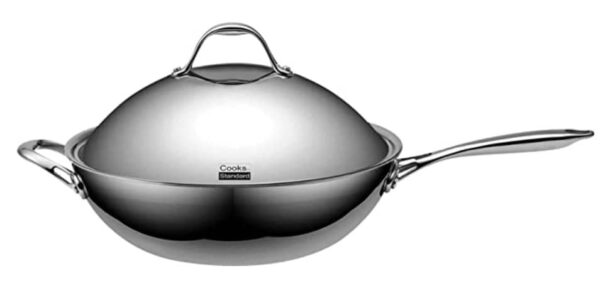 Material 
Stainless Steel with Aluminium core 
Size
Available in both 12 and 13 inch
Handle Type 
Solid stainless-steel riveted long
handle with airflow technology 
Coating 
Uncoated wok
Additional Features 
Limited Lifetime Warranty Stainless Steel Dome Lid 
Airflow Technology-enabled long handle 
Dishwasher safe Oven safe up to 500 degrees F 
This is hands down the best stainless steel wok in the market offered by a very responsible brand "Cooks Standard" with great customer service. If you have read us, the best woks list of this year, then you know we have listed Cooks Standard Stainless steel wok at the top. The reason is its affordability while offering so many features.
The wok features a brushed stainless steel exterior that is scratch-resistant and retains the outward appeal of the cookware. It is built with an inner and exterior layer of stainless steel (18-10 premium-grade) and an aluminum core that is best for fast heating as well as consistent and even heat distribution.  
Pure stainless steel-made woks are not great at conducting and evenly distributing heat, that's why this model has a 3-ply design. An aluminum core is sandwiched between two layers of stainless steel which offers super-fast and even heating, along with a wide and deep nonstick cooking surface.  
The stainless steel is food-safe while the aluminum core is scratch-resistant. Hence it is the best stainless steel wok with safe material built. As there is no chemical coating, it offers an extra layer of safety.
The long stainless steel handle remains cool even after prolonged cooking over the stove. Both the 13-inch and 12-inch stir fry wok come with a tightly fitted dome lid made of stainless steel that is suitable for delicious cooking. The only downside is the lid is not see-through, hence you will not be able to watch the progress of your cooking.
It is suitable for all kinds of stovetops and can withstand the heat of up to 500 degrees F. It comes with a limited warranty and is dishwasher safe.  
2. Calphalon Tri-Ply Stainless Steel 12-Inch Flat Bottom Wok (Covered)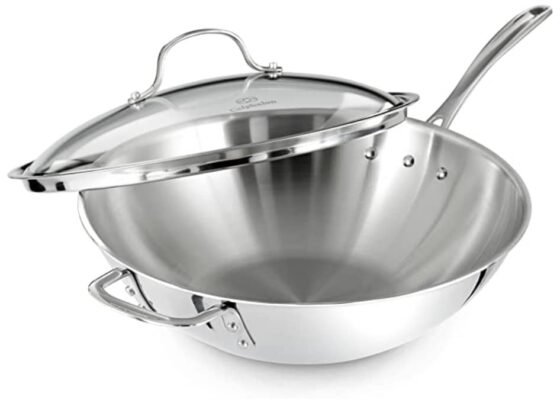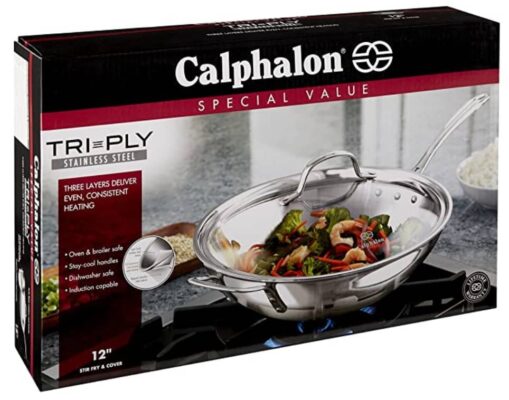 Material 
Stainless steel with an Aluminium core 
Handle Type 
Long, Triple-riveted Stainless Steel Handle 
Coating 
Uncoated satin finish 
Dimensions 
22.88 x 14.5 x 4.75 inches 
Additional Features 
Calphalon's Full Lifetime Warranty 
Domed clear
tempered glass cover 
Non-porous
stainless steel cooking surface 
The Calphalon Tri-Ply Stainless Steel Covered Stir Fry Pan is one of the most meticulously designed flat bottom woks in the market and the best stainless steel wok in terms of its features. The pan is made of a heavy-gauge aluminum core that enables even heating throughout its surface.  
This 12-inch fry pan features a stainless steel exterior along with a satin-finished interior inspired by traditional wok designs that make the product extremely reliable when it comes to performance. It comes with a sturdy and long, triple-riveted, brushed stainless handle that makes it suitable for cooking crisp and healthy vegetables and for meat stir-frying. The wok is perfect for steaming and simmering soups because of the added lid.  
The Tri-Ply Technology in the wok uses two layers of stainless steel and a core of aluminum that ensures consistent and excellent heat conduction throughout the surface of the pan. Looks and performance are not the only good thing about the pan, but it also comes with a lifetime warranty and is completely oven and broiler safe.  
The Stir Fry Pan comes with a clear tempered glass lid or cover and is very easy to clean. It is also dishwasher safe.  
3. Willow & Everett 13 inch Flat bottom Stir Fry Wok Pan 
Material 
Stainless steel with Aluminum Core 
Handle Type 
Long riveted handle and helper handle 
Coating 
Uncoated, non-stick cooking surface 
Dimensions 
22.1 x 13.9 x 5.8 inches 
Additional Features 
Stainless steel bamboo handle spatula and
stainless steel dome lid with helper handle included. 
100% chemical-free. Dishwasher safe 
Oven safe up to 500 degrees F  
Willow & Everett 13 inch Stir Fry Wok Pan has everything that you need in a stainless steel wok. From the nonstick surface, lightweight body, induction-safe, well-riveted handles, and proper depth to a tightly fitted lid it has everything. Moreover, it comes with a stainless steel spatula. But the best part is its affordability.
Because of the flat bottom you can use it on any stovetop and is ideal for stir-frying, steaming, deep-frying, boiling, searing, and more. 
The wok has a long ergonomic handle as well as a helper handle on the opposite side for a secure grip while stir-frying. The wok comes with an additional stainless steel dome lid and a stainless steel bamboo handle spatula. You can cook large servings with it over almost any stovetop.  
4. Calphalon Classic Flat-Bottom 12 inch Wok (Without a Cover)

Material 
Stainless Steel with Aluminum base 
Handle Type 
Long cast stainless steel handle  
Coating 
Uncoated 
Dimensions 
21.46 x 12.87 x 5.08 inches 
Additional Features 
Calphalon's full 10-year warranty 
Dishwasher safe Oven Safe  
 
 
 
Made from brushed stainless steel with an impact-bonded aluminum base, the Classic Flat Bottom Wok from Calphalon is one of the top-of-the-line stainless steel woks available in the market this year. 
The 12-inch wide stir fry wok takes inspiration from the traditional wok design with a flat bottom and wide, curved sides.  
Designed in a traditional wok style, the aluminum base provides even and consistent heating and the long cast stainless steel ergonomic handle provides the perfect grip for tossing and turning during stir fry.
 The handles are double riveted and stay cool even when the wok is hot, and the wok is safe for stoves, ovens, and broilers. The pan comes with Calphalon's full 10 years warranty.  
The flat bottom wok sits evenly on most stovetops and the deep bowl design and wide cooking surface make it the perfect cookware to fry tempura and also prepare dishes such as beef, broccoli, shrimp, and vegetables.  
However, the wok doesn't come with a lid, which I feel is a must-have to increase the functionality of your wok. Otherwise, this is the most efficient stainless steel wok in this price range.
5. Cuisinart 726-38H Chef's Classic Stainless 14-Inch Stir-Fry Pan 
Material 
Stainless Steel with Aluminum core 
Handle Type 
Long riveted handle and helper handle 
Coating 
Uncoated 
Dimensions 
24.3 x 17.7 x 6.8 inches 
Additional Features 
Limited lifetime warranty Stay cool Long handle
and helper handle See-through glass lid 
Dishwasher safe Oven safe up to 550 degrees F 
Cuisinart's 726-38H Chef's Classic 14-Inch Stir Fry Pan is one of the top stainless steel woks in the market right now, if not the best.  
The wok is made of stainless steel and the encapsulated aluminum core is what makes the pan highly efficient for high-heat and stir-frying.  
The wok comes induction ready and drip-free with minimal oil requirements due to the aluminum core. You can perfectly retain the flavors, textures, and nutrients of the food you are cooking.   
There are handy measurement markings that make it easy to pour in sauce or liquids while cooking.  
The 14-inch stir fry wok comes with a "Stay-cool" stainless steel riveted handle and an additional helper handle on the opposite side for extra convenience and grip while cooking.  
The wok also comes with a see-through glass lid that makes it ideal for making soups and simmering. It is also oven safe to up to 550 degrees F.   
How to buy the best performing and safe stainless steel wok?
Stainless steel woks and their combination with different metals have gained popularity across the globe, becoming essential kitchenware or tool. Stainless steel woks don't need to be seasoned and are quite durable. 
The combination of stainless steel and other metals like aluminum core works excellent as a heat conductor and ensures even heat distribution throughout the wok surface. The stainless steel woks are very popular in modern kitchens with induction and electric cooktops. 
Are stainless steel woks good investments? 
The market is full of variants. Not all stainless steel woks are good. If a stainless steel wok is made out of high-quality steel or 304 series of food-grade metal then surely it is a must-have. These types of woks are highly resistant to corrosion. 
These are superiorly polished, and come with scratch resistance and stain resistance formula. The best part is these stainless steel woks are dishwasher safe and hence convenient to clean.  
The multi-element aluminum core stainless steel wok with 3-ply and 5-ply is worth investing in too. The aluminum core of the wok helps in better heat distribution and the stainless steel sheets provide a naturally nonstick surface for easy cooking.
Why do Chefs prefer stainless steel wok?
Stainless steel woks are not just used in domestic kitchens but also in restaurants by chefs for commercial use. Chefs across the globe use stainless steel woks exclusively due to their excellent and even heat distribution. 
These come with a natural nonstick cooking surface which prevents the sticking of food to the surface.
Though these are nonstick, a quick seasoning will do wonders. Professionally chefs prefer to season their wok by oiling the wok and heating it to high temperatures for a few minutes, and it is done. 
Stainless steel woks are suitable for all types of cooking styles like stir-frying, deep-frying, steaming, roasting, etc. 
Is it better to cook with stainless steel wok or nonstick?
The debate of the decade about stainless steel or nonstick is very long since everyone around is debating and defending either of them. But there are a lot more factors that can be considered before making a decision. 
Nonstick cookware is widely used and found to be easy to clean and maintain. It prevents the sticking of food and also requires less oil for cooking when compared with other cookware ranges.
But there is a lot more to learn about it as this convenient cookware has got potential risks and health effects. The most commonly raised issue in nonstick cookware is the use of certain toxic chemicals.
The use of PFOA & PTFE has been phased out of manufacturing by EPA. Still, there are a lot of manufacturers that make use of it. The harmful factor is using the nonstick wok at high temperature exposes you to PFOA or releases other toxic chemicals into the air or food.
Compared to nonstick woks, stainless steel woks are highly durable and non-fragile. The stainless steel used in manufacturing cookware is food-grade metal, and it is resistant to wear and tear. It is also resistant to high heat, which makes it safe for cooking different types of food. 
This food-grade metal is 304 stainless steel. It has less than 0.8 percent carbon and the least amount of iron ranging up to 50 percent. It does not include any other alloys or substances, which makes it an ideal material for cookware.
Clearly, a stainless steel wok is always better than a nonstick wok.
Do stainless steel woks need seasoning? 
Stainless steel wok does come with a nonstick cooking surface, and many manufacturers promote it as completely nonstick, which requires no seasoning. Well, it is not valid in all sense. 
My advice from an experience of a few years would be that seasoning the stainless steel wok can be a good idea for its excellent performance. 
Seasoning of the wok isn't just required for maintaining the nonstick surface but for improving the wok's durability and forming a naturally nonstick surface. 
Let's see how to season stainless steel wok in a few easy steps:
Place the wok on high heat on a gas stove
Apply oil over the wok surface using a paper towel or oil brush.
Now turn down the heat to medium flames. 
Let it stay still for 10-15 mins. 
Look for the color change on the bottom end of the wok
You will see there are no traces of oil visible anymore. 
Now remove the wok from the stove and cool it down completely. 
What oil is good for seasoning stainless steel?
Seasoning oil with a wok is the initial step of using it. Like the range of variants in woks and materials, different people have different opinions on the use of oil for seasoning. But it is necessary to use oils with a high smoking point. 
Some of the commonly used oils for seasoning stainless steel woks are soybean oil, vegetable oil, peanut oil, grapeseed oil, etc. 
The oils with higher smoking points react well in the seasoning process. Out of all these, grapeseed oil is preferred more commonly. 
How to take good care of a stainless steel wok?
Cleaning stainless steel wok is an easy process, but it can become more effective with a few more tips. 
Using salt and lemon for cleaning wok is the traditional way of taking care of it.
Using cream of tartar: If you are a fan of baking and sweets, you will have this in your kitchen. A little amount of cream of tartar paste will make it shine like new. 
Warm and soapy water is the most common way of cleaning it. 
How to pick the best performing and safe stainless steel wok?
Picking up the best piece of cookware is not more comfortable; it is essential to consider some essential factors before choosing the one. 
Look for the following:
✔️The durability of wok:
Always buy cookware from known and reputed brands as it ensures the durability of wok or cookware. Do not compromise on quality, and try high-quality cookware. 
✔️Heat Conduction:
This is the essential part as stainless steel has lower heat distribution than cast iron or carbon steel. Some popular brands offer multi-element stainless steel woks that are excellent at heat conduction.
✔️Easy to clean and maintain:
The stainless steel woks with 3-ply or 5-ply are super shiny and resistant to scratch and stain. Make sure you buy the 304 series stainless steel wok. 
✔️Healthy and safe:
Stainless steel is already considered safer and healthier than other materials as it does not react with acidic foods and keeps it safe. The reaction of cookware with utensils may change the taste of food.    
Potential Risks of Non-Stick Coated Stainless Steel Woks
Non-stick coated woks are the easiest to use cookware. They need less oil hence we find them healthy. But not all coatings are safe. Non-stick woks that cost below $40 are the ones you must be skeptical about. To eliminate the potentially risky nonstick coating in a wok and find the safest wok to use read on.
Teflon Coatings:
First and foremost you cannot buy Teflon-coated cookware anymore. Above 500 degrees F, the Teflon coatings release toxic fume. And as wok cooking is a high heat affair, we must avoid using a Teflon coated wok.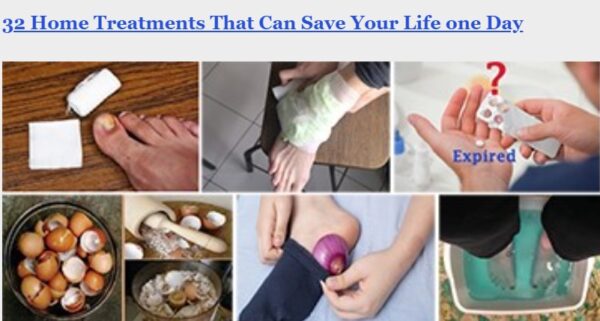 There are no carcinogenic elements found in Teflon but the fume may create flu-like symptoms according to the American Cancer Society.
Also, PFOA is used in small amounts with Teflon in the Teflon coated woks, and the International Agency for Research on Cancer (IARC) which is a part of the World Health Organization (WHO) has classified PFOA as "possibly carcinogenic to humans". 
Nowadays, many wok manufacturers are mentioning on the label that the wok is PFOA free. But not all of them are doing the same, so it is hard to understand which wok is safe or not. Fortunately, I have come across some great brands that offer safe stainless woks.
Impurities in a Stainless Steel Wok
Stainless steel is not a good heat conductor or distributor. And as wok cooking needs even heat distribution manufacturers often add aluminum metal as the base of the stainless steel wok so that it becomes a wholesome tool for wok cooking. Aluminum is good at even heat distribution but it reacts with food.
Few dishonest brands often add aluminum surfaces in woks. These woks are cheap and people tend to buy them. Certainly, this wok in a long term is a very unhealthy affair. That's why you always need to pick popular and reputable brands while buying a stainless steel wok to be on the safe side.
Are Stainless Steels Woks Non-Stick?
Stainless steel woks offer their own set of benefits. They're non-reactive, so you can use them to make vinegary or acidic dishes like our Sweet and Pungent Pork, Orange Chicken, or even Chinese Braised Fish.
Is Stainless Steel Wok Safe?
People call it "stainless" because it resists rust and corrosion, making it an excellent cooking material. Because stainless steel distributes heat uniformly over its surface, it's ideal for griddle cooking and flat baking sheets.
Is Stainless Steel Wok Good For Stir Fry?
Stainless steel cooks evenly and quickly, ideal for quick sears and sautes. Meat and vegetables keep their juiciness and crunch. Cast iron is another excellent option, but it is much heavier, making shaking and tossing the skillet more challenging.
Is Honeycomb Stainless Steel Wok Safe?
Cutting straight in the pans should be avoided. Gouge the nonstick surface as little as possible. Slight abrasions or surface blemishes are expected and will not impede the cookware's function. Do not allow pans to boil dry after cooking, and do not leave empty pans on a hot burner.
How To Prepare Stainless Steel Wok For Cooking?
Scrub it well with a pot scrubber and a tiny bit of mild dish detergent, being careful to get the whole surface area as clean as possible. Hand-dry the wok and cook it over high heat (but not smoking), then set it aside to cool. Rinse and scrape the wok lightly one more before drying it over the burner.
Stainless Steel Wok For Induction Cooktop
The Cooks Standard Stainless-Steel Wok with Top has an aluminum base; strong stainless-steel soldered handles that keep more fantastic thanks to air-flow technology, and a secure-fitting SS dome lid that retains heat and moisture. It has a finite lifespan warranty and is dishwasher and oven safe up to 500 degrees F. It works on all stovetops, including induction, and is simple to clean in the dishwasher or by hand. The cover is ideal for retaining heat, humidity, and nutrients, and it features loop handles for easy placing and removal.
It's incredibly adaptable since you can use it for deep frying, stir-frying, boiling, or steaming, especially with the wide dome lid. It has extended grips and large loop side grips on the pot, making it simple to move on the cooktop or lift and transport safely, even when complete. Even though the handles keep colder to the touch, you should still wear oven gloves. The portion size is ideal for a single individual or a family supper. The heat will spread evenly if you gently change the angle of the inside bottom of the pan, allowing you to overflow the pan and have the food on the sides cook as uniformly as the stuff on the bottom. 
Stainless Steel Wok For Deep Frying
Willow Everett makes the most excellent stainless steel wok for deep frying. The Stainless Steel Wok by Willow & Everett combines the classic form and concept of a wok with quality materials and a precise design to provide excellent wok cooking, which goes above what you've experienced before. The wok is stainless steel and aluminum and measures 2 mm thick. Consequently, the wok cooks quicker and more uniformly, and it also requires less energy and is considerably safer to use overall.
The wok has a typical round-bottom shape with a large cooking surface that can handle a variety of cooking methods. It works with gas and electric heat. The extra-long shape of the wok hand allows you to sit further away from the heat source. It gives you a better grip while keeping the pan cool on the cooktop. The wok pan is scratch-resistant, heat-resistant, and dishwasher safe, and all of the materials in the set are free of PFOA and PTFE. You'll notice how much easier it is to use than your prior wok and the greater variety and depth it gives.
Stainless Steel Wok For Electric Stove
Calphalon Stainless Steel Wok is the best for electric cooktops. It's a wok with a sleek brushed SS exterior that can move straight from the stove or oven to the table and a shiny cook exterior that makes it simple to observe meals as they cook while still looking good over time. It has a clear tempered-glass cover that allows you to see what's cooking and is microwave safe, so you can heat-covered meals in the microwave or keep them warm until serving time. On the cooktop, the long, polished stainless steel handles keep cool.
All utensils are safe to use on the non-porous stainless steel cooking surface. It's developed from a classic round-bottom wok, and because it's a flat-bottom wok, it offers a large cooking surface that's perfect for stir-frying on gas or electric ranges. Soups can be steamed or simmered with the domed cover. This pot's form is quite functional and just right.
Stainless Steel Wok For Gas Stove
The Calphalon classic without the lid is the best option to look for when planning to shop for stainless steel wok for a gas stove. The aluminum base delivers uniform and steady heating. The extended cast SS ergonomic handle gives the optimum grip for flipping and twisting during stir fry in a conventional wok manner. The double-riveted handles keep cold even when the wok is heated, and the wok is safe to use on stoves, microwaves, and broilers. Calphalon offers a complete 10-year warranty on the pan. The flat bottom wok rests evenly on most stovetops, and the large bowl shape and large cooking surface make it ideal for frying tempura and cooking meat, broccoli, shrimp, and veggies.
Stainless Steel Wok For Ceramic Hob
If you love cooking food on ceramic hobs, the Cuisinart woks will be your best companion. Cook in the sauce while grilling with this pre-seasoned cast iron wok! Create a tasty place for all of the natural fluids in your food to accumulate. The Cuisinart Wok comprises heavy-duty cast iron with a nonstick finish that makes cleaning a breeze after grilling. This Cuisinart has pre-seasoned cast iron for simple cleaning and a nonstick surface for optimal flavor retention when cooking. This wok's shape is perfect for keeping food submerged in sauces and juices, ensuring flavorful cuisine at every meal!
The Cuisinart wok is pre-seasoned with a nonstick frying surface for more tasty meals. The wok's form cooks in excellent sauces and juices while retaining heat; cast iron is extremely sturdy. It features a 10′′ cast iron surface that retains heat and taste and produces excellent sauce and juice with each mouthful. Furthermore, because this wok is composed of sturdy cast iron, it can survive heavy use without bending or bending over time.
Stainless Steel Wok For Grill
When shopping for the best woks for a grill, it is always the best idea to look at the wok from the Cuisinart brand. Everyday culinary duties are made easier with the Cuisinart Chef's Classic Stainless Pan. High-heat stir-frying is healthy since it uses less oil and seals in flavor, consistency, and nutrients. It features a mirror finish and is induction-ready, grill-ready, and induction-ready. It provides professional performance while maintaining a traditional appearance. It includes an aluminum encased base that warms rapidly, uniformly distributes heat, and prevents hot spots. The tight-fitting lid traps in nutrients and moisture every time you cook for healthier, more delicious results.
The stainless steel cooktop does not discolor, interact with food, or change the meal's flavor. The wok has a lifetime guarantee and provides for drip-free pouring. This wok genuinely sparkles, thanks to its rust-resistant stainless steel design. It has a glass top that helps keep an eye on your food without removing it. This wok can resist microwave temperatures as high as 550 degrees Fahrenheit and is dishwasher safe. It is affordable and is also known for its durability and strength to the customers who love to enjoy relishing stir-fried food.
Stainless Steel Or Carbon Steel Wok
There is a lot of controversy about whether stainless steel woks are better than the classic carbon steel woks that have been around for generations. For various reasons, traditionalists and most professional chefs oppose using stainless steel woks. But, like noses, everyone has an opinion.
Carbon steel is a tried-and-true material that has served generations of cooks, especially in Asia, where hand-hammered carbon steel woks for various reasons. They feature thicker bottoms that heat to incredibly high temperatures, allowing you to swiftly stir fry dishes while keeping the food warm (without additional frying) on the curved edges until it's time to reintroduce the central mix.
The most prevalent criticism of stainless steel is that it is thinner than carbon steel, heats unevenly, and creates hot spots. Because of its inherent cooking flaws, it also requires more oil than a typical wok. It should be of the highest quality if someone buys a stainless steel wok. In other words, it will either be significantly more expensive than a regular wok or, conversely, will not function as well as a carbon steel wok.
Stainless Steel Wok Vs. Cast Iron Wok
Iron woks were utilized as versatile culinary equipment several decades ago. Cooks typically spend hours in the kitchen to preserve an iron pan. Iron is also prone to corrosion. It isn't the best work material for our hectic schedule.
Thankfully, we now have access to a variety of alloy-built woks. The market has been introduced- for the convenience of the consumer. Stainless steel woks, carbon steel woks, cast iron woks, aluminum woks, nonstick coated woks, nonstick coated woks — you name it, and it's on the market.
Stainless Steel Pros And Cons
Let's have a look at the stainless steel pros and cons
Stainless Steel Appliances' Benefits
It appears to be rather stunning. If you want your kitchen to seem modern, sleek, and stylish, stainless steel is the way. There's a reason why many kitchen designers still choose it.
It's impervious to evil stuff. Stainless steel is extremely robust due to its chemical composition.
It resists corrosion, fire, and heat, making it an excellent choice for individuals looking for a long-lasting appliance that will not exhibit wear and tear.
Stainless Steel Appliances' Drawbacks
All of the smears are visible. Stainless steel appliances are well-known for leaving fingerprint evidence as if they're preparing to establish a case.
Furthermore, they display every dirt and dust. If you have kids, you'll have to clean many times a day and many times more if you're an "inventive chef," as some refer to you (a.k.a. a hot mess in the kitchen).
It is not inexpensive. If you decide to go with white or black appliances, be prepared to spend more money.
Stainless steel is frequently the most costly option.
(Visited 2,719 times, 2 visits today)