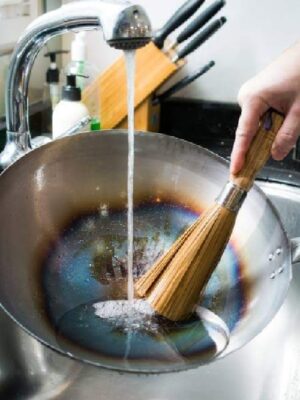 How to Properly Season a Wok with Daily Maintenance Tips 
So, you have finally decided to get yourself a new wok pan?
FYI, metals that are porous e.g.; carbon steel and cast iron require seasoning prior cooking. The sole idea behind this article is to make you aware of the different ways in which you can properly clean and season your new cooking tool.
Whether you want to know how to season a carbon steel wok? Or how to season a cast iron wok, we have got you covered. Neither less to say, we shall also be covering some of the daily maintenance tips that can surely come handy.  
Why a Wok Pan Needs Seasoning in the First Place? 
The first and foremost idea behind seasoning your wok is to create a natural, non-stick surface for your cookware.
Seasoning helps to create a protective coating inside the surface of the pan.
Further down the line, it also helps to prevent corrosion and rust getting accumulated inside the pan, while holding off the non-stick property.  
Wok Cleaning for the First Time 
It is imperative to understand that as soon as you buy a new wok, you need to clean it up.
One of the biggest concerns is the associated factory oil, which the manufacturers put to protect the wok from humidity while shipping.
It helps to prevent any rust or corrosion from getting accumulated over time. 
So, even before you start with the seasoning process, you need to make sure that you remove all the factory oil that came along with it.
Only use soap while cleaning the wok for the first time. Now in order to remove all the residue, make sure to follow the steps given below:  
Make sure that your sink is filled up with hot and soapy water.
Once that is done, use a scouring pad to clean thoroughly the wok inside out. 
Use a dry towel to clean the wok. 
Apply medium heat on the stove to evaporate all the residual water from the wok.
This entire section of Wokware is dedicated to Wok Cleaning if you need expert assistance.
Choosing the Seasoning Oil – Best oil for seasoning a wok pan
While choosing the right seasoning oil for your wok, make sure to go for the one that has a higher smoking point.
This ensures that you can easily use the pan on high temperatures without worrying about burning it.
To know in detail about choosing the best oil to make your stir fry tasty like Chinese restaurants, read this: How to make stir fry vegetables in a wok?
Here is a list of some of the oils that work best for seasoning a wok:  
Peanut oil 
Lard or pork oil 
Sunflower oil 
Grape seed oil 
Canola oil 
How to Season a New Wok? 
While searching how to season a stainless steel wok, you are bound to get different opinions when it comes to seasoning the wok pans.
For starters, in this section, we will be discussing three of the most sort out methods. Bear in mind that, no matter how you season, the first and foremost thing is always to wash your pan.  
1) Open Seasoning Method 
If you are wondering how to season a wok in the oven? This particular method of seasoning your wok is more applicable if you are using oven-safe handles.
In order to complete through the entire seasoning process, make sure to go through the steps down below:  
Complete the initial ritual of washing the pan to remove all the factory oil 
Make sure to preheat the oven to almost 450 degrees Fahrenheit 
Use an aluminum foil to line with a sheet pan 
Coat the entire wok with a paper towel soaked in oil, as well as the outsides 
The line sheet pan should be at the bottom rack 
Keep the oiled wok on top  
Bake it for almost 20 minutes 
After that, rinse the wok with Luke warm water  
Let the pan to dry  
2) Stovetop Seasoning Method 
If you are looking forward to the most common and popular method of seasoning; this is just the right one to go for.
All you need to have is a range top burner, a spatula to lather the wok with your favorite seasoning oil.
Now, follow the steps given below to get along with the seasoning process:  
First of all, give an initial wash to the pan and remove the factory oil 
Preheat your wok over high temperature. Bear in mind that, your wok is going become very hot, so make sure to keep an ample amount of space around you 
A simple water test will ensure whether your wok is hot enough or not 
If the droplet evaporates within a matter of seconds, your wok is ready to be seasoned. 
Now, reduce the heat settings to medium-high, and add two tablespoons of seasoning oil 
If you want, you can add aromatics such as ginger, garlic, and onions. This will help to keep the wok from smoking 
Now, reduce the heat further back to medium 
Use the mixture to cover the entire interior of the wok, starting from the rim to the bottom 
You need to continue to stir for 20 minutes using the medium heat settings 
Once the mixture runs dry, you can add more water to it 
Now, you can let the wok to cool down, and them throw away the mixture 
Rinse it with hot water and use a wok brush to remove any leftover 
Let it run dry for the time being 
3) Salt Seasoning Method 
If you are looking how to season steel wok and develop a dark patina over your pan, make sure to use kosher salt.
Neither less to say, the same method is also applicable while re-seasoning your wok between long holts:  
After the initial wash of the wok, put one cup of kosher salt 
Use high temperature on the stove 
Now, stir the salt within the wok for almost 20 minutes going back and forth, pushing it up to the edge 
Remove the wok from the stove and keep the salt aside till it cools down. Then you can discard to salt into the sink 
Wipe your wok with oil-covered paper towel, and you have your salt seasoning done 
How to Season a Wok on an Induction Oven? 
Not every other wok will work on an induction oven.
For instance, a round base wok will not work on your typical induction oven. On the contrary, the flat base one will work just fine.
This is mainly because, in order to generate enough heat by the oven, the base of the wok must be touched.  
As far as the seasoning is concerned, induction ovens can easily be used. And cast iron wok works best with them.
So, you can always follow the seasoning steps we have mentioned above for better referencing. 
Since, induction ovens can actually attain a higher temperature, under a very small duration of time, make sure to have proper ventilation around the same.  
Such small steps of necessary precautions will not only assist you with a better seasoning process but also prevent you from any mishappening.  
How to Season a Wok on Electric Stove? 
Electric stoves add a ton of versatility to the table.
As we know that there are two types of electric stoves out there in the market.
Bear in mind that the wok seasoning process for electric stoves means the same.
The only difference you will find greatly depends on the type of wok that you are currently using and the electric stove that works best with it.  
Electric Coil Stove 
Generally flat bottom woks work best with electric coil stoves.
The flat bottom of the wok ensures that heat is evenly distributed on the surface. For that matter, a carbon-steel wok works the best.
Steel is a good conductor of heat, which allows the food to be properly cooked on the wok.
As for round bottom woks, you have to hold the wok during the entire cooking or seasoning process, creating inconvenience.  
Glass-Ceramic Stove 
Round bottom woks are best for cooking with glass-ceramic electric stoves.
Given that, you need to use a separate wok ring. This lifts the wok from the bottom up to 1 inch discarding any contact with the surface.
That is also one of the reasons why the flat bottom is not recommended, as they can pose scratches on the surface.  
Some of the precautions you need to take while seasoning a wok on an electric stove includes:  
Never leave the stove unattended 
If possible, make sure to use the burners at the back 
Due to greater heat dissipation, don't use excessive oil while seasoning  
Lastly, always keep the handles inwards 
How to Revive an Unused Wok? 
There are several circumstances where you have one or two carbon steel wok lying around in the house. 
But, that doesn't mean you need to throw them away for good.
Down below is a list of some of the ways which you will find helpful on reviving an unused wok:
First of all, make sure to scrub the wok thoroughly, to some extent you can also use a mild dish detergent 
Let it dry and heat the wok on the stove without smoking 
Once it cools down, give it another gentle wash and dry the wok on low heat 
As the wok is warm enough, put one tablespoon of oil over it and spread gently 
Use paper towels to soak the oil over the inner surface, and your wok shall be as good as new 
Over time, your wok can get rusty at the bottom.
All you need to do is give the wok a good scrub, and this will remove all the surface rust that was accumulate over time.
Pour a few drops of oil and gently rub the outer surface with a paper towel.
In fact, if you are looking forward to how to season an old wok, make sure to follow the seasoning steps we have mentioned above in the wok seasoning section.
Further including, once you start using your wok on a regular basis, the high temperature will prevent any corrosion from further happening.  
How to Clean a Rusted Wok? 
There is no point in arguing that cleaning a rusted work can surely get tricky at times. But, that doesn't justify the fact that you lose all of your hopes for it.
For your wok to work again as a new one, all you need to do is to give it a nice cleaning and re-season the entire wok.
If you had bought a quality wok back then, chances are, it is still going to fry flawlessly.
In fact, it should work better than the cheap alternatives out there in the market.  
To clean a rusted wok, make sure to go through the steps down below or you can read our dedicated article with a video related to cleaning procedures of a rusted wok to turn it into a brand new.
First of all, rinse the entire wok, and scrub the areas that have been rusted over time 
You can easily use a soap and wool pad to clean it, until all the rust comes off 
Now, rinse the wok and let it dry 
Once you have removed all the rust, it is time to re-season the wok using the procedures we have mentioned 
Once you have successfully re-seasoned your wok, you will find it as good as a new one. Just remember, it would still take a few cooks before it comes to the best shape.  
How to Clean a Wok After Use? 
Don't even think that, just because you have successfully seasoned your wok, you are good to go.
In fact, regular care is very crucial to retain the patina of the wok. Some of the most common task while maintaining the wok includes properly washing the wok after you have removed the food.
You need to discard the misconception that, seasoning let alone means keeping the oil within the wok.
On the contrary, after every light cooking, make sure to gently scrub the surface with running water.  
Always use a circular scrubbing motion while cleaning the wok.
Sometimes, ensure that you clean the exterior of the wok too. Now, before storing the wok until the next use, make sure to dry it thoroughly with a paper or kitchen towel.
Even after that, heat it for a few minutes on the stove until all the residual water evaporates.  
If you are planning on storing the wok, and won't be using it for some time, make sure to rub some vegetable oil on the surface so that it doesn't dry out.
Seeing minor rust indicates that the wok was either not dried out completely or you missed out on using adequate oil. So, bear this in mind, before storing them.  
Read our dedicated guide on cleaning a wok after each greasy or light cooking.
Some of the Tips for Maintaining Wok Seasoning 
Make sure to heat your wok twice after you are done washing it. This is mainly applicable if you are cooking strong foods such as fish or curry. These tend to retain the smell of the food, which can affect the lighter dishes you cook within the pan 
Try to keep your wok away from the dishwasher. Further including, always keep your wok dry, after every wash while wiping it with any kind of vegetable oil 
If you are cooking something with acidic ingredients such as vinegar, make sure to wash your wok. Such ingredients tend to wear away the patina. Other alternatives include using a stainless steel wok instead of a cast-iron one 
It is considered one of the best practices to re-season your wok once you start to notice wear in the patina. 
Final Takeaway 
Going through the above-mentioned steps can help you to sustain your wok for a longer duration of time.
Neither less to say, over time, the patina will be more developed, leading to the improvement of your pan.
As the wok eventually retains its non-stick property, cleansing it will become a lot easier than ever before. So, by taking proper care of the wok, you can hold it for several years to come.  
Have you ever used a wok to cook food or you would like to buy one? We would like to hear your opinion, queries, interests in the comment section of this blog post.