This is my Joyce Chen wok review based on their craftiness, material quality, durability, heat retention ability, and ease of use.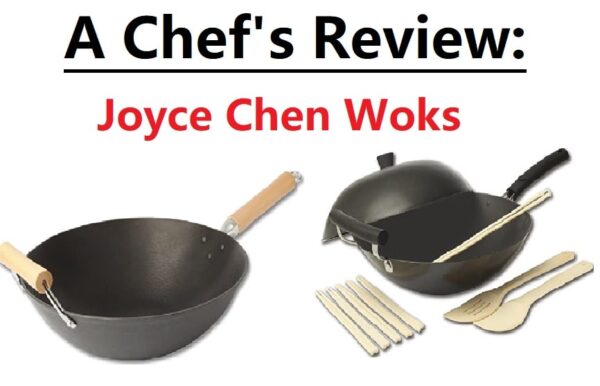 Woks are one of the essential equipment you can get your hands on if you love cooking Asian cuisine. Whenever I want to make a quick stir-fry, I reach out for my trusty wok. Sadly, not many of the buyers spend much time choosing the right wok.
They just go with the buzz in the market and buy a famous brand. The moment I wanted to buy my first wok, everyone around was recommending me to buy from the Joyce Chen wok Line.
I am a chef. But when I started looking for my own wok, I was in my training days.
Till now Joyce Chen Woks are famous and very much in demand. But have you ever wondered if this is just word of mouth that is spreading for years and years that clouded the reality of these woks?
What I meant to say, I have come across several such brands in my 30 years of cooking experience, where it was just a buzz that in reality was worthless. There are still many brands that are used to be great in their initial days but not anymore now.
I take a wok like an investment. It is a versatile cooking tool and you can use not only for stir fry but also for several other dishes. That's why I wanted to make a detailed review of Joyce Chen Woks.
And here is my honest and minute Joyce Chen Wok Review that you must read before buying a wok.
Don't buy a wok without reading my Joyce Chen wok review 
I prefer woks to frying pans for several reasons. The heat distribution is more even when I cook in a wok. I also need to use very little oil for sauteing or frying vegetables or meat. 
Usually, most woks have two handles. These handles make it really easy for me to toss and tilt the vegetables or protein when cooking. Woks with a flat bottom work exceptionally well on electric stoves and make sure that everything in the wok gets cooked at the same time. 
I also like the fact that there are numerous brands to choose from. Joyce Chen is one of the famous manufacturers of woks in the market. However, without proper guidance, you may find it overwhelming to choose a wok from the Joyce Chen line. 
So, I have reviewed all of the woks which come under the Joyce Chen line. This will help you decide, is it worth buying a Joyce Chen wok and which one is the best out of them. 
As several woks from this brand are made from carbon steel, I have also included detailed Joyce Chen carbon steel wok reviews. 
Before you jump to those product reviews, I will insist you read about the brand. I have tried to capture the fascinating journey of Joyce Chen brand with my words.
Table of Content: Joyce Chen Wok Review
About Joyce Chen  
Before moving on to my detailed Joyce Chen wok review, I would like to tell you a bit about the brand.
As the tagline suggests, Joyce Chen cookware is a perfect example of Asian cookware for the Western kitchen. 
Joyce Chen, a Chinese born chef who came to the United States in 1949 found the Joyce Chen brand.
When she was living in Cambridge, she started whipping up Chinese delicacies for her friends, which became wildly popular.
She then wrote a cookbook on traditional Chinese cooking having many secrets of tasty Chinese (now available in English) and also opened four Chinese restaurants in Cambridge called Joyce Chen Restuarant.  
Joyce Chen is the pioneer of Chinese cooking in the US. She slowly forayed into preparing condiments and cookware designed explicitly for preparing Chinese dishes.
She also patented the flat bottom wok with a handle in 1970, called the Peking Wok.  
The traditional utensils inspire each wok crafted by the Joyce Chen brand in a Chinese kitchen.
Joyce Chen was inspired to manufacture her cookware as the ones available in the US failed to meet her expectation.
As on date, the Joyce Chen brand gives you access to the best that Asia offers. 
Joyce Chen manufactures carbon steel and cast iron woks
These woks are famous for their ability to retain and distribute heat uniformly. The woks are used by cooking enthusiasts across US to prepare their favorite Asian dishes.  
These woks are very user friendly for both home chefs and restaurant chefs like me.
They can be cleaned up effortlessly after each use. If you season the wok properly, it will last in your kitchen for years. 
Joyce Chen brand is also popular in the UK, as it is really easy to use those woks. The robust coating and ease of maintenance attract loyal users.
It is not surprising that several retailers and distributors in the UK sell the full range of Joyce Chen woks.   
Joyce Chen Carbon Steel Wok Review – 14 inch  
14 inch is a standard size for a wok. You can serve 4-5 people in such a wok. Also, carbon steel is the most favorite material for chefs to cook great stir-fries.
And this carbon steel wok by Joyce Chen helps in spreading the heat evenly, which is a must-have to cook tastier meals.
The wok has a birch wood handles that make it easy to toss the food while cooking. The flat bottom of the wok increases the contact surface on the stove. 
It offers ample space to cook meals for a family. I love using this wok for frying eggs or cooking chicken fried rice. Because of its flat bottom, this wok is ideal for any cooktop especially induction or electric oven.   
However, this wok is not pre-seasoned. Unless you season it properly before use, chances are that food particles will stick to it. I would have also liked it if the wok came with a lid. There are two colors to choose from – black and metal. 
Given the price range this wok is a great pick. The wok is well balanced, lightweight and has a firm handle. The heavy-gauge carbon steel is of premium quality without many impurities. So, this wok is worth having if you are looking for a flat bottom durable wok.
Joyce Chen Wok – 14 inch Made of Cast Iron 
Next up on my Joyce Chen wok review list is the 14 inches cast iron wok. It retains heat exceptionally well. I also found that the wok spread the heat evenly through the surface of the wok.  
It has a solid maple wood handle that makes it really convenient to move it around during cooking. Unlike the carbon steel wok, this wok is pre-seasoned and ready to use. This wok has a flat bottom which means that you can use it on gas and induction top without a separate wok ring. 
It is easy to clean and maintain. However, it is heavier than its counterparts, and you may find it difficult to move it around the kitchen. It also heats up too quickly, and you may end up burning the food if you are not careful. 
This model does not come with a lid. 
Joyce Chen Carbon-Steel 4 Piece Wok Set  
This model features a 14-inch carbon steel wok, along with a lid, bamboo spatula to cook, and a booklet full of delicious recipes. The wok offers a lot of surface area for cooking. The carbon steel body helps to distribute the heat evenly.  
As the wok has a flat bottom, you can use it on gas, induction cooktops, and the ceramic cooktop. I also like using this wok for deep frying vegetables and protein. It is also very easy to clean up the wok after use. 
I like the birchwood handles, which are heat resistant. However, you need to season the wok thoroughly before use. If you are new to the world of woks and seasoning, you may find the same a bit challenging.  
Joyce Chen Carbon-Steel 12 Piece Wok Set  
My Joyce Chen carbon steel wok reviews also feature the 12 piece set. You get a 14-inch carbon steel wok, lid, cooking chopsticks, slotted spatula made out of bamboo, a bamboo wok spatula, and five pairs of table chopsticks. 
This is a complete set for the ultimate Asian cuisine experience. With a little bit of practice, you can use this set to whip up delicious meals right in your kitchen. The specifications are similar to the four-piece wok set.  
Like the previous models, I truly appreciate the long birchwood handle that makes it very easy to maneuver this tool in the kitchen. However, you need to season this wok very well before use. Not doing so can lead to a lot of rust and spoil your precious cookware. 
14″ Joyce Chen 10 Pc Wok Non-Stick Set 
This is another multipurpose tool from Joyce Chen. It comes with a 14-inch wok, bamboo spatula, cooking chopsticks, lid, steaming rack, tongs, rice paddle, tempura rack, table chopsticks, and a recipe booklet. The pan has Maplewood handles that are heat resistant.  
While this is not a carbon steel wok, it still does an excellent job when it comes to heat retention. The non-stick surface makes sure that the food doesn't stick to the surface. The built is pretty strong to withstand the wear and tear in the kitchen. 
This set is a good pick for an amateur home chef. You can cook and serve a complete Asian meal. However, I don't recommend using non-stick cookware due to the potential health hazards it poses. 
Final verdict 
Joyce Chen woks are of high quality and extremely durable. Based on my Joyce Chen carbon steel wok reviews, I highly recommend investing in a carbon steel wok from this brand. Also, carbon steel woks are the favorites of Chinese chefs. Because of their heat retention ability.
The Joyce Chen carbon steel woks have very steep walls that let your food glide in and settle in the bottom. The walls will radiate heat and concentrate in the middle which in turn will let your food cook evenly.
This is a very useful feature, as wok cooking is all about high speed and heat, you will love the built of the woks.
I hope that my Joyce Chen wok review has helped you to appreciate how useful woks can be in the kitchen! 
Also read: Lodge Cast Iron Large & Mini Wok Review