One of the most regretful spending mistakes I have done is to buy my first wok without a lid.
Woks are meant for stir fry and a stir fry doesn't need a lid. That logic ruined my investment.
Why? Because a wok can do so much more than just stir-frying. A wok with a lid can help you in steaming, boiling, stocking, making soups, etc.
I am using woks daily for several years and it helped me in decluttering my kitchen space. Most brands sell their woks with lids. Also, woks with covers are more popular than the ones without the lid.
You may buy a wok lid separately but it has two major problems-
Buying a lid separately costs more than investing in a good quality wok with lid.
As the standard wok size is 14 inches, most wok lids available are of the same size. Hence, it's dificult to find a lid of smaller or bigger size than 14 inch. 
Clearly owning a wok with lid is the most logical decision. There are 5 types of wok lids.
A. Non-stick steel dome Wok lid
The non-stick dome lid comes with a non-stick surface from inside and outside, which makes it more convenient for using and cleaning. The dome shape of the lid makes it more spacious. Most of these nonstick wok lids are designed to fit the inner rim of the wok for a better fit. 
 B. Flat-top Aluminum Dome Wok lid
This is quite similar to the dome-shaped lid, but here the top of the lid is flat, accompanied by a wooden handle with a secure grip. It works similarly to other dome-shaped lids. 
C. Natural Wood Wok lid
It is the most appreciated wok lid made with natural wood like cedarwood. This lid is the most environment-friendly, safe, and healthy to use with antimicrobial properties. This wok lid fits in a locking position for trapping heat and moisture. 
D. Metal and Glass Combined Wok Lids
Metal wok lids are a perfect fit for metal woks like cast-iron or carbon steel. These metal lids are only for home use can't be used commercially. It is also a dome-shaped lid with a top handle. The tempered glass surface can give you insights into the cooking progress. 
E. Glass Wok Lid
These are the most commonly and widely used in domestic kitchens. The glass wok lids enhance the look of your wok. The tempered glass is sturdy, safe, and can withstand high temperatures. These mostly come with a knob on top. 
Most Popular Woks With Lids On the Market – Top 5
There are 4 types of woks that come with lid. Among these 4 types, we will discuss the features of the top 5 woks with lids.
Best non-stick wok with lid (top 2)
Best stainless steel wok with lid
Best Carbon steel wok with lid
Best Cast iron wok with lid
Top 2 Non-Stick Woks with Lid
Non-stick coated woks are more convenient than cast iron or carbon steel which need continuous seasoning. Additionally, stainless steel woks are not truly nonstick. Moreover, if you prefer a specific metal like cast iron, carbon steel, stainless steel, or aluminum, you will get that with a nonstick coating.
These features make a nonstick wok – a very popular option. However, safety becomes a concern in these coatings. That's why, I always put my faith in brands that are in the industry for several years, care about their reputation, customer feedback, and always keep themselves updated with recent trends.
Some of those brands are Calphalon, Cooks Standard, Rachael Ray, All-Clad, etc. Here I have picked the two most popular nonstick woks with lids that have a durable coating and reasonable pricing.
1. Calphalon 12 inch Nonstick Wok with Lid – Hard Anodized Aluminum Body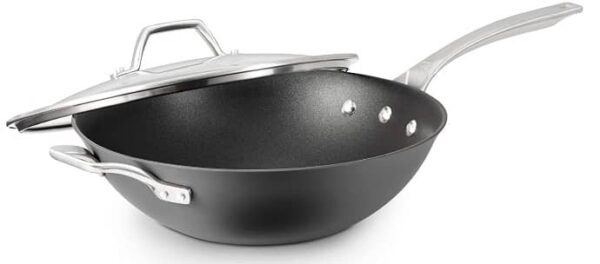 Calphalon is a reliable brand that offers some of the best nonstick woks with lids. These nonstick woks are safe and the lids are sturdy too. Among those woks, this 12-inch flat-bottom hard-anodized signature wok is the most popular.
It is made with heavy gauge hard-anodized aluminum. Aluminum is a good conductor and distributor of heat, hence it is perfect for stir-frying. However aluminum reacts with acidic food. That's why aluminum is made safe by a chemical process called hard anodizing.
Hard anodized aluminum is non-reactive, durable, healthy, non-stick, and non-toxic. This wok comes with a shatter-proof glass lid which makes it a great investment.
The wok comes with a long stainless steel handle and a stainless steel loop shape handle on another side. These handles provide a convenient grip for the movement of the wok.
The wok lid made of tempered glass and a stainless steel rim, which locks it in the pan and helps in heat and moisture trapping.
Pros:
It is safe to use with metal utensils.
The wok is oven safe up to 500 degrees F.
It is also Dishwasher safe. 
Long and stay-cool handles 
Compatible with different stovetops. 
2. Rachael Ray Best 11 inch Nonstick Wok with Lid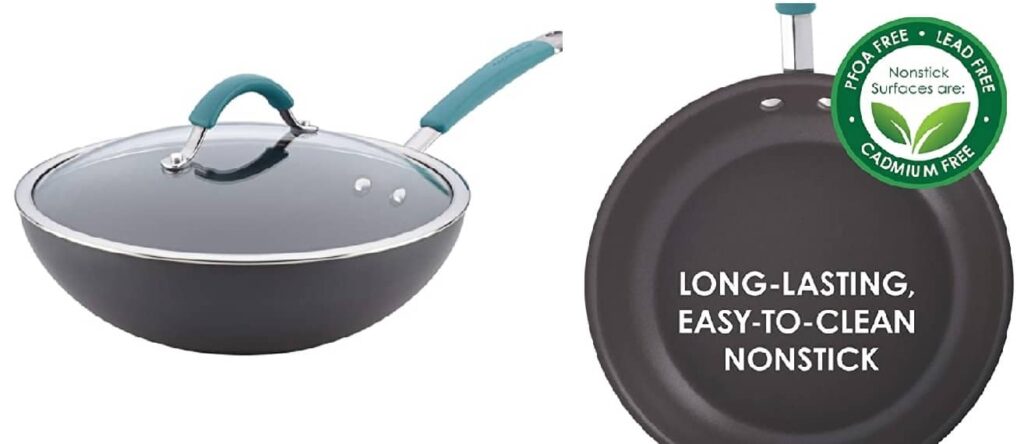 One of the best non-toxic 11-inch woks available on the market is from Rachael Ray. Cucina Non-stick wok has a premium hard anodized aluminum build that ensures even and superior heating and heat distribution.
It has a stick-proof PFOA free non-toxic coating making it safe and healthy cookware to cook a variety of recipes that need stir-frying. The non-stick layer is safe for cooking meals for your children and offers easy food release and cleanup.
The hard anodized surface is highly durable to withstand the use of utensils like metal spatulas, spoons, whisks, and more. The wok comes with a dual-riveted, silicone-over-stainless-steel handle and a shatter-resistant glass lid that has a wide stainless steel rim.  
Pros 
Looks aesthetic 
PFOA free non-toxic nonstick surface 
oven safe to 400°F. 
Easy food release surface
Easy to clean 
Dishwasher safe 
Comfortable to grip silicone handles that stay cool while cooking 
Cons 
Not suitable for induction ovens 
3. Best stainless steel wok with lid – Cooks Standard 13 inch
Stainless steel is the most commonly used material for wok manufacturing. The Cooks Standard stainless steel wok is made with high-quality stainless steel and aluminum core for better heat conduction. It is a 13-inch wok having a flat base and wide round shape with a dome-shaped securely fitting lid that traps heat and moisture. 
The premium-grade 18-10 stainless steel interior lining, multi-element alloy aluminum core for superheat control, conduction compatible scratch-resistant bottom – everything comes with 10 years of warranty.
The Cooks Standard Stainless Steel Wok is the most modern and comprehensive cookware you can ever get in a contemporary kitchen yet traditional enough to enjoy the flavors of a wok-cooked meal.
Hence it is an all-rounder and the most compatible when you are looking for the top wok on the market to purchase. The 13-inch compact design is completely made out of stainless steel with an aluminum core. It also comes with a dome-shaped lid that can easily trap the moisture and heat within the pan.
Even the handles are made out of stainless steel which ensures longevity. By using the airflow technology, the stainless steel in the handles insulates the heat from catching up to your hand. 
Pros:
It is safe to use with metal utensils.
The wok is oven safe up to 500 degrees F.
The wok is compatible with the dishwasher.
The handles come with air-flow technology, which keeps them cool.
Compatible with induction cooktops. 
Cons:
Avoid using open flames or Bbq.
It needs to be seasoned. 
4. Best carbon steel wok with lid – 12.5 inch Souped Up Recipes
Here is the most popular scratch-resistant carbon steel wok pan with an environment-friendly wooden lid from Souped up recipes. The pan is resistant to higher temperatures and comes with guaranteed durability and a pre-seasoned surface. It is manufactured traditionally with oxidizing and nitrating treatment. It is also non-toxic and safe to use.
You can use it on any heat source including induction. A very convenient spatula has been added to the set. The wooden handle stays cool for a longer period. It is a traditional-looking wok with modern features.
The wok pan comes with a tight-fitting cedarwood lid which allows the trapping and management of heat and moisture.
Pros:
It comes with a wooden handle that prevents you from hand burns. 
Compatible and safe to use on any heat source.
environment-friendly safe wok lid 
Cons: 
5. Best cast iron wok with lid – 14 inch Bruntmor Store
This wok from the Bruntmor store is made with heavy and sturdy cast iron, which makes it durable. It comes with a natural wooden lid. The wooden lid fits in the wok, so more moisture and heat are trapped. The wok is safe to use with different cooktops. 
Like any other cast iron wok, it needs special care in seasoning and cleaning. Other than that this wok is a very convenient option for those who love cast iron wok and looking for one with a lid.
Two loop-shaped handles on either side make the movement of wok convenient, and the handle on the lid makes the lid movement easier.  
Pros:
The wok is oven safe.
it comes pre-seasoned.
Cons:
Thermal shock can cause cracking of the pan. 
Not fit to use with dishwasher, hand wash recommended.