Everything you need to know before buying a deep-frying wok is here. I have also listed 7 popular high-depth woks among the home cooks for deep frying.
Is wok the right choice for deep frying? Well, the answer is yes. Using a wok for deep frying in small batches is an excellent & practical idea. Deep frying is popularly used in many Asian countries. Countries like India, China, Bangladesh, Malaysia, Korea, etc., traditionally use wok pan for deep frying.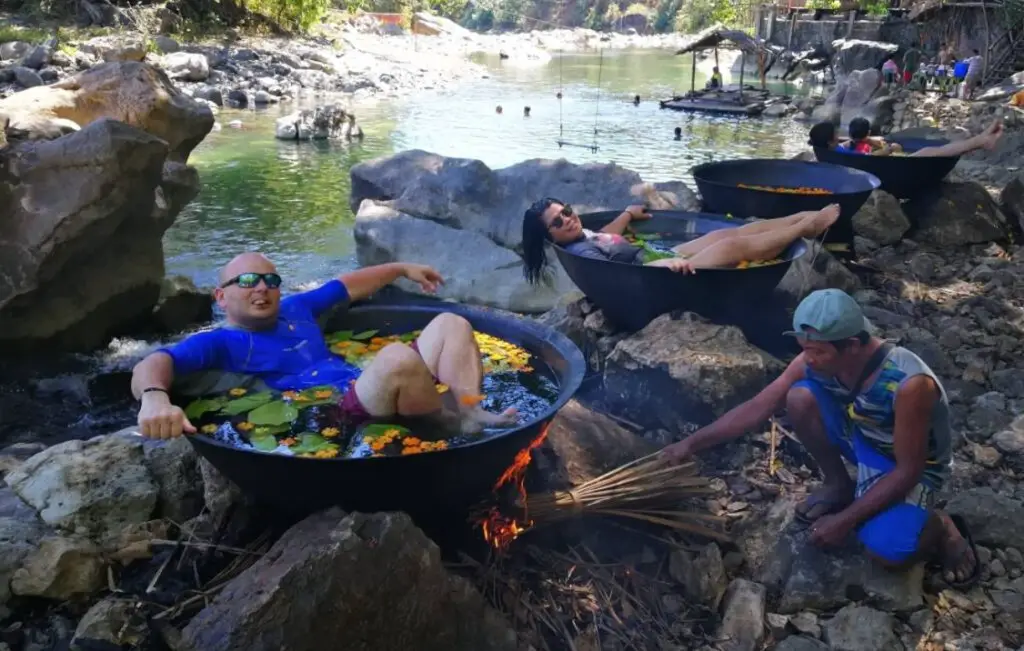 It is true that successful cooking depends on many different factors and not just cookware. But when you have the right kind of wok to make deep-fried meals, the entire process becomes easier and more efficient. So, in this blog, our main focus will be to give you some very useful tips on picking the best wok for deep frying.
Advantages of Using a Wok for deep frying:
The wok pan's unique shape, which is concave bottom with sloping sides and wide-open diameter and shallow depth, is perfect for deep frying.
Wok offers a broader surface area that holds a large amount of oil, and enough space for food to float is a must for deep frying.
The wok depth allows convenient use of a skimmer to strain excess oil from the food and recoup food.
What is the ideal shape of a wok for deep frying?
Most chefs prefer round bottom Cantonese style wok for deep frying. The reason being the round bottom woks usually have steep walls that help in concentrating the heat while deep frying inside the wok and the Cantonese handles give more convenience than the long helper handle.
But interestingly enough there are many flat bottom woks that have higher walls which help better at the deep-frying process. So, there is no fixed rule that you have to go with a round bottom wok or a flat bottom wok. Just the wok needs to have enough depth to enhance the deep-frying process. There are other factors to consider too, other than the depth. Below is a detailed list.
How to Pick the Best Wok For Deep-Frying?
Material Type:
The material of wok is essential when choosing one for deep frying. This is because deep-frying needs to be done at higher temperatures, so it is necessary to select a material that is an excellent conductor of heat and sound at heat retention and distribution.
The most popular materials that offer excellent heat retention and distribution will make your cooking experience more impressive: carbon steel, cast iron, and aluminum. All these material woks are perfect to use for deep frying.
Base:
The next important point to consider is the base type when choosing a wok pan for deep-frying. You will find numerous types of wok base from heavy, low, three-ply to thinner ones.
The science behind the selection of base is that the base is directly in contact with heat or heat source, and it has the ability to retain enough heat to let go cooking process very conveniently.
For deep frying, you must choose a wok with a heavy base. It will provide excellent heat retention, which will help in the management of heat distribution and offer a seamless and uninterrupted frying experience.
Handle Type:
You might have noticed different types of wok panhandles like the long straight handle, Cantonese handle, the combination of straight handle and a loop handle, etc., but the best handle type for a deep-frying wok is the Cantonese handle.
The loop-shaped handles on opposite ends of the wok offer more convenience while deep frying.
This is deep-frying requires more oil, which makes it heavy, and moreover, we have chosen a heavy-based wok all this together to increase the wok's weight, which makes it tough to handle with a single long handle.
Thus Cantonese handle is the best possible choice for a deep frying wok.
Lid or Not:
Always make sure you choose a wok with a lid as the wok is used in various cooking styles, which might need a cover.
Deep frying, moreover, does not require a lid or cover as there isn't a need for moisture while frying. Still, the top can be used for quickly pre-heating the oil for frying.
Can you deep fry in a nonstick wok?
It is the most frequently asked question, to which the answer is absolute yes. One can use a nonstick wok for deep frying, but using it for deep-frying regularly might not be a good idea.
The most important reason behind this is nonstick pan is not meant to withstand such high temperatures for a longer time which is needed for deep frying.
Can you deep fry in a stainless steel wok?
Stainless steel is considered the best cookware material naturally for deep frying. It is the most durable material with high volumetric heat capacity. Cooks Standard has a great stainless steel wok made with high-grade material- very safe to use on high heat regularly and its depth is ideal for deep frying.
Stainless steel does not just withstand higher temperatures for a longer time but also distributes the heat all over the surface of the wok. Similarly, the heat retention capacity is excellent in stainless steel wok.
Maintaining the high temperature consistently is very important in deep frying, which is very well carried out by the stainless steel wok.
Suitable Stovetop for Deep Frying in a Wok:
The compatibility of the stovetop depends on the wok material and base. The round bottom wok is most of the time not compatible with the electric or induction stove. The flat bottom wok works well with almost all types of wok pan.
As we know, deep frying requires a high-temperature gas stovetop that will be the ideal choice for deep frying.
Apart from the gas stove electric cooktop can be used for deep frying. The induction base can be used with stainless steel wok; apart from that, the above two stand as an ideal source of heat for deep frying.
Using Wok Ring for Deep Frying:
A wok ring, also known as a wok stand, is used to stabilize the round bottom woks to not slip or move while cooking.
Woks are traditionally and commonly found with a round bottom that fits best on the gas stove or different stovetops. These round bottom woks need some support to stay stable over the stovetop having a flat surface.
Using a wok ring for deep frying is not a good idea and is not recommended. The reason behind avoiding using a wok ring for deep frying is that deep-frying needs direct and high heat. Wok ring will interrupt the natural heat flow and affect the deep-frying process. So avoid using a wok ring for deep frying.
Top 7 Woks Meant For Deep-Frying & More
1. Best Cast Iron Wok Ideal for Deep Frying: ZhenSanHuan Handmade
The ZhenSanHuan handmade wok is made using traditional and old casting techniques using cast iron, making it highly durable.
This wok is an entirely traditional and straightforward piece of cookware with no coating & painting. It is wholly made with iron and is safe and healthy to use. This versatile piece of cookware is used for a variety of cooking techniques, including deep-frying, stewing, boiling, stir-frying, etc.
It is ultra-durable and is compatible with other metal, wood, silicone utensils, and in preparation of all kinds of food. It is thick-bottomed with excellent heat retention and faster distribution. The size is big and suitable for deep-frying large quantities of food.
2. Best Small Wok for Deep Frying Kasian House Cast Iron Wok:
The Kasian House's pre-seasoned cast iron is ready to land the stovetop for cooking right away. This is a perfect small size wok for a small preparing meal. The highly durable cast iron material is healthy and safe to use.
Cast iron is known to be an ideal conductor of heat. It retains heat while cooking and distributes it evenly. The heat distribution and retention properties are significant for stir-fries and deep-frying.
This decent-looking wok comes with a tremendous wooden lid that helps trap the heat and moisture inside and offers a food warming feature for serving warm food.
The wok pan's flat bottom is compatible with all different types of cooktops like a gas stove, induction, and electric cooktop. It is also well suited for open-source heat like campfires and grills. This is an ideal choice if you have got a small family and wish to cook exceptional stir-fries.
3. Backcountry Iron's Cast Iron Wok:
This perfectly round-bottomed wok will enhance your cooking experience to an extent. This wok is made out of cast iron for superb heat distribution and retention. It is a pre-seasoned wok for a non-sticky surface.
This wok pan works conveniently on all stove types from gas, induction, electric stove to oven, grill, and open heat source like a campfire.
The premium quality cast iron is excellent with heat retention and distribution, which helps inconsistent cooking.
It is suitable for cooking on high heat, and the best part is you can cook everything, including meat, fried fish, stir-frying, vegetables, casseroles, etc. You can add more flavors to your food in a traditional style using a wok.
Cons:
There are chances that your wok might rust, so do not soak it in the water soon after cooking, and use warm water with a gentle detergent.
Make sure you keep your wok out of the dishwasher to avoid rusting.
4. Homeries Pre-Seasoned Cast Iron Wok:
You might indeed find it resembling the one in your mum's kitchen. This homeries wok pan is the modernized wok with all traditional qualities. So you can consider it a better version of conventional cast iron wok.
This is the first and most popular choice of authentic Asian chefs. It is popularly used in Asian countries and also found as staple cookware there.
The homeries cast iron wok is pre-seasoned, which reduces your efforts and provides extra convenience in cooking. It is also a rust-proof wok pan, so no need to worry about anything now. The double handles also offer additional support to carry it.
This wok comes with a traditionally designed wooden lid. The wooden lid covers the wok's entire open surface and traps the moisture, heat, or vapors inside for better simmering, frying, or steaming.
Cons:
Like any other, this cast-iron wok is also not dishwasher safe.
To maintain a seasoned surface, make sure you clean the hot work directly with cold water.
5. Yosukata Chinese Hammered Round Bottom Pow Wok:
If you are looking for some professionally traditional cookware here, it is.
The pre-seasoned blue carbon steel wok pan is made traditionally by hand-hammering and used by professionals globally. It is usually used in China and Japan for stir-frying and deep-frying.
The round bottom, broader & deeper surface best suits the Asian cooking style. The wok is made with high-quality, heavy-duty material, which makes it durable and long-lasting.
It also comprises an ergonomic wooden handle, which provides a better grip and prevents burns.
Using this pan for traditional cooking will help you discover authentic Asian flavors in your kitchen.
Cons:
Leaving the wok dirty after use may increase the chances of rusting. So clean after every use but only after cooling.
Strong detergents can affect the seasoned coating, so prevent it by cleaning the wok with warm water.
6. Gold Tulip Chinese Wok with Flat Bottom Pow Wok:
There are myths around saying flat bottom wok isn't the right choice for deep frying. Well, all this is just a piece of misleading information.
Flat bottom woks are widely used in modern kitchens for different cooking styles, including deep-frying, stir-frying, stewing, steaming, and shallow frying.
This flat bottom wok is made with high-quality carbon steel and is pre-seasoned, so no need to stress about seasoning your wok. It comes with a wooden handle that prevents you from hand burns and provides a perfect grip.
Cons:
There are chances of rusting if the cleaning process isn't carried out carefully.
7. Yosukata Carbon Steel Authentic Hand Hammered Wok:
The authentic and traditionally hand-hammered carbon steel wok will surely give you a nostalgic ride to your grandma's kitchen.
It is one of the most traditional kinds of wok used in Asian kitchens and majorly in China, India, and Japan.
It comes with a straight and solid wooden handle with a perfect grip. This wok is flat bottomed & lightweight, which perfectly disperses heat all over the wok's cooking surface.
It is entirely hand-made and has a long-lasting life. Traditional cooking styles like stir-frying develop a natural non-stick layer over the surface after frequent uses. This also makes it resistant to rust.
Cons:
This wok does not have any cons, but eventually, one common fact is it requires pre-seasoning.
How to deep fry in a wok?
Deep frying isn't a wok is not a daunting task. Using a wok pan for deep frying is easy and more convenient. Most of the time, woks are considered ideal cookware for deep frying.
Woks prevent splattering of oil due to their high and wide sides. The sloppy sides of the woks allow it more comfortable and convenient. The wide and deep surface area encompasses a fair amount of oil that is required for deep frying.
Directions to use a wok for deep frying:
Fill oil in the wok at the desired level required for frying.
Place a deep-frying thermometer in the wok filled with oil.
Heat the oil onto high flames until the temperature reaches 375 degrees Fahrenheit.
Now slowly slide your food from the oil side, thus preventing splashing of oil and disturbance of wok.
Fry till golden brown or required color.
Remove the food from the oil using a strainer or slotted spoon.
Put the food on a paper towel to remove excess oil.