A well-built wok with easy to grab long handle, even heating material, and a perfectly curved structure is ideal for making perfect fried rice without a lump of over-cooked rice.
Iron is the best material for a wok that specializes in cooking fried rice. In traditional times an iron wok was the go-to kitchen tool for fast-paced cooking techniques like stir fry. At present times also, an iron wok is the best wok for fried rice, and then comes carbon steel made woks.
Not all woks are suitable to make the ideal fried rice. You might use a wok and still get a bland or soggy fried rice. Here are our top 21 picks of best wok for fried rice this year- which we have meticulously included in the list.
Reviewed: 21 Best Woks For Cooking Fried Rice
1. ZhenSanHuan Hand Hammered Chinese Iron Wok
The ZhenSanHuan is a notable standout among traditional hand-hammered woks. This is by far the best wok to cook delicious fried rice because of its tough built, curved surface, nonstick nature, and even heating ability.
This wok is hammered by hand for 30,000 strokes, which makes the wok sturdy, great at even heat distribution, and attractive. It warms up fast and creates the ideal state for making fried rice and the flat surface simplifies mixing veggies and meat slices.
The iron is the best metal for stir-frying crispy and juicy meals. You'll be charmed by the patina-like, shiny nonstick exterior with a blue-ish tinge of this wok.
When making a stir-fried beef meal, the seasoned beef strips will blister around the edges, indicating that the heat is high enough and will not adhere to the pot, demonstrating its nonstick properties.
If your stove has a wok burner or not, you won't have any problem utilizing this hand-crafted wok for making fried rice.
Pros
Best wok for fried rice
It has non-stick properties
It is easy to clean
Long-lasting and sturdy
Aesthetically pleasing
Cons
They are a bit on the heavy side.
2. Mecete- Best Carbon Steel Wok Pan for Fried Rice
If you're feeding 3-4 people, the Mecete wok is one of the most adaptable and best 13 inch hand-hammered carbon steel wok for cooking fried rice and a lot more.
The maker made every effort to keep this Pow Wok as authentic as possible. Although carbon steel is not as great at stir frying fried rice, as an iron wok, this wok got the second position in the list because of its perfectly balanced structure.
The maker constructed this wok out of clean carbon steel which if heated above 550 degrees brings the beautiful black blue patina. It is the finest wok for an authentic and classic wok hei taste in your stir-fry.
The wok has no hollows or air bubbles because it is solid and homogeneous in density. Even though the wok does not come pre-coated, it easily compensates. The firm handle also ensures that you will never have to deal with an issue with loose handles again.
Pros
Best carbon steel wok for cooking fried rice
The pan is sturdy and durable.
It is easy to clean.
Made with the finest quality carbon steel
Cons
The pan does not have a lid.
3. NUWAVE MOSAIC Induction Wok
The NuWave Mosaic induction wok set is providing unparalleled diversity, accuracy, heat patterns, and control. We don't always have the best heating source for our wok, and this induction wok solves the issue. This is the best induction wok for cooking fried rice.
If you are living alone or are a student, bachelor or maybe you don't always want to use your generic gas stove, this is the best cooking tool for you. From crispy juicy fried rice to anything with wok-hei flavor, you can get delicious meals in just a few minutes.
No other rival comes near this level of temperature regulation, with the potential to reach 575 degrees Fahrenheit in under a minute.
This function panel adjusts in 5-degree intervals and time and 3 wattage levels to select from. A long silicone grip allows you to take it off the heat and throw it like a pro in the middle of the cooking process.
The cooktop mimics real-life flames by wrapping around the curvature of the wok. It's also quick to heat up and cool down so it can be wiped clean.
Pros
Best induction wok for cooking fried rice
It has a non-stick coating that makes it easy to cook with.
The pan can hold a lot of food.
The handle is comfortable to hold.
It cooks food evenly.
It is affordable.
Cons
4. Made In 12″ Best Nonstick Wok For Fried Rice
Made In's carbon steel wok will satisfy all of your tests and, owing to its nonstick surface, is especially handy for scrambling eggs and suitable for any type of gas hob. The ergonomic handle makes this wok one of the most comfortable to hold and move.
Transferring it from burner to oven is a breeze because of the featherweight body and ergonomic handle. And hence it is the most suitable wok to cook fried rice with a nonstick surface. It can withstand temperatures up to 1200 degrees F in the oven and is simple to clean with lukewarm water and a scrubbing brush.
Pros
Best nonstick wok for fried rice
Durable and long-lasting
Easy to clean
Looks great
A must for any kitchen
Cons
5. YOSUKATA Flat 13.5 Blue Wok Pan 
YOSUKATA blue flat bottom pan carbon steel wok is pre-seasoned utilizing specific techniques at extreme heat over 600F. It just takes a few minutes to thoroughly season this traditional Japanese pan with oil before you can start cooking.
This extra-sturdy hand-hammered carbon steel pow wok is made with traditional technique. Using traditional manufacturing techniques, each wok flat bottom pan comprises high-quality carbon steel.
Because it preserves the juice and taste of the food, this is the ideal carbon steel pan for cooking excellent fried rice. Pan-frying, braising, and deep-frying are all the options that you can try in this wok. Welding holds the long handle of the wok pan in place. It has the ideal diameter and form, a unique non-sliding polish, and well-dried wood.
Pros
tough carbon steel construction, 
highly durable and versatile
oven safe to 600 degrees Fahrenheit.
Cons
The color may fade over time.
6. YOSUKATA Best Preseasoned Wok for Fried Rice 
If you want a wok with a metal side grip, Yosukata's great carbon steel wok is a great place to start learning how to recreate the rich and genuine tastes of Asian dishes in your own house, especially fried rice.
The Yosukata carbon steel wok has already been pre-seasoned at extreme temps using skilled and specific processes. As a result, you won't have to bother seasoning the wok before cooking for a nonstick coating ever again. It is also the best pre-seasoned wok for making fried rice.
Furthermore, this wok is constructed of heavy-duty carbon steel, ensuring superior quality and endurance. Even when the pan carries high amounts of food, the welded grip base ensures that the handle does not fall away from the pan.
Pros
Durable carbon steel construction.
It comes with a non-stick coating
Round bottom design for even heating
Ideal for stir-frying fried rice and other Chinese-style dishes.
Cons
not suitable for induction
7. Craft Wok Traditional Hand Hammered Carbon Steel Pow Wok 
One of the most significant carbon steel woks available is the Craft Wok Traditional Hand Hammered Carbon Steel Pow Wok. This wok is made of commercial-grade carbon steel and is highly durable.
The product, hand-hammered by specialists in China, is of restaurant-grade quality. Furthermore, this Craft Wok carbon steel wok features an ergonomic handle that provides a stable and non-slip grip.
Even when subjected to heat, the wok's helper handle helps avoid burning. The product's spherical bottom also makes it ideal for use with gas burners, cooktops, and stoves. The restorative materials for making the wok ensure no toxic chemicals seep into your food while cooking.
Pros
It is very durable 
It can last for a long time.
It heats up very quickly and evenly.
The helper handle makes it easy to maneuver.
Cons
It is not asphalted, so it may not be ideal for outdoor use.
8. Mammafong 14 inch Flat Bottom Carbon Steel Wok Pan 
Mammafong is the go-to wok producer for many cooks requiring a long-lasting hand-hammered carbon steel wok. The greatest hand-hammered carbon steel wok on the market is this 14-inch Mammafong wok, exceptionally engineered to handle rigorous commercial cooking procedures.
It's a wok with a circular bottom. As a result, it's a good fit for most professional cooks who use gas ovens. The wok features a highly smooth surface and an ultra-sleek design. It is entirely free of PFOA.
Both the interior and outside surfaces of the container are nonstick. The wok becomes organically seasoned as a result of constant cooking and that distinguishes it as a practical and artistic hand-hammered carbon steel wok.
Pros
The heat distribution is even across the surface of the wok.
The price is reasonable.
It doesn't rust or tarnish.
It is a great way to cook different types of food.
Cons
Big size for a single person
9. Babish Carbon Steel Wok, 14-Inch
The riveted hardwood handle on the Babish carbon steel flat-bottomed wok ensures a safe and pleasant grip while cooking. It's safe to use on any cooking surface, resists corrosion, and is simple to clean.
Northern-style woks are frequently preferred over Cantonese ones since they have a wooden handle that makes flipping food in the pan simpler.
The Babish wok has a diameter of 14 inches, which is a great size for cooking dinner for two or a small party. All things aside, this is a very well-made wok from a reputable provider with a plethora of culinary expertise.
Pros
Classic style with an updated design.
Heavyweight carbon steel construction.
Nonstick coating that makes it easy to cook with.
Comfortable grip and easy to carry around
You can use it for both stovetop and oven cooking.
Cons
It may get some scratches on the surface over time.
10. Carbon Steel Wok by Souped Up Recipes 
If you're looking for a carbon steel wok that works on electric and gas burners, this is the option for you.
The Souped Up carbon steel wok may be used on induction burners, electric burners, gas ranges, and various other heat sources, thanks to its flat bottom.
This carbon steel wok features a printed hammered pattern that is not only beautiful but also functional. If you season this wok properly, it will have excellent nonstick properties, making it simpler to cook delicious fried rice.
A hardwood cover and a stainless steel spatula are also included with the wok. This cookware's high-quality carbon steel composition allows for rapid and equal heat distribution.
Pros
Durable material with a long-lasting life.
Good heat distribution and retention.
Easy to clean.
Suitable for cooking various types of food.
Cons
It does not come with a lifetime warranty
11. Leidawn Store 12.8 "Carbon Steel Wok 
The 12.8″ Carbon Steel Wok by Leidawn is an excellent choice for anyone looking for a wok that will handle multiple cooking styles and be versatile enough to use with electric and gas stoves.
You get an 8-piece set of attachments in addition to the 12.6-inch carbon steel pan and wooden cover. The step design wooden cover precisely matches the pot and speeds up the cooking process; the soup mouth design makes it simple to pour soup; the removable wooden grip is not heated and easy to store, and it's also suitable for use in the oven.
The honeycomb pattern on the surface prevents food from adhering to the pan, avoids scratches, and preserves the wok's attractiveness.
Pros
It is easy to clean.
It is durable and lasts for a long time.
It heats up quickly and evenly.
You can use it for both induction and gas stoves.
You can also use it for cooking rice and other delicate dishes.
Cons
It does not come with a lid.
12. Teewe Carbon Steel Wok
If you're looking for a stylish and durable wok, the Teewe Carbon Steel Wok Traditional Hand Hammered – 13.4inch Chinese Wok Round Bottom Wok Pan Set with 8 Pcs Cookware Accessories may be just what you need.
This pan is made from high-quality carbon steel and features a traditional hand-hammered design, making it look beautiful and unique in any kitchen.
The wok pan features a steel assistance handle and a heat-resistant, non-slip hardwood handle that is not only useful for suspending the wok for storing but also comfortable and secure.
The 13.4″ carbon steel wok has a capacity of at least 4-6 people, making it an excellent choice for family gatherings. It may be used for stir-frying, pan-frying, deep-frying, steaming, braising, and other traditional cooking methods.
Pros
It is a durable pan that will last for years.
It is easy to clean and maintain.
It has a rust-resistant finish.
You can use it for cooking a variety of dishes.
It is versatile, and you can use it for stovetop and oven cooking.
Cons
Sometimes it may not be profitable for you
13. Bielmeier 14 Inch Carbon Steel Wok
The Bielmeier 14 Inch Carbon Steel Wok with Wok Ring is an excellent option if you're looking for a wok that can accommodate large quantities of food.
It has a tight-fitting stainless steel ring that prevents the food from sticking to the pan, and it also has heatproof silicone feet so that it won't damage your stovetop. The carbon steel construction makes this wok both durable and easy to clean.
Another great feature of this product is the dishwasher-safe non-stick coating – which makes cleaning up after meal preparation quick and easy! Additionally, the round bottom design ensures even cooking across all pan areas. It is perfect if you are trying to create stir fry or other dishes with multiple ingredients.
Pros
Easy to use 
Easy to clean
Dishwasher safe
More profitable
Comes with a warranty
Cons
14. Homeries Carbon Steel Wok Pan
Like many high-quality pre-seasoned omelet pans, this carbon steel wok by Homeries will not need to be seasoned regularly. This wok has been rigorously tested to guarantee that its nonstick surface is of the highest quality.
It is ideal for stir-frying. The Homeries carbon steel wok is suitable for practically all cooking surfaces, including induction burners, electric burners, gas, electric coils, and more, thanks to its high-quality material and flat base. Furthermore, the wok's flat base allows it to sit firmly on any surface.
This wok also features a distinctive honeycomb design, which adds to the toughness of the cookware. This clever design can also help prevent scratches and keep the wok looking good for an extended period.
Pros
It is durable and lasts long.
It is easy to clean and sterilize.
It heats evenly and quickly.
The spatulas are handy.
It is perfect for stir fry, pancakes, and other Chinese recipes.
Cons
The pan is not induction compatible.
15. Anyfish Best Wok for fried rice with Lid
If you're looking for a good quality wok pan that is easy to use and takes care of the cooking process, then this Anyfish Wok Stir Fry Pan with Lid 12.6 Inch Carbon Steel Wok Pan with Chopsticks and Wooden Spatula may be an excellent option for you.
This product is made from high-quality carbon steel material, making it durable and healthy to cook food. The honeycomb pattern on the stir fry pan's surface prevents food from clinging to the pan, eliminates scratches, and preserves the wok's attractiveness.
The wooden handle is easily removable without using tools, making it ideal for oven usage and storage. The long hardwood handle is meant to provide a secure grip and heat resistance.
The hanging ring on the handle is intended for hanging storage, making it simple to dry and saving room in the kitchen. The wooden cover perfectly complements the wok stir fry pan and speeds up the cooking process.
Pros
Its size is perfect for small or large batches.
It is also dishwasher safe, making it a breeze to clean.
It has a lid that helps maintain heat, a non-stick coating, and a sturdy carbon steel construction.
It is more reliable 
Cons
The handle can be cumbersome to grip.
16. Natural Carbon Steel Wok Pan 12.5″
If you're looking for a traditional Chinese-style wok pan that is environmentally friendly and free of harmful chemicals, then the Natural Carbon Steel Wok Pan 12.5″ may be a good option. This wok pan is made from 100% carbon steel and has no non-stick coating, so it will not suffer from wear or tear over time.
Additionally, this pan is flat bottomed so that it can be seasoned with any stovetop seasoning your heart desires!
The wooden handle makes this traditional Chinese-style wok easy to grip and maneuver and provides durability and longevity. Finally, at only six inches in diameter (diameter does vary depending on the model), this pan makes cooking small meals or stir-fries simple.
Pros
100% chemical-free 
Durable
Safe to use 
Versatile 
Can be taken with you wherever you go
Cons
17. Kenmore Hammond Flat Bottom Carbon Steel Wok
This is one of my favorites when it comes to carbon steel wok. It is a flat-bottomed wok and famous for its versatility. It is a perfect choice for stir-fry, deep-fry, steaming, etc. 
It is made up of heavy-duty carbon steel with a broader diameter offering a perfect cooking surface for making fried rice.  
It comes with a wooden handle and loop, which gives a firm grip for lifting, tossing, and mixing food. 
Being flat-bottomed, it works best with all cooktops, and it heats up quickly with excellent heat retention and distribution. 
It has got a non-toxic and nonstick cooking surface which supports low fat/oil cooking. 
Cons:
The only drawback is it is not dishwasher safe, and recommendations are hand washing with gentle detergent and sponge as it is effortless to clean.  
18. Lodge Pro-Logic Wok
If you have a preference towards cast iron wok, then this is the ideal one for making fried rice.
It is a high-quality pre-seasoned cast iron wok. 
It comes with a flat base compatible with all cooktops.
For easier handling, the wok has got two large loop handles offering excellent grip. 
This cast iron wok has great heat retention and distribution quality, which assists in faster cooking. 
You can conveniently use it in the oven or on the campfire. 
Cons: 
It does not support the dishwasher and needs to be cleaned by hand with warm water. 
Requires little greasing after wash when warm for a better cooking surface. 
Handling the loop handles while tossing may be difficult.
19. Cooks Standard Flat Bottom Hard Anodized Wok
Hard anodized aluminum woks are very popular in Asian countries for their excellent performance. 
It prevents hot spots and provides quick and even heat distribution. 
The nonstick & flat cooking surface makes it very easy to toss or mix the food and clean & maintain it. 
It comes with a glass lid, which traps the required moisture and heat while cooking. 
The stay-cool stainless steel handle is comfortable for use. 
Cons: 
It is no compatible with an induction cooktop; instead, it works best with gas, electric, and glass cooktops. 
Not dishwasher safe requires hand wash.  
20. T-fal Specialty Nonstick Wok
Here is a large-sized wok pan for convenient cooking of large family meals. 
It comes with a superior nonstick surface that supports healthy cooking with low oil required.
It comes with an aluminum construction that provides fantastic heat retention and distribution while making the cooking process faster and easier.
This large wok is oven safe and also dishwasher safe. 
The long handle and a loop handle provides a firm grip and prevents hand burn.
21.  Anolon Triply Clad Stainless Steel Stir Fry Wok
I don't usually recommend stainless steel for fried rice. But this wok is an exception.
If you have a special preference towards stainless steel cookware then this wok will not disaapoint you.
The Anolon stainless steel wok is made with triple-ply construction that makes it highly durable. 
The three-ply construction includes an aluminum core sandwiched between stainless steel layers.
This exceptional wok has a wide cooking surface and is compatible with all types of cooktops. 
It is dishwasher safe, and it can be used conveniently in the oven up to 500 degrees F. 
The wok is supported with a sturdy stay-cool handle providing a firmer grip.  
Here are some qualities of a wok for making the ideal fried rice: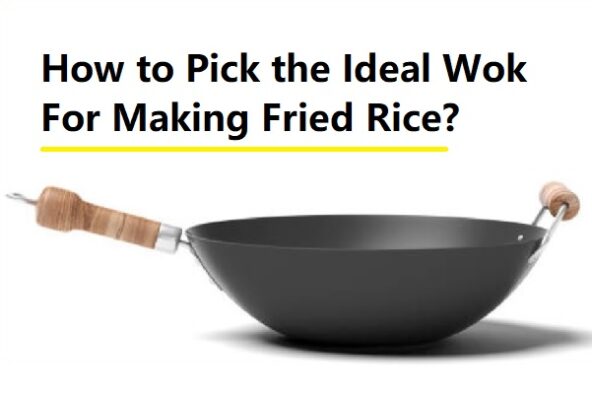 –       The size of the wok (Large)
Yes, for cooking perfectly blended fried rice, you need a large wok. 
It is necessary to provide enough space to mix rice with other ingredients without spilling them. 
Fried rice involves good mixing and tossing, so the size of the wok matters a lot. 
But how to decide the exact size? Suppose you want to cook for two people. Buy the one for three servings. Here is a table on wok size and recommended woks to help you further.
–       Heat distribution ability
Cooking the fried rice is quite a delicate procedure as it may turn into a lump of rice or burn quickly. 
Fried rice is a quick recipe that requires high heat and everything needs to happen fast. So your wok needs to be very hot with even and thorough heat distribution. 
Chefs highly prefer carbon steel. Carbon steel is popular for equal heat distribution at a faster speed. It can hold the heat for a longer period too which is why immediately after making the fried rice transfer it to a separate container to avoid cooking it further in the pan.
Also, at home, we don't usually have the ferocious wok burners which produce blistering heat. For our stovetops or induction/electric hobs carbon steel is the most suitable material to keep the heat even on medium flame.
–       Well-built handles with a firm grip
I cannot stretch the fact that how much important is this until a wok with a loose handle makes you suffer. As we know to make the perfect fried rice, there should be thorough mixing and tossing of ingredients. Already the entire process will be on high flames; mixing and tossing might be challenging if the wok is not supporting you. 
For that, you need well-built and robust handles to perform the task. I have mentioned some great woks above in the size table with which I had great experiences. Specially Mammafong provides the best handles in woks.
–       Seasoned and nonstick surface 
Boiled rice grains are very soft and delicate, so when cooked on high heat with an un-seasoned wok pan, they might get stuck or burnt. 
To avoid this, you need a well-seasoned wok. Carbon steel or cast iron woks need to be seasoned occasionally to create that beautiful patina. If you don't like the seasoning process, you can easily opt for the nonstick woks. I know usually nonstick woks are not a good idea in terms of safety but depending on the temperatures our stovetops generate you can safely use a nonstick wok.
To ensure more safety, go with hard anodized woks. Hard anodized aluminum is much safer on high heat.
Can you cook fried rice in a wok?
Fried rice is a popular dish made with rice that has been cooked and then fried in a pan with oil, usually with other ingredients such as vegetables or meat. While you can fry rice in any type of pan, a wok is traditionally used for this dish. A wok is a large, deep pan that has flared sides, which makes it ideal for stir-frying. When cooking fried rice in a wok, it is important to use high heat so that the rice cooks quickly and evenly. In addition, it is important to keep the ingredients moving by stirring constantly. This will help to prevent the rice from sticking to the pan and burning. With a little practice, cooking fried rice in a wok can be easy and delicious.
Using a Wok for Fried Rice
A wok is a versatile pan that can be used for a variety of tasks, from stir-frying to deep-frying. When it comes to making fried rice, a wok is the ideal choice. The flared sides of the pan help to evenly distribute heat, while the rounded bottom allows for easy turning and flipping of the rice. In addition, the nonstick surface of a wok prevents the rice from sticking to the pan and makes cleanup a breeze. Whether you're using leftover rice or cooking up a batch from scratch, a wok is the perfect tool for making delicious fried rice.