Fried rice is a dish of Chinese origin. It is a trendy dish in Asian countries and is commonly found as street food. A well-built wok with easy to grab long handle is the ideal tool to make the perfect fried rice without a lump of cooked rice.
It is also about even heat distribution so that the dish is full of flavors and juiciness. Not all woks are suitable to make the ideal fried rice. You might use a wok and still get a bland or soggy fried rice.
Here are some qualities of a wok for making the ideal fried rice: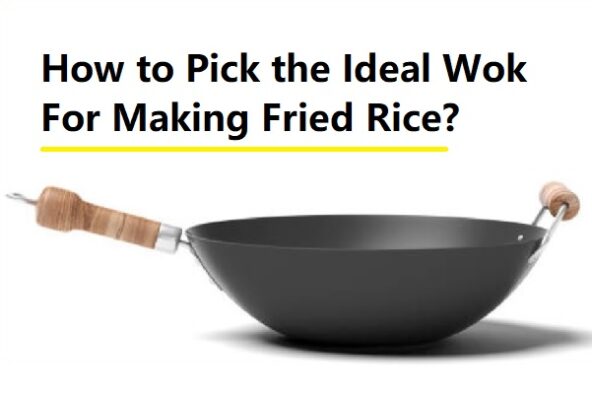 – The size of the wok (Large)
Yes, for cooking perfectly blended fried rice, you need a large wok.
It is necessary to provide enough space to mix rice with other ingredients without spilling them.
Fried rice involves good mixing and tossing, so the size of the wok matters a lot.
But how to decide the exact size? Suppose you want to cook for two people. Buy the one for three servings. Here is a table on wok size and recommended woks to help you further.
– Heat distribution ability
Cooking the fried rice is quite a delicate procedure as it may turn into a lump of rice or burn quickly.
Fried rice is a quick recipe that requires high heat and everything needs to happen fast. So your wok needs to be very hot with even and thorough heat distribution.
Chefs highly prefer carbon steel. Carbon steel is popular for equal heat distribution at a faster speed. It can hold the heat for a longer period too which is why immediately after making the fried rice transfer it to a separate container to avoid cooking it further in the pan.
Also, at home, we don't usually have the ferocious wok burners which produce blistering heat. For our stovetops or induction/electric hobs carbon steel is the most suitable material to keep the heat even on medium flame.
– Well-built handles with a firm grip
I cannot stretch the fact that how much important is this until a wok with a loose handle makes you suffer. As we know to make the perfect fried rice, there should be thorough mixing and tossing of ingredients. Already the entire process will be on high flames; mixing and tossing might be challenging if the wok is not supporting you.
For that, you need well-built and robust handles to perform the task. I have mentioned some great woks above in the size table with which I had great experiences. Specially Mammafong provides the best handles in woks.
– Seasoned and nonstick surface
Boiled rice grains are very soft and delicate, so when cooked on high heat with an un-seasoned wok pan, they might get stuck or burnt.
To avoid this, you need a well-seasoned wok. Carbon steel or cast iron woks need to be seasoned occasionally to create that beautiful patina. If you don't like the seasoning process, you can easily opt for the nonstick woks. I know usually nonstick woks are not a good idea in terms of safety but depending on the temperatures our stovetops generate you can safely use a nonstick wok.
To ensure more safety, go with hard anodized woks. Hard anodized aluminum is much safer on high heat.
Here is a list of compatible woks for making fried rice
As we all know, woks are made up of different materials like cast iron, carbon steel, aluminum, stainless steel, etc.; here, I will share the best woks for fried rice in various materials.
1. Carbon steel wok for fried rice: Kenmore Hammond Flat Bottom Carbon Steel Wok
This is one of my favorites when it comes to carbon steel wok. It is a flat-bottomed wok and famous for its versatility. It is a perfect choice for stir-fry, deep-fry, steaming, etc.
It is made up of heavy-duty carbon steel with a broader diameter offering a perfect cooking surface for making fried rice.
It comes with a wooden handle and loop, which gives a firm grip for lifting, tossing, and mixing food.
Being flat-bottomed, it works best with all cooktops, and it heats up quickly with excellent heat retention and distribution.
It has got a non-toxic and nonstick cooking surface which supports low fat/oil cooking.
Cons:
The only drawback is it is not dishwasher safe, and recommendations are hand washing with gentle detergent and sponge as it is effortless to clean.
2. Best cast iron wok for fried rice: Lodge Pro-Logic Wok
If you have a preference towards cast iron wok, then this is the ideal one for making fried rice.
It is a high-quality pre-seasoned cast iron wok.
It comes with a flat base compatible with all cooktops.
For easier handling, the wok has got two large loop handles offering excellent grip.
This cast iron wok has great heat retention and distribution quality, which assists in faster cooking.
You can conveniently use it in the oven or on the campfire.
Cons:
It does not support the dishwasher and needs to be cleaned by hand with warm water.
Requires little greasing after wash when warm for a better cooking surface.
Handling the loop handles while tossing may be difficult.
3. Best aluminum wok for fried rice: Cooks Standard Flat Bottom Hard Anodized Wok
Hard anodized aluminum woks are very popular in Asian countries for their excellent performance.
It prevents hot spots and provides quick and even heat distribution.
The nonstick & flat cooking surface makes it very easy to toss or mix the food and clean & maintain it.
It comes with a glass lid, which traps the required moisture and heat while cooking.
The stay-cool stainless steel handle is comfortable for use.
Cons:
It is no compatible with an induction cooktop; instead, it works best with gas, electric, and glass cooktops.
Not dishwasher safe requires hand wash.
4. Best nonstick wok for fried rice – T-fal Specialty Nonstick Wok
Here is a large-sized wok pan for convenient cooking of large family meals.
It comes with a superior nonstick surface that supports healthy cooking with low oil required.
It comes with an aluminum construction that provides fantastic heat retention and distribution while making the cooking process faster and easier.
This large wok is oven safe and also dishwasher safe.
The long handle and a loop handle provides a firm grip and prevents hand burn.
5. Best stainless steel wok for fried rice – Anolon Triply Clad Stainless Steel Stir Fry Wok
I don't usually recommend stainless steel for fried rice. But this wok is an exception.
If you have a special preference towards stainless steel cookware then this wok will not disaapoint you.
The Anolon stainless steel wok is made with triple-ply construction that makes it highly durable.
The three-ply construction includes an aluminum core sandwiched between stainless steel layers.
This exceptional wok has a wide cooking surface and is compatible with all types of cooktops.
It is dishwasher safe, and it can be used conveniently in the oven up to 500 degrees F.
The wok is supported with a sturdy stay-cool handle providing a firmer grip.