So, what if you are buying your Chinese wok for the first time? Or maybe the previous wok was a total disaster and now you want to level up? Finding the best Chinese wok is not easy. No matter how good you are at cooking, a wrong tool or kitchen equipment can ruin the dish. That's why chefs put a higher importance on using crafty Chinese woks than following the recipe religiously.
To be honest, being a chef I treat my well-seasoned Chinese wok as my superpower. Here in this article, I have explained all the red flags to watch out for and the qualities an authentic Chinese Wok must-have. I have also mentioned some great Chinese woks on the market to choose from.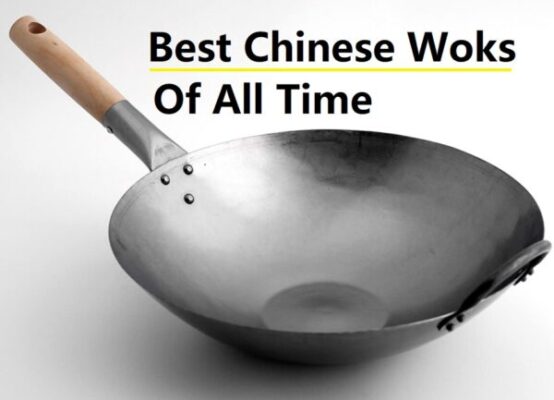 What to look for in the best authentic Chinese Wok?
✔Material:
The first material you need to strike down from your list is stainless steel. It is definitely not the right material for a Chinese Wok.
Traditional Chinese Woks are usually made from iron. But given the rusting nature of such a wok, soon cast iron come into the picture. But carbon steel is the best pick in terms of the most suitable material for a wok.
Why carbon steel?
Why not? It has a great heat distribution ability and heat retention power is lesser than a cast iron wok. This means your food will not get overcooked if you forget to immediately transfer it from the hot wok when you turn off the gas. In cast iron, as the heat retention ability is high you need to be very cautious about how long you are keeping the food in it.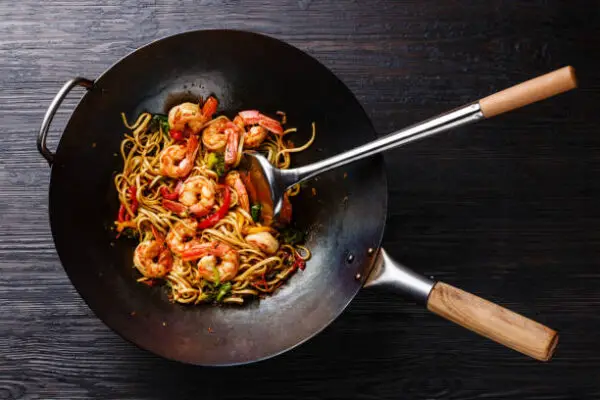 The best part of carbon steel wok is its lightweight. Tossing and turning is a very common procedure involved in making a great stir fry. If the wok is lightweight, it becomes easier for you.
One downfall with carbon steel is that you cannot take it to camp. I have broken 3 carbon steel woks after they accidentally fell off my hand with food in it. Cast iron is sturdier than carbon steel wok. If you are using the wok carefully and you are not clumsy like me then I don't think this will be an issue.
✔Look for Impurities:
The most common way brands cheat with us is by adding impurities to the constituent elements of cookware. Suppose you are buying a wok that is declared as made of carbon steel. It might be the case that the majority of the material is carbon steel and the rest is aluminum or some other metal.
That is why to ensure a well-balanced and good quality Chinese wok you need to buy from popular and experienced brands which are in the industry for a longer period of time like Yosukata, Mammafong, Joyce Chen, Craft Wok, etc.
This flat bottom Craft Wok is a good example of a balanced Chinese Wok with no added impurities. It is hand-hammered from a thick and pure carbon steel sheet and the flat base is machine pressed. One of the most traditional ways to manufacture wok is the hand-hammering technique, that's why these woks are very popular in China.
✔Long Grpping Handle
Woks with loop handles are great too but to buy the best Chinese wok you need a long gripping handle. I am saying this from my experience of 12 years in cooking with several woks.
On high heat, when you need to do add ingredients at a lightning speed and at the same time keep the tossing and turning- loop handles are not at all helpful. Whereas a good sturdy long handle, preferably wooden is ideal to cook delicious stir fry.
Now let me introduce you to some phenomenal Chinese Woks.
Best Chinese Woks Of All Time
📌Craft Wok Round Bottom Traditional Hand Hammered Wok:
Indulge in the traditional cooking experience with the most traditionally designed hand-hammered carbon steel wok. This round-bottomed wok pan is exclusively made by the conventional hand-hammering method in Guangzhou, China.
It is the first choice of professional chefs in Asian countries and is found ideal for stir-frying. This wok weighs around 2 kg and is heavy and sturdy. 
Pros:
It is made with premium quality heavy gauge carbon steel material
It is compatible with high heat cooking. 
The handle is designed to prevent burns and heat hence made with steel and wood. 
This wok is compatible with open fire and can be used as a smoker. 
Cons:
It is not suitable for flat cooktops like induction or flat electric stove. 
Rusting can be seen if not correctly maintained. 
Requires regular seasoning and maintenance.  
📌Pre-Seasoned Yosukata Best Chinese Carbon Steel Wok:
Are you tired of the regular seasoning of your wok? Here is the pre-seasoned flat-bottomed Chinese wok to make your cooking experience effortless. It is traditionally used in China and Japan and is a perfect fit for the Asian kitchen. 
This pre-seasoned wok pan can be used for cooking healthy meals in all cooking styles like deep frying, shallow frying, braising, etc. 
Pros:
It is pre-seasoned with a unique technique at high temperatures, so there isn't any need to season it before use. 
It is made with premium quality, heavy-duty, black carbon steel.
Flat bottom pan, which is compatible with different cooktops. 
Cons:
It is not dishwasher safe; there are chances of peeling off the nonstick coating. 
It is not the right choice for cooking highly acidic food; acidic food can be made with this wok, but for long-lasting use, avoid preparing high-acidic stuff. 
📌Joyce Chen, Classic Series Carbon Steel Wok:
If you are a chef with the pace, here is the faster heating wok with even heat distribution. Joyce Chen's cookware range is highly recommended by professional chefs globally. 
 This wok pan is supported with a dome-shaped nonstick steel lid. This dome-shaped nonstick lid helps in better heat, moisture, and nutrient retention. 
 The wok is compatible with different cooktops like an electric stovetop, gas stovetops, and others. It offers even heat distribution for the entire cooking surface.
Pros:
The wok set comprises a dome lid, a wooden spatula, and an exclusive recipe booklet. 
Helper handle along with an extended rigid stay cool handle present. 
Carbon steel wok is very affordable as compared to other materials. 
Cons:
It requires seasoning for long-lasting durability and maintenance.
Seasoning also reduces the chances of rusting. 
It is not dishwasher safe, and hand wash is recommended.
 📌Mammafong Flat Bottom Carbon Steel Wok Pan:
Here is a traditionally designed hand-hammered wok with a flat base to ensure a fantastic cooking experience. 
The flat bottom is compatible with different cooktops. The heavy-gauge carbon steel body provides faster and even heating. It is the kind of one that your mum will love to own. 
Pros: 
It is lightweight and easy to lift and toss while cooking. 
It is compatible with different cooktops like induction base, gas stove, electric cooktop. 
It can be used for various cooking styles like boiling, stewing, steam, deep fry, roasting, etc. 
Cons:
Requires seasoning before use for long-lasting use & easy cooking.
Proper and careful cleaning is required; placing the heated pan underwater might result in discoloration.  
Not dish wash safe requires hand wash with a sponge and gentle detergent. 
📌COUNTER Traditional Hand Hammered Wok Pan:
Chefs across Asian countries professionally use coroner's traditionally hand-hammered wok pan. It is a traditional Chinese wok and is built up for a busy kitchen. 
 It is made with heavy-duty premium quality carbon steel, which heats up faster and evenly distributes the heat across the entire cooking surface.
 It helps you add the secret smoky flavor to the food, which is appreciated across the globe. 
Pros: 
It is traditionally designed and gives that extra deep surface for easy mixing and folding of food.
The hygroscopic wooden handle gives a perfect grip for quick pan movements while cooking. 
A helper's hand is also present on the opposite side for easy lifting and holding of the wok pan. 
Cons:
It requires regular seasoning of wok pan for enhanced durability. 
If seasoning of the wok pan is avoided for an extended period of time, there are chances of rusting.