Looking for a wok for your electric gas range? Well, make sure your wok doesn't change shape on heat and start to wobble. You will end up with a wok that you can't cook with anymore after the very first use.
This is not just one issue that you might face while investing in a wok for an electric stove. In this article, we will give you a basic yet crucial understanding of what to look for in an electric stove-compatible wok.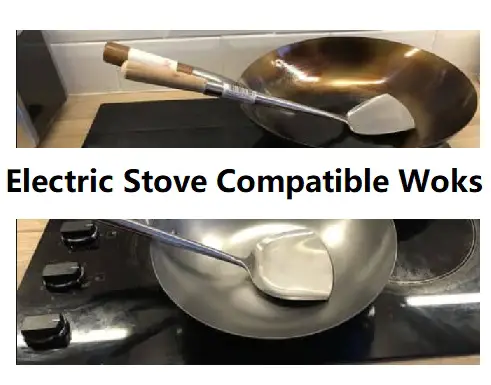 So what is an electric stove-friendly wok?
It is no brainer that electric stoves be it coil stove or the glass-ceramic ones you need a flat bottom wok. Round bottom woks with a wok ring are meant for open fires. So, the flat bottom wok is the only compatible design for electric stoves. However it is not only about a suitable bottom, there are few more crucial specifications you need to look for while buying an electric stove-safe wok.
The most important issue to address is heating –
To make a perfect stir fry you need around 12k-15k BTU heat but an electric stove generates around 7k BTU. Clearly, the heat is not enough. But this problem can readily be solved if you have the most efficient wok for your electric stove.
The compatibility of the "wok material" with your electric range matters a lot to make crispy and smoky stir fry. If the material of your wok is good at heat distribution, retention and conduction, your stir fry will end up perfect even on low flame.
The Material
Carbon steel and cast iron are good at even heating. But carbon steel woks are off-limits for electric range, we will discuss that further. Also cast iron for its heavyweight is dangerous on ceramic stovetops. Stainless steel on the other hand is not as good as the prior two when it comes to heating.
But manufacturers these days add an aluminum core inside stainless steel woks to make it good at heating. As aluminum is a great heat conductor, these "aluminum core stainless steel" woks are highly suitable for the electric gas range. Read below for a better understanding.
Although the heat of an electric stove is not enough for wok cooking, it is more than enough to destructure the shape of a wok. On high heat, some woks tend to change shape and hence start wobbling on the cooking surface, which is annoying. You don't get a proper grip and also the ceramic stoves get scratches because of the wobbliness. It's a mess!
That's why choosing the right material is crucial. Carbon steel usually changes shape and cast iron does not. Iron, stainless steel, and hard anodized aluminum woks do not change on high heat too. However cast iron is a heavy material hence not easy to lift or cook on a glass top stove. In that case, you can go with light cast iron wok.
But overall stainless steel is the most suitable material for electric stove-compatible wok.
The Size
I have realized on an electric stove the bigger the wok, the better. As with bigger woks, you get more flat bottom and surface area hence the heat transfers well to the food. It reduces the splatter too. 13-inch woks are the most compatible ones with electric stoves.
The handle
There are two types of wok – Cantonese, and Mandarin, or loop handles and long handles. The Mandarin woks with a long handle preferably wooden are great for electric stoves. Long wooden handles help you to easily lift the wok and transfer it to places.
So in a nutshell: What is the best wok for electric stove?
A flat bottom Mandarin wok with a stainless steel body and aluminum core is the most compatible wok for an electric stove. The wok must have a wider bottom to capture as much as heat possible. Preferably 13 inch is the ideal size and 4 lb is the best-suited capacity for electric stove-compatible wok.
Electric Stove Compatible Woks – Best Picks
1. Willow & Everett Wok Pan Stainless Steel Wok Pan with Lid:
This 13-inch stainless steel wok pan from Willow & Everett has a very wide surface and bottom area which is ideal for even heating on an electric gas range. I love this flat-bottom wok because of its stylish look and intelligent design which is adapted from traditional Asian woks.
For better heating on a low flame, like electric burners or ceramic stovetops, the wok has an aluminum core sandwiched between the layer of two stainless steel sheets. Aluminum is better at heat distribution than stainless steel, so the core will keep the wok warm enough for cooking. And as aluminum reacts with food the surface area is made of stainless steel for safe cooking.
Additionally, it comes with a dome lid and a stainless steel spatula. It is dishwasher and oven safe too. However, always wash a wok with your hands.
Pros:  
– Provides more efficiency & cooking.
– Easy to clean and compatible for dishwashing. 
– Oven safe and over-sized for larger servings. 
– Heavy-duty, Scratch resistance, and premium quality cooking surface. 
Cons: 
– Sticky-cooking surface, not preferable for delicate foods. To avoid this grease, the cooking surface with oil before adding food. 
– High heat may result in discoloration of cookware but can be cleaned easily with hot water & vinegar or citrus dishwasher. 
2. YTFGGY traditional Chinese Iron Woks with Lid, Spatula:
Want to experience traditional Chinese cooking? This traditionally designed hand hammered flat bottom wok is just for you. The flat bottom is a perfect fit for electric stoves, glass-ceramic stove, induction cooktop, and gas stoves.
Iron woks help retain a fair amount of vitamin C in vegetables while cooking. Thus adds nutrients to your diet. Iron cookware has excellent health benefits and also prevents iron deficiency. 
Pros:
– Lightweight and easy to handle and toss. 
– Easy detachable handle for easy storage. 
– Safe for oven use. 
– Ergonomic wooden handle for heat resistance and convenient handling. 
Cons:
– Requires seasoning to get the nonstick cooking surface. 
– It is not a good conductor of heat but has good heat retention.