In my 20 years of cooking experience, I have realized over and over again that the cheapest woks are not always the most durable ones. However, with increasing efficiency in the manufacturing process in recent years, I have used some incredible budget woks.
They do not cost me a fortune yet work perfectly fine while it comes to stir-frying. But the question remains how safe is a cheap wok for regular use? Here is a detailed guide on that.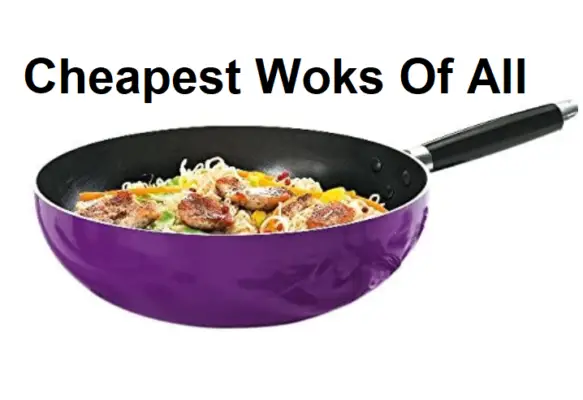 Cheap Wok Vs Expensive
Whether to buy a cheap wok or go for the expensive one, depends on your regular cooking need. If you want to have wok cooked meal daily and love authentic Asian cuisine, I will advise you to pick a wok from this list.
Because when it comes to regular usage durability and engineering play a bigger role.
Hence, investing in a well-built wok is suitable. But if you are short on the budget yet want a perfect restaurant-style stir fry once in a while, I have listed some very useful and efficient woks at the end of the article.
Woks that are of poor build, tend to bend over high heat, emit toxic from some unsafe non-stick coating, and often are rust-prone. For these reasons mainly, cooks are skeptical about buying an affordable wok. But good quality doesn't always mean spending a lot of cash, at least, not in the case of woks. 
Why buy a cheap wok?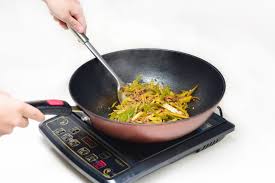 A stir-fry is a healthy, tasty meal alternative that everyone should try at least once in their lifetime. And we all know that in case of great stir-fries, if there is a first time, there will be a second time for sure. 
Stir-fries taste the best when they're cooked in woks at a very high temperature. Used in China for more than two millennia, woks are highly versatile cooking appliances that can do much more than flavorsome stir-fries, ranging from deep-fries and pan-fries to braising and stewing. 
 We at Wokware have thoroughly researched the consumer and expert experiences of various woks available on the market recently, and the results turned out to be surprising.  
The best woks are also the cheapest, and they don't compromise on necessary features even a little bit. Of course, there are low-quality, cheap woks, but the best cheap woks in the market listed here, maintain a high standard of quality and customer satisfaction. 
While short on budget, investing in one of the best affordable woks can be the wisest decision you can make as it'll bring a different, spicy Asian flavor to your table. And everyone deserves great stir-fries! 
How to buy a worthy yet cheap wok? 
Spending hard-earned money on just any product is not at all a wise man's job. And when it comes to wok spending a lot of cash is not always the right decision. The most common features we usually need in a wok are sturdiness, high quality, safe material, good gripping handles, craftily built for even heating, and easiness of use. 
If a wok is offering all of these then it is just adequate enough to start making tasty stir-fries. We sure love some extra features, but if money is a constrain or you just don't need extra then Wokware doesn't see any wrong in buying a cheap wok. 
Here we have listed some very useful tips to help you give a piece of mind in deciding the best cheap wok in the market possible. 
Types of wok (Choosing the best cheap Wok) 
To buy the best cheap wok for home use, your focus must be on wok's durability, safety, and easiness of use (that includes cleaning, maintenance, good gripping handle, the overall shape, and heat-retaining ability of the wok). For that, you need to learn about the types of wok available. Don't worry we will explain everything and hopefully guide you to the best cheap wok according to your need. 
Types Of Wok 
Non-stick Wok: 
Pros: No need to season, will use less oil, easy to clean and maintain, inexpensive. 
Cons: Teflon-coated ones are bad for health. 
Cast Iron Wok: 
If putting some extra effort to get a nice flavor in your stir-fried food is not at all a problem for you, then We will suggest you go for the cast iron ones. They are invincible. It will be worth every penny. 
Pros: These woks are traditional, excellent heat inductors.  
Con: rust-prone, heavy and will need a lot of oil so that the food doesn't stick to the pan. 
Stainless Steel Wok: 
Stainless steel-made woks are available too. 
Pros: They are durable, rustproof, looks stunning, and light-weight so very easy to use and handle, need less maintenance than their cast iron counterparts.  
Cons: expensive, needs time to heat up properly, also needs a lot of oil than the non-stick ones. 
Carbon steel Wok: The last and most commonly used material to make a wok is the carbon steel.  
Pros: They are lightweight, great heat inductor, heats evenly, less oil needed if seasoned properly. 
Cons: Needs special care to maintain the wok. 
Best Size Wok For Home Use: 
Let's talk about size. It's very easy to determine. Usually, wok ranges from 6 to 36 inches. The woks under 12 inches are good for 1-2 people. Between 13-15 inches are great for 3-5 people and woks bigger than the 16 inches are good for parties or for the restaurants. 
What is the best price range for buying a cheap wok for home use?
You will get wok ranging from as low as $15 to above $400. Where the $400 ones are for professional chefs, for everyday home use, you don't have to pay that much.  
The non-stick coated woks usually come very cheap, easy to clean and maintain. Woks above $100 are mostly sturdy and will provide you long-lasting service along with ease of cleaning and maintenance.  
If your budget is low, then go for the ceramic, marble, stainless steel coated ones (remind you in high heat coating lasts less than a year).  
Hence, we have listed those cheap woks that come with years of guarantees. Go with any of the woks listed above. We are sure you will not be disappointed. 
For stir-frying it is proper, to use a metal pan like stainless steel, carbon steel, or even the cast iron ones.  
So, if you are planning to buy a cheap wok, always keep in mind durability may be an issue if used daily. 
Sure, the woks made of metals are expensive, but if you can extend your budget Wokware will always suggest you invest in a high-end product to avoid several quality issues in the long run. 
Maintaining a Cheap Wok: 
The next important thing to look for in a cheap wok is the ease of maintenance (seasoning, cleaning, and storing). Some woks come with, a pre-seasoned, dishwasher/oven-safe body and removable handles which makes cleaning and storing convenient. 
Although Teflon coatings are bad for health, there are several safe non-stick coatings that provide good maintenance. If you really don't want to bother maintaining a wok then a non-stick wok pan is the perfect choice for you. 
Picking: Flat vs Round Bottom Cheap Wok
As you have guessed, flat bottoms are not always good at even heating. Fortunately, there are some experienced manufacturers, who have crafted a flat bottom wok with great excellency that happens to heat equally from its lower part to its entire body without taking too much time.  
These flat bottom woks are sturdily built and the material has the ability to distribute heat evenly and tolerate high heat on a daily basis.  
So, to sum up, for everyday home use, you need a wok that is suitable for every stovetop, crafted with durable material, and has even heating ability. 
Experienced Chefs usually go for the round bottom woks because the "nearly perfect" round butt helps the heat to transfer evenly in the entire body of the wok. This aids the cook in bringing out deliciousness and mouthwatering aromas from the food. 
But for home use, we certainly cannot go for a round bottom, because this kind of woks is not compatible with electric stovetops. Keeping that in mind market has introduced several flat bottom woks which are suitable for any stovetop. 
And our editors at Wokware have made the above top 5 inexpensive wok list by handpicking those quality flat bottom woks. 
To summarize here are some crucial things the best cheap wok for home use must have – 
durable material to withstand everyday wear and tear 
even heating of the body 
Has the ability to resist high heat and doesn't bend 
Pre-seasoned properly so that food doesn't stick on the wok (only if you don't want to season it yourself) 
Induction base, oven and dishwasher safe wok 
Has compatibility with any stove top 
Removable handles to make storing easy if possible, in your budget 
Light weight and good grip handle 
Sturdy lid so that you don't have to replace it (if offering any) 
Where to buy an affordable wok? 
We will give you the biggest secret of buying the perfect wok. Always..always buy the one, that has been tested by several others and rated. Be it a cheap wok or an expensive one, woks have their own moods. 
That's why we always do extensive research with the previous buyers and users to bring you a list of woks worth buying. 
You can surely buy a wok from your local store but to be extra sure buying online after reading the reviews is the best decision. Or you can trust us and analyze those woks that we have reviewed. It will be easier for you to land on a perfect wok. 
If I have a budget of more than $50, should I invest in expensive woks? 
Woks ranging from $40 – $150 are not 'only expensive'. They are perfect. They have just the appropriate features to make a durable, safe, and value for money choice. If you have the budget, Wokware will always suggest you invest your money in a higher-end balanced wok for regular use. This will be a safer choice.
Woks made of cast iron and carbon steel are the best ones to go within this range. If you are looking for a low-maintenance one, then shoot for stainless steel-made wok. 
Inexpensive & Safe Wok
Ozeri Green Earth 12 inch Wok Pan – Best Cheap Induction Wok
| | |
| --- | --- |
| Material  | die-cast aluminum  |
| Handle Type  | Bakelite heat-resistant handle |
| Coating  | Ceramic Safe Non-Stick Coating |
| Additional Features  | 100% PTFE and PFOA free, induction safe |
Ozeri incorporates award-winning designs, durable build, and healthy material in their products at affordable pricing. As they are a big supporter of healthy living, it is most-suited to add the Ozeri Green Earth 12 inch ceramic nonstick wok at the top of the list.
When I asked them, why their woks are the safest options available at a reasonable price? They revealed unlike other similar brands Ozeri Green Earth Wok has an ultra-safe ceramic coating that is 100% PTFE and PFOA free.
The scratch-resistant nonstick surface is non toxic and healthy as it does not release any fume at high temperatures. You can cook your delicious meal every day and it will have no risk of leaching harmful chemicals. The best part is this wok has the perfect size and depth to cook food for at least 3-4 people at once.
The induction-safe, beautiful modern design and the flat bottom aids in using it on any cooktop and also showcase it in your kitchen. The die-cast aluminum body is durable and at the same time lightweight for beginners. The easy-to-grip heat-resistant bakelite handle is very comfortable to hold during the cooking process. Overall, this is the best affordable, safest, and healthiest wok to have.
Best Stainless Steel Wok On Budget–
Willow & Everett 13 inch Flat bottom Stir Fry Wok Pan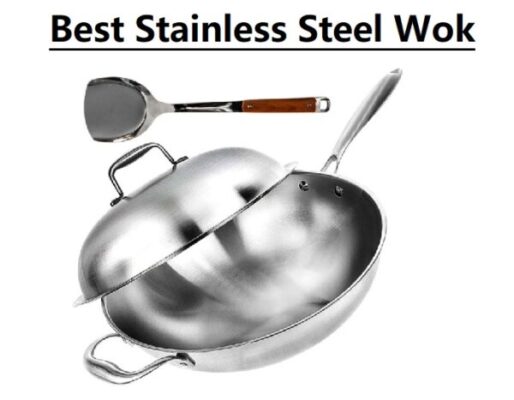 Material 
Stainless steel with Aluminum Core 
Handle Type 
Long riveted handle and helper handle 
Coating 
Uncoated, non-stick cooking surface 
Dimensions 
22.1 x 13.9 x 5.8 inches 
Additional Features 
Stainless steel bamboo handle spatula and
stainless steel dome lid with helper handle included. 
100% chemical-free. Dishwasher safe 
Oven safe up to 500 degrees F  
Willow & Everett 13 inch Stir Fry Wok Pan has everything that you need in an affordable stainless steel wok. From the nonstick surface, lightweight body, induction-safe, well-riveted handles, proper depth to a tightly fitted lid it has everything. Moreover, it comes with a stainless steel spatula. But the best part is its affordability.
While searching for the best affordable stainless steel wok, I have compared this Willow and Everette 13-inch stainless steel wok with many popular brands like the $200 Calphalon to $75 Cuisinart. To be honest other than adding style and charm, I didn't find those popular brands to be adding something extra to the table.
Because of the flat bottom you can use it on any stovetop and is ideal for stir-frying, steaming, deep-frying, boiling, searing, and more. Pure stainless steel made woks are not great at conducting and evenly distributing heat, that's why this model has a 3-ply design. An aluminum core is sandwiched between two layers of stainless steel which offers super-fast and even heating, along with the wide and deep nonstick cooking surface.  
Best Cheap Non-Stick Wok With Lid
Brittle coating, loose handles, high heat incompatibility of the wok pan are some of the reasons you might never want to buy an inexpensive wok. But not anymore. Zinel offers the safest coating that is hard-anodized aluminum, big gripping handles, and a see-through lid for a perfect wok cooking experience on a budget.
Affordable Wok With Hard Anodised Induction Base Review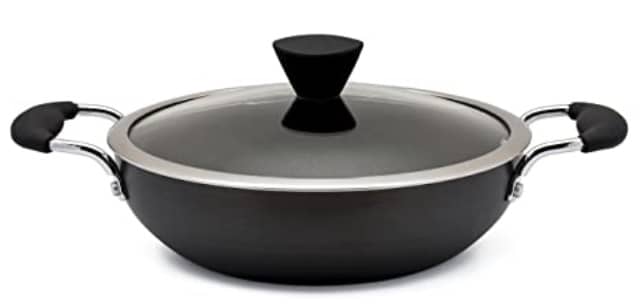 Material 
Aluminum 
Handle Type 
Riveted soft-touch, cool-touch 
Coating 
Double layered non-stick coating 
Dimensions 
9.65 x 9.65 x 2.76 inches 
Additional Features 
Dishwasher safe Suitable for gas,
electric, halogen, ceramic and
induction cooking Oven safe up to 180°C 
This is the best inexpensive wok from Zinel. It is a stylish wok hard-anodized aluminum enginnered with a double-layered non-stick coating.
✅ The hard, anodized body ensures extra durability and
✅ ultra-fast, even heat distribution.
✅ It is suitable for gas, electric, halogen, ceramic, and induction cooking.
✅ You don't have to spend your valuable time washing this wok as it is dishwasher safe and the non-stick coating aids easy cleaning. 
✅ The handles and knob stay cool even when the wok is at high temperature, making cooking effortless.
For those who cook on an induction, oven, or a stove occasionally, this wok is a great choice. 
Non Stick Karl Kruger Aluminum Wok
| | |
| --- | --- |
| Material  | Aluminum  |
| Handle Type  | Metal, with a heat-resistant coating  |
| Coating  | Ceramic non-stick coating  |
| Dimensions  | 11.81 x 11.02 x 11.81  |
| Additional Features  | High thermal conductivity Suitable for all types of cookers, including induction cooking ranges.  |
The best cheap wok on the list is by Karl Kruger, with a bunch of handy features such as
✅ a strong, Aluminum body weighing only 2.2 pounds,
✅ very high thermal conductivity,
✅ and a cool-touch handle. 
The low weight makes this wok very easy to use, and it is perfect for low-fat, gentle cooking and steaming.
✅ It costs around $30 and has a safe ceramic non-stick coating. 
ALLUFLON Etnea Wooden Handle Aluminum Budget Wok Review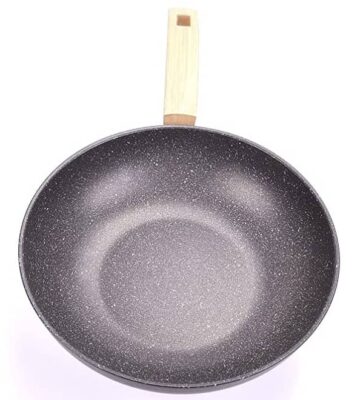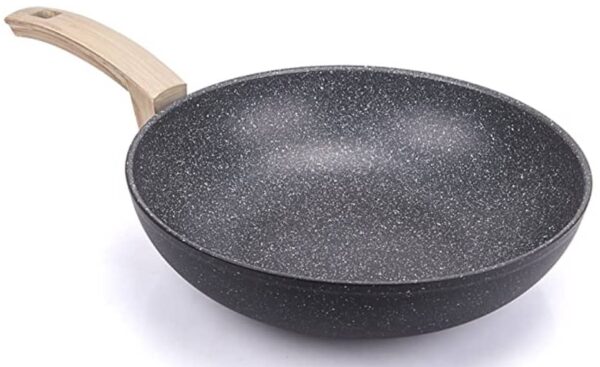 | | |
| --- | --- |
| Material  | Aluminum  |
| Handle Type  | Heat resistant, wood effect  |
| Coating  | Non-stick, stone effect coating with added minerals  |
| Dimensions  | 18.31 x 11.42 x 4.13 inches  |
| Additional features  | Dishwasher safe 5-year warranty  |
What are the features that you'd want in an expensive wok?
✅ You might want to have a wooden handle to avoid getting burnt,
✅ a non-stick coating for ease of cooking, and perhaps
✅ you'd prefer a dishwasher safe wok. 
Well, being the best budget wok on the market, the Alluflon Etnea wood wok has all the features that an expensive wok would have.
It's made of Aluminum and has a non-stick stone effect coating with added minerals both on the inside and outside.
That's not all – it has a heat resistant wood effect handle and is dishwasher safe.  
If you're thinking that it's cheap and might get damaged soon, there's a 5-year warranty on this product!
What more would you want in the best affordable wok?! 
Best Cheap Carbon Steel Wok
Carbon steel made woks are the most traditional stir-frying tools you can have. These woks can range from $25 – $70. Where the high-end ones come with a handful of features, like an entirely hand-hammered body, authentic material, the cheap woks offer few of them yet are useful enough for flavorful cooking, if you are on a tight budget.
Best Budget Wok With 10 Years of Service Guarantee (Induction-Safe)
Masterclass Carbon Steel 12 inch Wok Review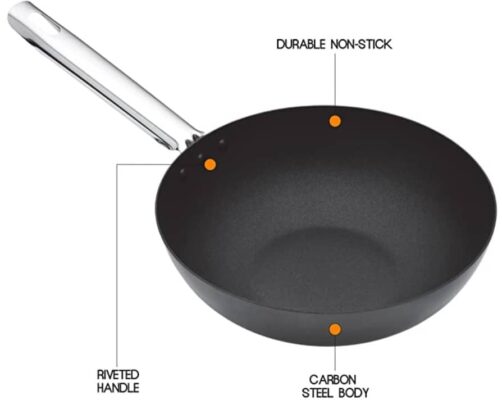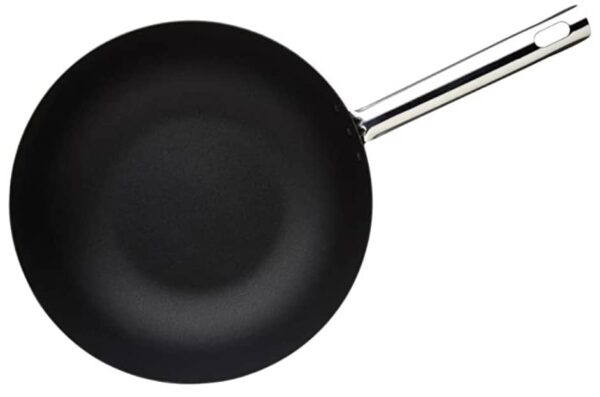 | | |
| --- | --- |
| Material  | Carbon steel  |
| Handle Type  | Metal handle  |
| Coating  | Durable non-stick coating  |
| Dimensions  | 19.88 x 12.05 x 5.12 inches  |
| Additional Features  | Oven safe up to 250°C Dishwasher safe Ten-year service guarantee  |
If you prefer Carbon steel woks over Aluminum woks, this stir fry pan from Masterclass is the best affordable option.
✅ The quality of this wok is well explained by the 10-year guarantee offered by the manufacturer.  
✅ It comes with a durable non-stick coating on the inside and a riveted metal handle.
✅ This wok is also best for beginners who have just started to use a wok for making delicious stir fry. Because of the carbon steel the wok will be durable and the non stick surface helps a beginner to avoid the exhausting work of seasoning or cleaning a wok if it gets burnt accidentally.
✅ The depth of the wok walls are perfect for even heat distribution in the meal, if you load up the wok.
✅ The non-stick is of high quality and much better than woks which need continuous seasoning, hence this wok is a value for money.
✅ You can enjoy the luxury of oven and induction cooking with this wok, and it is dishwasher safe.
✅ It weighs only 1.72 pounds, way lesser than the other cheap woks, and the only inexpensive wok that comes with 10 years of guarantee in this list.
Buyers on Amazon have spoken and rated highly of it. It is a wonder at such a low price and the best on the market to have around $40.
School of Wok Carbon Steel Round Bottom Wok 
| | |
| --- | --- |
| Material  | Carbon steel  |
| Handle Type  | Metal, with a block of wood on it  |
| Coating  | No coating  |
| Dimensions  | 11.81 x 20.47 x 7.09 inches  |
| Additional Features  | Perfect for high-temperature stir-frying Serves 3 to 4 people  |
How cheap can a wok be, when offering an ultra-fast heat transfer, wooden handle, and other cool features?
✅ Well, this Carbon steel wok developed by chef Jeremy Pang costs below $25. This wok is designed to cook the traditional, Chinese style, delicious stir-fries at a scorching heat. 
✅ The wok is thin, transferring heat immediately to the food, which is necessary to cook great stir-fries.
✅ It has a metal handle with a cylindrical, heat resistant block of wood on it and it is large enough to serve 3 to 4 people at a time.
✅ As there's no non-stick coating, you need to season it as soon as you get it, and thereafter every once in a while.  
Best Inexpensive Cast Iron Wok – Imusa USA 14″
The Imusa USA 14-inch cast-iron wok is another great lightweight wok that offers a rich and meaningful cooking experience. It heats up pretty fast, distributes heat evenly, and retains heat efficiently, making it an ideal choice for stir-frying.
The big, 14-inch cooking surface ensures a capacity to feed a family of 3-4 people easily. It has inherited the traditional shape with high walls and flat bottom and is suitable for cooking on any cooktops.
The riveted stainless steel handle and the lightweight design makes it easier to handle, and it comes pre-seasoned with soybean oil. 
At a price below $40 the Imusa USA light cast iron wok is a great choice for medium-sized families to cook delicious, restaurant-style stir-fries and pan-fries at home.
The sturdy, durable construction ensures a longer lifetime.
The only negative side is that it doesn't come with a lid, which is desirable for different cooking purposes. But for the price, it offers good value for the money.
Bottom Line:  
Whereas stainless steel and carbon steel are the most expensive ones, cast iron, and nonstick woks are available for as low as $20.
Unfortunately, the low-end woks come with several downsides and quality issues. But here we have handpicked the top 5 affordable woks that are more suitable for regular use.
We will strongly recommend you to avoid woks with Teflon coatings. Other than that, if you follow the above tips choosing a safe and cheap wok is a very easy task to do. Or, you can trust us and go with any of the top 5 cheap woks listed.