Choosing the best wok to buy is always about your requirements and preferences. For instance, beginners need a wok that does not burn easily and has even heat retention ability.
Whereas experts need a wok with thin walls and sloppy sides so they can toss and turn their food and control the smoky flavor on high heat. Also, you might want a wok for a specific use/occasion, like to use it on an induction hob, a high BTU gas burner, bbq, or to take it on camping, a small wok for yourself or a large wok for a big family feast!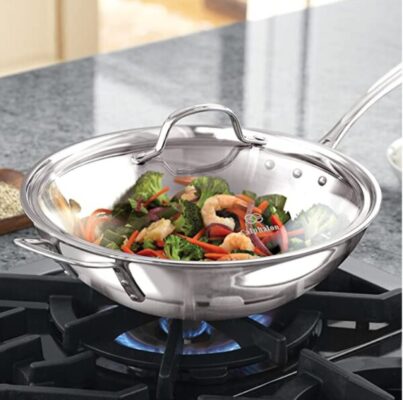 Keeping that in mind I have picked 12 top-rated and highly cost-effective woks for different needs and choices. So that there can be one for everyone. However, there is one particular wok that stands out from others in terms of its quality and features. Actually, there are two if we pick separately for beginners and expert chefs. Read on to know more.
The Best Wok to buy for Beginners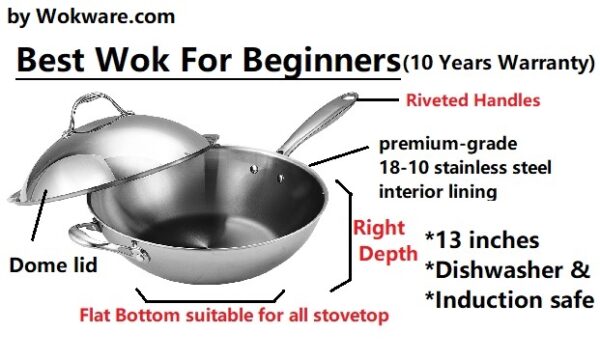 1) Best Wok For Beginners: Cooks Standard Stainless Steel Wok
After comparing several woks based on durability, even heating, easiness of usage, cleaning, and their price range, it comes down Cooks Standard 13 inch flat bottom Stainless Steel Wok Pan is the best wok to buy for a beginner.
Stainless steel gives you less trouble in maintenance and storing. Whereas carbon steel and cast iron are very nasty at this.
These woks look sleek and for a beginner, to master wok cooking, stainless steel is the most compatible material. Because if you don't know how to handle a carbon steel or cast iron wok with heat fluctuations, your food will get burnt easily.
This wok is highly cost-effective, economical, and practical.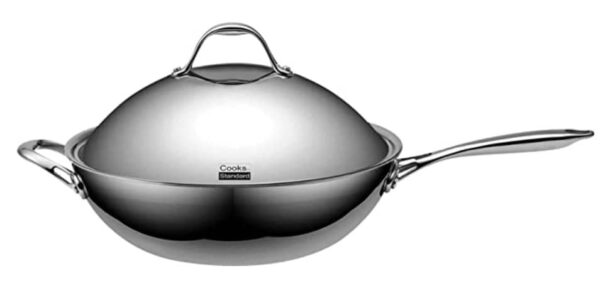 | | |
| --- | --- |
| Material | 2 layers of 18/10 stainless steel |
| Bottom | Flat Bottom |
| Size | 13 inches |
| Coating | Non-Stick because of Aluminium Core |
| Handles | Mandarin Style, Solid Stainless-Steel Riveted Handles |
| Lid | Dome Lid made of Stainless-Steel |
| Features | Dishwasher, Oven (up to 500 degree F) & Induction Safe |
| Warranty | Limited Lifetime Warranty (10 years) |
The premium-grade 18-10 stainless steel interior lining, multi-element alloy aluminum core for superheat control, conduction compatible scratch-resistant bottom – everything comes with 10 years of warranty.
The Cooks Standard Stainless Steel Wok is the most modern and comprehensive cookware you can ever get in a contemporary kitchen yet traditional enough to enjoy the flavors of a wok-cooked meal.
Hence it is an all-rounder and the most compatible when you are looking for the top wok on the market to purchase. The 13-inch compact design is completely made out of stainless steel with an aluminum core. It also comes with a dome-shaped lid that can easily trap the moisture and heat within the pan.
Even the handles are made out of stainless steel which ensures longevity. By using the airflow technology, the stainless steel in the handles insulates the heat from catching up to your hand. 
Like every other all-rounder wok, it is completely dishwasher-friendly. The ergonomic design helps the wok to withstand temperatures up to 500 degrees Fahrenheit. The flat bottom is the added feature that makes sure it can fit in the majority of the stoves and ovens. 
Pros:
Comes with great versatility and sturdiness.
Easy to use and dishwasher friendly.
Comes with a lid.
Quality material for better heat protection.
Lifetime warranty.
Sleek and modern design.
Con: The lid is not see-through hence can be a problem to keep up with your cooking progress.
The Best Wok to Buy For an Expert Chef
For an expert chef who knows his/her way around the wok, maintenance of a cast iron or carbon steel might not be the prior concern like the beginners.
Also, carbon steel and cast iron wok have higher thermal conductivity than stainless steel, which is a good thing for expert chefs. Because this helps in inducing the smoky flavor in wok-cooked meals. But for beginners, food will soon get burnt if the wok is not handled promptly with the heat fluctuations.
Being a chef I personally prefer Carbon steel wok because they are lightweight and highly durable than a heavy cast iron wok. Also, an authentic hand-hammered carbon steel wok is a worthy investment than a heavy cast iron-made wok according to me.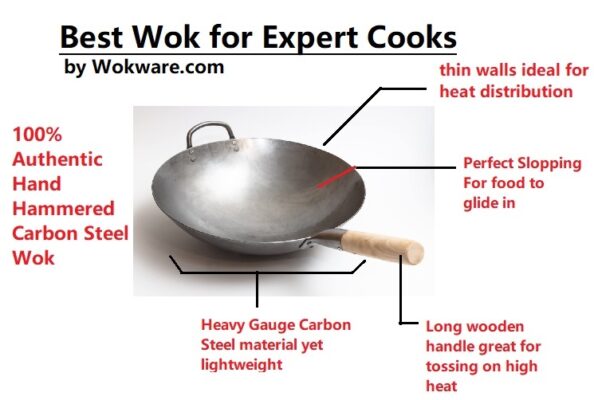 2) Best Carbon Steel Wok:

Craft Wok Traditional 14 inch Carbon Steel Pow Wok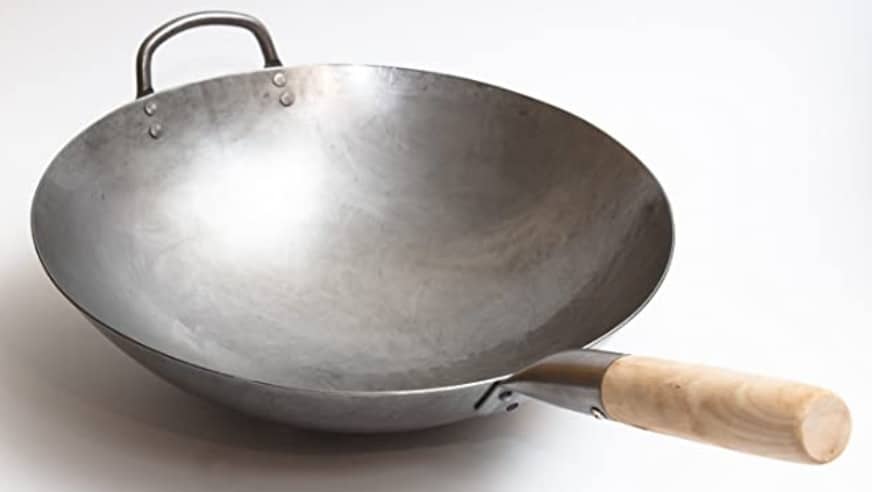 For an expert, I will recommend this Craft Wok Traditional Hand Hammered Carbon Steel Wok.
It has a round bottom and the perfect depth to let your food glide in and settle in the bottom. The ingredients will get evenly heated because of the thin walls, yet the model is durable because it is made from 15 gauge (1.8mm), commercial-grade carbon steel.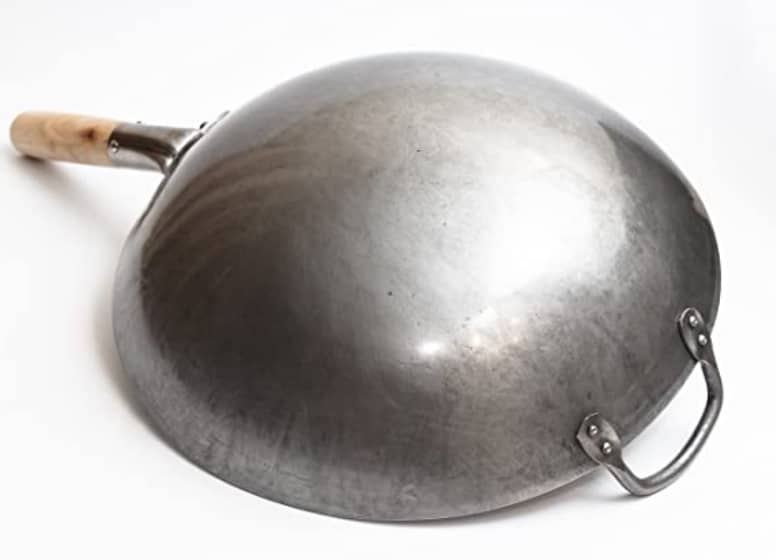 | | |
| --- | --- |
| Material | Carbon Steel commercial grade |
| Bottom | Round Bottom |
| Size | 14 inches |
| Handle Type | Wooden and Steel Helper Handle |
| Coating | None |
| Features | Hand Hammered Traditional Wok |
This particular pan is made out of 15-gauge, commercial-grade carbon steel. Completely hand-hammered, the wok literally cries out quality.
The design has been inspired by traditional Chinese wok pan. It is the most compatible wok to buy, especially if you are looking out for a sustainable alternative. The only downside to the wok pan is a rounded bottom, which is not particularly suitable for flat induction stoves. But a wok ring like this one (Amazon link) will solve your problem.
In fact, the company is generous enough to actually provide a manual for the easiest seasoning process. There is also dedicated customer support to make sure that you get the most out of your wok pan. Coming from a Chinese origin, this particular hand-hammered pan has been one of the preferred options for Chinese chefs.  
Talking about its design language, the wooden stick, along with the helper handle, makes sure that you remain safe during the entire cooking process. The handle can also come in handy while hanging the wok for storage. 
Pros: 
Great heat distribution
Completely handcrafted
Made out of durable materials
Scratch-resistant
Cons: 
The carbon steel can get rusty, if not used for a longer duration of time, hence need maintenance.
3) Best High-End Wok:

Hutch Kitchen Inc. 12 inch Stainless Steel Wok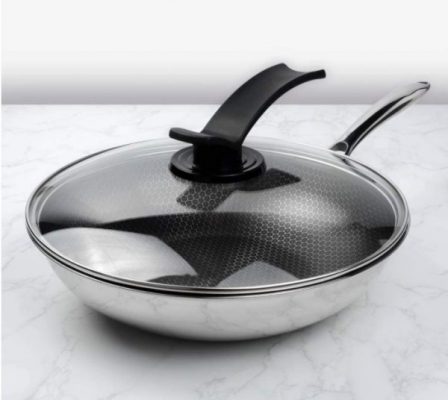 Material
3-Ply bonded Stainless Steel
Bottom
Flat Bottom
Size
12 inch
Coating
Safe non-stick honeycomb design (No PFOA)
Handle Type
Welded handle
Features
Includes Standing Ventilated Glass Lid,
Scratch-Resistant, Oven & Induction Safe
Warranty
10 years
Every kitchen deserves the most crafty wok with a sleek design to showcase versatility and style at the same time. This high-end wok from Hutch Kitchen is the best high-end wok to buy when you are looking for a 'beauty' in the kitchen. But it is not only about aesthetics.
While there are several woks out there with a higher price range, this one particular made by Hutch Kitchen Inc. has completely blown our mind. The 12-inch compact body is entirely made out of hybrid stainless steel. And the non-stick property is completely devoid of PFOA, which adds that extra layer of health benefits.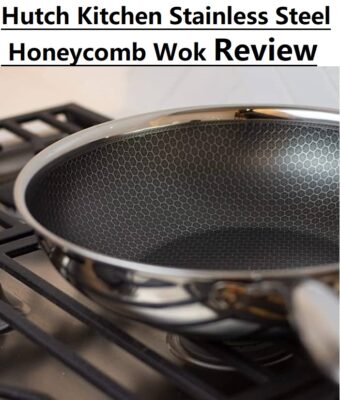 The interior of the wok consists of a very intuitive honeycomb design. But, it is more than just aesthetics, as the patterns are laser raised to give you non-stick cooking experience. The wok handle rocks the evergreen rivet design, to get you just the right grip while cooking. That means, no more wobbling loose handles. 
Last but not least, the wok pan comes with a whopping 10-years manufacturer warranty. So, if you ever come across any issue, you can always get in touch with customer support to get your problems fixed. 
Pros: 
One of the most versatile wok
Easy to use
Dishwasher friendly
Comes with 10-years warranty
Cons: 
It comes with a higher price tag, making it uneasy for a few.
4) Best Non-Stick Wok:

Cooking 12 inch Wok Pan by Cannasweis
| | |
| --- | --- |
| Material | Premium Carbon Steel |
| Bottom | Flat Bottom |
| Size | 12 inches |
| Handle type | Riveted Handles |
| Coating | No coating, design is non-stick |
| Features | Hand Hammered, Fish Scale design for non-stick cooking |
| Guarantee | 30 days' 100% MONEY BACK guarantee |
If you are looking out for a non-stick wok pan that's built with optimum sturdiness, then it is the one to go for. With a compact design of just 12-inches, it is the best wok to buy.
It is completely hand-crafted, while hammered on 1.5mm Chinese iron. The wok offered by Caannasweis is the perfect example of true craftsmanship. Discussing its unique design language, the entire inner surface consists of unique fish scale patterns.
The added texture within the surface makes sure that food doesn't mean stuck on the pan. This, in turn, actually creates the perfect balance between rigidity and true beauty. The included carbon sheet makes sure that there is a proper heat distribution while ensuring long-lasting use.
The flat bottom design evenly sits on top of all the gas stoves. And the best thing above all is that, in the pursuit of ultimate quality, the company actually provides a 30-days money-back guarantee. 
Pros: 
100% handcrafted.
Contains safe non-stick property.
Completely dish washable.
30 days money-back guarantee.
Cons: 
Carbon steel needs extra maintenance care.
5) Best Cast Iron Wok: Lodge Pro-Logic 14 Inch Wok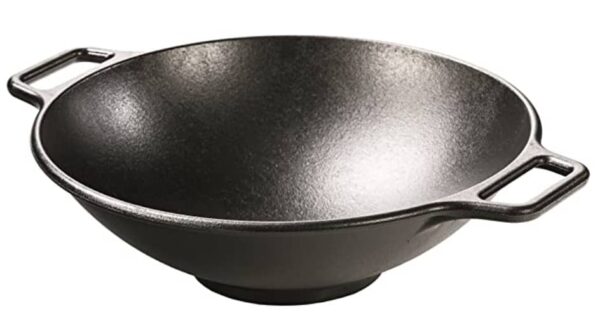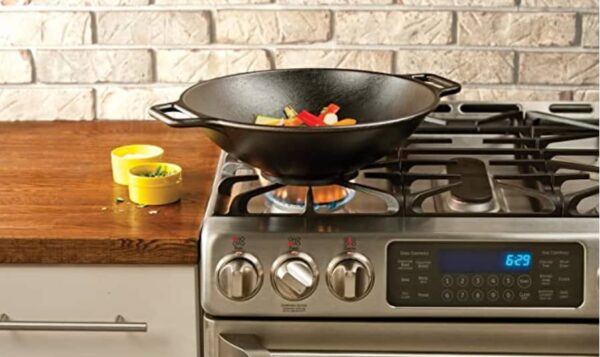 | | |
| --- | --- |
| Material | Pure Cast Iron Body |
| Bottom | Flat Bottom |
| Size | 14 inches |
| Handle Type | Cantonese Handles |
| Coating | Pre-seasoned with vegetable oil |
| Features | High Durable |
There is no point in arguing that, if you are looking out for wok made out of cast iron, the Lodge pro-logic is the best wok to buy. It has a one-piece construction design that elegantly comes with a 'ready to use' feature.
Neither less to say, it is already pre-seasoned, which gives it an edge over other cast-iron woks. The pro-logic cast iron wok is 14-inch in diameter with two handle loops. It makes the wok completely versatile and far safer to use.
The flat bottom design makes sure that it fits on the majority of the stoves. And cast iron already has a great heat dissipation and retention capability, making it easier to work with. Further including, the overall design just speaks about elegance and heavy-duty performance. It can easily hold off the heat for a longer duration of time.
The only con is that it is heavier in size, and sometimes it can easily give you a hard time in maintenance.
Pros: 
Great durability
Better heat distribution
Easier to clean and manage
Completely versatile
Cons: 
Should only be washed by hand, heavier in size, tough to maintain.
6) Best Affordable Wok:

ALLUFLON Etnea 11 inch Wood Handle Wok
Material
Aluminium
Bottom
Flat Bottom
Size
11 inches
Handle Type
Long Wooden Handle
Coating
Hardoise stone coating
Features
Does not contain PFOA, nickel and heavy metals,
Dishwasher safe, Made in Italy
Warranty
5 years
Before even starting out on the review, we just want to convey that never get carried away by the term affordable. Certainly, while looking out for the best wok to buy, price always remains a concern.
But, just because you are getting something for dead cheap doesn't justify the quality of the product. Once that is out of the way, one of the most affordable woks that you can find out there in the market is from a company called ALLUFLON.
The entire body consists of a non-stick stone effect, which not only adds functionality but also the visual aesthetics of the wok. Some of the best features of the pan include a wooden grip, which can really come in handy.
Neither less to say, the company also provides a 5-year warranty on their product. Lastly, it is completely dishwasher-friendly for easier maintenance. And contains no PFOA, nickel, and heavy metals.
Pros: 
Compact design
Highly affordable
Italian design
Better heat distribution
Cons: 
Can't be used for induction purpose
7) Best Electric Wok:

Presto Stainless Steel Electric Wok
Material
Stainless Steel body, aluminum-clad base
Bottom
Flat Bottom
Size
17 x 14 x 10 inches and 30 inch chord
Handle Type
Side loop handles
Coating
None
Features
1500 watt heating element, Long-handled wooden spatula included,
tempered-glass cover with stainless steel rim, dishwasher safe wok & lid
In today's world, technology is advancing at a much faster pace than ever anticipated. And the same futuristic approach is now being incorporated into cookware.
Having the idea of changing the temperature of wok at your own desire is nothing unheard of. And electric wok has made it possible. But, not every other company has been able to execute the idea seamlessly. And this is exactly where Presto gets the upper hand. 
The interior is made out of complete stainless steel, while the aluminum-clad base works seamlessly to evenly distribute the heat. The electric wok also consists of a tempered glass lid for better handling.
And the moment we all have been waiting for, it is completely dishwasher friendly. That means you don't have to take your time off while cleaning the same by hand. 
It has a fairly standard size with a 14-inch diameter. Further including, it can actually withstand as such as 400 degrees Fahrenheit of heat. Another thing that's worth mentioning is the 30-inch cord that it comes with. For some people, it can truly cause a hindrance at times.
Especially if there is no access to plugs in your kitchen. Otherwise, it is one of the most loved wok pans, which has already come into the good books of the major chefs throughout the world. 
Pros: 
Intuitive and easy-to-use design
Completely dishwasher friendly
Comes with lid and wooden spatula
No requirement for seasoning
Cons: 
A bit on the costlier side
8) Best Large Wok:

Town Food Service 18 inch Steel Wok
| | |
| --- | --- |
| Material | Cold Forged Steel Body |
| Bottom | Flat Bottom |
| Size | 18 inches |
| Handle Type | Welded Cantonese Style Handle |
| Coating | None |
| Features | Hand Hammered Cantonese Style wok |
If your idea is not just to feed yourself but the entire family, including the guests you have called, this is the best wok to buy. The 18-inch diameter makes it the perfect fit for every family reunion.
Although woks are never expensive, given its huge size, it is particularly wallet-friendly. The cold-forged steel added to the wok, adds to the extra strength that is required for easier handling of the wok.
The non-stick property makes sure that you don't miss out on even the most stubborn ingredients. The wok also comes with welded handles, so that they don't have a chance of breaking. Made in China, these large woks are fairly popular among Asian cooking. Even with such a great size, it does a great job distributing the heat.
Pros: 
One of the largest sizes out there in the market
Perfect value for money
Great durability
Dishwasher friendly
Cons: 
Needs to be seasoned before initial use
9) Best Small Wok:

Lodge Cast 9 inch Iron Mini Wok
Material
Cast iron
Bottom
Flat Bottom
Size
9 inches
Handle Type
Loop Handles
Coating
Soy-based Vegetable oil coated
Features
Pre-seasoned, Made in the USA,
Company has 120+ years
of experience in wok manufacturing
The small 9-inch last iron wok might seem pretty small, but such size comes with great functionalities. So, if you are on the market for the hunt for the smallest and most compact wok, this is just the right one for you. For starters, it already comes pre-seasoned so that you don't have to go through the inconveniences. 
The cast iron body works as a great heat retainer, whereas the small size makes sure that you don't miss out on your exotic cuisines. Instead of using factory oil, Lodge uses soy-based vegetable oil for seasoning. And that is one of the reasons you can use them right away.
In fact, with cast iron, the seasoning goes on improving, the more you use the wok. Lastly, this compact cast iron wok is from a company that brings forth some of the quality woks in the market. So, don't get fooled by the compact design, just go for this one. 
Pros: 
The perfect value wok for your money
Great heat distribution
Easy to use
No questions asked for durability
Cons: 
10) Best Wok for Outdoor Grill:

Hand Hammered 14 inch Wok by Mammafong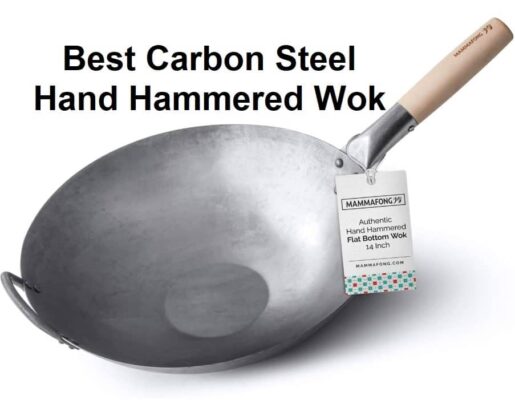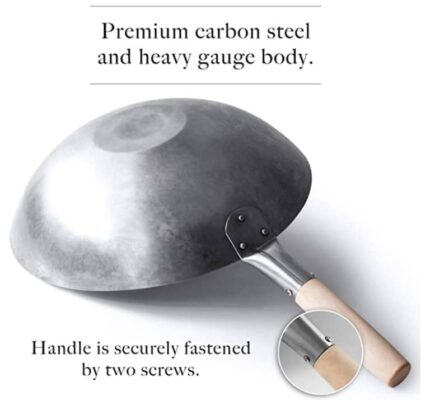 Material
Premium Carbon Steel, heavy-gauge Body
Bottom
Flat Bottom
Size
14 inch
Handle Type
one loop & one long handle with a wooden cover
Coating
None
Features
Hand Hammered, Heavy duty wok,
wooden handle for safe & good grip
All would agree that grilling outdoors is always fun. Even the thought of having friends over your house and spending quality time is bound to get you excited. And in order to make these parties truly exceptional, all you need to have is an outdoor grill wok.
This is the best wok to buy when it comes to an exceptional outdoor grill wok. It is completely handcrafted and is made out using the traditional hand hammering method. The 14-inch size makes sure that everyone gets to taste out your food.
It also has a flat base design, which helps the wok to sit securely on any kind of stove-top. Made out of premium carbon steel, it ensures great heat dissipation capabilities. The wooden handle makes sure that the heat doesn't conduct to your hands.
Lastly, the overall ergonomic design makes sure that every time you stir fry, you get the same intense smoke for your peers to impress. 
Pros: 
A heavy-duty wok
Dishwasher friendly
Very easy to use
Cons: 
Without regular use, it can get rusty at times
11) Best Wok for Outdoor Burner & Camping:

Yosukata 14 inch Carbon Steel Wok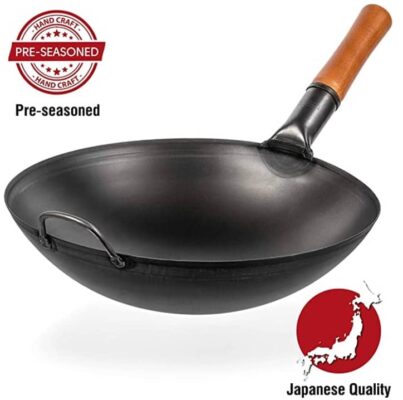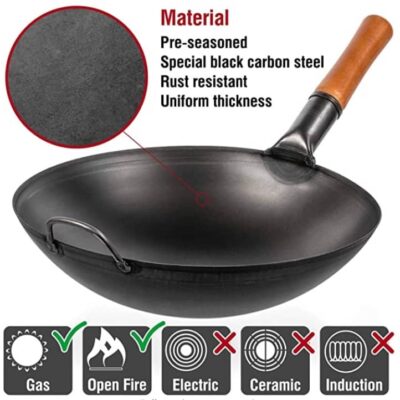 | | |
| --- | --- |
| Material | Sturdy Carbon Steel Body |
| Bottom | Round Bottom |
| Size | 14 inches |
| Handle Type | one loop & one long handle with a wooden cover |
| Coating | Pre-seasoned |
| Features | Heavy-duty, Traditional Chinese Japanese Wok |
Do you happen to have an outdoor burner lying around in your backyard? If that is the case, the Yosukata black steel wok is just the right wok for you. This particular 14-inch wok has a unique body design with rounded bottoms.
It helps the wok to lock the juices and rich aroma of the ingredients and scatter them throughout the food. Another yet great advantage of having the Yosukata wok is that it comes pre-seasoned. That means, no more waiting and getting along with the tedious seasoning process.
Overall, the wok pan is made out of heavy-duty black carbon steel, which speaks about elegance and longevity. It has an ergonomic design. You can easily take it camping. Even if you drop it once or twice by accident it will not break like a heavy cast iron wok.
The wooden handle ensures that you get a comfortable outdoor cooking experience without compromising anything. The 14-inch compact design makes sure that the wok pan is easier to store while convenient at handling. So, without any second thoughts, just go for the wok pan for an overall elegant outdoor cooking experience. 
Pros: 
Great versatility
Perfect for an outdoor cooking experience
Great build quality
Has an ergonomic design
Cons: 
Wet storage can actually lead to corrosion in the wok
12) Best low budget Stainless Steel Stir Fry Pan:

Cooks Standard Classic 12 inch Wok
Material
18-10 stainless steel with an aluminum
disc sandwiched in the bottom
Bottom
Flat Bottom
Size
12 inches
Handle Type
Riveted Handles
Coating
No coating
Features
Tempered glass lid, Dishwasher &
Oven safe to 500F, and the glass lid to 350 F
This particular 12-inch pan comes with the best in class 18/10 stainless steel and aluminum design. It consists of aluminum disks that are sandwiched at the bottom of the wok pan. This ensures an even distribution of heat throughout the pan without forming any heat spots.
One of the greatest advantages of using stainless steel is the amount of versatility that it brings forward to the table. Talking about its ergonomic design, the wok consists of riveted handles, which are great for comfortable handling.
As a cherry on top, the tempered glass lid makes sure that you can always keep an eye on what's cooking. It is also high temperature resistant to 500 degrees F, while the glass lid can withstand almost 350 degrees. Going through the customer review of the pan, you can actually find the positive feedback that the wok has received from everyone.
Neither less to say, it's compact design, and beautifully crafted shape makes it the perfect gift material. 
Pros: 
A highly giftable product (to yourself or someone close)
Better heat distribution
Ultra-durable
Dishwasher friendly 
Cons: 
Sometimes the interior might get stained from the food