As wok cooking is a high heat process, normal burners are not ideal for making the perfect stir fry. Often on low heat, your food will either turn out to be soggy or boiled.
To learn this simple yet crucial thing, I have wasted several years of my life trying hard to make the stir fry perfect – but never knew that the heat source was the main issue and not my cooking.
Until my chef friend told me and owning an indoor wok burner changed the entire game.
12000 – 15000 BTU is the ideal heat, for making smoky, crispy, and flavorful stir fry. But getting such heat from your electric or normal gas range is not possible and hence you should consider buying a good indoor wok burner.
However, when you have kids in the house, cooking on a high BTU burner inside is risky and will need your constant attention. That's why safety should be the first concern while buying such a burner.
Chef Master 15000 BTU Burner Butane Portable Stove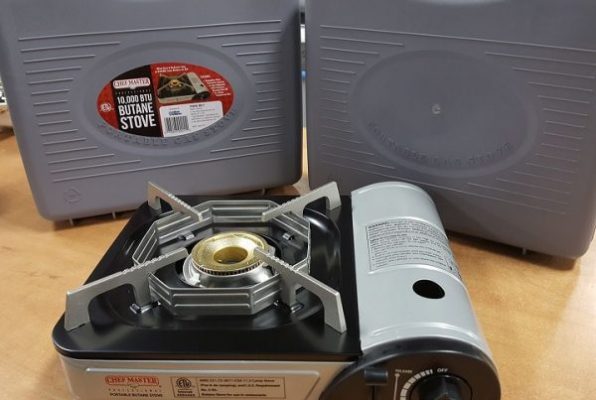 This is the indoor wok burner I got for myself. To be honest, there is no such indoor wok burner that is entirely safe. And it is impossible too, to get a safe pick. But comparatively, there are few indoor wok burners that are safer choices.
Like this 15K BTU Portable Butane stove by Chef Master. This one is a very popular choice. I realized it after I have it as now I see it in most houses. For beginners, this is definitely a great start to learn wok cooking. It has a very powerful burner to make the perfect stir fry at home. You can also take this stove to camp or backpacking trips.
Why this Portable Butane Burner is a safer choice?
Safety is the biggest factor when you are using a wok burner indoor. So, when you want to invest in a stove it must have the essential safety features. This Butane Stove from Chef Master is packed with many essential features that will aid in safe wok cooking.
If you are a beginner and never use a wok burner before, then this is the most ideal Butane stove for you. The in-line regulator, that this burner comes with has an option called – "pressure sensing shut-off". This implies if the pressure exceeds the required amount, the regulator of the stove will immediately shut off the flow to prevent accidents.
Use it while keeping your AC ON:
High heat cooking comes with a lot of sweat. It stresses our cooking routines. What if you can keep your cooling system on and yet cook in this 15000 BTU wok burner? To protect the flame of the Butane Burner it has a wind guard.
However, I don't recommend keeping your windows shut while cooking on blistering heat. Always use the indoor wok burner in a well-ventilated area to maximize your safety levels.
Portable Sturdy Carrying Case:
This is a portable butane burner, but to make this even more potable, the manufacturer provides a hard-shell carrying case to take it with you to any hiking trip. When you are not using the wok burner you can keep it in the storage packed in this durable case and the stove will stay in good health.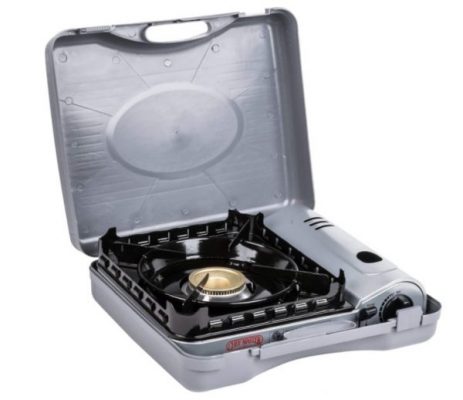 Other Popular Options in the Best indoor Wok Burner List
Other popular options include Portable Butane wok burners from Iwatani and Gas One. There are many more options available but keeping the safety features in mind I am not sure of recommending them. I always prefer buying gas stoves or burners from reputed brands as they offer better services and care for their buyers. These burners are safe if you follow the guidelines of using them properly.
Gas ONE Portable Dual Fuel Propane or Butane Stove
Gas One is a leading manufacturer of portable outdoor burners, and they strongly mention in their products that this burner is not for indoor use. However, you can use this burner for indoor too if you are following the safety standards. Many home cooks use Gas one burners in a well-ventilated indoor kitchen. So don't get confused by the labels in their products.
With UL and CSA certification, Ga One provides high-quality and safe products at competitive prices for the U. S. market, and this 15k BTU burner is not an alternative. 15K is the perfect BTU for cooking delicious stir fry. This burner is compatible with Butane and Propane.
Multitasker Wok Burner
It is unsafe too. So a disadvantage of this wok burner is that you cannot use a large wok over it. Doing so would overheat the cylinder and it may explode. However here is the catch as this is a dual fuel unit, you can use the hose to fit in a propane cylinder and use as large wok as possible keeping the heat concentrated in the bottom.
Safety Features
It comes with a pressure sensing shut-off that makes it safe to use if any pressure surges occur. Windbreaker is also there. The portable case is highly durable and overall the burner is ideal for long-lasting use.
Iwatani Cassette Feu Butane 12000 BTU Camp and Indoor Stove
With high heat cooking durability of the gas stove is often a concern. This Iwatani 12k BTU wok burner is very sturdy and should get many years of use if you take proper care. The stove lights up very fast because of the electric ignition technique. The pot stands are very stable hence best for wok cooking.
The stainless steel drip pan is rust-proof, long-lasting, and easy to clean. Also, you can remove the entire top section off to clean after every messy cooking. Clean all the food splatter and grease either in the dishwasher or by hand. Overall it is very convenient.
It also has pressure-sensing shut-off technology. It can automatically detect a sudden change in pressure and then shut off the flow to avoid accidents.
It also comes with a windbreaker which means it will protect the fire from breeze and AC. Iwatani gas burner is made in Japan and comes with a hard box for easy portability.