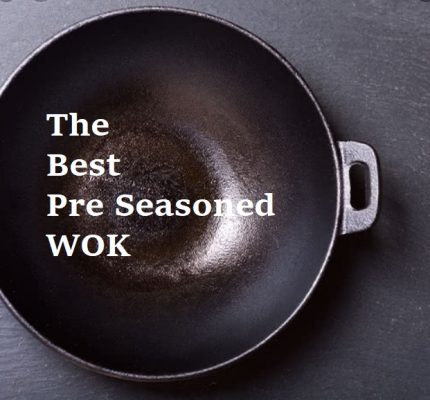 A wok is a priced possession of all the Asian cooks for its ability to make delicious and crispy stir fry. Choosing a crafty wok needs experience. However, you can't have the most ideal wok even after spending a fortune rather you have to make it the best by seasoning it the right way. Not all of us can do that and here comes a pre-seasoned wok to the rescue. A pre-seasoned wok is a very convenient option to have when you want a ready-to-use wok with a beautiful patina. These woks are worth the investment. Here is our list of the top 5 safe preseasoned woks on the market.
Content:
What is seasoning and why it is done?
What is a pre-seasoned wok?
Why beginners should consider owning a preseasoned wok?
How does the seasoning process is done?
Why do manufacturers pre season the wok?
Types of Pre-seasoned Wok
Benefits of having a preseasoned wok
Is it mandatory to buy a preseasoned wok?
Are pre-seasoned cast iron and carbon steel toxic?
Preseasoned Carbon Steel or Cast Iron wok
Top 5 pre-seasoned Woks
How to buy the best and safest pre-seasoned wok
What is Seasoning and Why it is done?
While looking for a wok you might come across several terms like seasoning, pre-seasoned, protected with chemical layer, or nonstick layered wok, etc. If you are a newbie and never used or understood how a wok works, here is a simple definition of those adjectives.
Seasoning is a process of treating the cooking surface with heated vegetable oil for producing a rust-resistant and nonstick coating. The sole idea behind this is to keep the surface safe, durable, and naturally stick-proof so that on high heat while making stir fry food does not get burnt.
What is a Pre-seasoned Wok?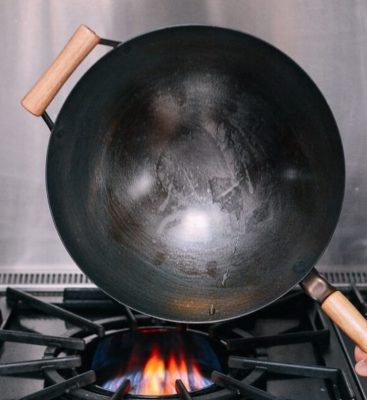 A pre-seasoned wok has already gone through the process of seasoning and is ready to use on unboxing. Today you will find pre-seasoned woks very pre-dominant on the market as these are beginner-friendly. 
Seasoning is carried out for cast-iron and carbon steel wok mainly to prevent it from rusting or corrosion. However, a stainless steel wok can be seasoned too. After multiple seasonings, the wok surface will become invincible and super slippery that the food will glide and you will need very little oil.
Why Beginners Should Consider Owning a pre-seasoned Wok?
There is a difference between seasoning at home and by professionals. The first seasoning if, goes uneven or improper, might be problematic for your wok cooking. To avoid this, try out the pre-seasoned woks as these are seasoned accurately by the professionals to make them ready to use.
Also, these woks come ready to use. If you a are a beginner then a pre-seasoned wok will give you the ease of use until you learn the process of seasoning.
How does the seasoning process is done?
Seasoning a wok is a simple process that does not require any exclusive skill set. You can perform it yourself as everyone else does.
Let's see step by step how does the seasoning process is carried out:
Clean the wok thoroughly with soapy water
Wipe the wok with a cloth or paper towel
Slightly heat the wok until it is dried
Now apply, a thinner layer of oil on the surface of the wok
Remove the excess oil so, that only a thin layer is remaining
Now heat the wok above its smoke point for the formation of the seasoning layer
Then clean the surface with a towel
Repeat the steps from 4-7 several times until a patina of oil is formed. That's it. There you have a seasoned wok. Always remember you must season your wok whenever it looses its patina.
Why do manufacturers preseason the wok?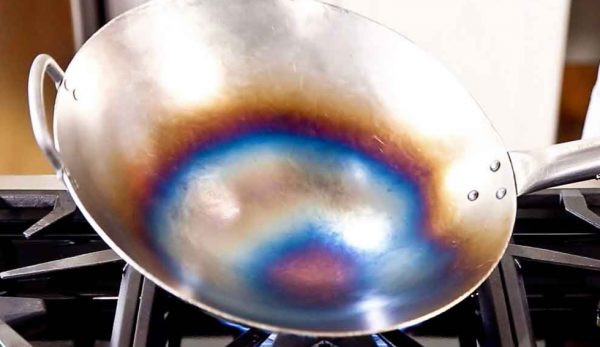 Every business or industry strives to provide ease to its consumers. The reason behind manufacturers offering pre-season wok is simple. The foremost aim behind pre-seasoning is it makes the wok ready to use on unboxing, and there is no pre-treatment required. Pre-seasoning also prevents the wok from rusting, which maintains the quality of cookware and offers better service to customers.
Another reason behind this could be to give tougher competition to the nonstick woks. However, you cannot compare a nonstick wok with a pre-seasoned wok. A pre-seasoned wok is always better than a chemical-coated wok. The questions raised on the nonstick woks' safety and the debates have encouraged manufacturers to bring enticing options to the market like a pre-seasoned ready-to-use wok.
Types of Pre-seasoned Woks
These are the options which you can get in pre-seasoned woks.
Preseasoned Carbon steel wok
Preseasoned cast iron wok
Preseasoned iron wok
Pre-seasoned Carbon steel wok
The pre-seasoned carbon steel wok is made with heavy-duty carbon steel, which undergoes the process of seasoning before it makes its way to the market. The carbon steel wok is a seasoned high food-grade metal, which goes under vegetable oil treatment for a smooth and nonstick surface.
Pre-seasoned Cast iron wok
Cast iron is a porous metal, and its seasoning is essential. The pre-seasoned cast iron wok makes it convenient for you to get a better experience with wok cooking and its prevention from rusting. Metal like cast iron may get rusted so, always go for a pre-seasoned pan as it is safe and ready to use.
Pre-seasoned iron wok
Iron woks and cookware are more prone to rusting & to reduce the burden of seasoning, pre-seasoned iron woks are made available in the market. The pre-seasoned iron woks are made with heavy-duty iron which, is seasoned professionally.
Benefits of buying a pre-seasoned wok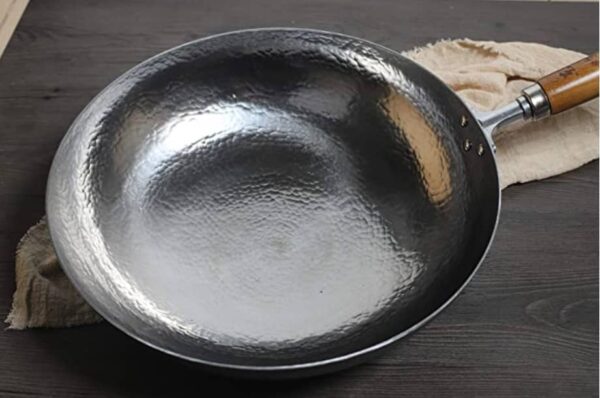 Ready to use:
The foremost benefit to consider is its readiness. The pre-seasoned woks do not require seasoning before the first use. So you can directly give the wok a water bath and use it for cooking on unboxing.
Professionally seasoned:
The uneven seasoning can affect the quality of cooking, especially when cooking over high flames. The pre-seasoned woks are seasoned, by professionals to avoid improper seasoning.
Less prone to rusting:
From manufacturers to your doorstep, the duration and conditions of storage differ. Pre-seasoned woks are less prone to rusting, and hence the manufacturers can also ensure that your experience with the product is worth having.
Is it mandatory to buy a pre-seasoned wok?
Well, I would say No. It is not mandatory to buy a pre-seasoned wok but, it is always preferred and referred. There are numerous benefits of buying a pre-seasoned wok, which you will lack if you go for an un-seasoned wok.
The first thing you will have to face is season the wok before the first use. Not seasoning your wok will interrupt the cooking process, and food may get stuck to the surface. Improper first seasoning may also affect your complete experience with the wok.
Are pre-seasoned cast iron and carbon steel toxic?
The answer to this question is an absolute NO. Though cast iron is criticized for leaching iron into food, it is non-toxic, and the same goes for carbon steel. Both the material is being used for decades and centuries and have been an essential part of our kitchens.
On the other hand, a pre-seasoned wok can be a better option. Carbon steel and cast iron can get rusted when exposed to moisture for a longer period.
To avoid such circumstances and deliver the best wok, these are pre-seasoned, so it reaches in a ready to use & considerably better condition. The seasoning is performed by professionals using high-quality food-grade vegetable oils to make it safe for use.
Which is the best: Pre-seasoned Carbon Steel or Cast Iron wok?
When it comes to carbon steel or cast iron, carbon steel always stands out. The reason behind this is the better heat conduction property of carbon steel that makes it more prominent than cast iron or any other material.
The pre-seasoned carbon steel serves best as safe and effective cookware. These have a more non-sticky surface, are easy to clean, and less prone to rusting and corrosion. A little care is enough for maintaining its durability as compared to other materials.
Top 5 Pre seasoned Woks On the Market
1. Overall Best Pre-seasoned Wok – Yosukata Carbon Steel Wok Pan
Yosukata carbon steel wok pan is ideal for authentic Chinese cooking at home. It has thick walls to ensure durability. This is a heavy-duty carbon steel wok made of high-grade black steel. This wok pan is 14'' large and has enough space to hold your stir fry ingredients for your entire family. It is made with carbon steel which gives it an even heating & heat retention feature. The perfect healthy pre-seasoning with vegetable oil gives it a non-sticky surface which is ideal for stir-fries.
Pros:
Reputed and experienced brand
high depth walls
safe seasoning
Even heating
Heat retention
Made of heavy-duty carbon steel

2. Pre Seasoned Blue Carbon Steel Flat Bottom Wok -14 Inch Chinese Pow Wok
This pow wok is from Mammafong who are famous for their hand-hammered woks. The blue carbon steel wok is highly sought-after among home cooks and experienced chefs because of its traditional engineering. It is not chemically sprayed like other woks to ensure you healthy homemade food. It has natural oil sealed with intense heat. It is twice-baked for perfect deep pores oil penetration which creates a strong, durable & non-stick coating. This particular wok has a flat bottom which is perfect to use over any kind of stovetops like gas & electric cooktops. This wok has a diameter of 14 inches & it is traditionally hand-hammered.
Pros:
superior blue carbon steel
healthy seasoning
completely hand hammered
Most traditional features
Authentic wok cooking experience
twice baked
Pre-seasoned with natural oils
Cons:
3. Yousukata Best Pre-Seasoned Blue Carbon Steel Wok Pan – 14″ Woks
This blue carbon steel pre-seasoned wok pan is ideal for authentic Chinese, Japanese & Korean cuisines. This high depth 14-inch wok pan has a wide surface and round bottom to lock all the flavors into food while cooking. It contains a wooden handle which ensures an easier & comfortable grip while cooking. The heavy-duty nonreactive blue carbon steel ensures the durability of the wok which also gives a genuine taste of the food.
Pros:
Genuine taste
High-quality material
traditional look
ideal wok pan for stir-frying
Heavy-duty performance
Cons:
Round bottom is not suitable for induction or electric cooktop.
4. Timoneylove Pre-Seasoned Carbon Steel Pow Wok
This pre-seasoned 14-inch wok pan has a perfect round bottom. It is preseasoned with safe vegetable oil. The wall of this wok is 1.8 mm thick to give you heavy-duty performance. It has all the characteristics of a traditional Chinese wok, for example, it is hand-hammered & also cold forged. Wooden handles make it comfortable to handle. It is durable & has anti-scalding features. The company gives buyers a life-long rust-free guarantee.
Pros:
No chemical coating
Round bottom for sealing all flavours
Anti-scalding feature
Cons:
Not suitable for induction use.
5. Jim Beam 12" Pre Seasoned Heavy Duty Wok
This is a multi-usable wok to use both for grilling & stir-fries. The wok of Jim Beam has a diameter of 26. 5 cm & 8. 5 cm in height. It is made with heavy-duty cast iron which makes it perfect for stir fry & grilling both. It gives perfect heat retention because of heavy-duty construction. It is easy to handle and has enough space for 2-3 servings. The wok is safely pre-seasoned to give a perfect nonstick cooking surface.
Pros:
Ideal for casual stir fry
Can be used for grilling
Perfect heat retention
Cons:
How to buy the safest and best performing pre-seasoned wok?
There are certain parameters to consider when buying any cookware may it be a wok or a pan. Let's see some essential features to look in for a best performing pre-season wok:
Material:
The first thing that we look for in cookware is its material. My choice is very traditional, so I always go with carbon steel. Carbon steel is a better conductor of heat, which works well at high temperatures without affecting the food quality. Several other materials are worth using, including steel, cast-iron, etc., choose which best suits your cooking style and needs.
Handle type:
The handle is again an essential parameter that affects the complete process and experience of cooking. The handle must be strong and convenient so that it enhances the experience and ensures safety. The best type of handles could be the Cantonese handles. These are two loops-like handles on either side of the wok which, provides perfect grip for handling them.
Bottom:
The bottom of your wok can depend upon the type of stovetop you use. Round bottom is very commonly and popularly used, while the flat bottom is in trend with the electric and induction base cooktop.
If you use a gas stove, a round bottom wok will be an ideal option to choose. On the contrary, if you are using an induction base stove or electric stove, a flat-bottom wok should be a perfect choice.