Be it a large wok or an extra-large Chinese wok, it is always different than buying a regular wok. There are several dos and don'ts you need to be mindful of. Giant or huge woks don't come cheap so let us make this purchase a great one. In this article, we will discuss everything about the best big woks and best extra large woks.
Today 15% of the domestic & 85% of all commercial kitchens globally use large woks for cooking delicious meals. Chefs professionally use large woks due to their design which supports all cooking techniques -widely for stir-frying, deep-frying, steaming, making sauces, and soups.
Top 3 Large & Extra Large Woks of 2023
1.
Best Lage Flat bottom Cast Iron Wok by Lodge
---
sturdy, brutally tough build
14 inch huge wok, flat bottom
Pre-seasoned
best for gas stove, wok burner, grill, etc
2.
Best Large Stainless Steel Wok With Lid
---
Best large nonstick wok
Cooks standard 13 inch large wok
healthy stainless steel
large induction wok
ideal for effortless and safe stir fry
food-grade stainless steel with aluminum sandwiched inside
Best Large Nonstick Wok of 2022
Finding a good large nonstick wok is very tough as very limited manufacturers have come up with such a giant wok. Thank god T'fal has brought us the best large nonstick wok for cooking big batches.
T-fal Ultimate Hard Anodized 14 inch Nonstick – Large Aluminum Wok
Pros:
Hard anodized large aluminum wok
14-inch-wide, flat bottom
Non-reactive, toxin-free, scratch-resistant non-stick surface
Riveted handles and even heat base
Suitable for all stovetops
Oven safe up to 400-degree F
Dishwasher safe, PFOA, lead, and cadmium free
Lifetime limited warranty
Con:
Not induction compatible
Does not come with a lid
Although this T-fal hard anodized wok does not come with a lid, to have the best large nonstick wok in 14-inch size, you cannot look anywhere else. Not only does it have a tough heavy-gauge aluminum body, but also the anodized material is corrosion and rust-proof.
You can just use it and not take care of it daily, yet it will sustain the torture. It is durable and most importantly safe, non-reactive, and toxin-free. The hard titanium-reinforced scratch-resistant non-stick surface is the best in the market.
You can cook in it daily yet will be safe from bad chemicals. The food will slide well and you will require very little oil. Overall it is a safe and healthy wok. I definitely recommend this 14 inch T-fal hard anodized flat bottom wok to everybody.
A beginner will enjoy the effortless caring process of the wok and the heavy bottom of the wok ensures not burning the food on high heat. So, if you are going to try stir fry out for the first time, this is the most compatible large wok for you.
Why should you be extra careful while buying such a large wok?
Woks are traditionally designed as round-bottomed and sloped edges, which support quick and even heating. With emerging technology and tools, woks did evolve, and today we can find woks with a flat-bottom, nonstick surface made from different materials.    
However, shopping for an extra-large wok is quite different from a regular-sized wok. Partly because with great size comes limitations. And you need to know how to use those restricted features to your benefit. Here is a quick guide to choosing the best extra-large wok for you.
What to look for in an extra large Chinese wok?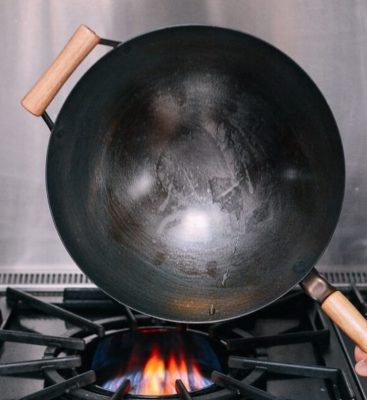 Giant woks aren't much different in features and characteristics from the comparatively small woks. But as the size is huge, the quality, durability, the safety of the metal on high heat, etc matter a lot. Down given are some important points to look for when buying a large wok.
✔How large does your big wok need to be?
For some, this might sound like what's new here, but it is a very significant point to consider. As there are still many wok buyers who are confused about the wok sizes.
The first priority while buying a large wok for you should be to consider the appropriate size. You can take the help of our wok size guide for knowing the right capacity of a wok. Along with that, you need to know the correct proportion between your burner and the wok, which I will explain here. But make sure before, you have a clear idea about the capacity.
✔Understanding the relation between your burner and a large wok:
Always choose the right size wok compatible with your wok burner. But what is the right size? The right size for you will be according to your burner's size and how much heat it produces.
Here's a guide on how much BTU is perfect for wok stir-fry. (A must-read for wok buyers)
Mostly because wok cooking is always supposed to be on high heat, if the wok is larger than the heating area, the food will not get enough temperature for even-cooking, not to mention your meal will turn out to be soggy.
So, before buying a large wok invest in a good wok burner (my recommendation).
Don't buy a huge wok and then use a small burner. A general thumb rule is the flames of your burner should cover the sides of your wok. That means the wok should be an inch smaller than the heating area. Here is a picture for better understanding.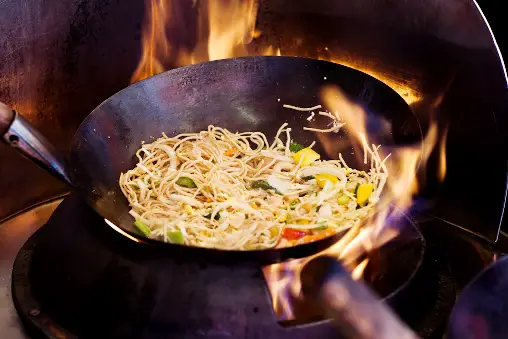 Always consider buying a wok that gets enough heat to ensure the classic "wok-hei" flavour in your food.
✔Picking the right material:
A larger wok means a large surface area. Choosing the right material will prevent uneven heat distribution. Some materials might take a longer time to heat, and enormous woks will make the process more difficult. 
So, choose a material that is an excellent conductor of heat and gets heated up quickly. Carbon steel and cast iron are great at heat conduction and distribution.
For high heat cooking, I prefer heavy gauge carbon steel as it reacts with heat very well. For an extra-large wok, carbon steel is far better than other materials, as it is not overwhelmingly heavy. You can still handle the wok to toss and turn the food.
Cast iron is heavy but good at heat retention which means, even after the gas is off, your food will stay warm (con: might get overcooked).
Stainless steel is not good at even heat distribution, so often aluminum is used in the core of the stainless steel wok, while construction to make it efficient in heat distribution. Still avoid stainless steel for large woks, trust me it is not worth it.
✔Choose the bottom type:
Though round bottom woks are used most commonly, flat bottomed woks have been introduced to the market and have gained popularity in households.
With extra-large wok, you must use a wok burner, in that case, a round bottom will be the more efficient one. Otherwise, go with a flat bottom.
✔Sturdy handles:
This is again the most essential point of consideration while buying a large wok. The handles are more important, especially when you are using a larger wok. The bigger the size of wok heavier it will be. I had experience with so many woks that are useless now as their handles broke. Trust me, you need a good brand. I have mentioned the most popular branded large wok below.
It would be best if you look for a more robust and tough handle with a good grip when cooking with a larger wok. The weight of wok along with food might make it difficult for you to handle it and move while cooking, so a good handle grip will be necessary.  
📌Extra-Large Carbon Steel Wok by Craft Wok (16 inch) – Both Cantonese and Mandarin Style
Craft Wok has a reputation of only offering the best. The material they pick to manufacture their woks is always high-end and they don't mix impurities in their woks.
I have the 14 inch one and trust me it is by far the best carbon steel wok I have used. This 16 inch carbon steel wok is quite large and made out of 15-gauge, commercial-grade carbon steel. Completely hand-hammered, the wok literally cries out quality.
You will find this wok both in Cantonese and Mandarin style.
It is very sturdy and perfect for high heat cooking. The design has been inspired by traditional Chinese wok pan; hence you will get the authentic wok cooking experience.
It is the best wok for outdoor gas stir fry, especially if you are looking out for a sustainable cooking tool or value for your investment. 
In fact, the company is generous enough to actually provide a manual for the easiest seasoning process. There is also dedicated customer support to make sure that you get the most out of your wok pan.
Coming from a Chinese origin, this particular hand-hammered pan has been one of the preferred options for Chinese chefs.
The handles are extremely useful. The wooden stick of the mandarin wok, along with the helper handle, makes sure that you remain safe during the entire cooking process and keep on tossing the ingredients. The handle can also come in handy by hanging the wok for storage.
Pros:  
Great heat distribution 
Completely handcrafted 
Made out of durable materials 
Scratch-resistant 
Cons:  
The carbon steel can get rusty, if not taken care of. 
How to take care of a large wok?
Woks ask for more before and aftercare as compared to other cookware in your kitchen. Maintenance of wok isn't a daunting process. 
Some woks come with a protective covering which needs to be removed before using it. It is required to wash it with soapy water and scrub thoroughly. This should be followed by a towel dry. 
Just in case you bought an unseasoned on not a nonstick one, you must season it before use. 
Seasoning helps in adding flavor to your food. To season it, heat the wok to the highest temp setting or flame and add oil to it and spread oil all over the wok but be cautious while doing this. Repeat it frequently until you observe a thick patina on the inside of your wok. 
For cleaning, make sure you clean it with hot water and a sponge. Some use soap or soapy water, but it is better to avoid using soap. Then wipe it with the sponge and put it back on the stove to let the water evaporate. 
This is the best way to clean maintain the wok pan.  
Compatible stovetop for large wok:
Depending on the size and type of wok, cooktop compatibility can be considered. Commonly large woks, especially one with a round bottom, are used on the gas stoves, grills, BBQs as it provides even heat and makes the process quick and easy. 
If you are using a flat-bottomed wok, induction or electric cooktop will be an ideal selection. However, the flat bottom does work well with the gas stoves as well.
Commercially and professionally, chefs use the gas stove while cooking in woks more commonly as compared with the induction or electric stove.
Tips to cook the perfect stir fry in an extra-large wok
Woks are most popularly used for stir-frying across the globe. The two main components of a perfect stir-fry in a large wok are speed and high heat.  
To make a perfect stir-fry, you will need a speed for moving and tossing, making it more convenient with a long handle of the wok and high heat for better cooking. Stir-fry cannot be made on a low flame as it will destroy the crunchy texture and taste of the veggies and other ingredients.