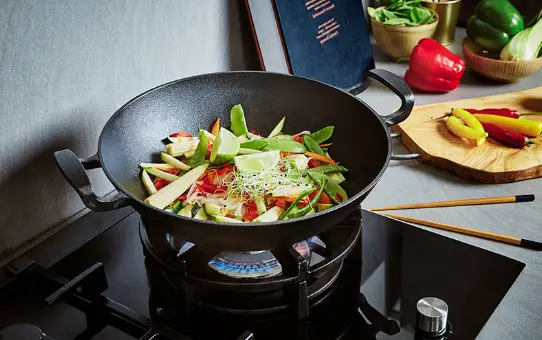 Woks are popularly used across the globe in domestic and commercial kitchens as staple cookware. If you want to make some delicious Asian dishes mainly stir fry at home for single serving or two, a small wok is the ideal cooking tool.
A good quality small sized wok will need little oil, heat up easily, small space to store and a bit of effort to maintain. Also, the ideal tossing and turning of food during stir fry becomes easier as small woks are not heavy.
But while picking a small wok, we usually fall prey to cheap products that often come with unsafe material, unhealthy coating, loose handles, bottom that warps easily on high heat, and what not.
Keeping in mind those adversities, I have listed some of the trusted brands that offer the top-most small woks on the market. These top woks are apt in size, handles are tough, the material is safe and ideal for making stir fry daily for years to come.
Content List
Size Guide For Small Woks
How to buy the best small wok?
How to buy a small nonstick wok?
Overall Best – Small Carbon Steel Wok
Small Cast Iron Wok – Best Pick
The Safest Small Nonstick Wok With Lid
Best Productive Small Stainless Steel Wok
Small Induction Wok
Best Small Steel Wok
Best Small Wok For Deep Frying
How to stir fry in a small wok?
Caring Procedure of a small wok
Small Woks are ideal for whom?
The size matters a lot, like a large pan used for making a small amount of food will make it easier to burn, whereas a small wok pan if filled full, will leave the food uncooked. 
If you are a two member family (10 inch – 13 inch wok) or a young single person (8 inch – 12 inch), you will most probably need a small wok while the people with prominent families will need a larger wok pan (14 inch and above). 
| | |
| --- | --- |
| Small Wok Size | Serving |
| 8 inch  | 1 Person |
| 9 inch | 1 person |
| 10 inch | 2 person |
| 11-13 inch | 2 person |
How to Buy the Best Small Wok?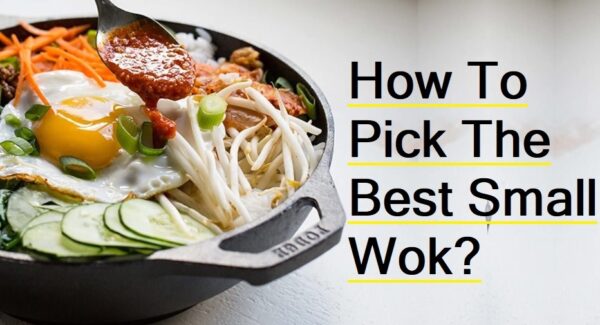 To buy the best small wok, you need to look into some of the crucial factors-
Wok Material:
It would be best if you look for a wok which is made of a lightweight conductive metal. Here is a run down on some of the popular wok metals for a small wok and how to pick the best.
Cast iron and carbon steel made small woks: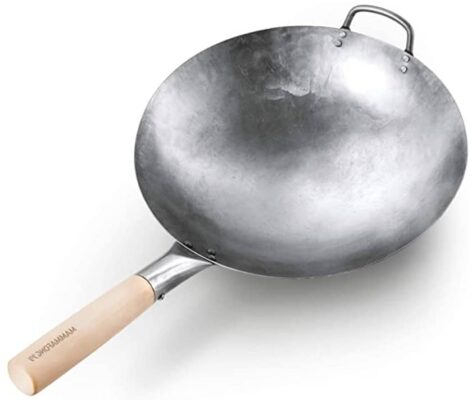 Cast iron or carbon steel are popularly used. Carbon steel has better heat retention ability than cast iron and also lighter. However, cast iron gives better heat conduction, which means it gets heated easily and also comes cheap.
In my opinion you can pick any of the above. It does not make any significant difference. But point to be noted is the maintenance of a cast iron wok may seem difficult for a beginner as this is rust-prone.
Aluminum, Hard anodized aluminum and Stainless Steel Made Small woks:
Apart from these metals, aluminum and stainless steel made small woks are also better options. Aluminum as a cooking metal is not safe, that's why market has introduced hard anodized aluminum.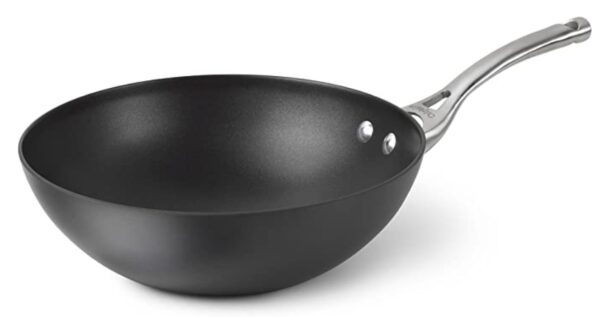 The body of the wok comes in aluminum and the surface is made with hard-anodized aluminum. This way the wok gets the best heat distribution ability which comes with aluminum and a safe coating for healthy living that hard-anodized aluminum provides.
Hard anodized aluminum may not be the most traditional metal, but for a safe small wok, this is a great material.
Small stainless steel woks are the most stylish and modern looking stir frying pans. Stainless steel is not good at heat retention or distribution like cast iron, carbon steel or aluminum, but it is the safest and healthiest metal, that need very little care. It is naturally nonstick.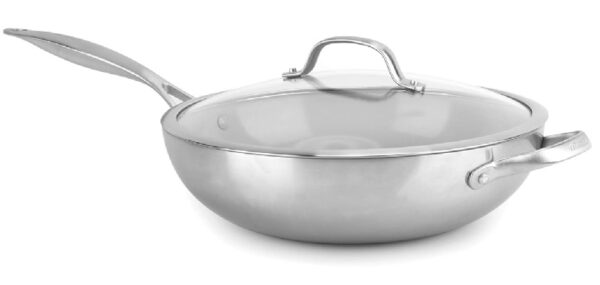 However these woks do not come cheap. Also, to maximize the stir-frying ability of stainless steel woks, they often come with aluminum core sandwiched between two stainless steel sheets. This way the pan gets better at heat distribution.
So, those who are looking for an easy to maintain small wok, looks stylish, safe and is highly durable, a stainless steel made small wok is the best choice for them.
Nonstick or seasoned:
Seasoning refers to the process of making a sticky metal pan nonstick naturally by applying oil on high heat. This process is not that easy for a newbie but very effective and a necessary step to make your wok ideal for stir frying.
In a non-stick pan the veggies and other ingredients can be tossed easily. Also, a nonstick surface helps in bringing the wok-hei or smoky flavor in your stir fry without making the food soggy.
That's why market has introduced many nonstick wok pans. And to buy a small nonstick wok pan seems logical, than seasoning a wok pan if you are living in a hostel or have a tight schedule yet want to cook your own food.
How to buy a small nonstick wok?
Traditional metals like the cast-iron and carbon steel wok pans, which naturally create a thick patina of the nonstick layer after multiple seasoning and usages, are ideal for wok cooking.
But the question is if you are willing to do the hard work of seasoning again and again?
For a beginner it is cumbersome, and hence nonstick wok pans are among their first picks. No one wants to get the food stuck at the pan-bottom, especially when making stir-fry. Because the cleaning will be tiresome.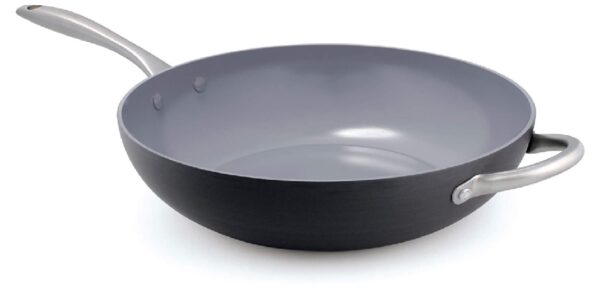 The drawback of a nonstick pan is, it won't handle high cooking temperature, which is a must for stir-fry. You cannot use a metal spatula and also have to follow a lot of dos and don'ts. Teflon-coated nonstick wok pans are not recommended because of their health issues.
But if you want to go with a nonstick wok pan, hard anodized aluminum or ceramic wok pans are best picks. A small ceramic or hard anodized wok will live up to your expectations for stir frying. Also ceramic is a safe coating and derived from sand. Hard anodized aluminum is naturally nonstick too. Hence these small nonstick woks are the top-performing ones.
When to buy a seasoned small wok?
A nonstick small wok is not as good as a seasoned carbon steel or cast iron wok. I have always suggested a beginner to go for a carbon steel wok and put that extra effort of seasoning if you can.
As carbon steel or cast iron wok offers the most authentic wok cooking experience, you will be highly satisfied with the outcome of the meal. Such a seasoned small wok will be your prized possession for years unlike a nonstick wok.
Flat or Round Bottom Small Wok:
When it comes to stir-fry, the choice must be very straightforward, that is, the round bottom wok pan. The reason for choosing the round bottom pan is because it allows easy tossing of food and lets the heat travel up to the rounded edges. 
This heat will get concentrated in your ingredients and make them evenly cooked unlike a shallow flat bottom wok. A round bottom wok also has a good amount of space in the bottom. However flat bottom woks are suitable for electric and induction stove top hence if you are buying a small induction wok, then go for a flat bottom.
Round bottom wok is mainly for gas stoves and burners. If you get a high-depth flat bottom wok, then go for it as it will be ideal for any kind of gas hob.
Best Small Wok Compatible Handles: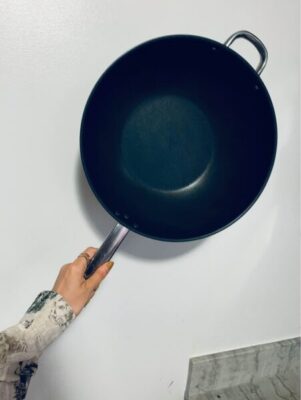 For making stir-fry, a wok with a long handle will be perfect, as it offers sound grip and allows subtle movements of the wok. Most carbon steel woks are comprised of a long helper handle and a loop handle. These types of woks are often known as pow woks. Pow woks are the most preferred version of small woks too. These are ideal for tossing and turning.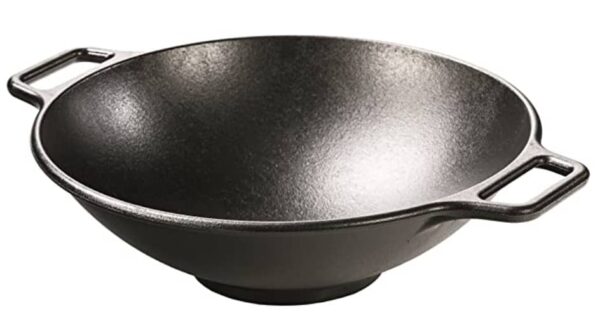 The Cantonese-style woks are a combination of two loop-shaped handles. These are not very comfortable but preferred by many chefs too. Usually, cast iron woks come with these handles. You can choose according to your preference because for a small wok, both of the handle types work well.
But the handles of a small wok must have either a stay-cool stainless steel handle or an ergonomic wooden handle for better gripping.
Top 7 Small Woks Ideal for Stir-Frying
1. Overall Best Small Carbon Steel Wok – 30 Cm/ 11.8 inches Pow Wok
| | |
| --- | --- |
| Material | Sturdy Carbon Steel Body |
| Bottom | Flat Bottom |
| Size | 11.8 inches |
| Handle Type | one loop & one long handle with wooden cover |
| Coating | Pre-seasoned |
| Features | Heavy-duty, Traditional Chinese and Japanese Wok |
If you want to experience the authentic and most traditional way of wok cooking, this 11.8 inch carbon steel flat bottom pow wok, is the best small wok from Yosukata. This brand specializes in manufacturing high-quality, sturdy black carbon steel woks which offer an authentic Asian wok cooking experience.
Because of the long wooden handle you can easily toss and turn your food. This small carbon steel wok has very good depth (3.5 inches), so concentrating heat inside the wok becomes easier. Because of the flat bottom, this small wok is compatible with every type of gas hob. It is induction-friendly too. It comes preseasoned but you still require to season it to keep it in good health.
Pros: 
Great versatility in a compact size
Perfect for an outdoor and indoor cooking experience
Great build quality and sturdy handles
Has an ergonomic design and lightweight
Suitable for any gas hob
Cons: 
2. Best Small Cast Iron Wok: Uno Casa 12 inch Wok
The Uno casa wok pan is a perfect small size cast iron wok in Cantonese style. It comes with a glass lid and has a flat bottom which is suitable for any cooktop. The flat base keeps it sturdy and safe on all different cooking surfaces such as gas stove, induction, electric stovetop, oven, grill, and a campfire. 
The design of the wok is excellent for conducting heat and evenly distributing it all over the cooking surface of the wok. It is lightweight, comes preseasoned, and has a sturdy construction. Overall, for a single person or two, this is the best small cast iron wok that comes with a lid.
Con:
The handles are made of cast iron. Hence after few minutes they get hot. You need to wear gloves to hold this wok.

3. Small Nonstick Wok With Lid – Cooks Standard Flat Bottom With Lid
This is the best small nonstick wok from Cooks standard that comes with a lid. I never recommend my readers to buy any nonstick coated woks because of safety issues. Only hard anodized and ceramic coated woks are safe. This hard anodized 12-inch stir fry small wok pan from Cooks Standard has the safest cooking surface.
You can cook daily in it on high heat without getting affected by harmful toxicity from chemicals. The pan has a flat bottom which means you can use it on electric hobs. However, it is not induction safe. Because of the aluminum construction, the pan heats up quickly & evenly & prevents hot spots, hence perfect for cooking delicious stir fry.
Pros:
Naturally non-stick for easy food release
Sturdy hard-anodized aluminum body
Even heating
Safe and longlasting
Cons:
Not suitable for induction use.
4. Best Small Stainless Steel Wok: Anolon Triply Clad Stainless Steel Wok Pan
This 10.8-inch stir fry pan is the best small stainless steel wok with the safest and studiest construction. The Anolon stainless steel stir-fry pan is a highly durable three-ply pan with an aluminum core layer between the layers of stainless steel sheets. The aluminum core offers excellent heat distribution quickly and evenly. 
This stainless steel wok is very convenient to clean and maintain as it is dishwasher-safe. It is scratch-resistant and compatible with high heat and all types of cooktops, along with an electric and induction base. The wok comes with a stay-cool sturdy handle that offers better grip and prevents hand burns.  
This wok is NSF certified and I haven't found any downfall in it.
5. Best Small Induction Wok Set: Bielmeier Wok Pan
The wok pan of Bielmeier is 12.5 inches in diameter and comes with a wooden lid & wok spatula. The pan is easy to use & ideal for pan-frying, braising, boiling, steaming, deep frying & many more types of cooking. It has a no chemical non-stick PFOA coating to ensure healthy and safe cooking. The flat bottom is compatible with any type of gas hobs and it is one of the top small woks suitable for induction.
Pros:
Oven use under 450 degree F
No chemical PFOA non-stick coating
12 months warranty
Ideal for various types of cooking
Con:
Cannot be used in the oven over temperatures of 450 degrees.
6. Best Small Steel Wok – Nordic Ware Superior Steel Spun Wok
The spun wok of Nordic ware is 8.5 inches in size and the best small steel wok in a budget. It is made with heavy-weight aluminized superior steel to give you heavy-duty performance. It ensures quick & even heating. The pan has an exterior hard coating for a long-lasting built and three layers of non-stick interior coating to give a good quality non-stick surface.
Pros:
NSF certified
Heavy weight aluminized steel for even heating
Stay cool stainless steel handle
Three step non-stick interior coating
Con:
7. Best small wok for deep frying- Ecolution Non-Stick Carbon Steel Wok
This wok of Ecolution is made of black carbon steel & 8 inches in diameter. It has a PFOA-free non-stick coating to ensure healthier cooked meals. Even during the construction of this wok, the brand ensures that fewer greenhouse gases releases intro the air.
The wok has the perfect depth for making great stir fry and deep-fried meals. That's why this is the best small wok for deep frying. It is made of heavy-duty carbon steel and is also dishwasher safe. The flat base is suitable on any gas hob except induction and the long handle makes the wok easy to use.
Pros:
PFOA non-stick coating
High heat transfer for even cooking
Flat base 
Create few greenhouse gases
Soft-touch riveted handles
lifetime warranty
Cons:
Not suitable for induction.
What are the Caring, Cleaning, and Storing Procedures for a Small Wok?
Small woks are easy to maintain and store. However seasoning needs more or less the same effort. To season a carbon steel, iron, and cast iron wok you need to follow the below steps.
Heat the wok pan 
add oil and spread it all over the surface 
Repeat the following until a thick patina is formed on the inside of the wok. 
For detailed steps read this post.
Washing or cleaning the small wok:
Be it small or large a wok needs extra care if it is made of carbon steel, cast iron, anodized aluminum or nonstick. Cast iron and carbon steel made small woks are rust prone. That's why they need proper cleaning, drying and storing.
Hard anodized and nonstick coated woks are fragile on the surface. So, you need to be extra careful to not scratch them with metal utensil or rough sponges while cleaning. Stainless steel woks on the other hand are the most durable ones.
Scrub it gently with a sponge and soapy water
Wash the wok pan with hot water thoroughly
Avoid using harsh soap or detergent 
After washing, please put it back on the stove and allow the remaining water to evaporate (This will prevent rusting of the wok)
And then store a wok.
Is Stir-frying in a small wok possible?
Making stir-fry in a small wok is not a challenging task. But you need to always measure the quantities. The secret to stir fry a very tasty Asian cuisine, is to maintain the quantity of your raw ingredients. The amount of ingredients always needs to be 1/3rd of the wok size. And trust me this is the biggest secret to make deliciously smoky stir fry even for a beginner.
Make sure all the sizes of the vegetables are same or cut according to the water content of the vegetables. For example, a potato should always be bigger than a carrot for a stir fry, because, the pieces of potatoes will cook faster as they have more water content than carrot pieces.
Now follow these crucial steps.
Always cook on high heat.
Preheat the wok, and put cold oil following the ingredients, this way it will not stick.
Cook faster and don't stop stirring.
Here is a very easy stir fry recipe for your small wok.
Prepare and set aside all the ingredients, spices, and sauces before turning on the flames. 
Now turn on the burner and add some oil. 
Add the veggies, fish, and other ingredients
Now twist and toss them well until a little crunchy 
Now add the stir-fry sauce in the hot pan of ingredients
Cook on high flame for few minutes until sauce thickens, then serve hot.