Ceramic woks are popular among home cooks because they are budget-friendly, look marvelous and work well on high heat. However, nonstick coating is always a concern for health safety.
Fortunately, the market has some great ceramic woks which are safe. If you don't like seasoning or the tough maintenance process of traditional woks, then this modern version of a wok will bring great convenience to you.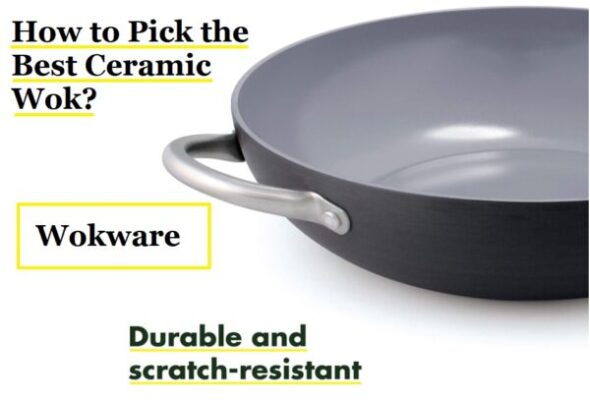 You can enjoy an authentic wok cooking experience in ceramic woks too. From smooth nonstick surface to high heat compatibility ceramic woks have everything you need, to cook delicious stir fry.
However, everything depends on how well you pick a ceramic wok for yourself. Not all ceramic stir fry pans are good at their job. So, here, in this article, we will discuss everything about ceramic woks and how to pick the best and healthy ceramic wok.
2022: Top 3 Safe Ceramic Nonstick Woks Right Now
1
GreenPan Venice Pro Ceramic Wok with lid
---
Best Ceramic wok made with entirely triply stainless steel that offers a durable lid
stainless steel is of very high grade and long lasting
Multiclad with PFAS, PFOA, lead, and cadmium free thermolon ceramic coating
dishwasher, oven safe
Induction-safe
riveted handles
lifetime warranty
2
GreenPan Chatham Ceramic Wok
---
Try-ply stainless steel body, aluminum core
Multiclad with PFAS, PFOA, lead, and cadmium free thermolon ceramic coating
Very reputed brand dedicated to making green ceramic pans
dishwasher, oven safe, suitable for all stovetops
Induction-safe, very tough handles
lifetime warranty
Pair up with this wok lid
3
GreenPan Lima Ceramic Wok
---
Nontoxic PFOA, PFAS free coating
Safe for oven & broiler
hard-anodized aluminum body
great at heat distribution
highly durable
brand is trustable
Not induction-friendly
Handwash only
metal utensil-safe
Pair up with this wok lid
How Ceramic Coated Woks are Made?
The ceramic wok is not actually made from ceramic. It refers to the nonstick coating, these pans come with. The coating is derived from sand which is also known as Thermolon™.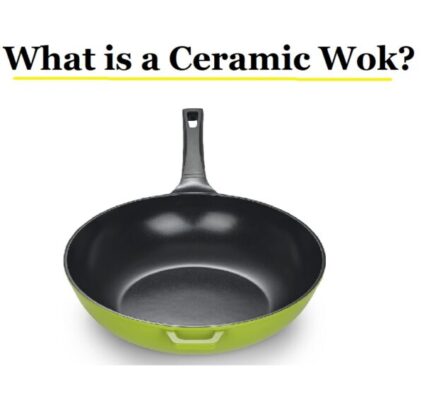 During the production process of this coating, any toxic chemical like PFOA or PFAS is not involved. That's why this nonstick coating is safe and healthy. It is also good for the environment.
After transforming the sand derivative substance into a sprayable solution that solution is then sprayed onto the body of the wok. The body can be made of aluminum, hard-anodized aluminum, stainless steel, copper, etc depending on the manufacturer.
No glues or additives are used during the coating process of ceramic woks, unlike many other harmful nonstick woks. At last, the pan is cured in the oven where 60% less carbon dioxide emission takes place. Clearly, the ceramic wok is a green option that every cook must switch to.
How Good is a Ceramic Wok in Stir-Frying?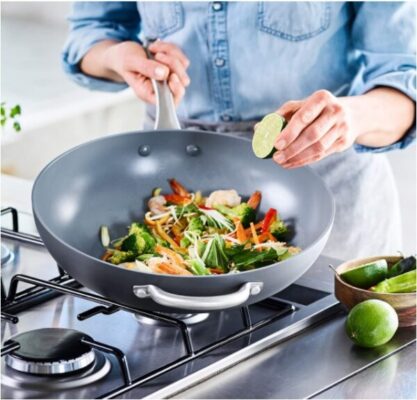 Chefs prefer traditional woks over nonstick coated woks for two reasons. One, the seasoned surface of the traditional wok is natural. It also works as a super smooth surface that helps in radiating heat to the ingredients. This helps the cook to make smoky and evenly cooked stir fry.
Secondly, traditional woks are made of carbon steel or cast iron both of which are great at heat conduction, distribution, and retention. As, wok cooking needs to be done on extreme heat, on a gas or electric range (that produces lower BTU as compared to wok burners) you must use a wok that has better heat distribution ability.
Ceramic woks fulfill both of the above two conditions. A ceramic wok is a perfect tool to cook stir fry as the natural coating has a superior stick-proof surface that lets the food glide on high heat while all the tossing and turning is going on. Most importantly, ceramic woks come with an aluminum body. And aluminum is better at heat distribution than carbon steel or cast iron. Clearly, ceramic woks are apt for making mouthwatering Asian Cuisine.
Advantages of Using a Ceramic wok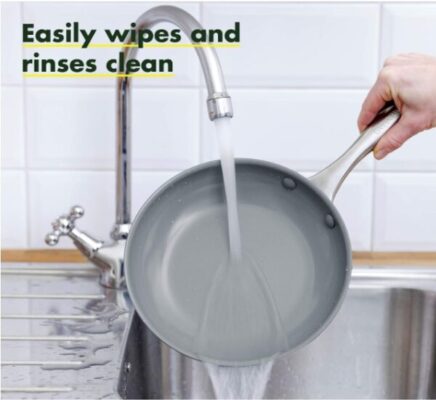 No toxicity:
While producing a non-stick coating like ceramic very less carbon dioxide releases into the air. Moreover thermolon is heat resistant. If you accidentally overheat your ceramic wok it will not release any toxic fume. 
Superior heat conductivity:
To cook great Stir fry you need a Wok that can conduct, distribute, and retain heat well.  With such a good quality wok your stir fry will get evenly cooked and taste smoky. Thermolon™ has a heat conductivity of around 2.0 to 2.4 W m-1 K-1, whereas PTFE or Teflon is just 0.25 W m-1 K-1.
This means a ceramic work is far better at making delicious stir fry than traditional non stick wok. Also, the aluminum body of the ceramic wok is better at heat distribution than carbon steel and cast iron.
Durable and Easy To Clean Body:
Ceramic wok usually comes with a superior quality aluminum body. Aluminum does not warp on high heat. It distributes heat better than carbon steel and cast iron wok. So if you have an electric stovetop that does not produce high BTU like gas burners then ceramic wok is the best stir fry pan for you. Also, most ceramic woks come with sturdy stainless steel handles which look sleek. 
These woks are dishwasher safe too. Overall ceramic woks are good investments for beginners as well as expert cooks.
Highly Nonstick:
Other than heat conductivity a wok pan must have a well-seasoned surface which will help in gliding the ingredients over high heat so that while tossing and turning, your food will get evenly smoked. Ceramic works are highly nonstick. This smooth surface works as a well-seasoned platform to make apt Asian cuisine with little oil.
Budget-friendly:
A good quality carbon steel 14-inch wok is often priced around $65. Cast iron woks that have superior build quality don't come cheap. Stainless steel woks are highly expensive. However, Teflon coated nonstick pans are inexpensive but they are unhealthy. Compared to all these woks, a ceramic wok is offered at a great price bracket.
How to Pick the Best Ceramic Wok?
When you are buying cookware, my biggest advice will be to always pick the manufacturer who is in this industry for years. An experienced brand that manufactures wok for years will bring the best to its customer and care for customer satisfaction.
Greenpan is the number one manufacturer that specializes in ceramic woks. It is a very reputable brand that focuses on environment-friendly, healthy and safe ceramic coated woks. GreenPan is the most experienced brand in the industry of ceramic woks.
They are the pioneer and one of the very first brands that introduced this safe coating in the market. For years they are experimenting to bring the safest coating possible for a wok and now their ceramic coating has entered the 5th generation.
Why GreenPan Ceramic Woks are worthy of investing?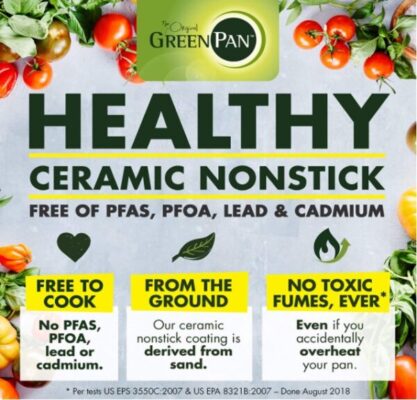 Their ceramic woks come with scratch guard technology which reinforces maximum strength and scratch resistance.
Hard anodized Aluminium is far better than aluminum and Greenpan works come with a heavy gauge hard-anodized exterior which is highly durable.
The entire wok pan is oven safe even the riveted stainless steel handles can go in the oven up to 600 degrees Fahrenheit.
 Hard anodized aluminum does not warp on high heat and absolutely perfect for stir-frying. 
Two Variants of Safe Ceramic Woks From GreenPan – Best in 2022
Among the safe ceramic woks that this company offers, the Greenpan Lima 12.5 inch wok is the best ceramic wok if you are looking for a gas or electric stove-compatible wok. For induction, the Greenpan Venice Pro stainless steel body ceramic coated wok is the best choice. It also comes with a lid.
1. Induction-Safe Ceramic Wok: GreenPan Venice Pro 12 inch Wok With Lid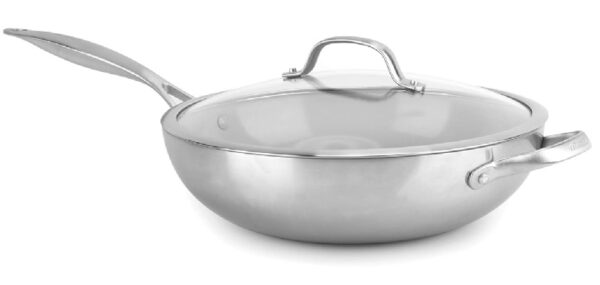 This 12 inches Venice Pro ceramic wok from GreenPan is their latest model. It is infused with diamonds and the multilayer stainless steel is designed with ever-shinning technology that will keep its shine even after multiple uses.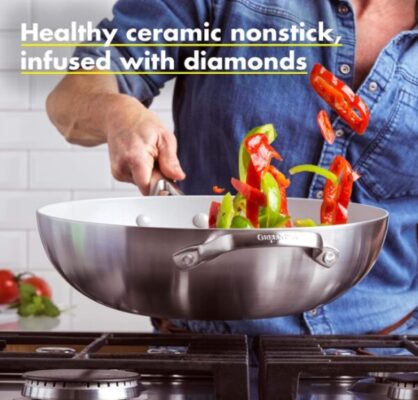 The flat bottom stainless steel body ceramic wok is suitable for all stovetops. You can use any metal utensil with this wok as the diamond in the coating has made it more tough and durable.
The wok is oven safe up to 600 degrees F and the beautiful see-through glass lid is oven safe up to 425 degrees F. The wok is also dishwasher-safe.
Pros:
Even heating
classy look
durable coating
riveted stainless steel handles
over and broiler safe
dishwasher-friendly
Con:
It is on the higher end so not affordable for everyone.
2. GreenPan Lima 12.5 inch Best Ceramic Wok For Gas and Electric Stovetop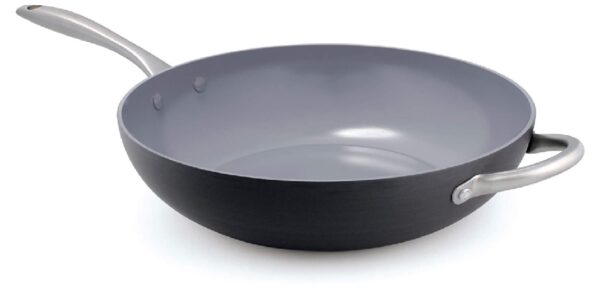 About the Ceramic Wok Pan:
This non-stick ceramic open wok from Greenpan Lima is 12.5 inches in diameter. It has a natural and safe non-stick thermolon coating. The coating is free from PFAS, PFOA, lead & cadmium, and halogen. So, you can enjoy absolutely toxin-free home-cooked meals. It is safe to use in the oven & broiler up to the temperature of 600 degrees F. The wok has long stainless steel handles which enable an easy yet firm grip. The lightweight construction makes it ideal for stir-frying for beginners and the best ceramic wok.
Pros:
Nontoxic PFOA, PFAS free coating
Safe for oven & broiler
hard-anodized aluminum body
great at heat distribution
highly durable
Cons:
Not induction and dishwasher-safe.