For centuries, aluminum woks are serving us great food. It is easy to maintain, less hassle to store, and is far better at distributing heat than carbon steel and cast iron. My aluminum wok is not less than 50 years old. It was previously owned by my grandmother and does not have any handles.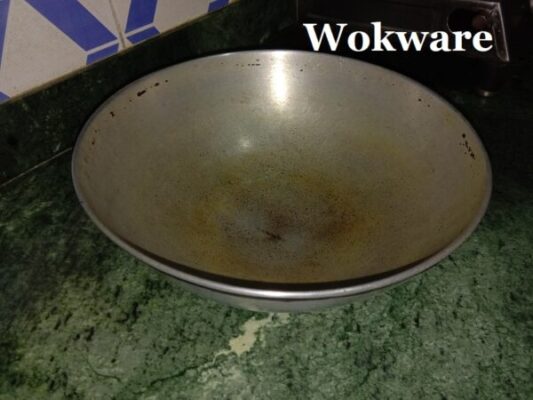 But it is very crafty, lightweight, and works well on high heat. We have made stir fry in this wok innumerable times. So many beautiful memories are there with it. You can say this wok is our asset.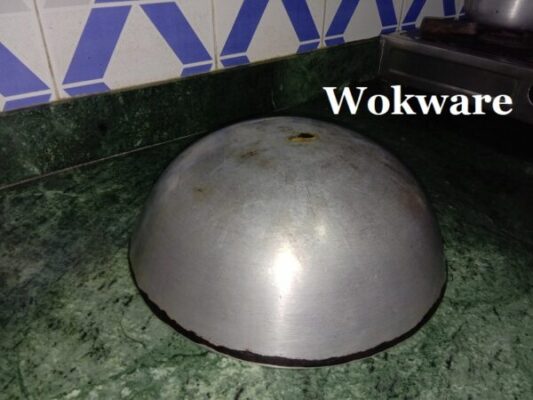 But I have Ditched this wok – Aluminum Woks Safety Issue
It was not too long when I started thinking about cookware's safety and material and started researching it; I interviewed a few expert chefs in the industry to gain more knowledge. It took me a lot of research and discussion, expert opinions, and suggestions to discover the best cookware that I could use for wok cooking.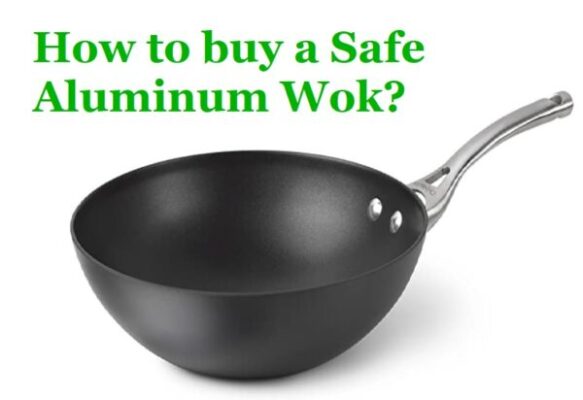 Are aluminum woks safe? This is a big question concern all. Aluminum woks are one of the most popular of the lot. But health safety was always an issue with aluminum woks. Acidic food reacts with metal. The result is aluminum leaching into our food. Eating from such a wok daily is a big no-no. As stir-frying itself involves acidic sauces you obviously can't use this metal for wok cooking.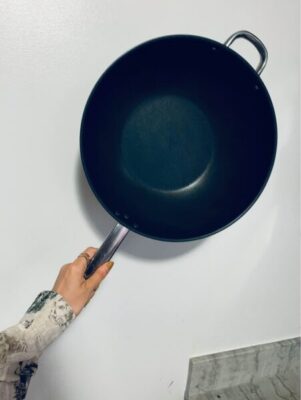 What I discovered from researching is that hard-anodized aluminum is the safest choice to opt for than "just aluminum". So, I have switched to this T-fal hard-anodized aluminum wok and using it for my past couple of stir-fries, and yes I have ditched the old one for safety concerns. 😭
What is Hard-anodized Aluminum?
By immersing the aluminum in the chemical bath while applying electrical current hard-anodized aluminum is produced. It is nothing but a layer of oxide that hardens the aluminum and makes it rust-proof. It is like an aluminum 2.0 version.
Aluminum Vs Hard Anodized Aluminum Wok
Hard anodized aluminum cookware is very popular nowadays because it offers a series of benefits. It is more durable, lightweight, and more affordable than many enameled cookware. Aluminum is soft and reactive to acidic food, which means using aluminum to build cookware is not safe.
Hard anodized aluminum is tough, nonstick, and non-reactive to food hence safe to cook on high heat. This electro-chemical process of anodizing makes aluminum 30% harder than stainless steel too.
Are Anodized Aluminum woks good at Stir-Frying?
Hard anodized aluminum is nothing but aluminum that is oxidized. The aluminum metal is known for its heat conductivity. Out of carbon steel woks, cast iron woks, stainless steel woks, and aluminum woks, aluminum woks offer a better heat distribution for preparing tasty stir-fries and deep-fries. At the same time, their heat capacity is low, so they will take a longer time to heat up. However, when it catches up with the temperature the well-distribution of the heat makes your stir fry perfect.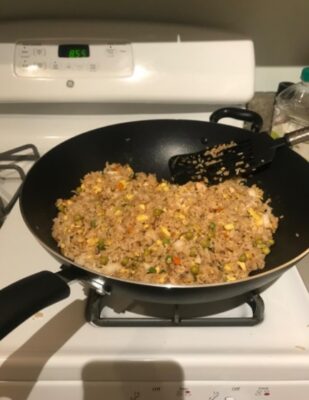 Key Benefits Of Using a Hard Anodized Aluminum Wok
This hard anodized material prevents the food (acidic food) and metal reaction. 
It provides a rigid and smooth surface for cooking hence highly scratch resistant.
It is one of the most durable materials used in cookware production.
Hard anodized aluminum is found as a good conductor of heat and assists in even heat distribution & retention.
The nonstick surface is easy to clean and maintain.
It makes the aluminum wok rust-proof and safe.
Hard-Anodized Aluminum Woks Vs Nonstick Coated Aluminum Woks
Any material made pan when coated with a nonstick substance becomes a nonstick pan. Many aluminum woks come with nonstick surfaces mostly Teflon. As aluminum woks are not safe for acidic cooking, some cooks want to own nonstick-coated aluminum woks for better performance.
Also, nonstick-coated aluminum pans are less expensive than hard-anodized aluminum woks. So why not prefer the nonstick ones more? This is a valid question that I have been asked by my readers.
Let's start with safety. Teflon on high heat releases toxic fume. The heat needs to be around 400°F for such occurrences. You can argue that your kitchen stove does not produce such high heat. However, nonstick is a fragile coating. It is not natural. Even if a slight scratch will expose your food to harmful chemicals.
Whereas the hard anodizing process is natural and safe. Compared with nonstick aluminum woks, hard-anodized ones are the most reliable and safe picks.
Top 5 Nonreactive Hard Anodized Safe Aluminum Woks
1. T-Fal Ultimate 14 inch: 
T-fal is a trustable brand and it offers good quality cookware for years now. This 14 inch wok is the best aluminum wok with hard-anodized surface. Earlier it has been recommended by a chef friend. Buying it has been the best investment to date. I have a satisfying experience with it.
It is a perfect tool for cooking healthy family-size meals. This heavy gauge hard-anodized wok comes with a non–stick interior surface suited for all cooking styles. It is compatible with different types of cooktops. It offers superb heat retention and corrosion resistance.
Pros:
Highly scratch resistant. 
Very lightweight and easy to handle 
This wok pan is more affordable as compared to other overhyped ones.
Nonstick surface is natural and does not react with food. 
Cons:  Dishwasher may ruin your wok. So you need to hand wash it. That goes for any wok pan.
2. Cooks Standard Hard Anodized Nonstick 11 inch Wok:
Cooks standard is an experience brand. They manufacture great stainless steel woks. This lavishing flat bottom hard anodized wok is no different. This will enhance your complete wok cooking experience because of its lightweight and heavy depth structure. This is the best aluminum wok to concentrate heat in your ingredients while cooking if you have a lower BTU gas stove. Hence inducing a smoky flavor in the meal becomes easier. It comes with a highly durable hard-anodized surface. This premium cooking surface prevents hot spots and offers even heat distribution. 
Pros:
High-quality nonstick surface for a healthy and clean cooking experience. 
Suitable for numerous stove tops, gas stoves, ceramic glass stoves, electric stoves, etc. 
Tempered glass lid, which is also oven safe up to 350 degrees F. 
Cons:
– It is not compatible with the Induction cooktop. 
– Use of a dishwasher may cause damage. 
3. Hard-Anodized Aluminum Wok 12″ by EPPMO
It is a deal worth grabbing. If you are looking for a 12-inch wok then this is the best aluminum wok with an oxidized surface. This super stylish wok comes with a glass lid and a long riveted stainless steel handle. This comes with 3-Ply engineering which makes it highly durable and worth investing in. It comprises an aluminum plate compressed between two superior nonstick & scratch-resistant coatings. 
Pros:
– PFOA material is free from any toxic chemical containing lead or cadmium. 
– It is lightweight and easy to clean. 
– Suitable for all cooktops and oven safe. 
4. Rachael Ray 11 inch Cucina Hard-Anodized Nonstick Wok Pan:
This super stylish espresso–colored wok pan offers a smooth and nonstick surface for convenient cooking. It comprises a silicon over stainless steel riveted handle and a glass lid with shatter resistance. It has a safe PFOA-free construction and is oven safe up to 400 degrees F. If you are looking for a dishwasher-safe wok then this is the best aluminum wok to have.
Pros:
Compatible with all cooktops.
Easy to clean and maintain. 
Dishwasher safe.
Limited Lifetime warranty.
Cons: Not compatible with an induction cooktop.
5. Anolon Nouvelle 12 inch Copper Hard-Anodized Nonstick Wok
This highly durable copper hard anodized nonstick wok is ideal for stir-frying. It comes with a three-layer sapphire reinforced nonstick surface compatible with all types of cooktops and offers even heat distribution.
Pros:
It is effortless to clean with just a wipe of liquid dish wash and a sponge.
The complete wok pan along with stainless steel handles is oven safe. 
It is ultra-durable and dishwasher safe. 
Lifetime warranty.