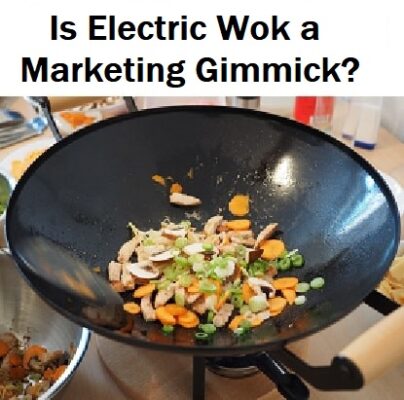 In this article, you and I will together look into the various usages of an electric wok and understand if this cookware is worthy of your money or not.
Woks are a versatile cookware. From delicious stir fry to making crunchy deep fry a wok can be used for almost everything and anything. 
But what about electric woks? Are they any useful?
To cook in a traditional wok you need to be very careful because the high heat can easily burn the food if you are not aware of the dos and don'ts. Whereas electric woks are the most effortless to cook with.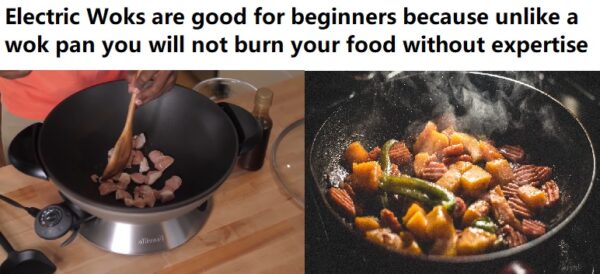 However people are still wary about using electric woks despite of their better convenience.  
The common questions that are asked range from 'are electric woks any good' to how to use them.  
To answer directly, yes electric woks are not only good but they are also highly efficient and convenient. However, that does not mean, this particular cooking tool is compatible for you. You need to consider several other factors before making the buying decision. 
And here comes my article, to help you in every fold to overcome all your problems and get answers to your queries. 
We will not only talk about the efficiency of an electric wok but also how an electric wok works, what makes it stands out, and many more. Check this table of content. 
Table of Content:
What are Electric Woks?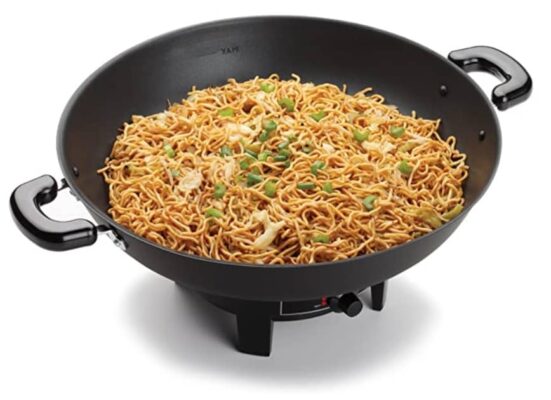 Electric Woks are basically portable woks that run on electricity. 
It can be used for almost anything a traditional wok can do. Only difference is that these woks run on electricity and you need to use a burner to cook with a wok pan.  
The structure of the wok contains an electric device to heat the wok and a wok pan. The wok sits above the electric device. And then there is a cord attached with the device. 
Some manufacturers offer a detachable wok pan. It makes cleaning, storing and carrying easy. Non detachable electric woks are cheap but not worth it. 
Are electric woks any good with cooking?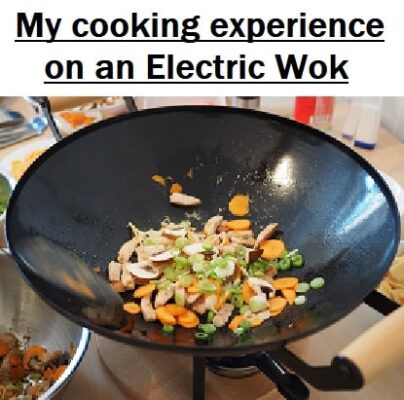 A good electric wok comes with an innovative touch to the traditional Asian wok. 
The depth in the walls and non stick surface you get in a wok pan after seasoning, are already there in the electric wok. 
Rather the design of a wok that runs on electricity is more convenient to let your food glide through the steep walls and settle in the middle. 
It is because the seasoning process we go through to make a wok pan non stick does not always comes out to be perfect.  
Here comes a good brand of electric wok, that already gives you an extra smooth stick-free surface to keep your food from binding together. 
The amount of oil you will need to cook in a traditional wok is far less while cooking in an electric wok.  
Most of the times you can just get away with by just spraying some oil. 
What you can't do with an electric wok?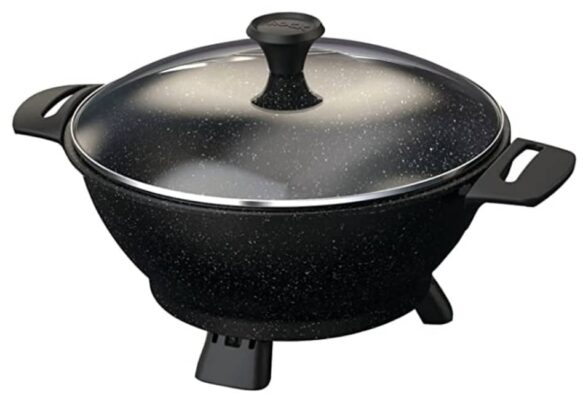 However, you cannot toss food in an electric wok like a traditional stir fry pan. 
Also, you can use your traditional wok pan on high BTU gas burner.  
For example, to make the perfect stir fry you need around 150k BTU heat and you can achieve that with a propane gas burner. 
Whereas the electric device that comes with an electric wok can mostly heat up to 430 degrees. 
Although those devices come with several heat settings, to adjust according to your cooking needs, if you want to cook on extremely high heat, you might want to have a wok pan and a propane burner. 
My thoughts: 
Other than that, an electric wok can cook anything and everything. And frankly speaking portability has a huge benefit. 
You can move it anywhere whether inside or outside. Serving hot food directly from the electric wok in the dining table is my personal favorite. 
The uniform heat distribution of an electric wok is also worthy of praising.  
With a cheap traditional wok pan if you are not using enough heat, or using it on a home gas range, your food might end up getting cold spots.  
Uneven cooking is one of the main reasons, you want to stay away from cheap wok pans for home cooking.  
Clearly, electric woks do a great job in even cooking. 
What are Electric Woks useful for?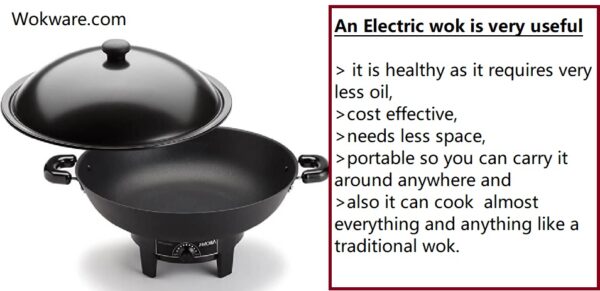 A couple of things could be done in an electric wok.  
As mentioned before stir fry is a definite thing. Other than that deep frying, braising, making stews and soups. Also, steaming and roasting can be done effectively. 
Steaming is one of the most sought after and preferred ways of cooking. This is mainly because of the health benefits attached to it.  
The electric wok can also be used for steaming food. All you need is a bamboo steaming basket.  
You can use the pan to roast a whole chicken or any other food. Just turn the high-heat setting on and ensure that the wok is hot enough before roasting.  
How convenient is the size of an electric wok? 
The size of the electric wok is usually up to 14 inches. You will not get bigger electric woks.  
But as 14 inch is a standard size, cooking for 4- 5 people can be done easily. 
That means these woks have enough space to cook anything.  
To add on to that, the electric woks are extremely lightweight in nature, this makes them very portable.  
The cord that comes with the device is usually 30 inches long. To add some flexibility, you can pair it up with a 6 feet heavy duty extension cord. 
The lid that comes with an electric wok increases its functionality. So, make sure to use it to get the best service from such a wok. 
Are electric woks any good for me? / Who should buy an electric wok?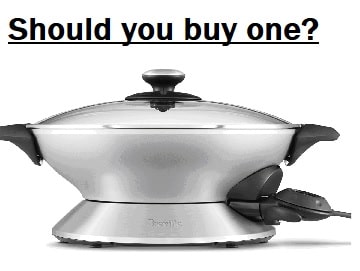 The truth is, once you start using an electric wok, you might not want to switch. Cooking on high heat with a traditional wok pan is troublesome, not to mention tiring. 
Whereas you can conveniently place an electric wok anywhere and start cooking without getting boiled on high temperature. 
If you are restricted by space in your kitchen, then an electric wok would be the perfect fit. As the entire set up comes in a compact shape, all you need to do is to switch on and start cooking. 
The cleaning and maintaining of an electric wok are easier (a lot) than a traditional wok pan or any other cooking tool. We have discussed in the later part of this article. 
So, if you loath the hard work of cleaning after extensive cooking, this is definitely the desired pan you want to go for. 
To wrap up, an electric wok is great for students living in a small room, soldiers, individuals, health conscious beings, beginner cooks and for many. 
I will definitely not recommend this for expert chefs who want authentic stir fry flavor in their food. That wok-hei flavor can only be achieved on an extreme high heat wok cooking. The continuous tossing and turning mainly brings that smoky touch into the food. 
That goes without saying, electric woks are good with stir fry too, but to achieve that extensive restaurant flavors you need a traditional wok pan with great cooking skills. 
Which is the best Electric Wok on the market?  
Are electric woks any good? Well, yes of course! But make sure you are buying from some of the best brands.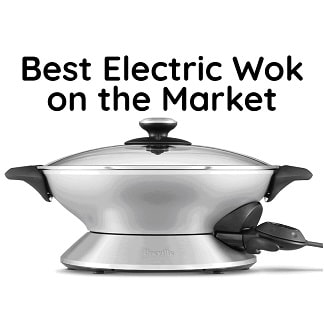 There are two big brands which are mainly doing a great job on the market with their electric woks. 
One is Breville and the other is Presto. The electric wok from Breville is more convenient to use. Because it comes with a beautiful and smooth non stick surface.  
It works like butter. Whereas the electric wok made from Presto is of stainless steel. So, cleaning and cooking might be a bit difficult compared to the Breville hot pro wok. 
However, Breville comes with a higher price tag.
If you are short on budget and can compromise on cleaning and maintaining the wok, Presto 1500 watt stainless steel wok is the one you are looking for. Here I have given you both of the brand reviews. 
Breville BEW600XL Hot Wok Review
| | |
| --- | --- |
| Size | 6 Quarts Capacity, 14-inch wide |
| Material | stainless steel base and die-cast bowl |
| Wattage | 1500 W butterfly heating element |
| Additional Features | Quantanium non-stick coating |
|  | Tempered glass cover |
|  | Removable temperature control probe |
|  | Dishwasher safe body and lid |
|  | 15 precision heat settings |
Whilst there are many great electric wok in the market, it is always advised to go for the best one to get a satisfying experience.  
Having said that, the best electric wok in the market is the Breville Hot Wok. Questions like 'are electric woks any good' takes a stopper here. Many health-enthusiasts swear by this great electric wok. The reviews of the customers indicate towards it being one of the most satisfying wok to use.
Hence, to mention, some of the amazing features of this electric wok are:  
The wok has a huge capacity. It has a 14" diameter.  
The stainless steel base and die-cast wok bowl will last years and the capacity of 6 quarts is ideal for large families. 
It is a high-end electric wok with a superior quality build. It looks stunning, has a classy finish to it, and heats up in seconds. It has 15 precision heat settings to choose from. Clearly gives you a ton of customization. 
Having a tempered glass cover helps you know when your food is ready, and a removable temperature control probe makes serving easy.  
 The Quantanium non-stick coating is safe to use on high heat. 
Apart from the above, it has a 1500W butterfly heating element that heats up pretty fast and up to 425ºF, and both the bowl and the lid are dishwasher safe.   
With 14 inches diameter, superior non-stick coating, and butterfly heating element, the food glides through the walls and settle at the bottom of the wok. And that too without any oil. 
Usually what I do is just spray some oil. That's it. The food leaves no trace on the side and the instant even heating stir-fries food in minutes.  
As the Breville wok is detachable from the heating probe, I transfer the food from the wok directly to my plate with the help of the cool touch handles.  
Presto Stainless Steel 1500-Watt Electric Wok Review
| | |
| --- | --- |
| Size | 14-inch diameter |
| Material | Stainless Steel body and aluminum-clad base |
| Additional Features | tempered glass lid |
| | stainless steel rim and handles |
| | 1500 watt |
| | dishwasher safe body and lid |
Presto is a big brand in the cookware industry and till date, I have used a number of products manufactured under the brand name Presto. I must say, this brand never given me any issue. 
The Presto 5900 1500 watt Stainless steel electric wok is one of the most durable ones in the market.  
The stainless steel body of the wok is absolutely dishwasher safe and sturdy. 
The tempered glass cover will help you know when your food is ready or needs stirring, and it also has a stainless steel rim and handle.  
The base is made of special aluminum-clad to aid fast and high-temperature cooking.  
Although the lid is dishwasher-proof, it lacks the non-stick coating.  
Hence, the food will need oil to not stick to the wok. Or you need to season it. 
You cannot detach the wok from the electric probe and you can cook food only up to the temperature of 350 degrees F.  
However, there are a number of electric woks, multiuse hot pots, and skillets high priced than this on the market yet do not offer many features. Here Presto 5900 Electric wok has done a great job within its price range. 
What are the steps to clean an Electric Wok?  
You may ask, 'are electric woks any good in terms of easy cleaning?' Well, electric woks are very good at cleaning with just one swap and far better than traditional woks.
An efficient electric wok will not trouble you with cleaning. The non stick surface that comes with the wok, eases the cleaning process a lot. 
In fact, a good electric wok brand mostly offers dishwasher friendly pan, hence the cleaning becomes neat and smooth if you are in a hurry. 
However, I don't recommend to wash any high-end cooking tool in the dishwasher. Anyways let's take a look on how you can clean an electric wok in just minutes. 
Cleaning when the wok is hot:  
It is best to clean an electric wok while it is still hot. This provides sterilization. The steps for this are:  
Switch off the device. Remove the plug. 
Take a damp cotton dishcloth.  
Slowly wipe the interiors of the wok without getting yourself burned. 
You can wear heat resistant gloves too, to do the cleaning. 
Look for and remove any food particles that are attached to the wok.  
Wipe again. 
That's it. Store it in a dry place.  
When cleaning in a Dishwasher:  
The best thing about a convenient electric wok is that it is dishwasher friendly. Certain things to keep in mind before washing it in the dishwasher are: 
Make sure that the parts of the wok do not touch with each other or any other objects when positioning them in the dishwasher rack.  
Condition the wok each time after cleaning it in the dishwasher. This helps to retain the non-stick nature of the wok.  
The aluminum parts may darken when washed in the dishwasher. That is normal.  
When washing it in a sink:
This step can only be achieved if the wok is detachable. 
Use a non-metallic, non-abrasive cleaner especially for non stick woks. 
Wash the electric wok in soapy water.  
Properly rinse the wok and dry it after cleaning.  
When stain appears on the nonstick coating: 
Take some water and baking soda. Mix it together to form a thick paste.  
Sprinkle the mixture on the areas that has stained.  
Let the mixture get soaked in the stained areas.  
Take a light no-abrasive scrub or a gentle cloth. Scrub the stained areas.  
Repeat until the shine and luster is back.  
What are the things to keep in mind when washing the electric wok?  
Here are some useful electric wok tips to follow when you wash the wok. This would help in increasing the longevity of it.  
Once you are done with the cooking, put the temperature to 'Off'. 
Unplug the electric wok immediately.  
Take the quick-release base and detach it. for that, 
Turn the wok upside down.  
Take the release knob and move it counter clock wise. 
The nonstick surface of the wok may lead to discoloration after using consistently.  
The wok performance does not get hampered with minor stains.  
Clean the wok in soapy water before the first use.  
Remove the heat control after you are done cooking. Clean the wok with a slightly damp cloth.  
Let the wok cool by itself.  
Refrain from pouring cold water in a hot wok or putting a hot wok in cold water. This will cause the wok to warp.  
 Clean the wok after every use.   
Do not wash the wok using any abrasive cleaners. This might take the non-stick coating off.  
Do not wash the temperature control in a dish washer. Wash it in a sink.   
What are the tips to store an Electric Wok?  
Electric woks are good at easy storing too. They will not trouble you like traditional woks which are prone to rust.
Refrain from overheating the wok. This is since this may cause the wok to discolor.  
Remove the temperature controller once you are done cooking.  
Let the electric wok cool before you store it.  
Store the wok in a dry place.  
What are some tips and tricks to use Electric Wok?  
For people who know how to use the electric wok properly, using it could be a blessing. But not knowing how to use the electric wok can also make a person face some not-so-desirable outcome while cooking.  
Hence, when you don't know the proper usage, you might answer 'no' to this question – 'Are electric woks any good?' 
To ease it for you, here are some of the tips and tricks that will make your electric wok last long: 
Minimize the splatter when using the wok for making soup, braising, or frying in the electric wok.  
It is better to clean the wok with a wet cloth when it is still hot.  
Keep all the ingredients ready and handy while cooking. This would help to evenly stir thereby preventing the food from burning.  
In order to prevent the surface from scratches, use a wooden utensil.  
It is better to use oils that can withstand high temperatures.  
Continuously stir the food to prevent it from burning.  
 
Wrapping Up: 
And, there I have given you all the useful information you might need to make your buying decision more accurate. So, if you are asking, 'are electric woks any good?' Of course, they are. But there are so many factors that goes into to decide if an electric wok is the right cooking tool for you. For that this article will help you in every fold. 
I hope you get the perfect cooking experience with an electric wok. I have two more related articles on electric woks. You might find them helpful.