I always wanted to own Helen Chen carbon steel wok, because my favorite Chef Lee has it too. Even my brother bought it last year and tried several Asian dishes from the recipe book that the wok comes with. Finally, I took the plunge and bought the wok a few months back. This is wok has an authentic traditional built.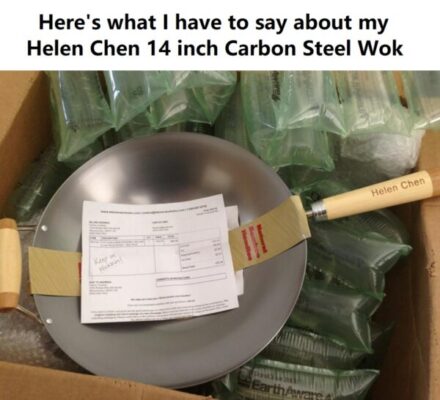 Helen Chen is a very popular name in the Asian cooking industry. Her cooking tools are geared towards helping beginner cooks in mastering Asian recipes. Many expert chefs use this wok in their youtube videos.
Helen Chen 14 inch Carbon Steel Wok Review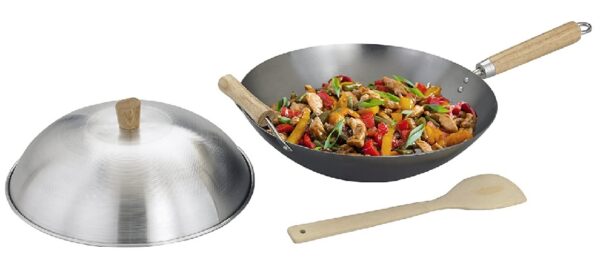 Well-constructed wok, life-time warranty:
Helen Chen's Carbon Steel Wok is perfectly constructed for the Asian cooking standards. The 1.6 mm thick carbon steel is sturdy, withstand heat fluctuation, and does not warp on high heat.
The flat base of 14-inch carbon steel makes it super-convenient for its use on the gas stove and electric stove ranges. The heat resistant wooden handle and a loop on the other side make it convenient to use while cooking. 
The dome lid is a great addition for sure. The recipe book helps too. But I am not a fan of the wooden spatula that it comes with. It is not durable. However, the lifetime warranty against any manufacturing defects makes the wok more appealing.
Seasoning the wok:
This is after few times of seasoning. Look how the beautiful patina is forming. This patina makes the wok incredibly nonstick. When the food glides in the bottom and gets stirred very smoothly, it looks very satisfying.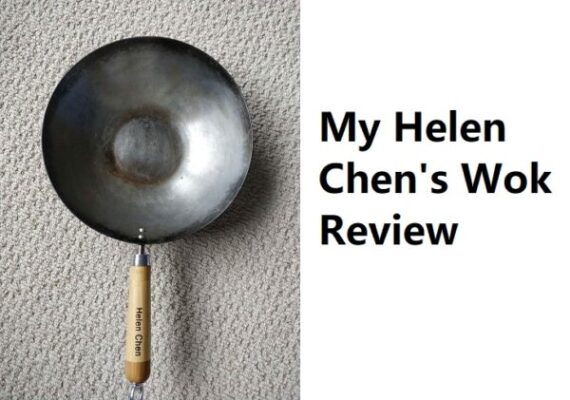 If you haven't used a carbon steel made wok before or a fan of nonstick woks, seasoning may feel bothersome to you. Yes, this wok needs seasoning. I have seasoned the wok before using it. But trust me, once you get the hang of it, the woks get better at cooking, and bringing that wok-hei or smoky flavor in your stir-fries becomes effortless.
The patina in the bottom also helps in even heat distribution. My improvement after seasoning and using the wok multiple times. I am loving this.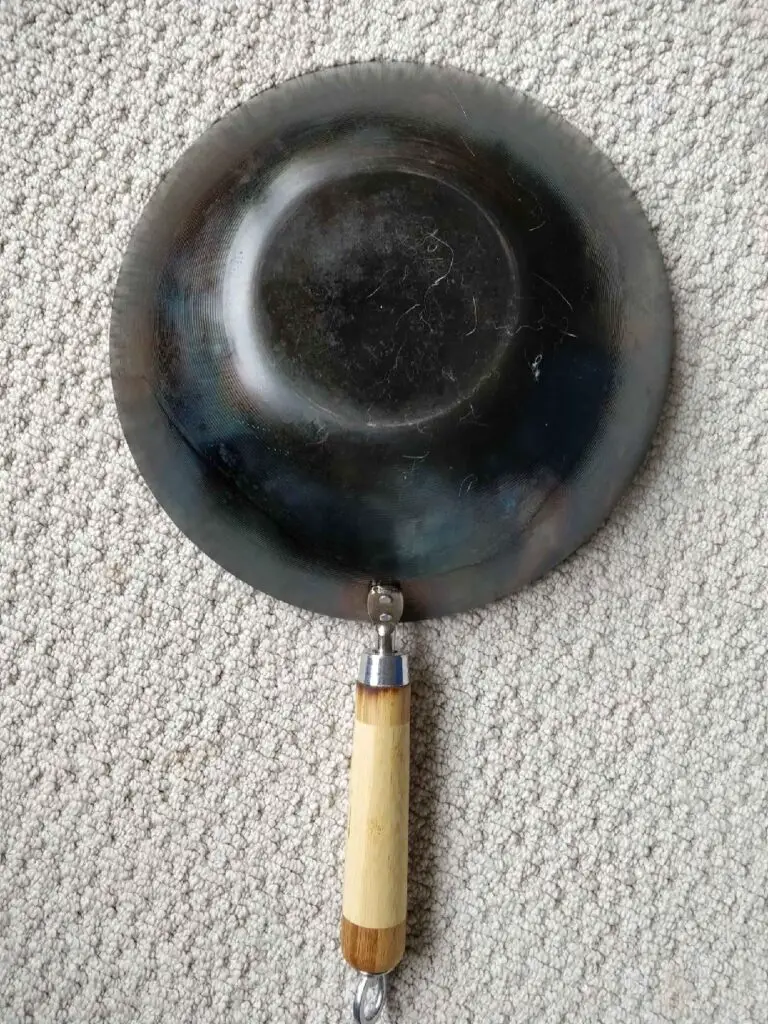 Much better heat-conductivity:
Unlike, stainless steel or many nonstick woks that claim to be low in maintenance, I prefer this thick heavy gauge carbon steel wok because even at fluctuating temperature, it heats up quickly and evenly. And after the formation of the patina, my meals turn out to be healthier and tastier.
Lightweight & process friendly:
The carbon steel is not overwhelmingly thick, hence while doing all the tossing and turning during the stir-frying process, my hands don't get tired.
Very Versatile Wok:
Initially, it was confusing about what to do with it. As, it was my first time using a wok. Many questions arose in my mind, such as:
Should I use it to stir fry only?
Can I use it for deep-frying?
Or maybe I could try making some soup?
I started making stir-fries. Most importantly, with the dome-shaped lid, this wok becomes apt for any type of cooking. I have boiled, deep-fried, made stews, poached, roasted, and did several things. In all of the cooking techniques, it served me well.
Why Helen Chen's Carbon Steel Wok is so popular?
Every cooking savvy might be aware of Helen Chen, the Asian culinary expert. If you don't know her, just remember she brought revolution in cooking utensils over the years. She learned cooking from her mother and established a new line of Asian culinary tools production. The tools mainly have-
The perfect size,
modified wooden handles,
and non-stick cooking surface
Cons of Helen Chen's wok:
Efforts on seasoning:
The initial seasoning process might take some time and effort, but your further experience will indeed be polished with good scrubbing and seasoning. You will eventually learn how to cook Asian foods and to care your cooking tool like a true chef.
Final Verdict:
Helen Chen wok has an ideal 14-inch dimension, flat bottom to support any gas hob, lightweight yet durable body, and an easy to grip wooden handle. If you compare it with some of the popular carbon steel wok versions available in the market, Helen Chen is affordable. While buying the first wok, you always have several doubts in your mind and hence if the wok comes cheap, it keeps you at ease. However, this wok is going to be an asset if you treat it well. Many buyers just buy this wok and don't take care of it. The result is a rusted wok. If you treat this 14 inch Helen Chen wok well, season it from time to time, over the years it will become a valuable and unreplaceable kit to make delicious Asian meals.