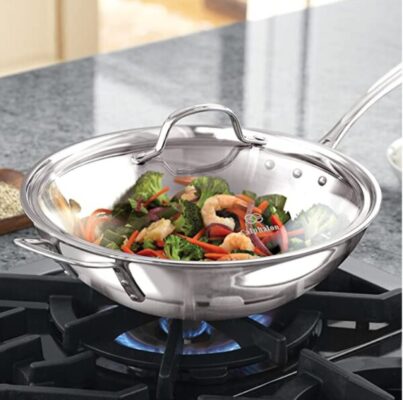 Are you still stuck with a cast-iron wok and doubt the stainless steel wok? In the epoch of electric stoves and inductions, stainless steel woks are getting immensely popular alongside carbon steel & cast-iron woks. Let's dig deeper if stainless steel woks are any good?
There are various types of stainless woks available in the market. Among them, the 3-ply and 5-ply stainless steel woks with multi-element alloy aluminum core are worthy investments. Aluminum core stainless steel woks can heat evenly and distribute heat equally than pure stainless steel made woks. Most popular brands offer such quality woks with lifetime warranties too.
Also, the stainless steel woks constructed with 304 series food-grade steel are highly corrosion-resistant, stain-proof, super polished, and dishwasher safe. Moreover, these stainless steel woks are naturally nonstick, sturdy, and don't need seasoning like cast iron or carbon steel. Surely, they don't look like traditional woks, but that doesn't imply inefficiency. Stainless steel woks are very productive cooking tools if used in the right way.
What to Look For in a Good Stainless Steel Wok?
There is a funny line that I say to anyone who has doubts regarding stainless steel made woks. I tell them, if you are a lazy cook then you are going to adore your stainless steel wok. Carbon steel and cast iron woks need more attention than an infant. So choose a wok according to your nature 😅 Let's give you a detailed account on how to choose a good stainless steel wok.
✅ Durability:
If you are buying a stainless steel wok from a reputed brand, durability will not be an issue. Brands like Cooks standard, Calphalon, Kitchenaid offer great quality woks. The stainless steel woks which have high polished body mainly belong to the 304 series of food-grade stainless steel. They are often denoted as 18/10 stainless steel, which means they consist of 18% chromium and 10% nickel. Both chromium and nickel increase the rust-resistant efficiency in the wok and make it shiny. This cooks standard 12 inch flat bottom wok is built with 18/10 steel and aluminum core.
Another feature that denotes durability in a stainless steel wok is the number of steel plies. If a wok brand is offering you a 3-ply or 5-ply constructed stainless steel body that means you are getting the sturdiest product on the market. This type of stainless steel wok is a worthy investment. The main issue with cheap stainless steel woks or one-ply woks is the warping. On high heat, a thin stainless steel pan will bend easily. And that is why I always recommend good quality stainless steel wok to avail all the benefits related to it.
✅Even heating and Stir-Frying efficiency:
The most discussed reason to not have a stainless steel wok is its delayed heating. Compared to cast iron and carbon steel, stainless steel has a lower heat distribution efficiency. This may result in uneven cooking. Fortunately, with popular brands of stainless steel woks, you get that issue resolved. All those woks come with a sandwiched base. A multi-element alloy aluminum core is sandwiched between two stainless steel layers. As aluminum is far better at heat conductivity, you get a worthy stainless steel pan to cook even stir-fries.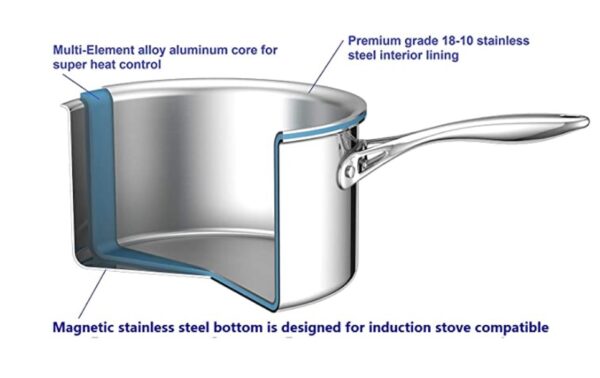 The magnetic stainless steel bottom makes the wok induction-safe, the middle aluminum layer gives it speedy heat conductivity, and the upper stainless steel layer keeps the inside stain-proof and non-reactive to food. Clearly, a sandwiched core is a must-have in a good stainless steel wok.
✅Easy maintenance:
The multiply stainless steel woks are super shiny due to the presence of chromium and nickel. For the same reason, these woks are better stain-resistant than carbon steel or cast iron wok. Always buy a wok of the 304 stainless steel series as they are usually dishwasher-safe. Stainless steel woks do not require any special treatment or seasoning. So with stainless steel wok no need to stress about the peeling of harmful coatings. It just requires a simple cleaning procedure and no extra effort.  
✅Safe and healthy wok:
One of the best features about stainless steel woks is that they do not react with any acidic food molecule that might induce unhealthy substances or weird taste changes hence proven safer than others. Still, ensure buying a stainless steel wok from a reputed brand to get the best quality steel.
Top 2 Reasonable Stainless Steel Woks For Budget-shoppers:
Cost is a big factor associated with stainless steel woks. A good quality stainless steel wok doesn't come cheap. It is always above $50. I don't recommend my readers to buy a stainless steel wok if it is under $50 as it raises red flags. However, there are some brands too that are overpriced.
These two stainless steel woks on the other hand have all the essential features and hence the top choices if you want a reasonable wok.
1. Cooks Standard Stainless Steel Wok, 13″
This flat bottom 13 inch stainless steel wok from Cooks has enough space to cook for 3-4 people. It also has a 12-inch variant. It is a beautifully designed multilayer stainless steel clad cookware. Clad signifies the presence of a multi-element alloy aluminum core. It is comprised of premium quality steel (304 series), that is the 18/10, which is healthy and non-reactive.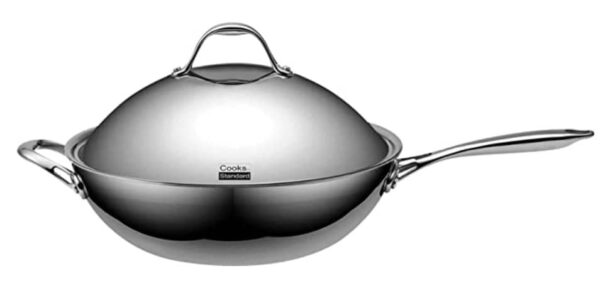 The stay-cool handles are riveted very well. This is a quality brand so the welded handles will not come off even after years of rough usage. The dome lid is perfect for using the wok in multiple cooking techniques, like boiling, making stew, roasting, poaching, steaming and obviously stir-frying. The exterior part is scratch-resistant, which gives you complete freedom to use it your way. This rust-proof construction is very well priced and the most popular model of Cooks Standard.
Pros:
Even heat distribution
Stay-cool handles; protect from hand burns. 
Stainless lid with even heat & moisture trapping. 
Scratch resistance.
It can be used conveniently on a gas stove, electric stove, ceramic glass stove, and induction. 
Cons:
As stainless steel is not completely nonstick, it can hold some stains which can be easily removed by washing with hot water and vinegar/citric acid/lemon. 
2. Willow and Everette Wok Pan with Lid – 13″
Willow & Everett 13 inch Stir Fry Wok Pan has everything that you need in a stainless steel wok. From the nonstick surface, lightweight body, induction-safe, well-riveted handles, proper depth to a tightly fitted lid it has everything. Moreover, it comes with a stainless steel spatula. But the best part is its affordability.
Because of the flat bottom you can use it on any stovetop and is ideal for stir-frying, steaming, deep-frying, boiling, searing, and more. Pure stainless steel made woks are not great at conducting and evenly distributing heat, that's why this model has a 3-ply design. An aluminum core is sandwiched between two layers of stainless steel which offers super-fast and even heating, along with the wide and deep nonstick cooking surface
Pros:
It is oven and dishwasher safe. 
Scratch-resistant 
A dome-shaped lid and spatula included 
Easy to clean and maintain