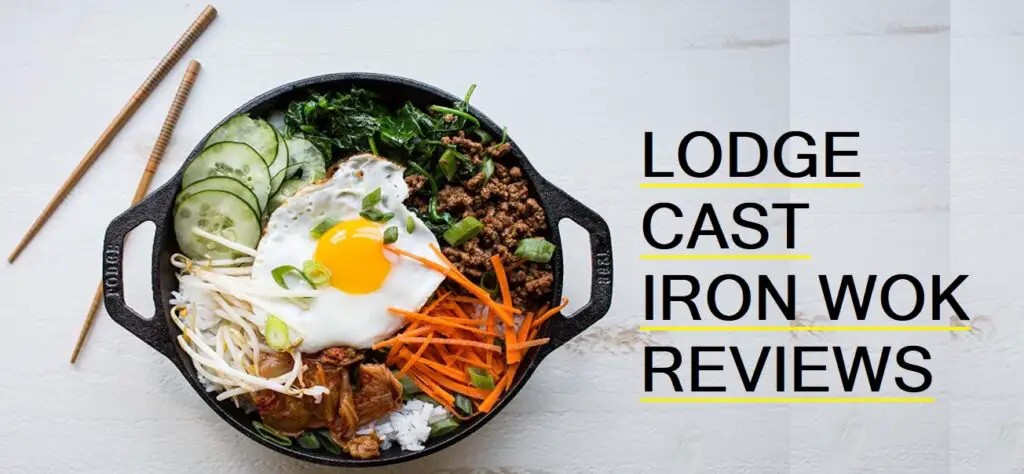 Cast iron woks are preferred by chefs all over the Globe specifically for stir fry as cast iron has better heat conduction, distribution, and retention ability than most materials. For these reasons, a stir fry cooked in a cast iron wok always has that classy "wok-hei" flavor, that other woks are often unable to bring.
Lodge is a very popular brand that offers cast iron woks in every size. The heavy-bottom lodge cast iron woks are great at retaining heat which makes the stir fry crispy and flavorful. However, being a chef I have experienced a handful of downfalls too. I have reviewed each of the variants of lodge woks below. I think before buying a lodge cast iron wok, you must go through them once so that you can make a sound decision.
Table of Content:
Why to always choose a Cast Iron Wok?
Cast iron woks are one of the most popular and versatile tools used in the kitchen. Whether you want to whip up a stir-fry for a school night dinner or deep-fry chicken wings on a Sunday, a cast iron wok is a trustworthy companion for your culinary adventures. 
I prefer using these woks as they offer several advantages over other types of cookware. They are unbreakable due to the presence of iron and steel. They retain heat very well, allowing me to sear steaks or smoke a piece of salmon quickly. 
Cooking in a cast iron wok fortifies my food with iron. Cleaning the wok post-cooking is also a breeze if you know the proper techniques. Moreover, these woks are incredibly affordable, which makes them suitable for all budgets. 
Lodge Cast Iron Wok Review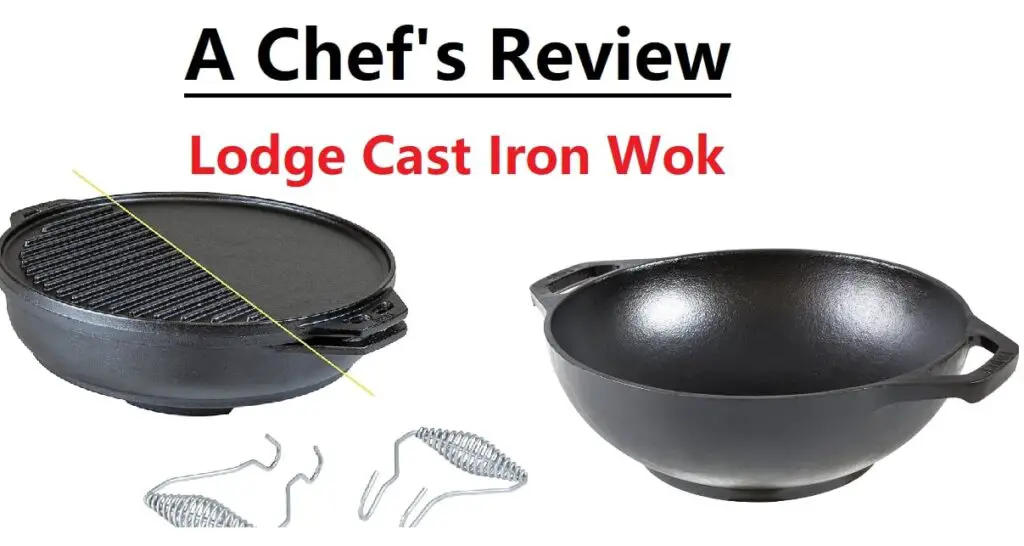 Lodge manufactures more than 140 types of cast iron cookware, including skillets, woks, griddles, mini-servers, and Dutch ovens. Each piece takes approximately 2.5 hours to mold and season. Since 2005, it has also started manufacturing colorful porcelain-enameled cast iron cookware. 
As on date, Lodge is the sole manufacturer in the US that produces the entire line of 'heirloom-quality' cast iron cookware. In 2019, the company raked in an estimated revenue of USD 29.1 million. It also has 3000 dealers in the US and distributors operating in 80 countries. 
9 Inch Cast Iron Mini Wok Review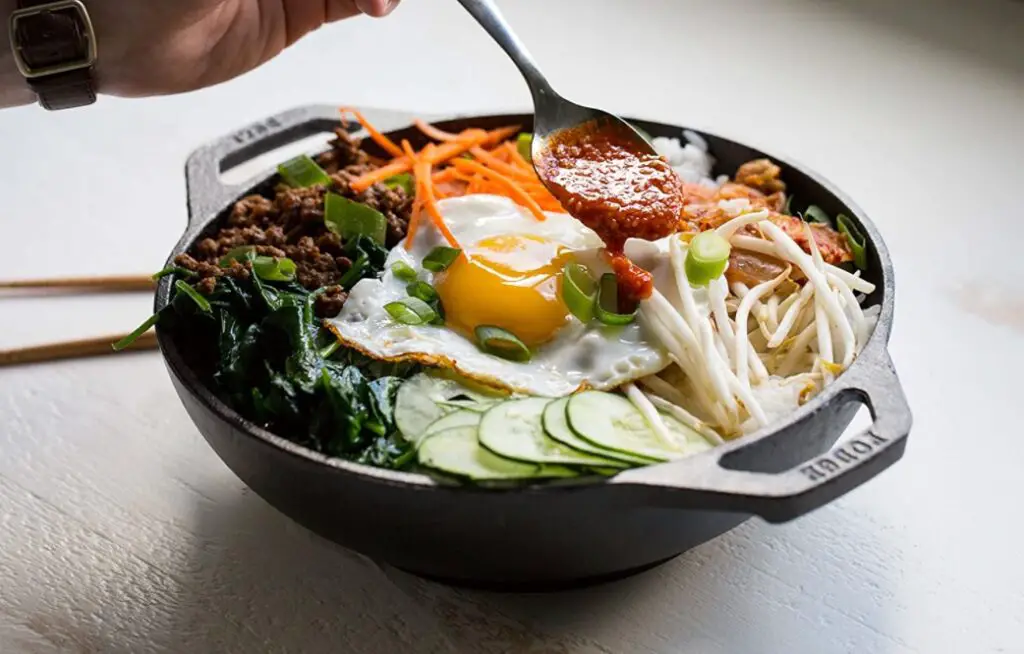 | | |
| --- | --- |
| Height | 2 15/16 Inches |
| Diameter | 9 Inches |
| Bottom Diameter | 5 5/16 Inches |
| Capacity | 70 oz. |
| Handle | Loop handles |
| Induction Compatible | Yes |
| Manufactured in | America |
| Oven-proof | Yes |
| Seasoning | Pre-seasoned |
I would say this wok is strictly for one person. Because I have tried to make stir fry with this 9 inch lodge cast iron mini wok for two-person, the result turned out to be a soggy meal. That means when you are cooking for two you are crowding the wok, hence the stir fry becomes unevenly cooked.
If you are looking for a single person wok, this is the apt size. Here are some very useful features –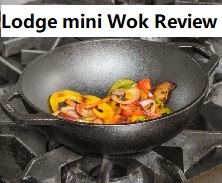 Compatible wok for all gas hob:
It is flat at the bottom and stays put on the stove when you cook because of the heavy bottom. From a gas stovetop to ceramic or induction hob, this 9-inch mini lodge wok is compatible with everything.
Thoughtful Construction:
Thanks to the loop handles, you can hold and carry it comfortably. It retains heat exceptionally well. It is well-seasoned with vegetable oil that creates a non-stick surface for beginners who don't know how to season. After a couple of seasonings, this cast iron wok becomes an asset. You will never want to replace it because of the flavors it will bring.
It gives you the right temperature to get a lovely caramelization on the meat and vegetables. It is also not that heavy. 
Other Useful Features:
The small 9-inch last iron wok might seem pretty small, but such a size comes with great functionalities. So, if you are on the market for the hunt for the smallest and most compact wok, this is just the right one for you.
The cast iron body works as a great heat retainer, whereas the small size makes sure that you don't miss out on your exotic cuisines. Instead of using factory oil, Lodge uses soy-based vegetable oil for seasoning.
And that is one of the reasons you can use them right away. In fact, with cast iron, the seasoning goes on improving, the more you use the wok.
Pros: 
The perfect value wok for your money
one person wok
Great heat distribution
Easy to use
No questions asked for durability
Cons: 
My only gripe is that it does not come with a lid.   
14 inch Lodge Cast Iron Wok Review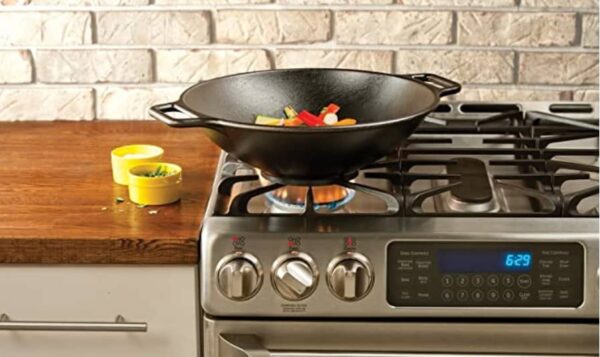 | | |
| --- | --- |
| Style | Cantonese Handles |
| Diameter | 14 Inches |
| Handle Length | 1 3/4 Inches |
| Top Diameter | 14 Inches |
| Induction-friendly | Yes |
| Seasoning | Pre-seasoned |
| Height | 4 1/4 Inches |
Features:
This is the perfect size wok to cook for 2-4 people at once. If your family needs an infusion of iron daily in their meal, I readily recommend this 14 inch cast iron wok from Lodge.
Heavy Duty Construction:
Like the other Lodge models, this 14 inch wok is made from heavy-duty cast iron. The Cantonese-style loop handles are very sturdy as they are not riveted. With heavy woks and their riveted handles after prolonged usage, they tend to get loose. The handles can also withstand high temperatures inside the oven. 
Pre-seasoned:
Neither less to say, it is already pre-seasoned, which gives it an edge over other cast-iron woks. The seasoning is of vegetable oil, so it is safe to cook with.
Flat bottom suitable for all hobs:
The flat bottom design makes sure that it fits on the majority of the stoves. And cast iron already has a great heat dissipation and retention capability, making it easier to work with. Further including, the overall design just speaks about elegance and heavy-duty performance.
Apt for bringing wok-hei flavor:
The fat and heavy bottom of the wok can hold off the heat for a longer duration of time hence make the stir fry evenly cooked. This 14 inch wok has higher sidewalls that provide a generous cooking surface for two to four people. You can even use to wok to boil stock or prepare soups or broths.
The wok retains and distributes heat extremely well. You can get the perfect crunch in your vegetables by simply tossing them around. You can also use this wok for deep frying with a minimal amount of oil. 
Given the size, this wok is slightly heavier than the rest. Therefore, it can be a challenge to move this around. Also, I'm not too fond of the fact that it doesn't come with a lid.  
Pros: 
Great durability
Better heat distribution
Easier to clean and manage
Completely versatile
Cons: 
Should only be washed by hand and heavier in size.
Lodge 6.25 Inch Cast Iron Mini Wok Review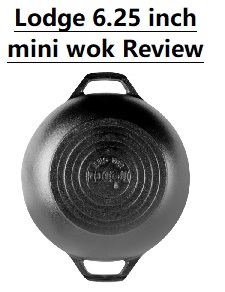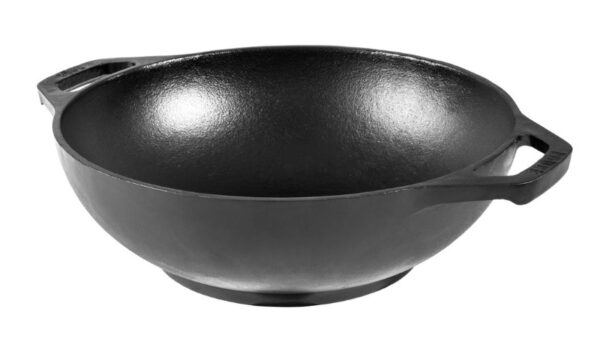 | | |
| --- | --- |
| Height | 2 Inches |
| Bottom Diameter | 3 3/4 Inches |
| Top Diameter | 6 1/4 Inches |
| Capacity | 24 oz. |
| Handle | Loop handles |
| Induction | Compatible |
| Manufactured in | America |
| Oven | Friendly |
| Seasoning | Pre-seasoned |
Features:
This is the smallest wok available from Lodge pro-logic. You can hardly serve a single person from this wok. (Must read the final verdict before buying)
You can use this wok for searing and sautéing, especially when you are preparing Asian cuisine. The wok has a flat base that distributes heat evenly and does not scorch your food. 
The sloped design offers an excellent cooking surface. I absolutely love the loop style handles that are perfect for tossing stir-fries or fried rice during the cook. You can also place this wok directly in the oven or over an induction cooktop. 
It is pre-seasoned and ready to use. The size of the wok makes it a compact tool to have in the kitchen.
Pros:
Compact design
heat concentration will be great because of the small size
You can use it on any gas stove
Carrying and storing is easy
Ideal for a single person
Con: Stir fry will not turn out great (read the final verdict). You will not get any lid perfect for this size to experience the versatility of wok cooking.
Final Verdict:
The size of the wok is very small. Although it is best for single serving, but not great for cooking stir fry properly. Heat concentration will be great, no doubt. However, there is a catch.
Detailed Explanation:
To stir fry the vegetables properly and bring the authentic smoky flavor you both need space and even heating.
At home, we usually don't have a high BTU gas burner. Most of us use induction, electric, or gas cooktops which do not produce high heating.
On low heat and in a small space, the vegetables will get crowded.
The vegetables will not fry properly. And then to cook the vegetables evenly, you will need to put a considerable amount of oil.
Even though the wok is giving you great heat concentration this Lodge 6.25 inch cast iron mini wok is not apt for making tasty and healthy stir fry.
Hence you need to buy a larger sized wok (read the Lodge 9 inch mini cast iron wok review) , where the ingredients will get enough space to get even heating.
For a single person too, I will recommend having the 9-inch diameter at least. This is the best size to cook tasty stir fry. However, I have no issue with the quality of the wok. Also, the pricing is very affordable.
14-inch Cook-It-All Kit Lodge Cast Iron Wok Review 
Features:
The last one on my Lodge cast iron wok review list is the five-piece cook-it-all kit. It is a multifunctional tool for outdoors, which includes a 14-inch cast-iron grill and a 6. 8- quart cast iron wok. True to its name, it can help you cook a variety of items at a campsite.  
The kit also comes with two heavy-duty and stay-cool handles that make it easy to maneuver the grill and wok. Both the grill and wok work over a wood fire or with charcoal.
The wok can also double up as a domed lid for baking or as a Dutch oven for slow cooking. 
Final Verdict:
I find the Cook-it-All kit to be slightly heavy for outdoor use. You also need to ensure a constant supply of charcoal to get your cooking done. Since the handles come separately, there is also a possibility of misplacing them easily. 
About Lodge 
Before I begin with the Lodge cast iron wok reviews, let me tell you a little bit about the brand. Lodge is one of the oldest cookware manufacturers in the US. It was earlier known as Blacklock Foundry until a fire in 1910 wrecked it.  
The company is now called Lodge Cast Iron, after its founder Joseph Lodge. Since the past 123 years, Lodge has become synonymous with cast iron cookware. In 2002, it became the first cookware manufacturer in the industry to sell seasoned cast iron cookware.  
As each lodge wok is pre-seasoned, you can take it out of the box and start cooking right away. These cookwares are also famous for their excellent heat retention properties. Just make sure to set the flame below medium to prevent the food from sticking. 
Both amateur home cooks and experienced chefs find it very easy to work with Lodge cast iron products. Regular seasoning after each use helps the cookware to retain the classic black patina look. If you clean it the right way, it will last you for generations.  
Even the cooking enthusiasts in the UK prefer Lodge cast iron cookware due to its durability and heat retention properties. The full range of Lodge cast iron cookware is retailed by all the leading homeware stores in the UK, both online and in-store. It is a top contender since the performance and price are on par with well-known European brands. 
Bottom Line
High-quality cookware at an affordable price tag makes Lodge cast iron cookware a universal crowd-pleaser. If used properly, these will last you a lifetime and enhance the taste of your food. Therefore, based on my Lodge cast iron wok review, it is clear that these woks are worth investing in. 
If these review imparts any benefits to you, do comment below your thoughts. I would love to hear them.