A wok is frequently used to prepare a variety of meals. A wok is a piece of must-have kitchen equipment for anything from frying veggies to stirring dishes. Woks come in various styles, with either a single long handle on one end or two short handles on both ends. When looking for a wok, there are multiple styles to select from, making it tough to choose the appropriate one for you. Mandarin, Cantonese, POW woks, and a few more are the various choices available. Having only one long handle is standard on Mandarin woks. This long handle is constructed of steel and may be customized with or without a wooden or bamboo inlay. Cantonese and POW woks feature a shorter steel handle, while Mandarin woks do not. 
What is A Mandarin Wok?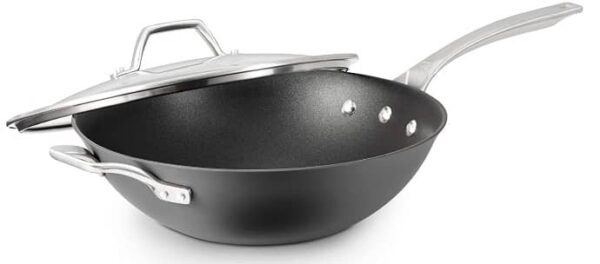 One side of a Mandarin wok has a long handle. A Mandarin wok's attached handle is steel, and a wooden grip is put into the steel. The grip is sometimes constructed of strong, environmentally friendly bamboo. The grip of a Mandarin wok, on the other hand, can be provided without insertion. A Mandarin wok has a much deeper spherical bottom than a Cantonese wok. The diameter of a regular Mandarin wok is 14 inches. The diameter of a Mandarin wok can vary depending on the manufacturer.
Material and Construction Quality
Mandarin woks can comprise stainless steel, steel alloy, aluminum, or nonstick materials. Steel, bamboo, or wood makes the grip of the Mandarin wok. As a result, you must use just one hand to operate a Mandarin wok. Mandarin woks are of excellent quality, as they are composed of long-lasting materials. As a consequence, you'll be able to keep these Woks in your kitchen for longer.
Dimensions and Form
A standard Mandarin wok has a 14-inch diameter and a median height of 3-5 inches. A 14-inch-diameter wok is considered a standard size for preparing a nice dinner. Mandarin woks have a spherical bottom; nevertheless, flat bottom woks are becoming more popular by the day. Mandarin woks are taller and broader than most other woks.
Food Storage Capacity
Because a Mandarin wok has a larger capacity, cooking extra food for more people is simpler. Because Mandarin woks have a spherical form, they are ideal for stir-frying and frying. People can use these woks to prepare a variety of dishes.
Maintenance and Long-Term Sustainability
The material utilized in the building of woks determines its long-term viability. Woks made of aluminum, stainless steel, or cast iron are more environmentally friendly. On the other hand, Nonstick woks are more challenging to maintain due to their sensitive surface. Because of its single grip handle, a Mandarin wok may need more effort to manage.
Best Mandarin Woks For You
Take a look at some real-life examples. The following are some of the most popular Mandarin woks on the internet. After reading this section, you'll be able to determine which wok is best for your fabulous kitchen simply.
ZhenSanHuan Mandarin Wok
The ZhenSanHuan Mandarin Wok not only provides excellence but also provides heritage quality. This wok has gone through 12 stages and been hand-hammered 36,000 times, resulting in a mirror-like finish. All of the hammer prints are visible, although you can hardly feel them. The wok's mirror surface allows items to flow easily within. Because there is no coating or painting on this wok, it is entirely safe to use the nonstick coating will rarely peel away. Because the iron in this wok is reactive, it will produce an iron oxide coating to protect it. The more you use this mandarin wok, the more nonstick it becomes. It has a typical concave shape that is neither too deep nor too shallow. Its heat conductivity is excellent, and its form is ideal for stir-frying. You will have to season this wok well before use.
Pros:
Excellent quality
Gleams like a mirror
Makes cooking easy
No coating or painting
Extremely nonstick
Has the ideal form for stir-frying
Cons:
Seasoning is needed before usage
Town Food Service 16 Inch Steel Mandarin Style Wok
Meet the wok designed for fast movement, intense heat, and a good time. You'll create a stir in your kitchen thanks to high-quality Steel, a comfy handle, and an appropriately sized base for your home's burner. The wok's ultra-durable surface works with metal, wood, and silicone utensils and is appropriate for a wide range of dishes. This wok may be used for stewing, boiling, stir-frying, and boiling noodles and dumplings, among other things. Because this wok isn't pre-seasoned, you'll have to perform some prep work before using it. It has the ideal concave form and good heat conductivity, making it ideal for cooking nearly anything.
Pros:
Can withstand hot temperatures
Cold forged steel for enhanced strength
Utilitarian design
Constructed to last
Allows for speedier cooking
Cons:
The handle heats up in tandem with the body
Town Food Service 14 Inch Steel Mandarin Style Wok
The Town Food Service Wok is known for its quality and tradition. Thanks to high-quality Steel, a comfortable half-wooden handle, and a 14″ base for your home's cooktop, you'll cause an uproar in your kitchen. The wok's extremely durable surface is suitable for a broad range of foods, and you can use it with metal, wood, and other utensils. You can use this wok for various purposes, including simmering, boiling, frying, and cooking noodles. You'll have to do some seasoning work before utilizing this wok because it will not arrive pre-seasoned. It has the appropriate concave shape and excellent heat conductivity, making it great for almost any type of cooking.
Pros:
Can sustain high temperatures
Top-quality steel for more excellent durability
Ideal size for homes
Robust
Multipurpose design
Cons:
It is not dishwasher safe
Conclusion
Multiple factors need to be considered when purchasing the ideal Mandarin wok, and this article covers most of them. You may also use the best ones' links to your advantage and check out the finest ones. All of the items are excellent, deserving, and appropriate for various purposes. Now you've decided to choose one and use it in your kitchen to spice things up a bit.