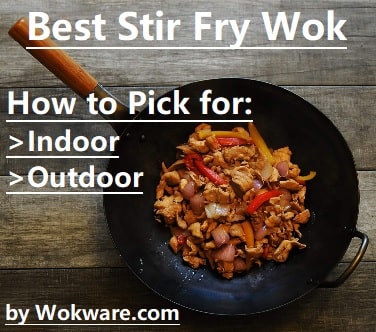 The first rule of choosing the most efficient stir-frying wok pan is to ensure it has the best heat distribution and retention body. As your stir fry will only have that classic wok-hei or smoky flavor from induced heat in the ingredients, your wok must work well on high heat. Then come lightweight construction, safety of the metal, proper depth, high slopes and good gripping handles.
For a beginner this may sound overwhelming, that's why I have listed some of the best stir frying woks for different heat sources.
Best Stir Fry Pan For Gas Stove
Best Stir Fry Pan For Electric Stove, Ceramic & Induction
Best Non-Stick Stir Fry Pan
Best Outdoor Propane Gas Wok
Best Stir Fry Wok For Grill
Best Stir Fry Wok For BBQ
Best Large Outdoor Wok
Best Electric Wok for stir fry
Best Wok for Stir Frying Indoor:
A wok suitable for indoor stir-fry has different features than a wok for outdoor stir-frying. Because you can use a high BTU burner outside, but to cook tasty stir-fry indoor, you need to rely on your gas range, electric, or induction cooktop.
While using a wok pan for cooking stir fry inside, the challenge is to make delicious stir fry even on low heat so choosing an apt wok pan for stir frying becomes crucial. Here are some of the best stir frying wok pans ideal for indoor cooking.
1. Best Stir Fry Pan For Gas Stove
If you are looking for the best pan to stir fry specifically for a gas range, then you must have a round bottom wok. As round bottom woks bring the most authentic stir-frying experience, I have picked the best round bottom wok pan to stir fry on your gas stove.
Joyce Chen J20-1140

14 inch Cast Iron Wok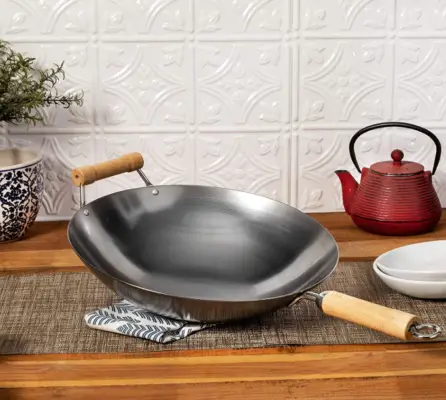 Material 
Cast iron
Handle Type 
Wooden loop handle on one side,
wooden spool handle on the other side.  
Coating 
Lacquer layer. Remove before use. 
Dimensions 
23* 14* 5.5 inches 
Additional Features 
Traditional in terms of looks.  
Comfortable to move and lift.  
Warranty
Cast iron is the most ideal material to make delicious stir fry. It is highly efficient in distributing heat, that's why I always recommend using cast iron for stir-frying.
Joyce Chen is a very popular brand that manufactures some of the best round-bottom woks. This Joyce Chen J20-1140 Wok is a traditional wok made of cast iron. The premium cast iron used in manufacturing this wok pan ensures durability, heat efficiency, and lightweight hence ideal for making Chinese stir fry indoor or outdoor on your gas range.  
Features:
✅ There are two different kinds of wooden handles on both sides of the wok. This makes it comfortable to move and lift the wok. Apart from that, there is a loop at the end of the spool handle. This solves the problem of hanging it.  
✅ There is a coating of lacquer. It needs to be removed before using it. The wok does not come seasoned. Hence, seasoning it before cooking is a must.  
✅The wok is well balanced and lightweight.
✅ The price of the wok is comparatively lower. However, cast iron wok comes with its own cleaning and maintaining baggage. I will highly recommend always hand-washing a cast iron wok. Although the wok is dishwasher safe.
2. Best Stir Fry Wok for Electric Stove, Ceramic Hob & Induction Range
Flat Bottom Cooks Standard 13-inch Wok with Dome Lid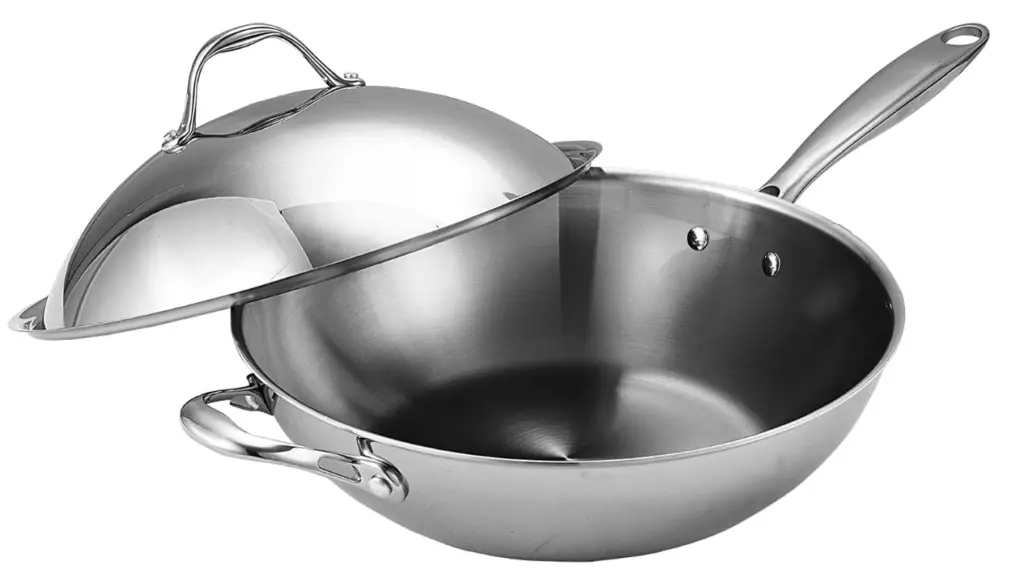 | | |
| --- | --- |
| Pros | Con |
| Tempered glass, high dome lid | Not see-through lid  |
| Scratch-resistant brushed stainless-steel bases | |
| Multi-ply  | |
| Induction Compatible | |
| Long, stay-cool handle | |
| Thermal shock resistant  | |
| Oven and dishwasher safe  | |
| No seasoning required  | |
Features:
It is the best flat bottom wok for stir-frying from Cooks Standard suitable for induction, ceramic hob, electric stove and also for gas range. Even though there is zero-touch of traditionalism, Cooks Standard 13-Inch Wok, still manages to top the chart because of its popularity and durability.  
A large number of home cooks own this stir fry pan for several reasons.
It has more extra cooking surface on the base than other woks, mastering the perfect balance between our preferred skillet and a wok. It is designed with sloped thin sidewalls that make it proficient for making evenly cooked stir fry on low heat.
It comes with a dome-shaped lid, dishwasher and oven safe body.
The main controversy with stainless steel wok is that it distributes heat unevenly, which the Cooks Standard has resolved by adding a multi-element alloy aluminum core in this wok. The main function of this core is to distribute the heat evenly and retain it well to make this wok apt for cooking stir fry. But the surface is stainless steel, which means you don't need to worry about aluminum leaching into your food.
The wok comes with solid stainless riveted handles suitable for tossing while stir-frying and ideal-depth for deep-frying. Cooks Standard has definitely raised the standard and hence the best indoor wok for stir fry.
3. Best Non Stick Stir Fry Pan
Working with a nonstick pan for stir-frying is potentially harmful as on high heat the coating may come off or release toxic fume. After multiple uses, you may scratch the surface of the stir fry pan thus making it riskier to use on high heat cooking.
Keeping all of these in mind, I have picked the best non stick stir-frying wok pan that is safe and healthier for regular use. It is sturdy, scratch-resistant, and most importantly engineered well to make a delicious stir fry.
Calphalon Contemporary Flat Bottom Nonstick  Stir Fry Wok (10 & 12 inch)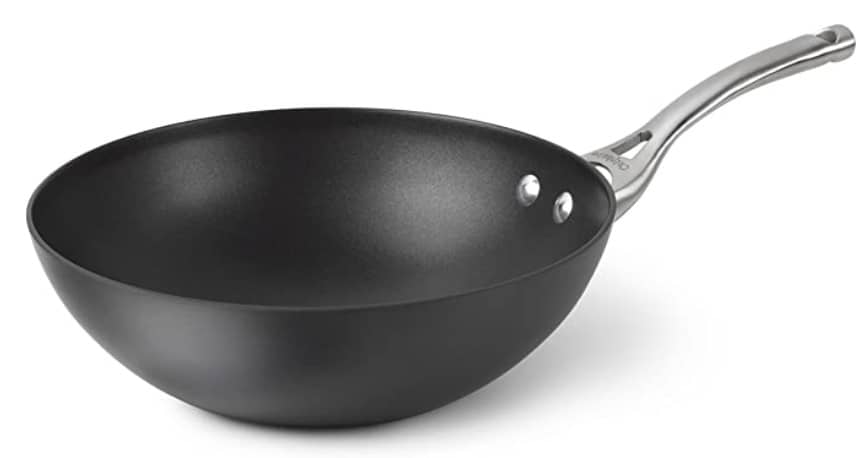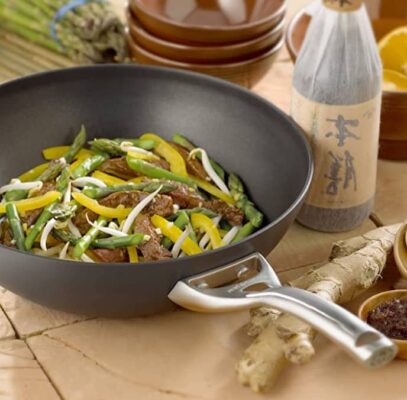 Features:
For those who love "non-stick" for their easy clean-up feature, Calphalon Contemporary Non-stick 10-Inch Stir-Fry Wok pan is a great blend of modern look and traditional Asian cooking tool. It comes with a 12-inch variant too.
Its heavy-gauge hard-anodized aluminum and three layers of the non-stick coating ensure durability and restrict the food from sticking and burning. Most importantly, hard-anodized aluminum is safe and a healthier option. It does not have any harmful toxicity to plague your food.
Even though this is compact in size than most of the traditional woks, (only 10 inches in diameter at the rim), it has a steeper slope at sides with a flat bottom to trap plenty of heat which is ideal for stir-frying.
With a dishwasher-safe body, you truly get the best non stick wok for stir-frying with no headache of maintenance or seasoning.
Pros  
Truly non-stick with 3 layers of non-stick coating 
Adapted modern look from a traditional wok 
Dishwasher Safe  
Even heating  
Cons  
Best Wok For Outdoor Stir Frying
An outdoor wok must be well-balanced, has sturdy, deep, and steep walls yet durable enough to endure high heat cooking to create finger-licking stir-fry.
But to identify such a great quality wok, you need years of experience in wok-cooking.
As the market offers so many options to pick from, it sure becomes more confusing to choose the best outdoor wok for stir fry. Here is my list of the most efficient wok pans for your outdoor stir-frying.
4. Best Outdoor Propane Gas Wok
I have two options for propane gas burners. Both of them are incredibly good in making great stir fry on high blistering heat with less oil.
1. Craft Wok Traditional Round Bottom Carbon Steel Pow Wok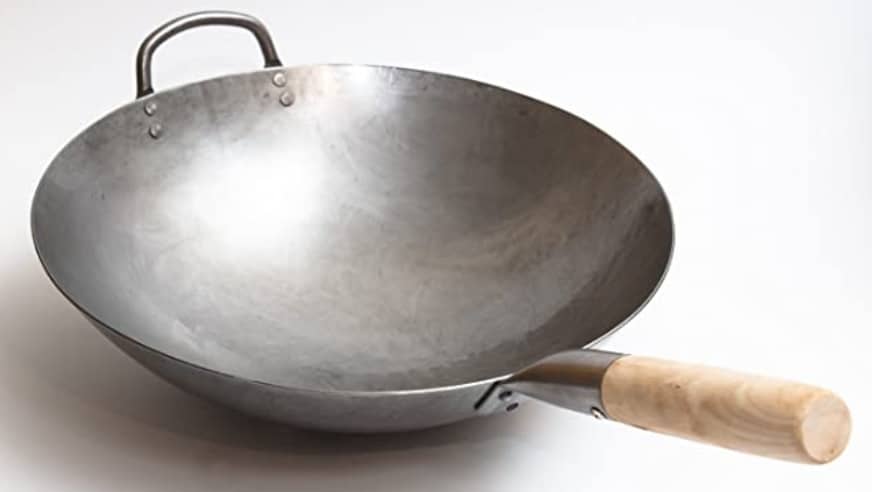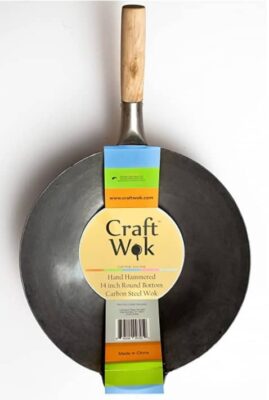 Features:
This particular wok is made out of 15-gauge, commercial-grade carbon steel. Completely hand-hammered, the wok literally cries out quality.
It is very sturdy and perfect for high heat cooking. The design has been inspired by traditional Chinese wok pan; hence you will get the authentic wok cooking experience. It is the best wok for outdoor gas stir fry, especially if you are looking out for a sustainable cooking tool or value for your investment. 
In fact, the company is generous enough to actually provide a manual for the easiest seasoning process. There is also dedicated customer support to make sure that you get the most out of your wok pan.
Coming from a Chinese origin, this particular hand-hammered pan has been one of the preferred options for Chinese chefs.
Coming to its design, the wooden stick, along with the helper handle, makes sure that you remain safe during the entire cooking process and keep on tossing the ingredients. The handle can also come handy by hanging the wok for storage.
Pros:  
Great heat distribution 
Completely handcrafted 
Made out of durable materials 
Scratch-resistant 
Cons:  
The carbon steel can get rusty, if not taken care of. 
 2. Yosukata Round Bottom Carbon Steel Wok Review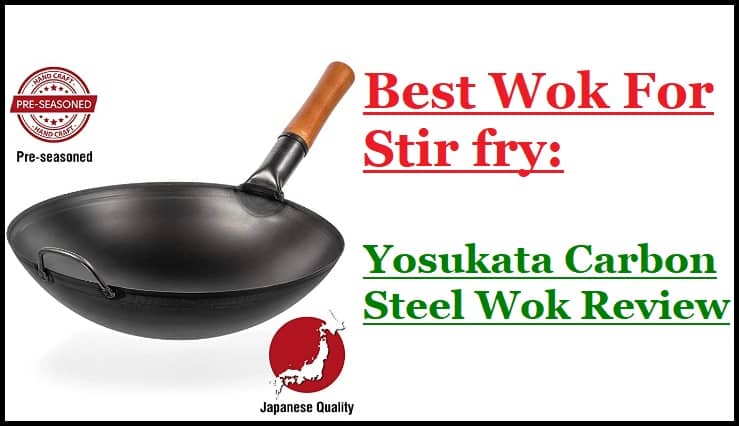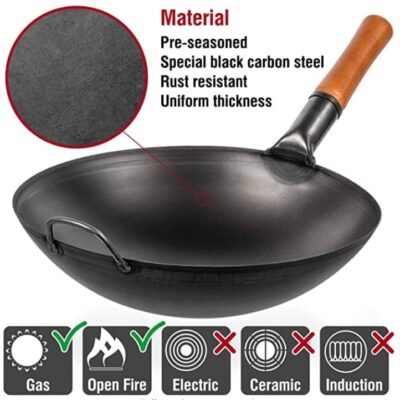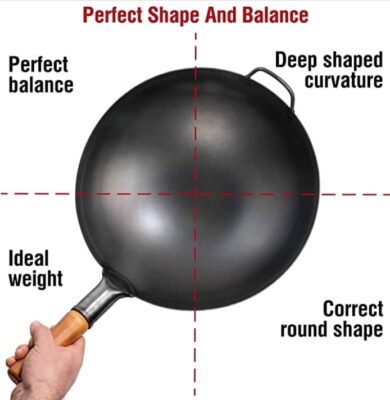 Feature:
Do you happen to have an outdoor burner lying around in your backyard? If that is the case, the Yosukata black steel wok is just the best outdoor gas wok for stir fry. This particular 14-inch wok has a unique design with a rounded bottom.
Another yet great advantage of having the Yosukata wok is that it comes pre-seasoned. That means, no more waiting and getting along with the tedious seasoning process. Overall, the wok pan is made out of heavy-duty black carbon steel, which speaks about elegance and durability.
It has an ergonomic design. The wooden handle ensures that you get a comfortable outdoor cooking experience.
Pros:  
Perfect for an outdoor cooking experience 
Great versality, can be used for day-to-day cooking regiment 
Great build quality 
Has an ergonomic design 
Cons: Proper care needed. 
5. Best Stir Fry Wok For Grill
Flat Bottom Hand Hammered Wok by Mammafong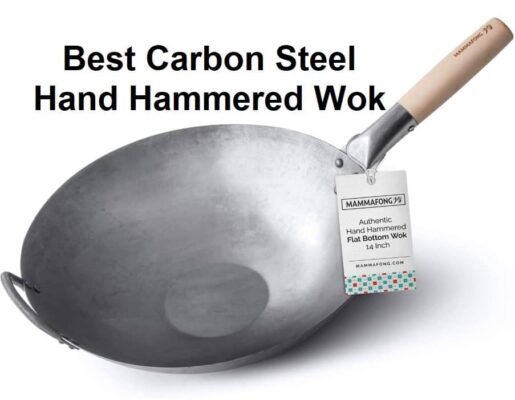 Features:
Grilling outdoor is fun. And to cook delicious stir-fries with friends/family while spending quality time is bound to get you excited.
That is why I have listed the best wok for stir fry by Mammafong. This is an exceptionally durable outdoor grill wok to get your party going. In case you are looking for an indoor completely hand hammered carbon steel wok, the flat base is perfect for your modern kitchen. 
It is completely handcrafted and is made out using the traditional hand hammering method. The 14-inch size makes sure that everyone gets to taste out your food. It also has a flat base design, which helps the wok to sit securely on any kind of stove-top.
Made out of premium carbon steel, it ensures great heat dissipation capabilities. The wooden handle makes sure that the heat doesn't conduct to your hands. Lastly, the overall ergonomic design makes sure that every time you stir fry, you get the same intense smoke for your peers to impress.  
Pros:  
A heavy-duty wok 
premium and safe material used
ergonomic design 
Very easy to use 
Cons:  
Without proper care, it is rust-prone. 
6. Best Stir Fry Wok For BBQ
Cast iron has the best heat distribution ability hence, a cast iron made wok is the most efficient companion with a BBQ to cook even stir fry. I have used the Lodge cast iron wok for my BBQ, several times and every time it brings out this incredibly juicy and smoky flavor in my stir fry.
Best Cast Iron Stir Fry BBQ Wok: Flat bottom Lodge Pro-Logic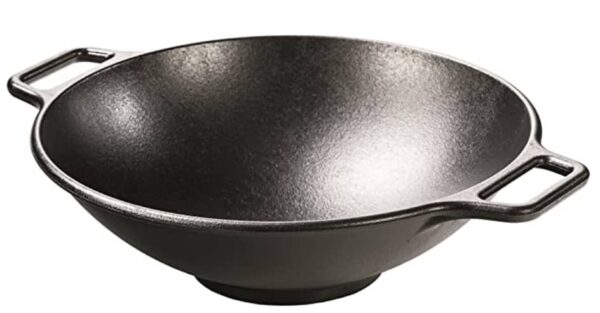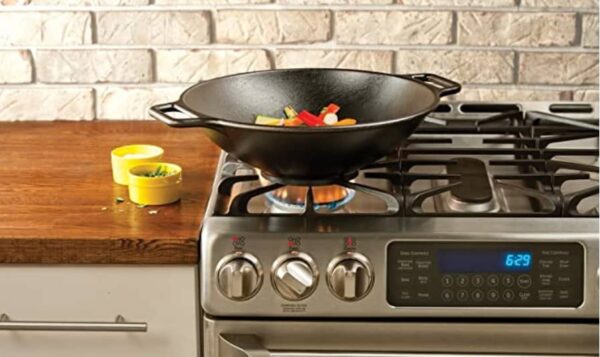 This wok has a one-piece construction design that elegantly comes with ready to use body. Neither less to say, it is already pre-seasoned, which already gives it an edge over other cast-iron woks. 
The pro-logic cast iron wok is 14-inch in diameter with two handle loops. It makes the wok completely versatile and far easier to use.
The flat bottom design makes sure that it fits on the majority of the stoves. Also, cast iron already has a great heat dissipation and retention capability, making it easier to work with. Further including, the overall design just speaks about elegance and heavy-duty performance.
It can also easily hold off the heat for a longer duration of time. The only problem is that it is heavier in size, and sometimes it can easily give you a hard time tossing the food. 
Pros:  
Great durability 
Better heat distribution 
Easier to clean and manage 
Completely versatile 
Cons:  
Should only be washed by hand. 
7. Large Outdoor Wok
Town Food Service 18 inch Steel Wok
| | |
| --- | --- |
| Material | Cold Forged Steel Body |
| Bottom | Flat Bottom |
| Size | 18 inches |
| Handle Type | Welded Cantonese Style Handle |
| Coating | None |
| Features | Hand Hammered Cantonese Style wok |
If your idea is not just to feed yourself but the entire family, including the guests you have called, this is the best wok to buy. The 18-inch diameter makes it the best large outdoor wok for stir fry.
Although good woks are never expensive, given its huge size, it is particularly wallet-friendly. The cold-forged steel added to the wok, adds to the extra strength that is required for easier handling of the wok.
The wok also comes with welded handles and manufactured in China. Even with such a great size, it does a great job distributing the heat because of the apt engineering.
Pros: 
One of the largest sizes out there in the market
Perfect value for money
Great durability
Cons: 
Needs to be seasoned before initial use
Rust-prone
 8. Best Electric Wok for stir fry
Presto Stainless-Steel Electric Wok 
Features:
This shiny electric wok, made of pure stainless steel from Presto, stands out and wins the race of best electric wok for stir fry for so many reasons. It has an aluminum-clad base that aids in faster and even heating. The wok incorporates a tempered-glass lid with a stainless-steel rim, a long handle, and a side loop handle.  
This is completely dishwasher safe and easy-to-use. However, I don't recommend anyone to wash a wok in a dishwasher. Also, an electric wok is an investment. Hand washing will be the right thing to enhance its life. It comes with an accessory – a long-handled wooden spatula. 
This 14-inch electrical wonder can stand temperatures as high as 400-degrees. You can even monitor cooking activity through the glass lid. However, for a few the 30-inch cord maybe a little too short and therefore inconvenient. 
An extension cord can solve this issue. This stylish, powerful, and elegant electric stir fry wok has garnered over 70% five-star ratings on Amazon and has won many hearts.
Pros 
Easy to clean 
High-temperature degree 
Dishwasher safe 
Includes lid and spatula 
No seasoning required 
Cons  
Short cord extension 
Pricey 
Here are some points you must look into before deciding on the best wok for stir fry
Material: 
The material of a wok always directly impacts the way you cook and care for your Wok. Just like other cookware available, Woks too have a broad array depending on what material it is made of.  
Materials like cast iron, non-stick, stainless steel, carbon steel, and hard-anodized aluminum – simply pick the one that suits your requirements best. (Refer to the What wok-material do chefs prefer, to get in-depth info on choosing the right material type.)  
Flat vs. Round Bottom:
Woks are also available on the type of base or bottom it has. It can either be a round-bottom which are the traditional ones, or flat bottoms, the one ideal for the modern kitchen. While flat-bottomed woks can be worked on any stove and are induction-friendly, some still prefer round-bottom for that old-school cooking feel. Choose what you like. A wok ring is there to solve your problem when you want a round bottom wok for electric or any flat stovetop. 
Handles: 
Woks either have a stick handle or a loop handle.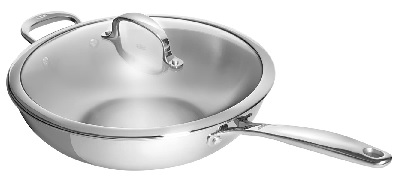 A stick handle is a long, single handle which is in some cases an extension of the wok's finish, or it can be an attached unit that can be either wooden or plastic.
A Loop handles are installed on reverse sides for protected handling.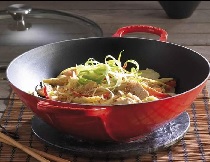 A long handle, however, is always a good choice for a lightweight wok, while the double-loop handles are better for heavier pans.
So, if you want to toss your stir-fried vegetables, go for a lighter version with a long handle.  
Which Wok-Material do Chefs use for making delicious Stir fry? 
Read this segment very carefully. This crucial info will save you money and time. 
The best material type to cook flavorful stir-fry is carbon steel. Chefs love carbon steel made woks.
However, chefs or restaurants have dishwashers (not a machine, talking about the person who washes dishes), so they really don't give a thought on the troublesome cleaning process while buying a wok. 
If you are using a carbon steel wok regularly, cleaning is a hassle and consumes a lot of time.
For regular use, stainless steel made woks are the best.
But, if you are looking for an outdoor wok, then carbon steel or cast iron is a perfect choice, as on high BTU carbon-steel and cast-iron retains flavor better. 
Again, to make great stir-fries indoor, the stainless steel wok needs to be well crafted, because, the heat retention and distribution ability of a stainless steel wok are not as good as carbon steel or cast iron wok.
I have reviewed the best stainless steel wok for stir fry below that has the needed strength and flavor-retention quality. 
My strong advice to you would be to avoid cheap woks at all costs when you are thinking of making stir-fry.
As stir fry is a high heat cooking technique, you certainly don't want your cheap wok to warp. 
Even, some non-stick coated woks are the worst picks when it comes to high heat cooking. They chip easily and are not healthy always.
As non-stick cookware are favorites of many due to their easy cleaning, I have carefully picked the best sturdy non-stick wok for making stir fry that is safe and healthy to use. 
It is also ideal for compact storage.  
It is highly efficient in its performance and ease of use; hence, Calphalon – the best non-stick wok for stir fry is on our list of recommendation. 
P.S – This product is also available in a 12-inch version. 
And the carbon steel and cast iron wok I have listed are built with premium quality material and have well-balanced handles. 
Electric woks are not the ideal but a convenient tool to make a healthy stir fry. To let it slip from this list would be an injustice.
So, I have also added the best electric wok to make a delicious stir fry. 
Today, even though the online and offline market is full of different woks with different finishes and types for different purposes, finding the one that suits your requirements and serve the purpose is tough.  
Final Words  
All the aforementioned list of the best wok for stir fry are based on its excellent functionality, features, pros and ease of use and cleaning. If you are planning to buy a wok, be sure it is worth the purchase. You can bookmark this page for further reference and decide based on the pros and cons listed. But, be sure to first decide on the use of the wok you want to buy (Commercial, home) and on what type of stove you are going to cook and what are your other preferences in terms of budget, finish, etc. to get the best wok. For others, trust us and our reviews.  
More Resources: