There are several types of wok materials available. Any metal that works on high heat can be a potential raw material to manufacture a wok. But that doesn't mean you can pick any wok material and think of making delicious stir fry.
Health safety is also a concern. Buying a safe and healthy wok material is also essential for your family's wellbeing. Overall you need a material that distributes and retains heat well and doesn't react with your food to cook healthy and mouthwatering Stir fry.
Wok Can be made of Single Or Multiple Materials…
A wok can be made from a single piece of metal like hand-hammered carbon steel, cast iron, copper, or iron-made woks. Some woks have the construction of two metals, like stainless steel body and aluminum base or aluminum body and stainless steel handles. Nonstick-coated woks are usually carbon steel, cast iron, copper, stainless steel, or aluminum-made woks with a stick-free coating. Some wok material goes through special treatment to become nonstick like enameled cast iron and hard anodized aluminum woks.
Single Vs Mixed Material Wok
My years of experience as a cook taught me that kitchen equipment that needs to be on high heat should always be made with a single material. One solid construction ensures a non-warping or sturdy structure. At first, it might seem like a good deal (as these woks are cheaper) but after several usages on high heat, a wok made of amalgamated materials might start to wobble or create cold spots. The result will be soggy stir fry. To conclude, single material is always the best choice.
What are the top 3 materials for a wok?
Although woks are now available in multiple types of material, traditional ones are the most useful ones. Woks are previously made with iron but due to the enhanced risk of corrosion, cast iron is the best pick as an alternative. The top 3 materials in which woks are popular and ideal are cast iron, carbon steel, and stainless steel.
Stainless steel is for those who prioritize on looks and feel of the wok. However stainless woks come with aluminum cores as aluminum is better at heat distribution than stainless steel. Unless cast iron and carbon steel are the most suitable, effective, and supreme ones.
Read: Best Wok Material For Stir Fry
Comparing Top 3 Woks based on Material
Cast Iron Wok
Authentic Cast Iron wok made with traditional ways
---
Hand punched pure cast iron wok, chemical-free
Made with traditional techniques
ideal for stir fry as the shape and surface is perfect
ideal heat distribution and retention ability
heavy-duty handle will never disassemble
authentic wok cooking experience
Carbon Steel Wok
Hand-hammered carbon steel pow wok
---
Hand hammered
Authentic material
No artificial joints
Made from single sheet of carbon steel hence solid body
Perfect proportion of round bottom and wide surface
Best in the market
lightweight but sturdy
even heat distribution and retention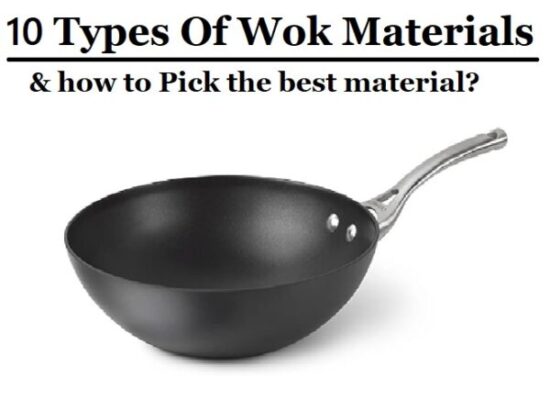 Top 10 Types of Wok Materials
Woks are found in below materials –
Carbon Steel
Cast iron
Enameled Cast Iron
Iron
Stainless steel
Aluminum
The hard-anodized aluminum
Non-stick Coated
Ceramic   
Copper
How to Pick the Best Wok Material For you?
Every wok material comes with its own pros and cons. Here we will discuss in detail which material retains and distributes heat better, which is non-reactive and easy to maintain, which does not need seasoning and which comes cheap.
What is a Pow Wok?
In northern China, there is a place called Peking from where the name "pao" or "pow" or "Peking pans" has originated. A carbon steel wok with a long handle of around 6 – 8 inches is referred to as a Pow wok because of its immense popularity in Peking among Chinese Chefs due to the ease of flipping over high heat while stir-frying. This process helps in bringing the iconic wok-hei flavor into your food. From there, this pow wok spread across the globe and was popularized by other chefs. This handle style is also referred to as the "Mandarin style" wok. And the wok with two U-shaped handles is known as a "Cantonese style" wok.
The Traditional Wok Pan Material: Carbon Steel & Cast Iron
The most traditional of all materials to manufacture a wok is cast iron and carbon steel. Previously woks are made of iron which is rust-prone. Then with the advent of cast-iron and carbon steel, woks become more durable. Carbon steel and cast iron both retains and distributes heat very well.
A lightweight wok made of cast iron or carbon steel will become like hot sun on high heat. It will radiate heat into the ingredients. The result will be evenly cooked, crispy, and smoky stir fry.
1. Carbon Steel:
A wok can be manufactured from a single piece of high-quality carbon steel sheet by completely hand-hammering it to bring the shape of a wok. This type of wok is the most traditional of all. It is highly durable because of the absence of any joints. However, the handles are welded in. Chinese Chefs prefer these lightweight pow woks over others. Mammafong offers the most traditional and best hand hammered carbon steel wok.
Con:
The only con with such a carbon steel wok is maintenance. You have to season it from time to time and clean it carefully. Every time you store such a material-made wok, you need to heat it so that the moisture disappears completely and wok does not get rusty. However, if seasoning and hard hand-washing are not your things then carbon steel woks are also available with non-stick coating.
Nonstick Coated Carbon Steel Wok – Best Type of Traditional Wok Material with Modern Touch
Nonstick coated carbon steel is the typical modern wok material that has gained popularity these days. Carbon steel is a lightweight material, and it also offers efficient & even heat distribution. For this reason cooks want to have such a wok. But given the difficult maintenance, nonstick coated carbon steel woks are the most preferable ones.
This 12.5 inches nonstick coated flat bottom carbon steel wok from Cookeriess is the best wok material for those cooks who want to have a traditional touch with modern features in their wok. The best part about this wok is – it fits on induction, electric, and gas range.
It is compatible with high temperature. You can also use this wok material on an open wire or grill. Non stick coated carbon steel woks require a little care and maintenance for maintaining the nonstick layer of coating.
2. Cast Iron:
You will find cast iron wok in every traditional Asian kitchen. Cast iron is great at heating up quickly and distributing the heat evenly. This results in great stir fry. This is the primary reason why Chefs love cast iron as a wok material.
The market offers numerous pre-seasoned cast iron woks. Among these, the 14 inch Lodge Cast iron wok is the most popular one. This Cantonese-style wok is highly durable and extremely cheap as compared to wok materials.
Con:
These are not resistant to rust and need to be seasoned often. Maintenance is very high. However, enameled cast iron does not need seasoning and reasonable maintenance but offers the same quality cooking as cast iron.
3. Enameled Cast Iron Made Woks Need Reasonable Maintenance
When an enamel glaze(vitreous) is applied to the surface of the cast iron, it is known as enameled cast iron. The glaze prevents rusting of the cast iron. Also, you don't need to season it. Cleaning an enamel cast iron is a breeze. It is a far better option than cast iron. Some cast iron woks also carry unhealthy substances, whereas enameled cast iron is a safer wok material.

The above enameled cast-iron wok is from Le Creuset, a very popular and high end model. This 5-quart wok demands little maintenance and does not need seasoning. The tight glass lid makes this wok a versatile cooking tool.
Con:
Enameled cast iron is a very costly wok material due to its high durability.
4. Aluminum: Best Wok Material With Faster Heat Distribution
Aluminum woks are very common kitchen tools in Asian Households. As our kitchen has low BTU gas ranges, aluminum is the perfect wok material to make apt stir fry. This metal has a better and faster heat distribution ability than cast iron or carbon steel wok, so on low heat, your ingredients get cooked evenly. Aluminum is cheap too and needs less maintenance. The aluminum wok is corrosion resistant and thus highly durable.
Con:
However, the heat retention ability of an aluminum wok is not good hence, if you put the wok out of the fire, it will get cold sooner. But the main issue is the safety of the material. You cannot cook acidic food in an aluminum wok as it reacts with the metal. And stir fry includes acidic sauce, so you can't help it and must avoid this metal. 
5. Safest Wok Material: The hard-anodized aluminum:
By immersing the aluminum metal in the chemical bath and applying electrical current hard-anodized aluminum is produced. It is nothing but a layer of oxide that hardens the aluminum and makes it rust-proof. It is like an aluminum 2.0 version.
Hard anodized aluminum is the safest wok material to buy because –
It is one of the sturdiest and nonreactive metals on high heat. The hard anodized woks don't react with acidic food and hence make your food healthy. 
It is an excellent conductor of heat, preventing hot spots and providing even heat distribution. 
It mainly comes with a natural nonstick coating enhancing the user experience. 
The premium quality hard anodized woks are also oven and dishwasher-safe.
This 12-inch hard-anodized aluminum wok from the EPPMO store is the most cost-effective investment for beginners. As it comes with a wide surface, a glass lid, stainless steel handles, and oven-safe body you get a sturdy construction that is built to last. 
Con:
The hard-anodized aluminum wok gives a nonstick cooking experience. However, it is not a 100% nonstick surface, which lets some foods stick and makes the cleaning process challenging still, the body does not require seasoning for every use. 
6. The Most Modern Wok Material: Stainless steel:
Stainless steel is the most modern wok material of all. Heavy-duty stainless steel woks that are made of 3-ply or 5-ply constructions are found in many commercial kitchens and modern households. Stainless steel is more durable as they are rust-resistant & scratch-resistant. Stainless steel is also considered to be one of the safest wok materials.
Stainless steel wok is durable, classy, and versatile and supports numerous cooking styles, including stir-fry, deep-fry, steam, boiling, etc. All this is possible due to its effective response to changes in heat and temp. The stainless steel woks are also oven and dishwasher-safe, making them the best wok material for the modern kitchen. 
Cooks standard offers the best stainless steel wok for beginners on the market. This wok comes with an aluminum base sandwiched between two stainless steel sheets. Heat retention, distribution, and conduction are an essential part of stir-frying, and aluminum is a very efficient material and better than stainless steel too. That's why the manufacturer offers such a base to make the wok apt for stir-frying.
Con:
Stainless steel woks are pricey and don't give you the authentic wok cooking experience like cast iron or carbon steel.
7. High Maintenance Healthy Wok Material: Iron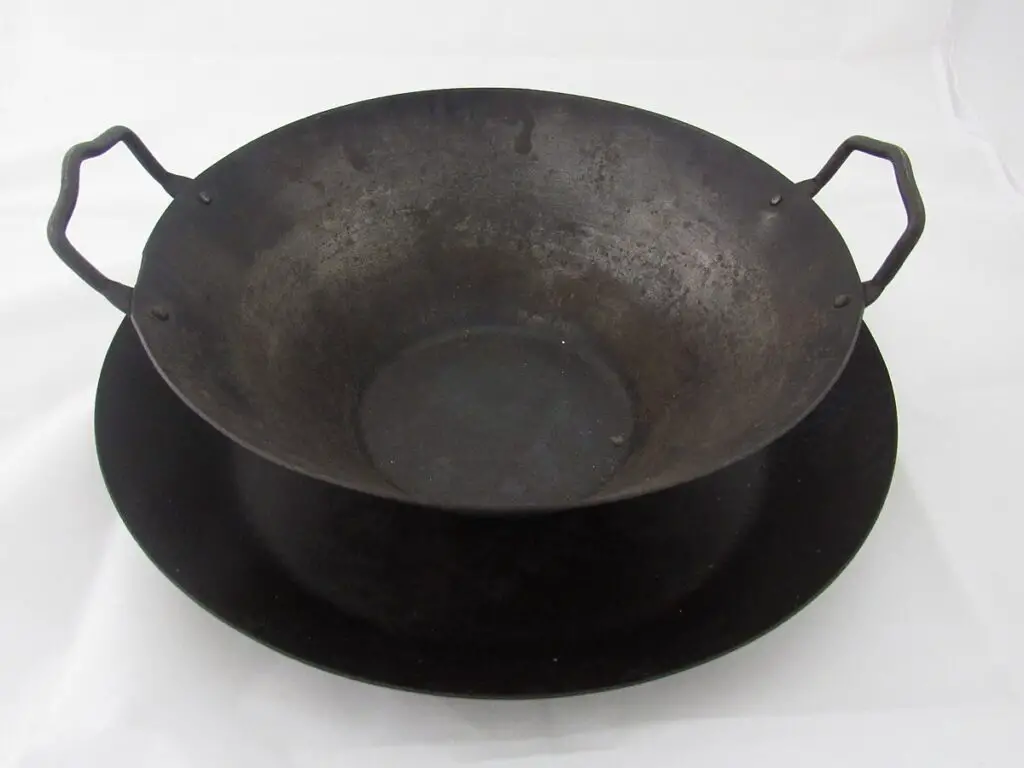 Iron woks are also one of the primitive types of woks found very commonly in the Asian counties market. These are popularly used in countries like India, Pakistan, Bangladesh, China, Korea, and many other countries. 
The best part about iron woks is they provide lots of health benefits. An essential health benefit that an iron wok could provide is it helps increase the iron content in the body to almost 20 times. Iron woks mainly come pre-seasoned.
Con:
Iron woks are outdated and rust-prone. These are not great investments.
8. Non-stick coated Woks: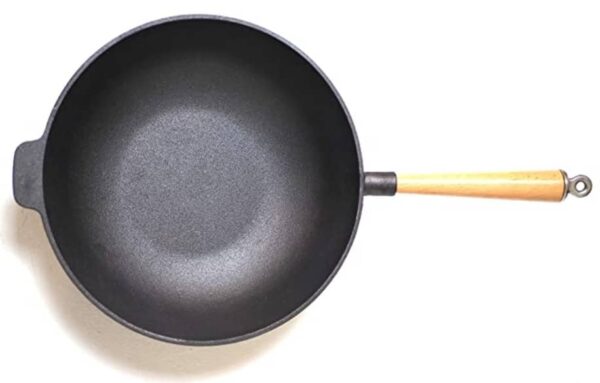 You will find a nonstick pan or cookware in every kitchen today. Nonstick woks are made up of materials like carbon steel, cast iron, stainless steel, ceramic, aluminum, etc, with nonstick coating. Teflon is a popular nonstick substance used for coating.
The woks with nonstick coating enhance the cooking experience by offering easy mixing & tossing of food. It is more popularly used for eliminating the use of excess oil and fat. You can cook food in lesser oil using nonstick cookware. 
Con:
Teflon releases toxic fume on high heat. Nonstick pans are scratch-prone. Even a single scratch can ruin your wok pan and make it unhealthy. If you want to buy a healthy nonstick wok, read our list of the top 5 safe nonstick coated wok pans.
9. Ceramic woks:   
The ceramic wok is staple cookware in today's modern kitchens. When you search online for ceramic wok or cookware, you will find a range of striking colors and designs. 
Ceramic woks are excellent for daily use as they are resistant to scratch or peel, or coating. The ceramic woks are very easy to clean and are compatible with the dishwasher and oven as well. These works on all different types of stovetops except induction. 
Con:
These woks don't have any traditional touch to them. Ceramic woks are also fragile.
10. Copper Woks
Copper woks are the most high-end woks of all. They are truly eye-pleasing, very good at heat distribution, and available in flat and round bottom bases. Those woks that are only manufactured from natural copper are the safest to choose. Copper woks come with nonstick coating, but tinned coatings are healthy and nonreactive.
Con:
This type of wok material is expensive and needs to wash by hands only. Wooden and plastic spatulas are only suitable to keep the copperware scratch-proof.