Are woks worth it or just a marketing gimmick? After cooking in a wok and eating wok cooked meals for more than a decade, I think I am now eligible to answer this. Here is one of my daily cooking routines.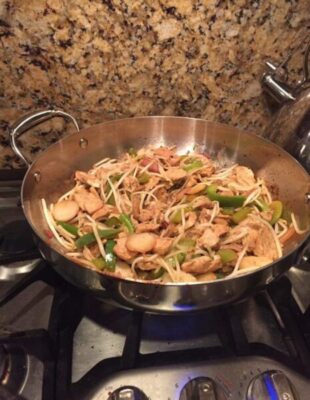 A wok that is lightweight yet sturdy, has good heat conductivity, proper depth, wide space, and balance well in a cook's hand is indeed worthy. Such a wok after seasoning will become like hot sun on high heat which will cook each piece of vegetables evenly and bring the iconic wok-hei or smoky flavor in your stir-fries. This is the flavor for which we often visit Chinese restaurants.
With a good quality wok you will be able to replicate the exact taste of Asian flavors. The most traditional Asian cooking tool is the cast iron or carbon steel made wok. However, for a beginner cast iron or carbon steel woks may feel overwhelming to maintain.
Because of the continuous seasoning, you might not want to buy a wok. Fortunately, there are varied options available where those woks don't need seasoning hence a great cooking tool for daily use.
People also ask – can you make stir fry in your regular frying pan? This is a common question that I face once a week at least from my readers. This motivated me to make an in-depth article discussing pros and cons along with the top 5 woks that need no maintenance for beginners.
List Of Content
🥣 Advantages of a Wok
🥣 Benefits of cooking with a wok
🥣 Disadvantages of a Wok
🥣 Top 5 Woks Worthy of Investment
Advantages of Buying a Wok: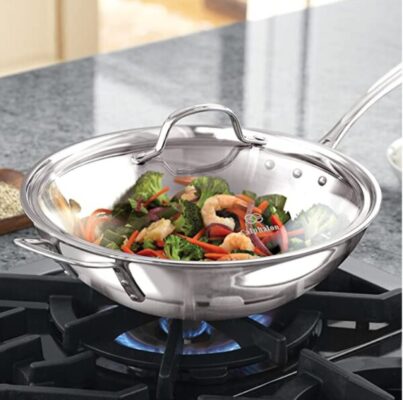 A wok can be used for 11 different cooking techniques other than stir-frying. Woks are worth it because they need less oil to cook, versatile, and highly durable. They are also available in different price ranges, come in a lot of material choices, compatible with any stovetop, grill, or BBQ, and almost found in any sizes you can imagine.
Woks are most probably the greatest and most versatile invention in the sphere of cooking tools. From delicious stir fry to searing and roasting items, you can do it all. A wok can easily replace a frying pan and to some extent any cooking tool in your kitchen due to its versatile cooking ability.
5 Advantages of Using a Wok
✅ Delicious Stir-fry:  A wok is the only cooking tool that can give you tasty 'wok-hei' or smoky flavored stir fry just like the Chinese restaurants. A frying pan or any other pan does not have such ability.
The thin and sloppy walls, the nonstick surface and high heat retention ability are some of the advantages you only get with a wok. All the famous Chinese restaurants and Chefs serve wok stir fry meals to their customers, because of the unique flavor. On high heat, a wok is your perfect companion to make great Chinese, Thai, and Asian dishes.
✅ Versatile Cookware:  Although the wok is popular for making mouth-watering stir fry, it can and have the ability to cook your food using 11 different techniques. I have discussed more about those techniques in the next section.
✅ Saves Money: You can get highly durable woks at a reasonable price. The hand-hammered carbon steel woks are the most sturdily built utensils that will not bend over high heat even after using for years. Chef Michele, my friend is using a wok for 26 years now, which has been passed on to her for generations. The wok is more than 100 years old. 
✅ Less to None After Care: Now many will disagree with this point because woks are mostly known for their nasty tempers and hard aftercare regime. Well, I can give you several proofs where the wok can be cleaned with just one wipe of a dishcloth. Read the review of my top 5 woks below that need no care or continuous seasoning.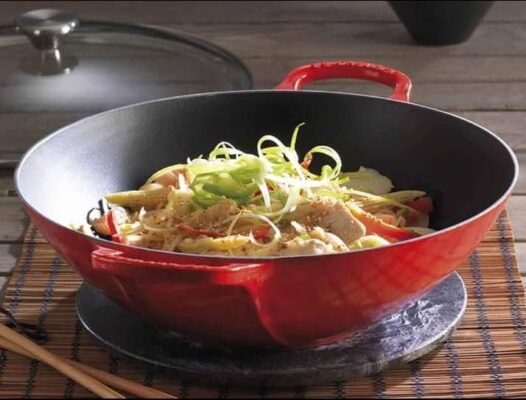 ✅ HEALTHY: Wok cooked meals are very healthy as it requires less oil. But you have to make sure that you are buying a good quality wok. The non-stick coated woks come with such usefulness however, you need to make sure that you are buying a safe material. Refer to my top 5 woks which are safe and healthy.
With a wok that has a safe non-stick surface, you need to use a little amount of oil to make evenly cooked and flavorful dishes. Seasoned woks also require very less fat to cook food without sticking it to the pan.  
The Breville Electric Wok (Amazon link) needs you to just spray some oil into the food yet give you perfectly cooked stir-fries within minutes. Hence this wok is perfect for those who are highly health-conscious.
Even if you want a wok just for yourself or for an entire Soccer team, any size is available and equally worthy to cook delicious stir fry. Also, with the help of a wok, you can make food using any of the 11 cooking techniques other than stir-frying (more info below).
Benefits of Cooking With a Wok
(
1 Cooking tool

= 11 Cooking Techniques)
Even those who own a wok, hardly know that they can do so much with this cooking vessel. Here, are some applications of wok:
🍵 Stir-Frying and Pan-frying 
The first thing you can do with a wok is stir-frying. This cooking vessel has slopes that allow the food to be quickly tossed and flap to have perfect taste.
🍵 Steaming and Boiling 
Boiling is an easy task to do in a wok. Most woks on the market comes with a lid which makes boiling more convenient. 
There is no need to purchase a steamer too if you have a wok with a steamer insert.
🍵 Braising 
When we are talking about the different cooking techniques with a wok, braising cannot be overlooked.
🍵 Deep Frying 
 Yes, you heard it, you can do deep frying with a wok.
🍵 Indoor or Outdoor Smoking 
You can place a flat bottom wok on grill, BBQ or use the wok burner for an outdoor Asian meal feast.
🍵 Dry Cooking 
Last but not least, you can dry-fry with a wok; it is a technique in which protein or vegetables can be cooked with less oil, the food prepared has a dry exterior for crispy taste. 
🍵 Poaching, Stewing and Making Soups
If you don't have a Dutch oven handy, don't worry with a high walled wok pan stewing and cooking soups is just a matter of time. Poaching is another cooking technique that goes well with a wok. 
Then why most of us are not sure about buying such a beautiful and handy cooking tool?
Disadvantages of a Wok:
Why question like,

'are woks worth it?'

emerges?
Because of the tiresome maintenance, cleaning, and storing of a wok pan, buyers hesitate a lot.
The time you will spend in preparing delicious stir fry in a wok often equals to the time the wok will demand for its care. Like the seasoning process includes more than 4-5 steps. Also, you need to keep your wok seasoned before each cooking. Otherwise, you will not get that smooth non-stick cooking surface, hence will need extra oil, and cleaning will be a nightmare if food got stuck.
But fret not I have listed the top 5 woks that will need no seasoning or maintenance.
Top 5 Worthy Woks
(No Seasoning, No Hardcore Cleaning, No Aftercare Regime)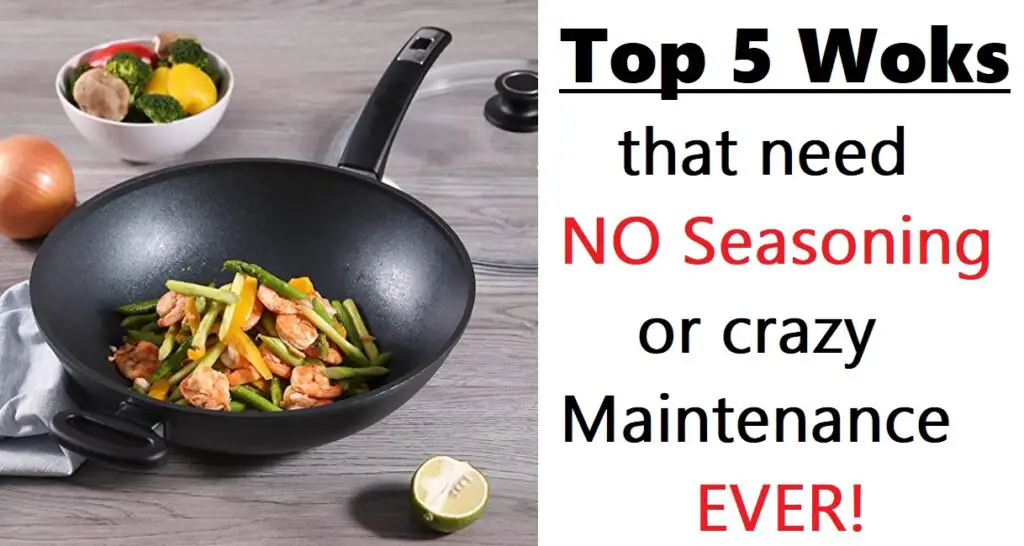 5 Woks Worthy of Investing
T-fal, Ultimate Hard Anodized, Nonstick 14 in. Wok
Calphalon Contemporary Flat Bottom Nonstick Wok 
Cuisinart Chef's Classic Best Nonstick 12-1/2-Inch Wok
Cooks Standard Stainless Steel 12 and 13-Inch Multi-Ply Clad Wok
Rachael Ray Cucina Hard-Anodized Stir Fry Wok Pan with Lid, 11 Inch
1. T-fal Nonstick 14 inch Hard Anodized Wok
T-fal is a well-known name in the industry of cookware. They are a long time (60 years) manufacturer of Woks hence know how to bring the best attributes in this cookware.
This T-fal 14 inch hard anodized wok is the most popular wok on the market because of its hard anodized body and titanium reinforced non-stick coating. Every year this wok tops their list in terms of the most sold wok pan because of these sought-after features.
Here is a detailed overview of the most useful features in this wok and why this wok can be a worthy investment.
✅ Hard-anodized Aluminum body:
Hard anodized aluminum cookware is very popular nowadays because it offers a series of benefits. It is durable, lightweight, and affordable than many enameled cookware.
Aluminum is soft and reactive to acidic food, which means using aluminum to build cookware is not safe. Hence, T-fal brings an anodized aluminum body which makes it sturdier and thicker.
Also, hard anodized aluminum is non-reactive to food hence safe to cook on high heat.
This electro-chemical process of anodizing makes the aluminum 30% harder than stainless steel. It means hard anodized wok is a better investment than stainless steel woks in terms of durability.
Because of the hard anodized aluminum interior and exterior, this wok is rust-proof, stick, and scratch-safe. You can easily use a metal cooking tool on this wok without getting it any patches.
✅ Titanium reinforced nonstick interior:
This 14 inch flat bottom T-fal Wok has a Titanium reinforced non-stick interior. The cast aluminum base of the wok is layered with a titanium mixed ceramic coating that is safe and the best-layered surface you can have in your cookware.
The inclusion of titanium increases stick-proof substances, maximizes sturdiness, and guarantees better cooking ability. This coating also restricts the Aluminum base from coming in contact with food.
Titanium is a lightweight, stable, and exceptionally strong metal. It is also extremely acid-resistant and does not corrode easily. The titanium oxide coating on the surface shields the metal from further degradation and scratches.
Clearly this wok is worth buying and a great investment.
Other Pros:
Riveted silicone handles – high quality and durable.
Flat bottom
Even heat base, no warping on high heat.
Oven safe up to 400°f
Dishwasher safe;
PFOA, lead, and cadmium free;
Lifetime Limited warranty
Con:
There is no lid coming with the wok.
The flat base is not induction-friendly.
2. Calphalon Contemporary Flat Bottom Nonstick Wok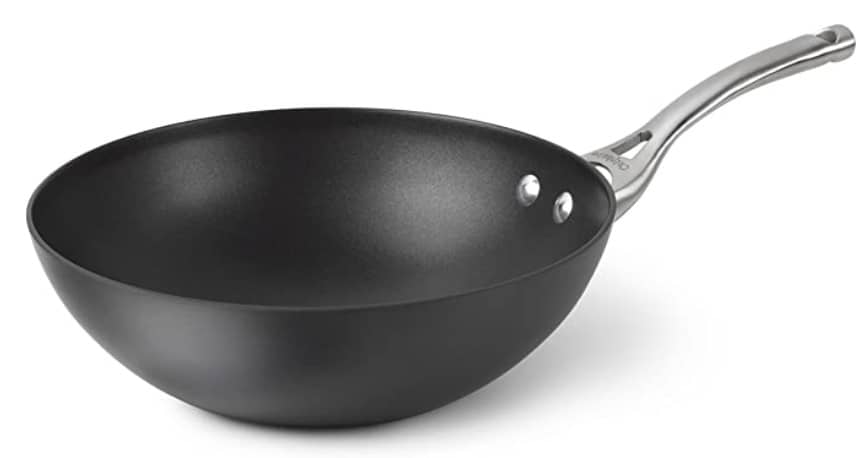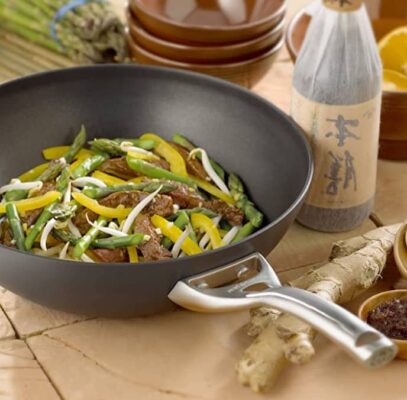 For those who love "non-stick" for their easy clean-up feature, Calphalon Contemporary Non-stick 10-Inch Stir-Fry Wok pan is a great blend of modern cooking in a contemporary kitchen. Its heavy-gauge hard-anodized aluminum and three layers of the non-stick coating ensure durability and restrict the food from sticking and burning.  
Even though this is compact in size than most of the traditional woks, (only 10 inches in diameter at the rim), it has a steeper slope at sides with a flat bottom to trap plenty of heat which is ideal for stir-frying.
Pros  
Truly non-stick with 3 layers of non-stick coating 
Adapted from a traditional round-bottom wok 
Dishwasher Safe  
Even heating  
Cons  
3. Cuisinart Chef's Classic Best Nonstick 12-1/2-Inch Wok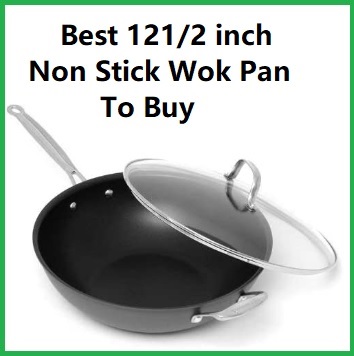 Pros:
12 inch wide suitable for two person.
Flat bottom
Hard anodized durable aluminum body
Safe non stick surface
Easy to clean
Lifetime warranty
Con:
Not induction compatible
Bit heavier
Cuisinart Chef's Classic is one of the most popular wok brands in the industry with many worthy woks to offer. This particuar wok stands out the most in their entire collection of woks because of its easy maintenance and sturdy build. The hard-anodized exterior can withstand extreme wear and tear, the nonstick surface is harmful-chemical-free, chip-free, and healthy. If you have kids in your house, go for this wok without a doubt. The flat bottom is suitable for any gas range without induction. It has a tempered glass cover, cool grip handles and comes with a lifetime warranty.
4. Cooks Standard 12 and 13-Inch Multi-Ply Stainless Steel Clad Wok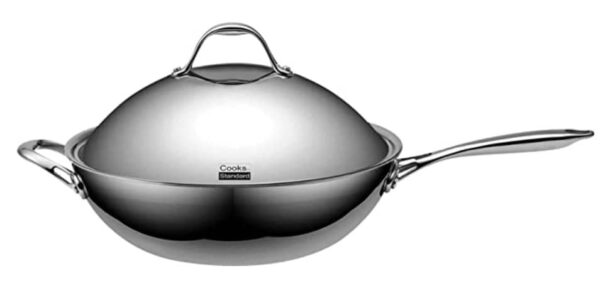 If you have read, the best woks list of this year, then you know we have listed Cooks Standard Stainless steel wok at the top. The reason being its affordability while offering so many features. This three-layered round stainless steel wok with flat bottom might just be the perfect addition to your kitchen if you are looking for a 13 inch or 12-inch wok.
The wok features a brushed stainless steel exterior that is scratch-resistant and retains the outward appeal of the cookware. It has a multi-element alloy core made from aluminum (that promotes faster heating) along with the inner and outer layer of 18-10 stainless steel (premium-grade). This construction helps in consistent and even heat distribution.  
The long tough stainless steel handle remains cool even after prolonged cooking over the stove. Both the 13-inch and 12 inch stir fry wok comes with a tight fitting dome-shaped lid made from stainless steel that is suitable for delicious cooking by trapping the moisture as well as heat. The only downside is the lid is not see-through, hence you will not be able to watch the progress of your cooking.
It is suitable for all kinds of stovetops and can withstand the heat of up to 500 degrees F. It comes with a limited warranty and is dishwasher safe.  
5. Rachael Ray Cucina Hard-Anodized Nonstick Stir Fry Wok Pan with Lid, 11 Inch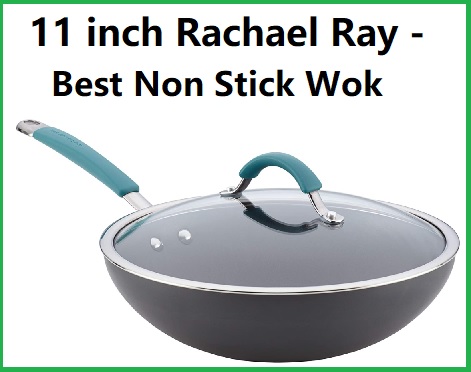 Pros:
Hard anodized aluminum and PFOA free body
11-inch-wide, flat bottom
Non-reactive, lead and cadmium free, scratch-resistant non-stick surface
Riveted blue handles and even heat base
Suitable for all gas range
Oven safe upto 400 degrees F
Espresso-colored
Dishwasher friendly
Lifetime limited warranty
Con: Not induction compatible
The hard-anodized aluminum body of this Rachael Ray wok is durable, rust-proof, and scratch-resistant. The non-stick surface is safe and healthy to use daily. The flat bottom of the wok is compatible with all gas range other than induction.
The wide bottom is very helpful in terms of stirring and cooking a lot of vegetables or using the wok as a saucepan. The lid is sturdy and made from shatter-resistant glass with wide stainless steel rims to lock the moisture in. It also has comfortable dual-riveted, silicone over stainless steel handles.
The weight of the wok is not overwhelming too hence great for beginners or home cooks to flip ingredients. You can use this wok daily as it is PFOA free, long-lasting, easy to clean, and requires less oil. If you are looking for a dishwasher safe wok for a single or two-person then this 11-inch pan is the most worthy wok for you.