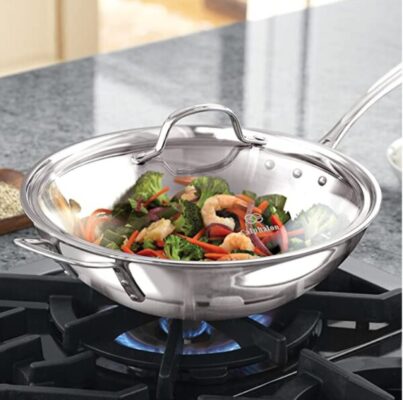 Woks are most probably the greatest and most versatile invention in the sphere of cooking tools. From delicious stir fry to searing and roasting items, you can do it all. A wok can easily replace a frying pan and to some extent any cooking tool in your kitchen due to its versatile cooking ability. You can use a wok for 11 types of cooking techniques and more.
There are so many different types of woks, that beginners get overwhelmed easily while picking the best one for them. Here, in this article, we will discuss all about the different types of woks based on base type, handle type, manufacturing technique, and material type. In the end, hopefully, you will be able to pick the most suitable wok type for you.
The exact origin of wok is yet to be discovered, however, it is a very popular cooking utensil in Asian, US, and UK households.  To concentrate heat, a traditional wok has a round bottom and deep slopes. Now it has been modernized into flat bottoms.
A traditional wok looks like this without handles: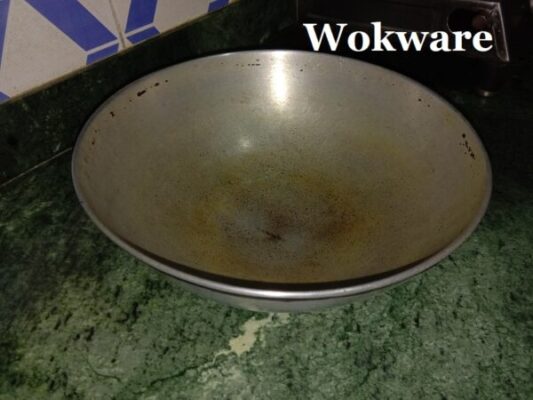 Here is a Modern Wok: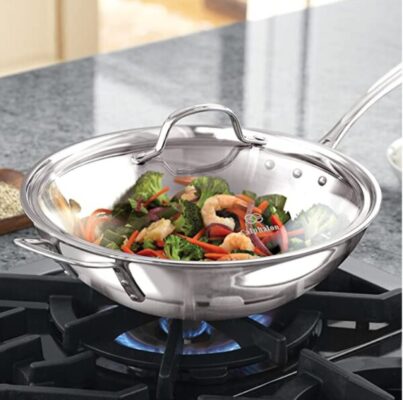 Clearly, a lot of things have changed. A wok is now available in a variety of materials, shapes, sizes, prices, and types.  Woks need to be seasoned before use. But some woks don't need seasoning hence provide convenience but not the authentic wok cooking experience.
Every type of wok has its own pros and con. We will discuss all of them in detail to give you complete knowledge of wok types.
Types Of Woks
Cantonese Wok
Mandarin Wok
Pow Wok
Flat Bottom Wok
Round Bottom Wok
Hand Hammered Wok
Carbon steel Wok
Cast Iron wok
Aluminum Wok
Hard-Anodized Wok
Iron Wok
Nonstick Coated Wok
Stainless Steel wok
Hybrid Wok
Ceramic Wok
Hardened Steel Wok
Copper Wok
Compatible Stovetops for a Wok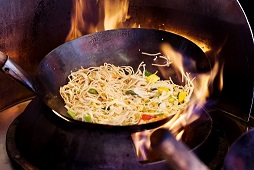 Buying a wok has several perks. One of them is, a wok pan can be used on any stove-top. A typical or traditional wok has a round bottom and high walls. The high-depth wok wall and the seasoned stick-proof surface help your food glide into the center. The high heat is ideal for wok cooking and advantageous because of the deep and thin walls. Hence a wok burner is a perfect partner for a wok.
On high heat, a well-crafted wok becomes like a hot sun that radiates heat from each side. Your food with the help of some fat retains all of its flavors while gets cooked evenly because of the equal distribution of heat in a wok.  
Cooks who have years of experience with the wok, take advantage of the slopes, to keep the food warm without overcooking it. And this is the secret behind the tasty wok-cooked meal. 
However, if you want to make the perfect stir fry at home even on low flame then these tips to wok stir fry vegetables like Chinese Chefs at home and an outdoor kitchen might interest you.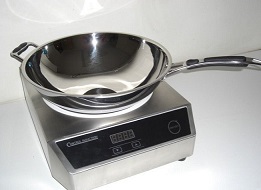 However, the popularity of wok cooked meals in the household market has revolutionized the round bottom into flat bottom woks that are compatible with any stovetop. From induction oven, glass stove-top, grill, to BBQ, you can cook with a wok on anything.
To use a round bottom wok on flat gas stove-top you need a wok ring.
Truth be told, when it comes to cooking, with a wok you need to hone your skills. However, if you have the right material or a perfectly crafted wok at your home, making delicious Chinese food becomes easier than it seems.
Different Types of Woks Available On the Market & the Best Type
Over the years, wok has become a popular choice in every American, European, and Asian household. Now the market offers flat bottom woks for the suitability of using on any stovetop (induction, glass stovetop, etc). 
Not only by its base, but a wok can also be distinguished in several types and choices. There is one for everyone. This is why buying a wok provides you with a handful of customization.
You can find several types of wok on the market. Here we have divided the types of wok in the most simplified and comprehensive manner. 
1) Types of Wok by Base Type 
One of the most common ways to categorize wok, is based on their bottom. While some of them have round-bottoms, its counterpart has a flat-bottom design.  
 Which is better flat or round bottom wok? 
Buying a wok comes with choices. One of the first queries a buyer has- is whether to go with a round or flat bottom wok.
Below are some advantages and disadvantages of both the base type. This will be enough to make a decision or to choose the right one for you. 
Advantages of Round-Bottom Wok 
Stir-frying is far easier with round-bottoms. This is mainly because of better heat concentration with the round-shaped bottom as compared to that of a flat one. The circular shape also makes it easier for the ingredients to be tossed around the wok.  
It is next to impossible to warp on round-bottomed woks.  
Spatulas and wok ladles can be readily used on round-bottom woks. Neither less to say, the majority of the wok accessories work better with round-bottom.  
We have a list of Reviewed top 10 Round Bottom Woks of this year. You may find it useful.
Disadvantages of Round-Bottom Wok 
Round-bottom woks are generally smaller in size. 
Not at all suitable for cooking on a glass-top stove. Either you have to use a wok ring or hold it firmly during the entire cooking period. 
Advantages of Flat-Bottom Wok 
Flat-bottom woks are better suited for induction cookers or stoves. This is mainly because the entire bottom of the wok touches with that of the induction stove. Just keep in mind, to use an induction stove, which can attain a higher temperature for the wok.  
Glass-top stoves, in particular, work more effectively with flat-bottom woks. Comparing the same surface, with round-bottom woks, it can actually provide a better heat distribution.  
Disadvantages of Flat-bottom Wok 
Not suitable for stir-frying. 
Generally, it comes with Mandarin handles (below we have discussed handle types in detail), which have durability issues. 
2) Wok Types based on Wok Handles 
Two of the most widely used wok handles are Cantonese and Mandarin. A brief difference between the two is given below:  
Cantonese Woks 
The Cantonese woks have a very distinctive feature of two U-shaped handles that are actually riveted on both sides of the wok.
Larger wok with more than 14" of diameter comes with Cantonese, as it is mostly suitable for serving a larger group of people.
The only drawback to these handles is that, due to their odd positioning, it is very difficult to actually toss foods on these woks.   
Mandarin Woks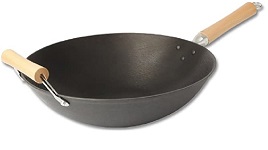 The mandarin-style woks have long metal or wooden handles, that can be found on either of their sides. Unlike Cantonese woks, they are mainly found on smaller woks. This, in turn, also makes it quite easy to flip dishes. 
3. Wok Types Based On Manufacturing Techniques
Pow Woks
In northern China, there is a place called Peking from where the name "pao" or "pow" or "Peking pans" has originated. A carbon steel wok with a long handle around 6 – 8 inches is referred to as Pow wok because of its immense popularity in Peking among the Chinese Chefs due to the ease of flipping over high heat while stir-frying. This process helps in bringing the iconic wok-hei flavor into your food. From there, this pow wok spread across the globe and popularized by other chefs. This handle style is also referred to as the "Mandarin style" wok. And the wok with two U-shaped handles is known as "Cantonese style" wok.
Hand Hammered Woks
Hand-hammered woks are the most traditional of all woks. As the name suggests these woks are made from complete hand hammering from a single sheet of material. This makes the wok sturdy and durable. Hand-hammered woks are mainly found in cast iron, iron, or carbon steel materials.
Professional chefs prefer these woks as these woks are compatible with extreme heat cooking conditions. Mammafong is one such brand that offers some of the top hand-hammered woks on the market. These great woks are manufactured from a single sheet of material. Sometimes they even go through 12 processes, and up to 36,000 times of hand-hammering just to get the perfect even finish.
4. Wok Types Based On Materials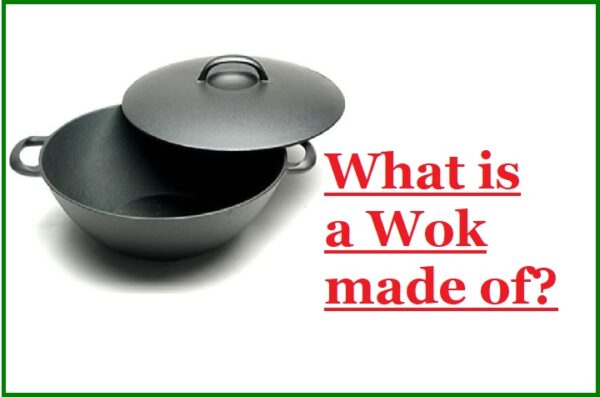 Initially, woks were believed to be made out of carbon steel. Nowadays, there is a wide assortment of options for wok materials, and they have their own advantages and shortcomings for every one of them.
We curated mini rundowns about the most widely recognized types so you can settle on a preferred wok choice. Don't forget to read the detailed description below to find the best type of wok material for you.
Popular Types of Wok Materials, their Pros, and Cons
Finish/Coating 
Description 
Pros 
Cons 
Carbon Steel 
Carbonized steel (machine or hand-hammered, or spun) 
Traditional,
Tough,
Good conductor of heat
Harder to season 
Cast Iron 
Carbonized wrought iron 
Traditional
Healthy
Really Sturdy
Good Heat
Retention 
Heavy,
slow to heat
and cool
Aluminium 
Anodized aluminium alloys 
Superb heat distribution
unhealthy
Iron-Clad Stainless Steel 
Alloy steel that is immune to rusting and ordinary corrosion 
Attractive, long-lasting, thermal shock-resistant 
Slower to heat,
non-traditional,
heavy   
Non-Stick 
Chemical coatings (i.e. PFA and Teflon) designed to protect cookware 
Easy-to-clean, durable 
Peels or chips,
 unsafe over 500 degrees F temperature
Ceramic 
Natural Coating
Safe, Nonstick
Fragile 
1. Stainless Steel Woks
Woks made of stainless steel are durable yet have poor heat conductivity. But super easy to clean, maintain and store. For the same reason, beginners want to buy stainless steel made wok. However popular brands offer stainless steel woks with an aluminum core that increases the heat conductivity efficiency of the wok.
They also look stunning and pleasing to the eyes. On the contrary, finding a quality stainless steel wok can also get tedious at times. Due to its higher price bracket, wok enthusiasts often tend to avoid stainless steel wok.  Read our review of the top 5 stainless steel woks of this year.
2. Cast Iron Woks
It is one of the most commonly used materials for wok. One of its benefits includes being lightweight as well as providing a great heat distribution.
Also, cast iron wok tends to get better as they age. This is one of the unique abilities, for which you can't say no to a cast iron wok. But they are like babies and you have to spend considerable time to maintain them.
However, brands like Le Creuset make enameled cast iron woks which are super easy to clean and great at heat distribution but comes at a higher price. Read this best cast iron wok review to know more.
3. Carbon Steel Woks
One of the oldest known materials used for the construction of wok is carbon steel. It is also one of the most reliable of the lot. Carbon steel has extreme durability as well as great heat distribution capability. Further including, one can actually find varieties of carbon steel under different price ranges.
The hand-hammered carbon steel woks are made from a single sheet of carbon steel without any joints. Hence are very durable and popular choices when it comes to cooking on a high BTU wok burner. Mammafong manufactures the best hand-hammered carbon steel woks on the market. To know more about the best hand hammered carbon steel woks on the market read this.
4. Ceramic Woks
One of the most uncommon materials used for the construction of wok is ceramic.
Also, one of the greatest advantages of buying a wok made of ceramic both interior and exterior is that it is already non-stick by nature. So, no further seasoning is required and cleaning is easy. The only downside is that you can't find many quality woks made out of ceramic except the electric ones. Luckily, TECHEF is the only reputable brand that brings us great Ceramic Woks at reasonable prices which are made in South Korea.
5. Hardened Steel Woks
 Hardened steel woks have their benefits. They're non-responsive, which means they're useful for making vinegary or acidic nourishments like Sweet and Pungent Pork, Orange Chicken, or even Chinese Braised Hong Shao Fish. They're additionally lightweight (albeit a portion of the tri-utilize woks is very overwhelming) and don't rust. However, there are no such quality woks available to invest in the market.