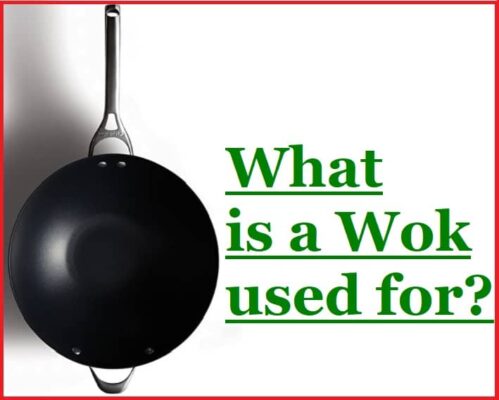 From how to use a wok to what to use a wok for we have covered everything in this article.
A wok can be used for several things. We have a list. Read on. 
Woks have been there in the Chinese market for approximately 3,000 years. It is used for a myriad of cooking styles, spanning from stir-frying, stewing, and boiling. You can easily convert a wok into a steamer just by getting an insert.  
During the early days, the woks were mainly for wooden and charcoal heating, but in the past two decades, it has been adapted for Western cooking. Nowadays, we have electric woks, which can be used for cooking food on the dining table.  
Can you use wok for anything? 
Yes, you can use a wok for anything and everything you need in day to day cooking. With the help of some wok accessories, a wok can replace many of your cooking tools.
A wok is a prevalent kitchen utensil, mostly used for Chinese style cooking. It is a thin-walled pan to maximize heat retention in the food you are cooking. So stir-frying is the best option while cooking on wok.  
Playing with the heat and tossing the food numerous times to produce wok-hei or 'the breath of wok' (the smoky flavor of food) is what chefs do in those Chinese restaurants where the food is finger-licking good. 
However, a wok is a versatile cookware. Read the below section to know about all the cooking techniques you can do with a wok. 
What Can I cook in a Wok pan?  
Even those who own a wok, hardly know that they can do so much with this cooking vessel. Here, are some applications of wok:
11 types of cooking techniques with one cooking tool
Stir-frying
Pan-frying
Steaming
Boiling
Braising
Deep-frying
Searing
Indoor and Outdoor Smoking
Poaching
Stewing, Making Soups
Dry Cooking or Roasting
🍵 Stir-Frying and Pan-frying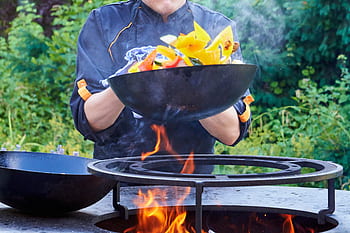 The first thing you can do with a wok is stir-frying. This cooking vessel has slopes that allow the food to be quickly tossed and flap to have perfect taste.
Since woks are available in non-stick or pre-seasoned surfaces, the food doesn't stick on the slopes, causing inconvenience. The result you get is tender-crispy meat and smoky vegetables. 
A flat bottom wok pan has a wide area to cook the perfect pan-fried foods.
A round bottom wok which is large enough is also a great utensil to make pan-fried dishes.
You will need very less oil and the even heat distribution of the wok will make the food delicious and crispy. 
🍵 Steaming and Boiling 
Boiling is an easy task to do in a wok. Most woks on the market come with a lid which makes boiling more convenient. 
There is no need to purchase a steamer too if you have a wok. You can steam using this cooking utensil—all you require is a metal steamer insert to use this cookware as a steamer.
So, whether you want to enjoy steamed fish fillets or steamed vegetables to get better results from your workout regimen, the wok got you covered. 
🍵 Braising 
When we are talking about the different cooking techniques with a wok, braising cannot be overlooked.
Unlike the low-heat, moist cooking, the braising is hard cooking for meats. This cooking style is quite popular for Western cuisines.
Compared to the stir-frying, the dish prepared has a sauce consistency, which is exceptional. A wok can be used easily for this.
You can create flavorful dishes to pamper your taste buds while maintaining the nutrient contents of the food.  
🍵 Deep Frying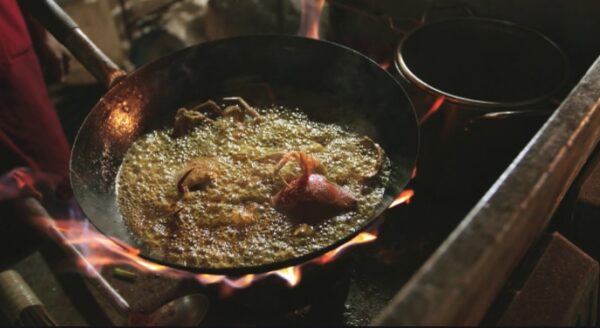 Yes, you heard it, you can do deep frying with a wok.
In comparison to the other deep-frying utensils, the oil used is quite less, which is good for your health, and the slopes ensure that the food fried has great depth without spills for a perfect taste.
The variety of slope angles helps in better manipulation of food frying. And, the best part, which makes wok an ideal choice for deep frying, as the mess is quite less. 
However, to deep fry in a wok, you need to buy a round bottom one as they provide better depth. Flat bottoms are fine too given the wok walls are high enough for deep frying. 
🍵 Searing
Do you know wok is a great tool for searing? And why not. Wok is meant for high heat cooking. On high heat in a well-seasoned wok you can perfectly sear a wok. Wok materials like carbon steel and cast iron are the best for searing. stainless steel, and aluminum comes next. I am not a fan of nonstick woks but you can use it to for searing.
🍵 Indoor or Outdoor Smoking 
 Most homemakers widely appreciate this application of wok.
What you can prepare with a wok for indoor smoking is limited only by your imagination and how much aluminum foil you have.
Whether it's delicate fish fillets or chicken breast, a light to hard smoky feel is what you get when you do indoor smoking using this cooking utensil. 
Flat bottom woks made of cast irons are the ideal tools to get your head start in outdoor grilling or smoking.
🍵 Poaching, Stewing, and Making Soups
If you don't have a Dutch oven handy, don't worry with a high walled wok pan stewing and cooking soups is just a matter of time. Poaching is another cooking technique that goes well with a wok. 
🍵 Dry Cooking or Roasting
Last but not least, you can dry-fry with a wok; it is a technique in which protein or vegetables can be cooked with less oil, the food prepared has a dry exterior for crispy taste. You can roast nuts too in a wok.
Use a Wok Lid to Make the wok More useful: 
Having a lid with a wok is not a must-have if you are just using it to stir-fry food. However, if you want to try out several cooking techniques like stewing, making soups, poaching, boiling, etc a lid will come in handy.
So, our suggestion would be to always buy a wok with a lid. To find out the most suitable lid for your wok pan read this.
How Do You Use a Wok?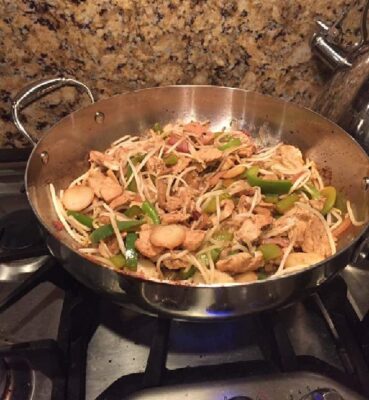 Searching for a fun, quick approach to eat on the table? Break out your wok! In minutes you can sauté a family top pick, similar to pasta primavera. Our bit by bit guide will help you how. 
Here is an informative article on the best BTU to cook stir fry in a wok if you are using a wok burner. We think you may want to find out that before commencing your cooking. In case you are cooking indoor then follow the below steps.
Here are some steps to follow:
1. Preheat the wok before including oil. You'll know it's hot enough when a globule of water dissipates close to contact. Shower the oil down the side of the hot wok, twirling to cover the whole surface. 
2. Mix in garlic, onions, chilies, and different aromatics. They're sharp and will saturate the oil, spreading flavor all through different fixings. 
3. Push the aromatics aside and include protein -, for example, meat, poultry, and fish – in a solitary layer, at that point, don't contact for a brief time it burns. Sautéed food until around seventy-five percent cooked, at that point, moved to a plate alongside the aromatics. 
4. Gathering and include vegetables in classes, from longest to briefest cook time, as follows: Hard veggies, for example, carrots, broccoli, and potatoes, for example, zucchini, mushrooms, and ringer peppers; and delicate/verdant, for example, verdant greens and tomatoes. 
5. Utilize the pan-fried food activity: Quickly and continually slide a spatula between the food and the wok, tumbling the food over on itself. 
6. Return the protein and aromatics to the wok and whirl fluid fixings. (Stock coconut milk, wine or soya sauce) down the side of the wok. 
Can You Use a Wok on a Glass Top Stove? 
With the glass-clay oven, you should utilize a round-bottomed wok for better assistance. However, before that, you have to put a wok ring on the cooktop, and afterward, you can keep the wok on it.
This permits the wok to remain stable in the oven. Aside from that, this wok ring consistently keeps up a hole of ½"- 1″ between the base of the wok and the cooktop to forestall any scratches there.
This is the purpose behind why you can't utilize a level bottomed wok on a glass-fired oven. 
 Can You Use a Wok on an Electric Stovetop? 
With an electric loop oven, you should utilize a level bottomed wok, which can be set right on the highest point of the warming curls.
Along these lines, the warmth can without much of a stretch spread all through the base of the wok equitably and permit you to prepare your food appropriately.
Particularly, a carbon-steel made wok makes a fine showing on this issue.
Concerning the round-bottomed wok, this kind of oven isn't a lot of helpful to chip away at. Since you can't make it remain on the cooktop consistently there.
You generally need to hold one of the handles while working. 
Can You Use a Wok on an Induction Cooktop? 
All things considered, as long as it is made of a ferromagnetic material and has a decent measure of the level base, certainly! 
Probably the best-preferred option of cooking on woks is the induction cooktop. This makes for fast cooking. The wok sits on the bent surface on the enlistment burner.